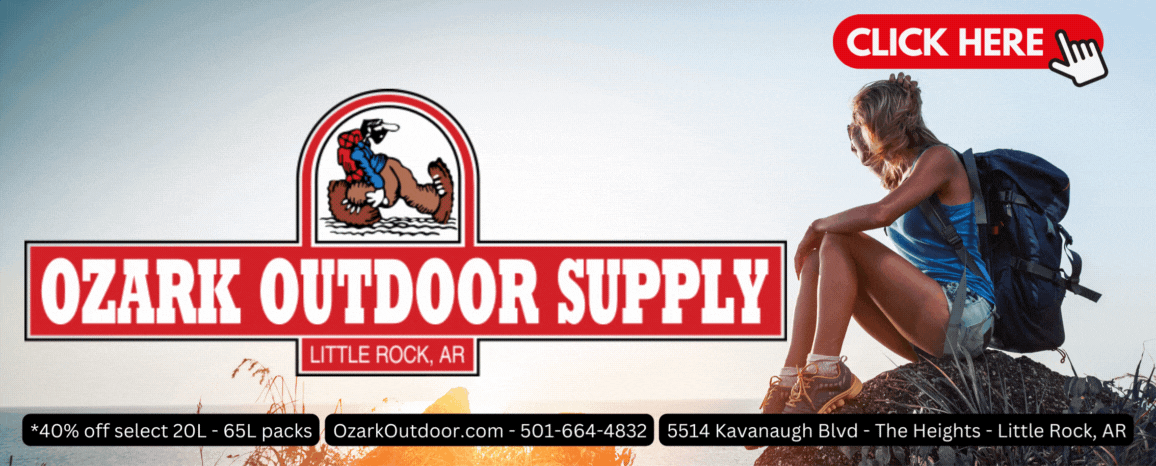 I had back surgery on

May 8th

and initial recovery was going well. Walking with goals seemed to pull me out of the haze in week two. In week three my typical 'degeneration' in my back set in and I needed to go to chiropractor in a bad way. Only thing is I can't! So the mid back (above the surgery site- not related- on going maintenance issue) was just LOCKED!

On Wednesday

before TDR I finally was able to get back on the bike for a road ride. I met up with the Ladies of CARVE and spun a causal ~30 miles, walked 8 miles the next day and

on Friday

I finally had the sweet relief of stretching and my mid back released.

I got so excited

Friday

night at the possibility of riding that I shaved my legs for the first time in 2 months. That was the first time since TDR in 2012 that I went more than a week without shaving. I packed my gear, planned the route so that I was never more than 15 – 20 minutes from the truck and planned to meet up with the ladies around the 64 mile mark. My plan was to ride in with them if I could hang on. I wasn't able to sleep

Friday

night and found myself awake at

5:00am

. Typically this would be normal race day jitters, but without logging a solid night's rest, my bike ride was over before it started.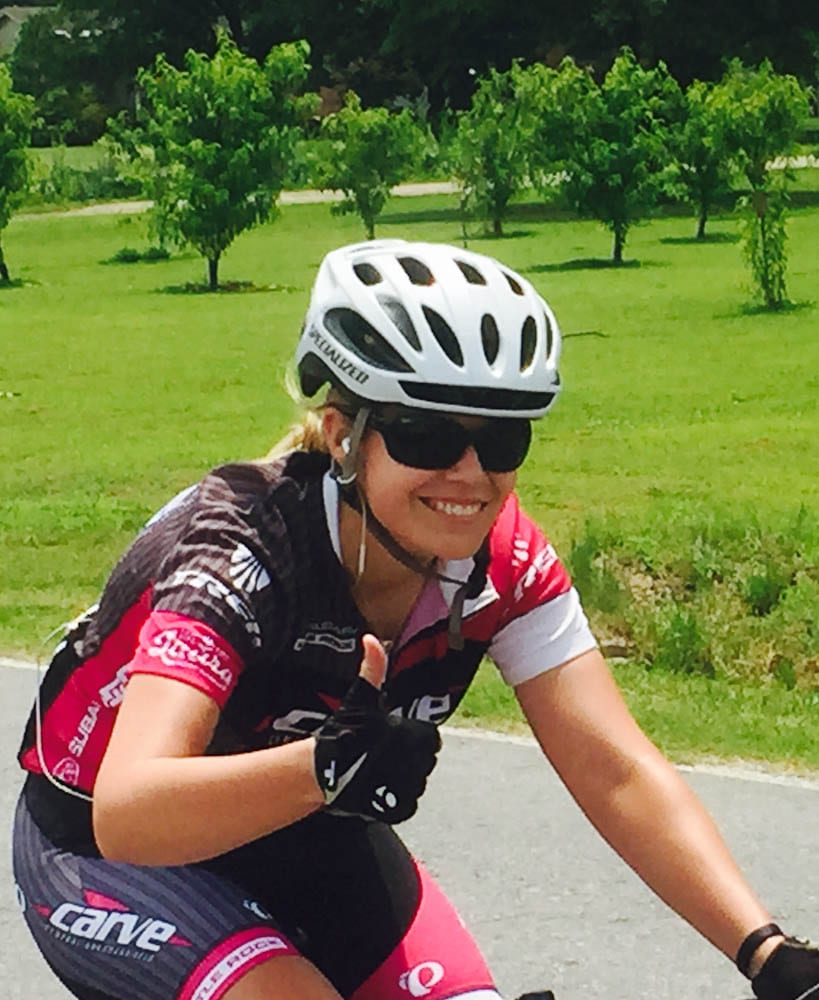 I decided to load the truck and provide support from the road for the LOC that train with me. I decided to intersect the ride at the 440 overpass about 5 miles in and assess the situation. To my pleasant surprise, they were the 4th group on the road and there was more than ample spacing to follow from a safe distance. They were running the event plan to the letter! They had (2) gatekeepers on the back of the 10 woman team and 8 women trading turns pulling paired efforts up front. The efficiency was evident and soon they had 25 people sitting on their wheel. So now I'm basically following at a distance in case of a flat or mechanical. I came prepared with ride food, a cooler with prepped bottles, spare wheel set, tools, even a spare 51cm frame race bike with aero wheels in case something went really bad!
The ladies had been training together and we had made a plan to have a rolling average of 18.25 MPH and 3 ten minute stops for a total elapsed time of 5 hours 58 minuets to meet a sub 6 hour elapsed time TTT (Team Time Trial). This seemed like a worthy goal as many of the group had trained together and rode the 2014 TDR event in 6 hours and 55 minutes. We had a few more ladies in the pace line this year and the training rides had yielded some efforts close to the planned time. In training some riders had to work on bike fit, some on nutrition, but we felt like we had most issues dialed in. The ladies had a plan to stop three times at the 31, 61, and 85 mile rest stops as well as an 8 mile addition around the 38 mile mark to make the ride a true 100 miles.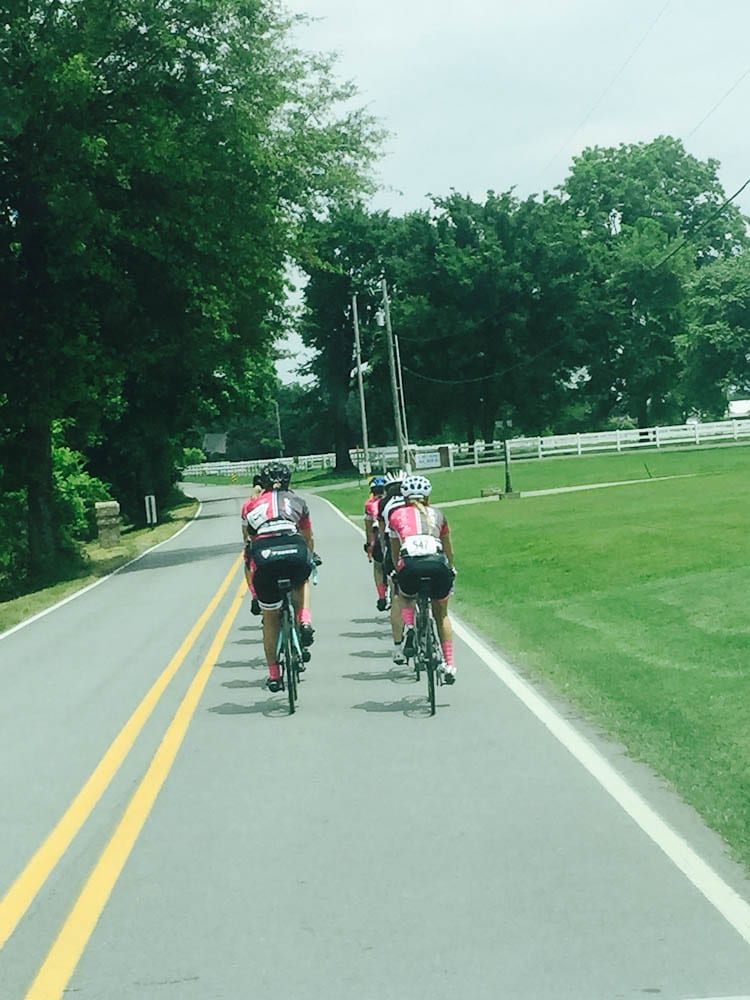 At the 21 mile rest stop most of the 53 mile riders stopped at their 1/2 way point. Things got much better, the ladies were down to 6-8 cyclists sitting on and I was able to have some communication. At the 2 hour mark, the ladies had built a approximate eight minute advantage, including being through their first rest stop. Rolling average was 19.2 for the 2 hours and they looked good. There was some communication about eating and stretching, but for the most part, they were a well oiled machine.
At the 4 hour mark, the ladies had gained a substantial amount of time due to riding at an average pace of 19.8 mph for the previous 2 hours. This increased the time buffer to nearly 20 minutes
 and confirmed beyond a doubt that they we going to shatter their goal of a sub 6 hour 100 mile team time trial. Looking at the realization of ten athletes attaining a goal at the same time, at the same venue, through training and sacrifice for one another as a team was a sight to behold.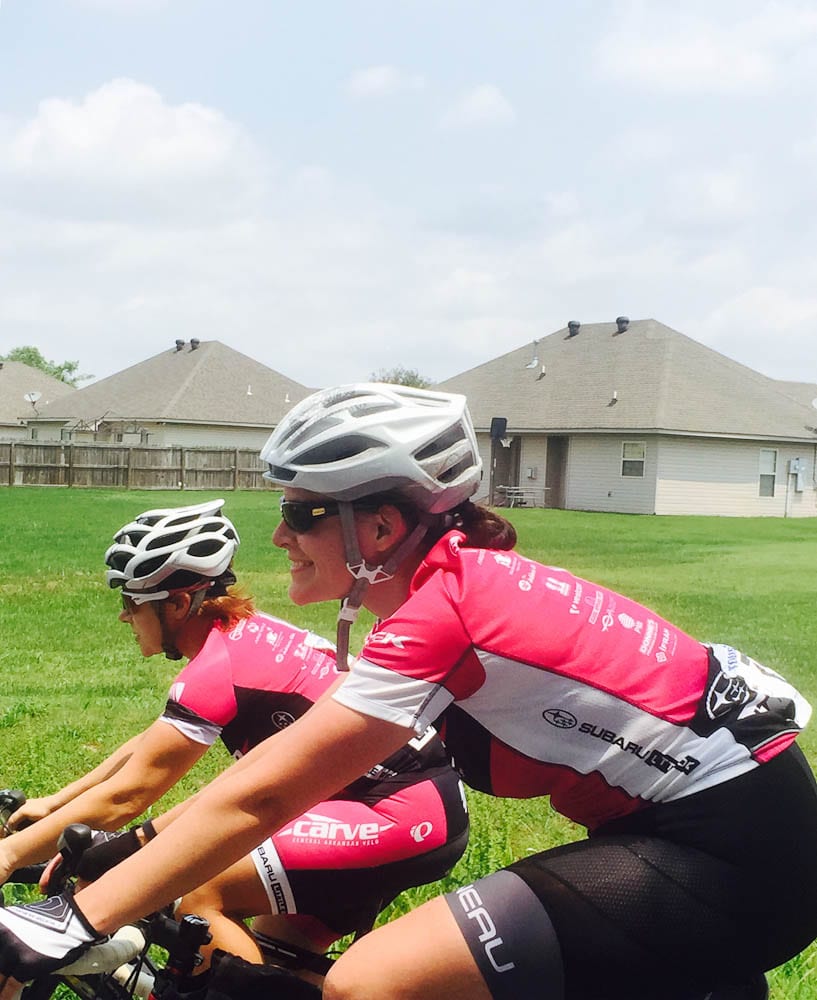 At mile 90 it was all over except the celebration; they were rolling into North Little Rock in style. I communicated the '10 mile / 30 minutes to go' mark by pulling ahead and taking some pictures, sharing a few thoughts with individuals, and basically just basking in the sun of their accomplishment. Ultimately the most accurate count I have is elapsed time of 5 hours 40 minutes with 3 timed 10 min rest stops. They left the start line at approximately

7:03 a.m.

and crossed with 100 miles at

12:43 p.m

. Rolling speed was 19.3 mph.  
My hat is off to the CARTI team that worked so hard to move the start/finish line for an event of this size. I thought this was a blessing in disguise and most groups seem to agree. The ride was safer as well as faster without having to navigate the river trail and endanger cyclists and pedestrians alike. The route was also superb in my opinion and didn't overlap routes at bad time intervals. The ladies had one group pass them all day and groups behind us would typically arrive at a rest stop as we were leaving. It was a great event and I'm proud of each and ever participant of EVERY distance.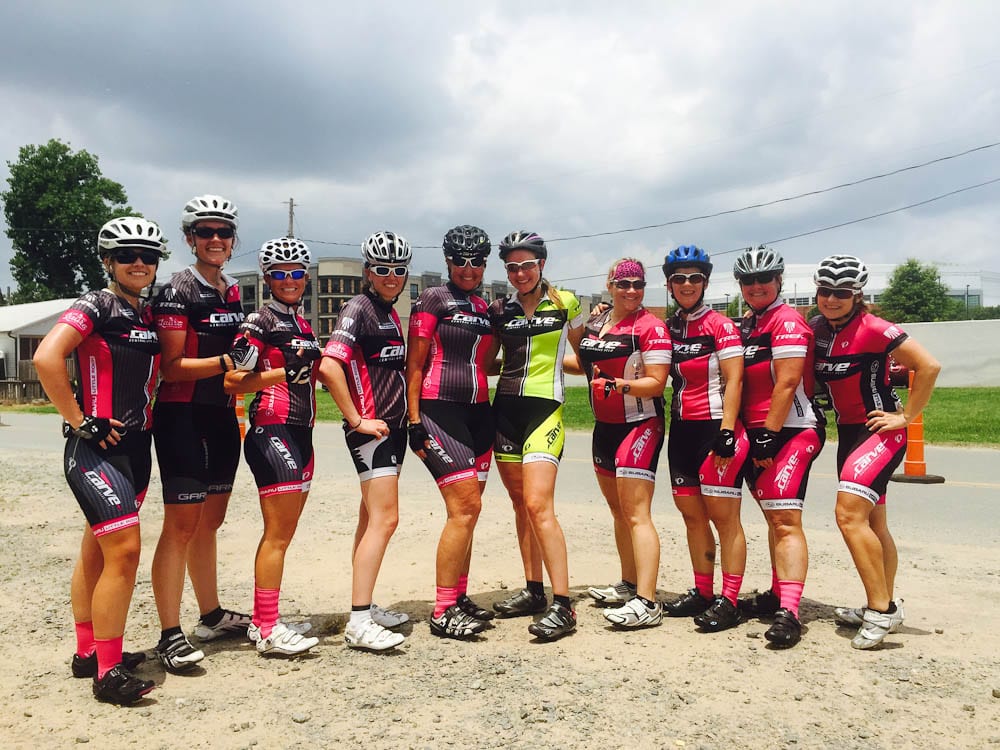 The LOC riders in attendance for the 100 mile route were Kayla Applegate, Emma Buron, Brandy Darcey, Emily Hartman, Robin Holt, Wendy Kelley, Angela Rhode, Marry Anne Struthers, Marissa Williamson, and Cheyenne Wilson. To learn more about the LOC or to get plugged into their open training rides please visit CARVE's Facebook page – Central Arkansas Velo (CARVE)