UPDATE! The Results are In!
The site of the opening run of the DLT Multisport Arkansas Trail Running Series this year was at Cadron Settlement Park in Faulkner County near Conway. The park trail system has about 5-6 miles of trail that is open to hiking and mountain biking. Apparently this park has recently undergone some recovery and rejuvenation with the support of local hikers and mountain bikers. The weather forecast called for rain by the 10 a.m. start time but it held off and was just cloudy and a bit humid. Thank goodness because there was potential for a big muddy mess. The race was 2 laps of a 2.1 mile course mainly on singletrack with rolling hills, some tight zigzag turns, a bit of mud and a few wet stream crossings with tricky bridges or armoring.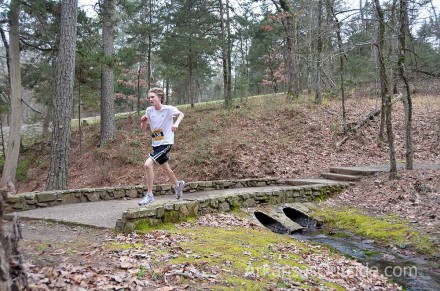 The field of runners was relatively small at about 30. I recognized a few as triathletes and adventure racers, and there were a few younger runners with school XC team shirts on, you know, the kind of folks who do this type of thing regularly. I had set a goal for myself after the experience of the Mt. Nebo Bench Trail Run in December: if I felt I could carry on a conversation, I'd push harder. I think I met that goal. I could still squeeze out a short sentence, but not have a conversation. I know this because one of those young XC runners was with me the entire race and we traded "that was tough" "be careful" and "come on" several times. The first 2 mile lap she was in front of me, especially on the uphills but my skill of letting gravity carry me downhill while staying upright allowed me to keep up. At the start of the 2nd lap I passed her and held that position right up to the last .1 mile. By then we could hear the music at the finish line and  I heard her say "come on" and she left me in her high school girl dust.
A couple of weeks ago I mentioned this race to a friend who has recently begun a very dedicated effort to improve her fitness so I was glad to see her there. After I finished I started wondering where she was and wanted to encourage her in to the finish, knowing this was her first trail race and she was a little out of her element. I hadn't been back out on the trail long when I saw her bright pink shirt and big smile. It was so nice to hear the applause and the cheers as she ran the last little bit to the finish, everyone appreciates a bit of encouragement.
Many more photos are available for free download on our Flickr Page. Here is a short video filmed near the start of the race:
The series continues on March 17th at beautiful Cedar Glades Park near Hot springs with the 3.8 mile Spa City Trail Run. See you there.