One of the most popular activities in parks and wilderness areas is hiking on trails. For thousands of years trails have been used for transportation, hunting, exploring, commerce. Long before roads, trails were created not on purpose but through repetition of use, the path of least resistance to travel from one point to another.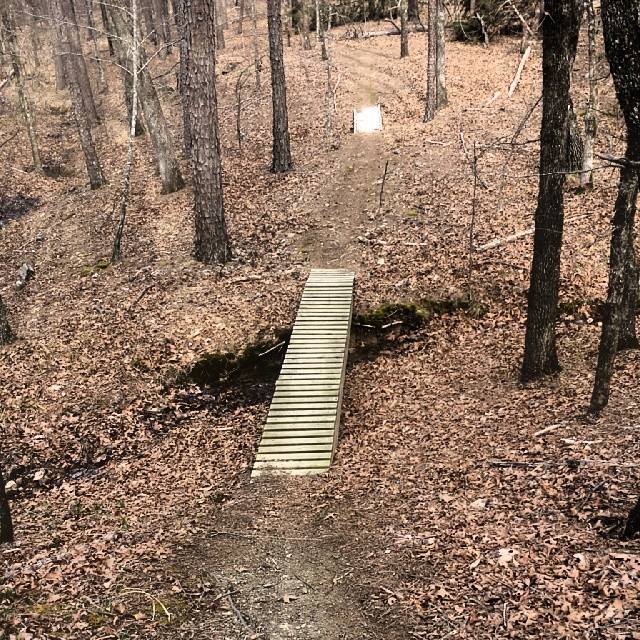 In the late 19th century, as our technological world expanded and cities grew, humans realized a primal need to protect wild spaces to visit, to renew ourselves, to provide escape, to inspire us. We built roads to get to these places but some of the first facilities built there were trails to access the wildest and most beautiful areas. Those willing to put in the physical effort were rewarded with grand sights reserved for the intrepid.
Here in Arkansas, trails of exploration were created like the Southwest Trail which took early colonial settlers from the Ohio and Mississippi Rivers west to Texas or what was then known as Mexico. Trails were created across Arkansas during darker parts of our history like the Trail of Tears and those created for troop movements during the Civil War. Trails like the Butterfield Trail in Northwest Arkansas were created for various forms of commerce.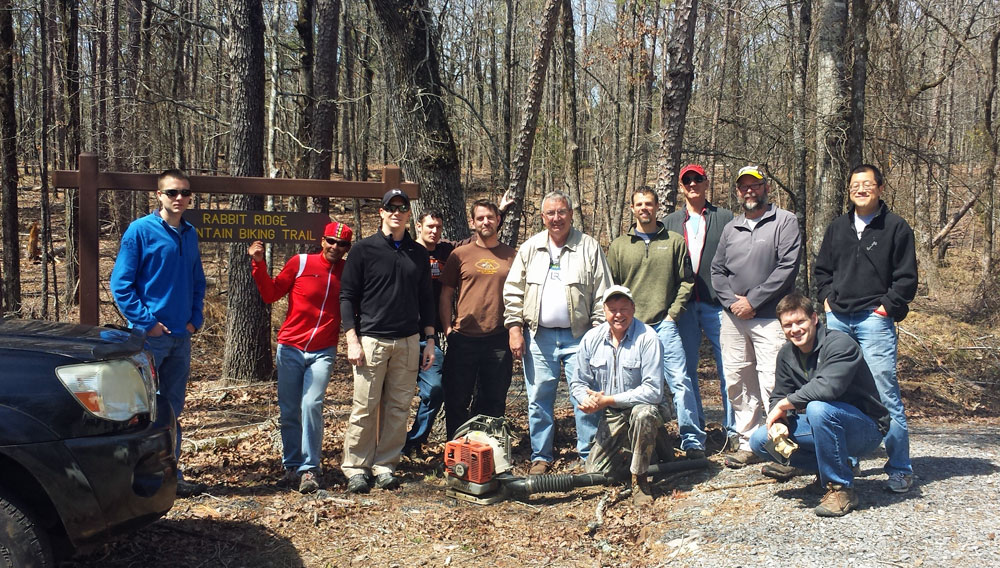 In the 1930's as the first state parks were created the Civilian Conservation Corps built and improved trails. Some great examples of these trails can be hiked at Petit Jean, Devil's Den, Mount Nebo, Crowley's Ridge and Lake Catherine State Parks.
Trails in Arkansas change constantly. A trail in the middle of the Summer will look totally different during the leafless Winter. The flowering of the dogwoods and red buds in the Spring is a totally different beauty than the intense color of a Natural State Fall. The West Summit Trail at Pinnacle Mountain State Park, one of the most heavily hiked trails in the state, started as just as single path and then during years of overuse braiding happened as people found easier routes and began hiking in large groups, the trails widened and eventually work crews were brought in to clean it up, reroute it and strengthen it adding stonework in many sections.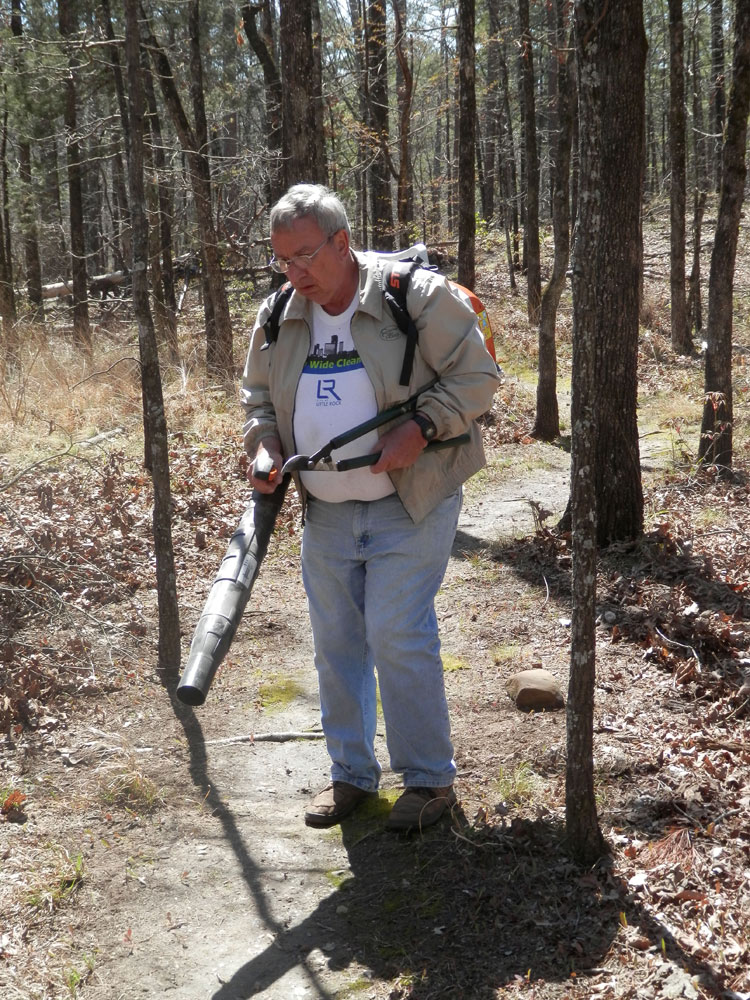 Arkansas has a new group of trail workers. A group dedicated to maintaining current trails and developing new ones. The Central Arkansas Trail Alliance (CATA) is a non-profit group that formed in the Fall of 2013 and is already making a difference on area trails. As a chapter of the International Mountain Bicycling Association (IMBA), CATA focuses their work on multi-use trails and uses techniques to build long term sustainable trails. The group has already brought the trails at Boyle Park in mid-town Little Rock back from near extinction and done extensive work on the Burns Park trails in North Little Rock. Many members have attended trail maintenance workshops sponsored by IMBA at Devil's Den State Park and the Syllamo Trails near Mountain View, Arkansas. They have also assisted with a recent Little Rock Parks & Recreation Clean Up Day by helping clear overgrown trails at Western Hills Park.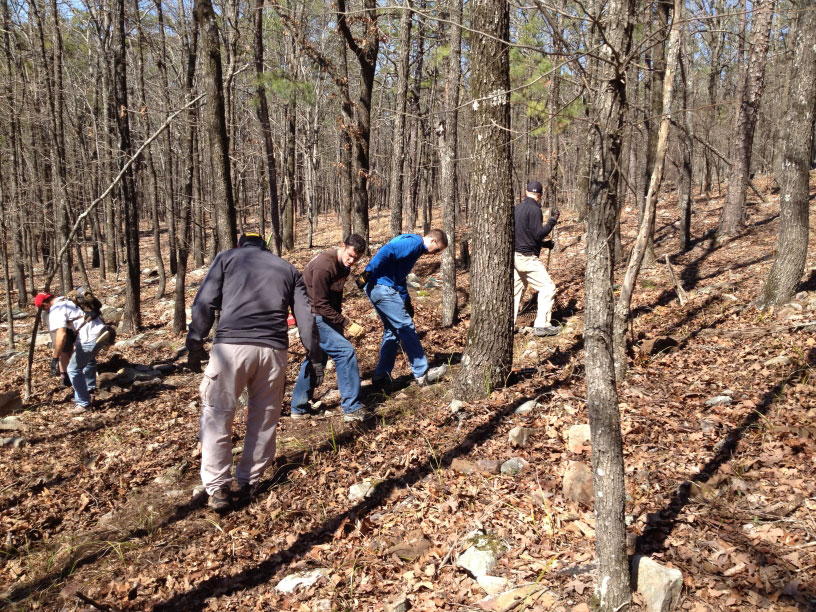 Most recently a group of 15 volunteers from the group went to work on the Jackfork and Rabbit Ridge Mountain Biking Trails at Pinnacle Mountain State Park. One particular section known as "The Stick" had become hidden under leaf fall and was obviously not being used much due to some of the more difficult pieces of this section. The Stick has some great bridges and interesting landscape and it would have been a shame to see it disappear. The group made short work of creating two new reroutes that would shorten the distance of the section just a bit and reworked a couple of turns that would give them a better flow. Fallen trees were cut from the trail and all of the leaves were blown off. It is now in perfect condition and ready for Spring riding.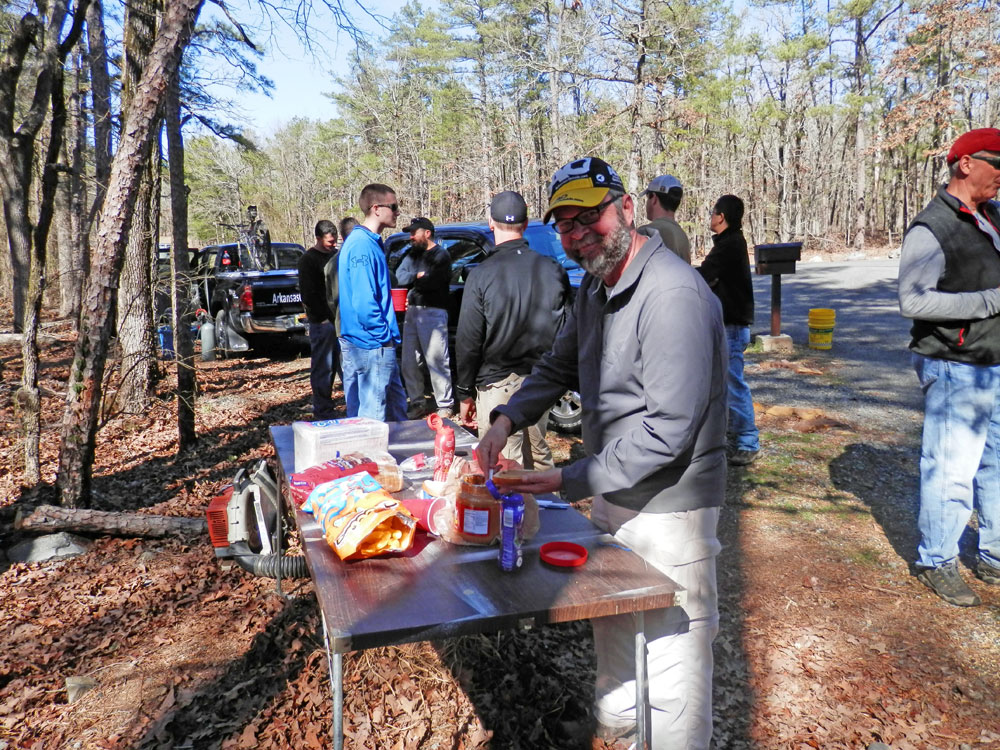 As an Arkansas Outside sponsored workday we were able to provide some Arkansas Outside Amber Beer, brewed by Vino's Brewpub to the workers and many soon headed out for a trail ride. It was a grand day of being on the trails.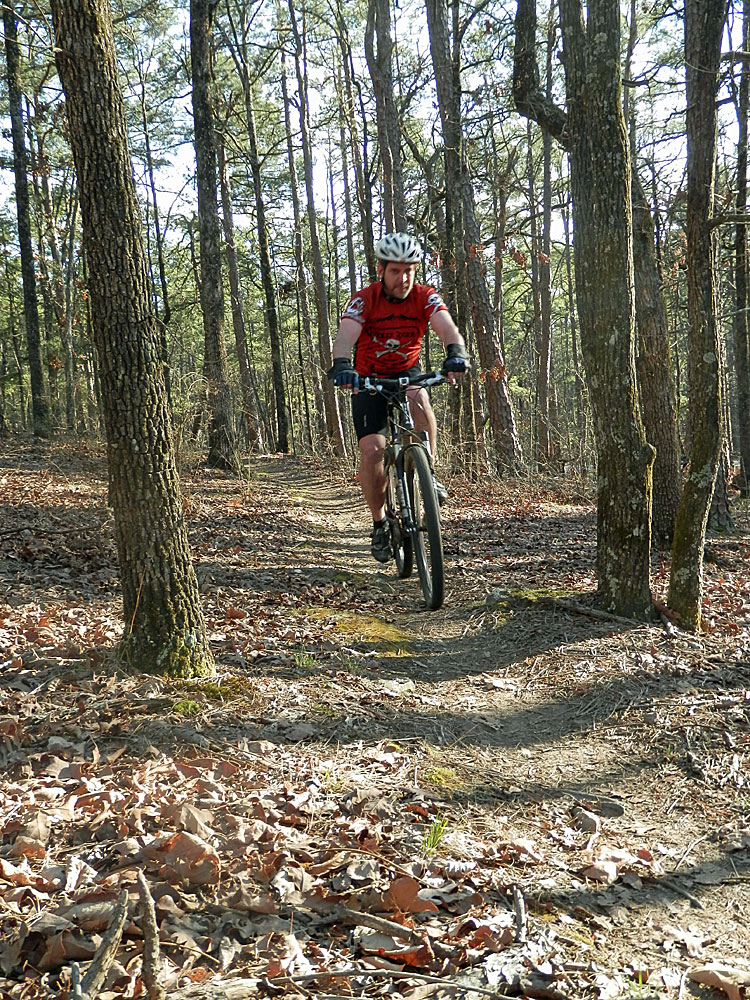 The Jackfork, although not considered a technical trail, is a hard ride and designed as a good workout for mountain bikers, it's also a great running trail wrapping around on itself for over 6 miles in a small area of the park.
If you are interested in volunteering with the CATA group, check out their website and Facebook Page for more information. For those of you closer to Northwest Arkansas, we recommend contacting the Ozark Off-Road Cyclists for volunteer opportunities.
We have to get away from looking at [trail] maintenance as a 'duty' and as 'work,' and start selling it as a fun sport separate from hiking with its own types of equipment, styles, methods, approaches, rewards, etc. Why is the maintainer looking up to the hiker? Why is the greater dream to walk 2000 miles and not to maintain the perfect 5-mile section? –JOHN SCHOEN, member of the New York-New Jersey Trail Conference, 1981
Special thanks to Cliff Li and Bruce Alt for the photographs… See you on the trail.