Last year was the test run. Paul and Melanie Norris, local mountain bike and trail advocates, decided to talk a bunch of cyclists across the state into having twentysomething rides, mostly mountain biking with some gravel and pavement, across the state between Thanksgiving and New Years. It was awesome.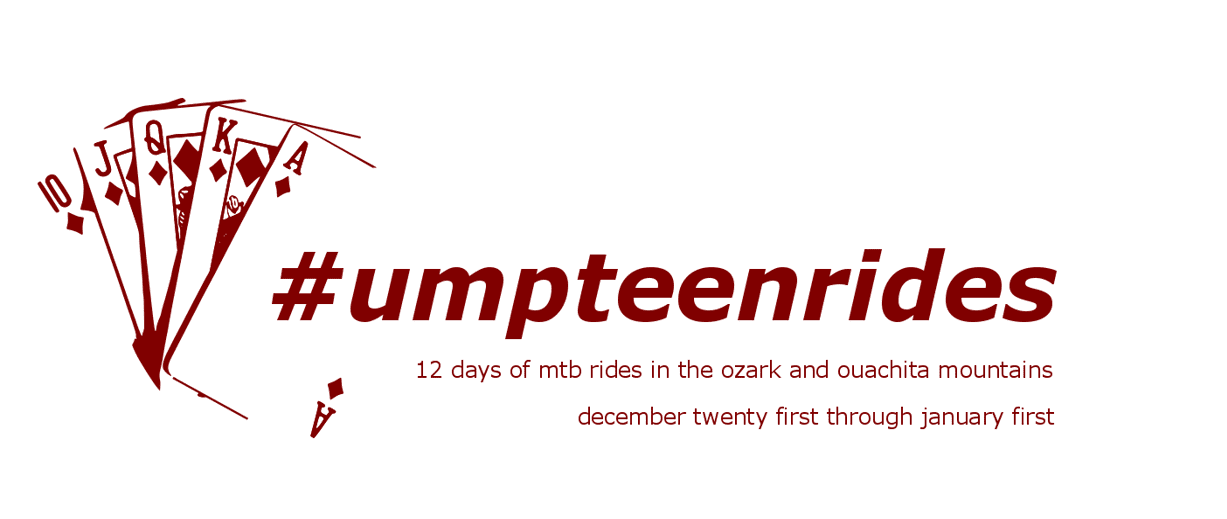 This year they have refined the idea into the Umpteen Rides (#umpteenrides). 3 to 4 rides a day starting December 21, the Winter Solstice, until New Years Day. It works like a poker run:
Rules for the Poker Run
Rules are similar to a poker run.
Attend a ride, first 50 riders receive a card from the ride host.
The more rides you attend, the more cards you get.
Best 5 card hand wins (top hand – 5 Aces)
Prize packages for the top 3 hands.
Post pictures of your hand on the Umpteen Facebook Page no later than 1/2/18.
Winning hands must be delivered to umpteen for final verification.
In the event of a tie, names of the tied players will go in a hat for the random drawing.
Ride hosts are not eligible for poker.
Individual rides may have prizes or contests that are separate from the poker run.
Sponsors include Angry Dave's Bikes, Chainwheel, Osprey, Best Western, Arkansasocks, The Ride, Arkansas State Parks, Arkansas Outside, Lupine, Rogue Trails, Spank, Giant, Club Ride, Oz Trails Off-Road, Red Light Roastery, Cateye, IMBA, BFor a lack Cycle Pottery, Geaux, IXS, Vital Industries. So you know there will be some great prizes.
For a full calendar of all the official rides, go to our calendar. There are currently 36 rides available all over Arkansas. How many can you ride?