The two major US Army Corps of Engineers (USACOE) districts serving Arkansas are the Little Rock District and the Vicksburg District. Many people do not realize that the USACOE manages more campsites in the state than any other agency. As campgrounds are closed, it's important to know where to get the most current information. So if you hold reservations at a USACOE campground in the coming months or thinking about visiting one, please read on.
This map shows the Little Rock District, the rest of Arkansas is the Vicksburg District.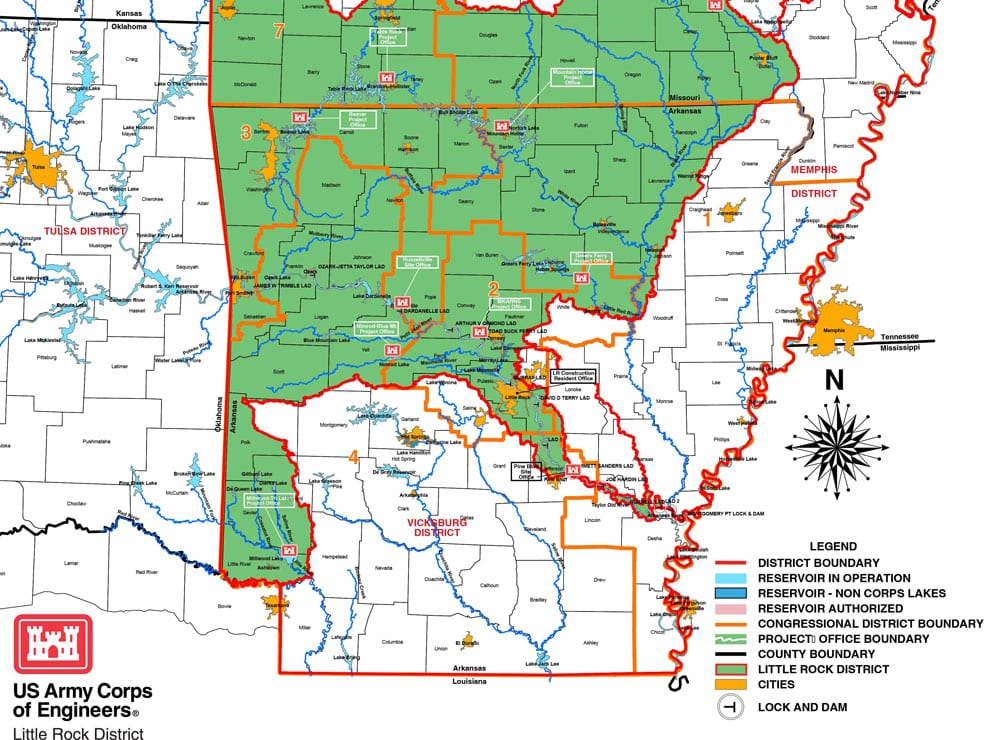 Little Rock District Information:
The U.S. Army Corps of Engineers, Little Rock District is announcing campground reservation cancellations in Arkansas and Southern Missouri in response to the Coronavirus.
The cancellations will not affect those campers already at the campgrounds.
USACE campgrounds that are currently open will honor active reservations through Sunday, March 22. Individuals with reservations on or before March 22 will be able to camp for the entirety of their reservation. No new reservations will be accepted after March 22.
No new campers will be accepted at first-come, first-serve campsites effective Thursday, March 19.
Campground reservations scheduled between March 23 and May 15 will be canceled. Refunds will be provided through Recreation One-Stop (1-877-444-6777 or recreation.gov). Reservations after May 15 will be reevaluated at a future date.
These measures are in addition to operational changes announced earlier this week.
Those changes included:
All USACE sponsored events, tournaments, volunteer activities, and public meetings are canceled until further notice.
Special event or activity permits will not be issued; those permits that have already been granted will be considered for revocation based on the Center for Disease Control's guidelines.
Visitor centers and lake offices are closed to the public until further notice.
Campgrounds that are currently closed will not reopen until further notice.
Day use facilities, such as group shelters, are subject to evolving conditions and may not be available. Please call the local project for the latest information.
Corps of Engineers personnel will no longer conduct site visits that require personal interaction during inspections for shoreline management activities until further notice.
These changes, officials said, are being made in an abundance of caution and to protect guests, volunteers, and staff.
Guests planning to visit USACE lakes for any reason are encouraged to call the lake project office before planning their trip to obtain site-specific closures, such as parks and boat ramps.
Officials urge anyone visiting a USACE lake to follow the CDC's guidelines regarding social distancing and remain diligent. CDC guidelines and more information can be found at www.conoravirus.gov. More information can be found HERE.
Vicksburg District Information:
The U.S. Army Corps of Engineers (USACE) Vicksburg District will temporarily close its visitor centers, interpretive centers, field offices and select recreation site attractions across Mississippi, Louisiana, and Arkansas to the public beginning March 19.
The affected visitor and interpretive centers include the J. Bennett Johnston Waterway Regional Visitor Center in Shreveport, Louisiana; the Grand Ecore Visitor Center in Natchitoches, Louisiana; the Grenada Lake Visitor Center in Grenada, Mississippi; and the DeGray Lake Visitor Center in Arkadelphia, Arkansas. These centers will each close March 19.
The affected field offices include those at Arkabutla, Enid, Sardis and Grenada lakes in Mississippi; Lake Greeson, DeGray Lake and Lake Ouachita in Arkansas; Bayou Bodcau in Louisiana; and the Louisiana Field Office in Monroe, Louisiana. These offices will each close March 19.
The public will be unable to receive in-person customer service or purchase recreation passes from all of the district's visitor centers, interpretive centers and field offices beginning March 19. The public is encouraged to contact the offices and centers via telephone for customer service and to purchase recreation passes online at the following link: https://store.usgs.gov/pass.
Effective immediately, all district campgrounds are not accepting new reservations. Reservations scheduled to start after March 18 will be canceled. Additionally, walk-in reservations are not being accepted. All district campgrounds will be closed on March 23. Visitors to the campgrounds must depart no later than 4 p.m. March 22. All scheduled campground reservations after March 22 will be canceled. Refunds will be provided through Recreation One-Stop, which is available online at Recreation.gov or via telephone at 1-877-444-6777.
All district day-use areas will be closed as soon as possible but no later than March 23. All scheduled pavilion and special event registrations will be canceled. Visitors who had registrations should contact the appropriate field office for refund information.
At this time, the recreation sites' boat ramps and nearby amenities, including restrooms and fish cleaning stations, will remain open. More information can be found HERE.