HOT SPRINGS, Ark. – (Sept. 14, 2022) Thirty volunteers, mostly from the Arkansas Backcountry Hunters and Anglers and Natural State Overland, collected 50 bags of trash and 140 tires from a dump site in Perry County on the Ouachita National Forest, on September 10.
The event coincided with the Great Arkansas Cleanup, which began September 10 and continues through October. The Jessieville-Winona-Fourche Ranger District provided a truck and trailer to collect the tires and partnered with Perry County to dispose of them.
"Perry County Judge Davis provided the Forest Service help in disposing of the tires at the County Transfer Station," said Jessieville-Winona-Fourche District Ranger Michael Welker. "Judge Davis said the county supports these efforts to keep our public lands clean."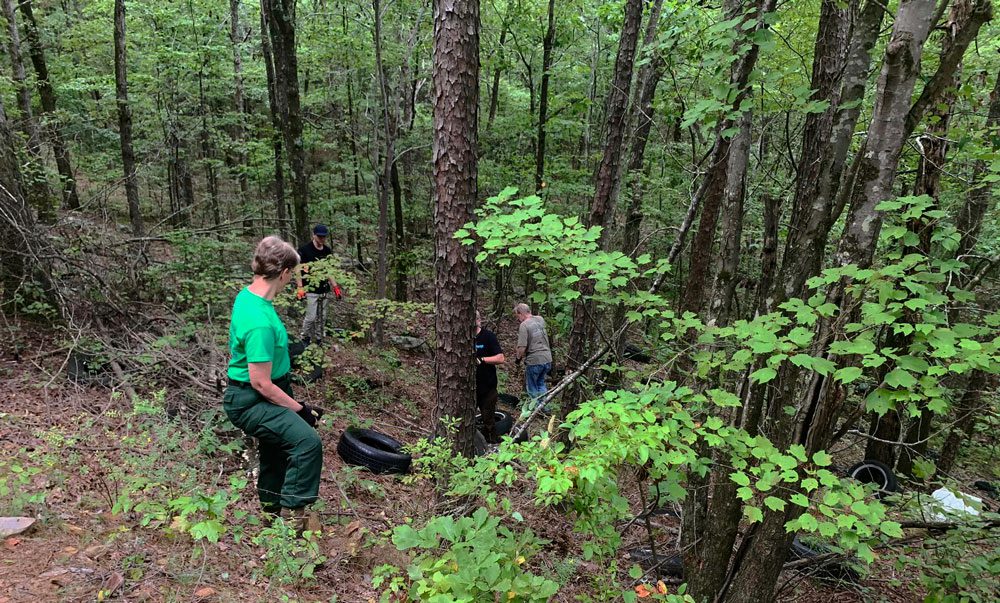 Forest Service law enforcement is investigating and monitoring the dump site and other areas of the forest where there is an issue with dumping.  On National Forests, federal law prohibits dumping and is punishable by up to a $500 fine or imprisonment for up to 6 months and may result in a mandatory court appearance.
"Despite the law, dumping and littering on National Forests is, unfortunately, a common and persistent problem," Welker said. "These illegal activities are harmful to the environment, hazardous to public health, and ultimately detract from the natural beauty of Arkansas and our National Forests.  We cannot thank these volunteers enough for the work that they do."
The Arkansas Backcountry Hunters and Anglers and Natural State Overland are planning another cleanup in late winter or early spring to remove additional tires.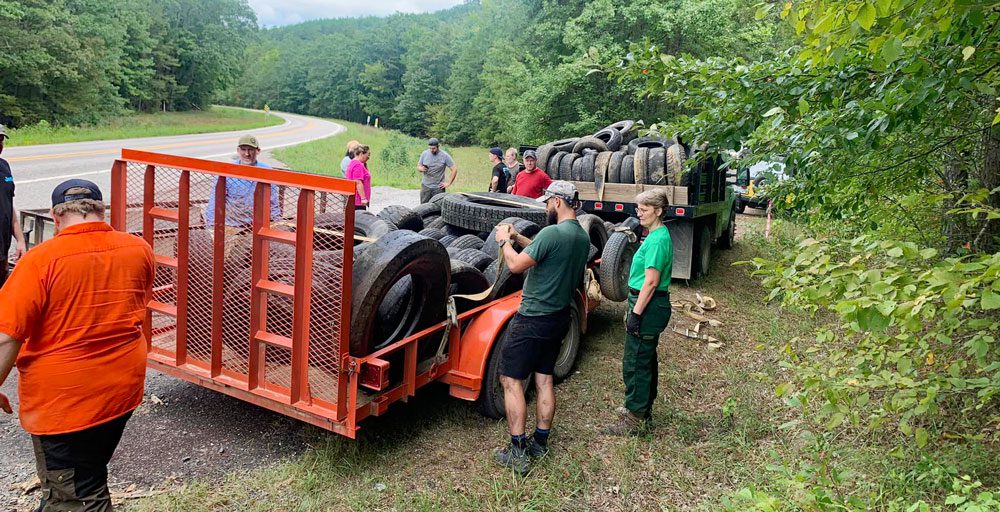 "Unfortunately, the job is not done yet," Welker said. "There were so many tires in the forest, the volunteers ran out of space on the trucks used to take them out. The plan is to go back out in late winter or early spring to collect the rest of the tires."
For more information on how you can help, or to report illegal dumping, visit https://www.fs.usda.gov/ouachita/ to contact a local National Forest Office. The EPA has a site where illegal environmental violations can be reported online at https://echo.epa.gov/report-environmental-violations.
####