Situated in the northwestern corner of the state, Hobbs State Park – Conservation Area is where I celebrated National Trails Day.  I decided to volunteer at the 2nd Annual War Eagle Tailtwister Trail Runs.   "This event is the end result of several trail enthusiasts joining forces to create something special," stated Jeff Genova, race director of War Eagle Tailtwister Trail Runs.  One of the main goals of the group was to target road runners and make it more desirable to run trails.  It's for that reason both beginner and experienced runners can appreciate this event.  Runners should find solace in knowing half the proceeds directly benefit the maintenance of the trails via Friends of Hobbs.  The other half goes to Rogers Lions Club.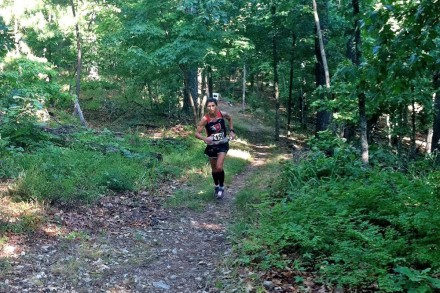 Arkansas never ceases to amaze me in terms of what it has to offer to those that enjoy being outdoors.  Upon arriving at the parking site at War Eagle Farm, I could hear Mother Nature preparing to conduct a symphony for the day that lay ahead.  Three distances (10k, 25k, and 50k) were featured this year with the 10k making its debut on the single-track progressive trail.  After watching the start of the 25k/50k, I headed to my post, the Rabbit Ears.
The race start:
Located about one-half mile from Piney Road Trail Access, the Rabbit Ears are comprised of Bashore Ridge Loop and Dutton Hollow Loop.  If you look at it on a map and kind of squint, you'll see what I'm talking about.  As I proceeded to my post, once again I was jealous of those running the race.  The weather was being cooperative permitting one to take advantage of the "hidden diversity."  Water and Gatorade were available at my aid station, but my main task was to ensure the 50kers knew which direction to take as they did both loops.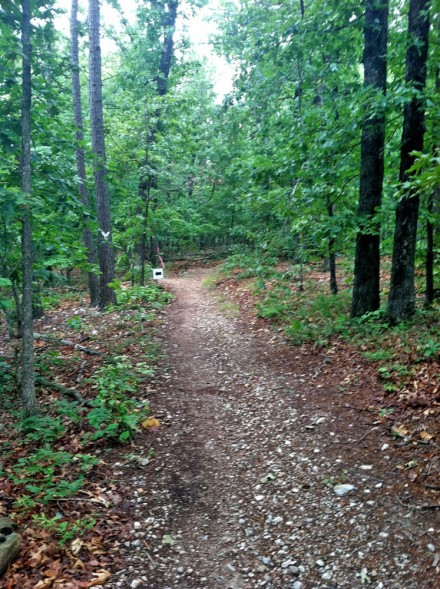 It wasn't long before I saw Mike Rush of Rush Running flying past me leading the 50k with Shannon McFarland a few minutes behind him.  A few runners commented on how it wasn't nearly as hot this time around as it was last year.  After everyone made it through both loops it was time for me to pack up and head back to Piney Road.  It takes a little work to get aid out on trail races.  The least I could do was make it easier on the person that brought it out.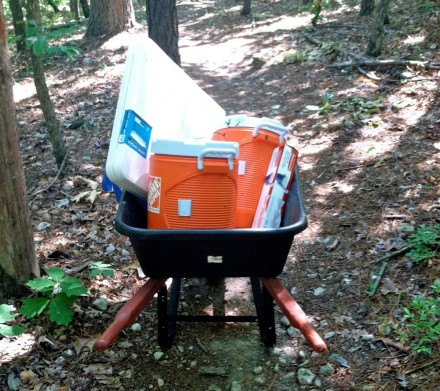 Before heading back to the finish line, I helped at Piney Road.  The aid station had the usual buffet, which only tempts you as you wait on the runners.  I filled water bottles and hydration packs the majority of the time.  It was heating up and although the trail was concealed by the woods, humidity was ever apparent.
Upon returning to the finish line, I saw a serious spread of vittles.  Catfish, hushpuppies, Nathan's hot dogs, chicken strips, etc. were all for the taking.  I wasn't as strong here as I was at the aid station.  I cheered runners in with a cowbell and did some chip clipping.  Chip timing may be unorthodox at trail races, but many were ecstatic to have results soon after finishing.  Afterward, many stayed to cheer in the remainder of the runners on the course.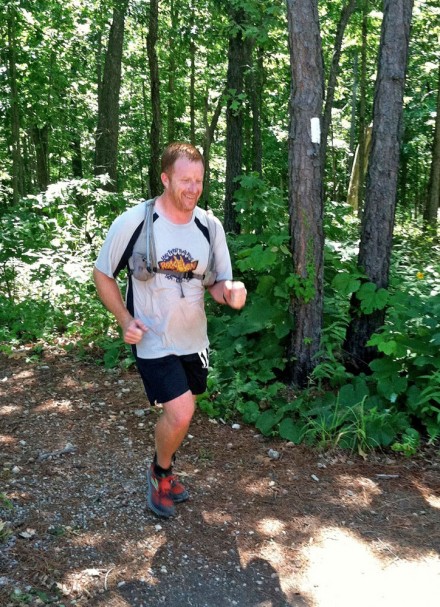 There were 234 total finishers with runners coming from AR, TX, OK, MO, KS, MN, and WI.  Strangers became friends.  Old friends and acquaintances had a chance to catch up on what was new in each other's lives.  For some it was their first trail race.  Dave Renfro completed his first 50k.  A highlight to my day was witnessing Spa Pacer, Joshua Drake's relentless attitude.
I guess that means you know where I'll be for next year's National Trails Day.  Why?  Nice trails?  Because it's well organized?  A shot at a pair of Salomon shoes?  Cool people?  Epic t-shirt designed by Ryan Holler?  A fuzzy rug?  I think all of the above are good answers.  How did you celebrate National Trails Day?
Nicholas keeps folks up to date on running events on the icedotathletes blog and on Pace per Mile.