UPDATE!!! Warrior Dash will be back in Arkansas in 2013!
Back in January Lisa wrote an article about a new style of racing that was finally coming to Arkansas. I call it obstacle course runs and they seem to be growing in popularity. We found out the Warrior Dash was coming to Amity, Arkansas. Lisa, son David and I quickly got signed up and have been waiting not so patiently for the last several months to finally have a chance at participating in one.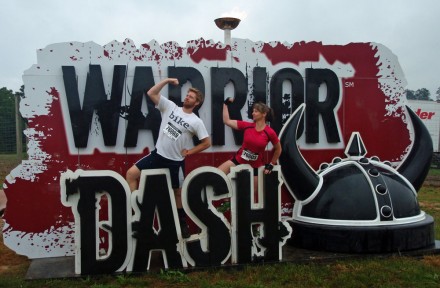 The forecast showed rain but we figured that would not stop the race so we headed out early Saturday morning, our race would start at 10:00 am. This is a popular event and they try not to deny anyone the chance to participate so they run the race all through the day with flights of runners leaving every half hour starting at 9:00 am.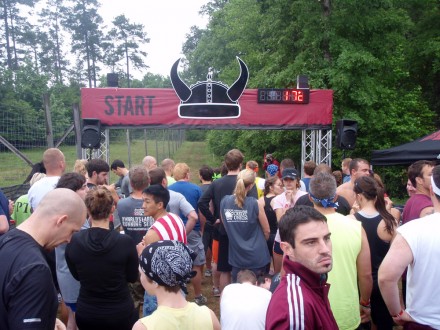 According to the results page, close to 5000 people participated in the run plus a bunch of people showed up to watch the insanity. The run is just over a 5K (3.4 miles) with several obstacles along the way including water features, cargo nets, walls, steep hills, trenches, a jump over fire and finally the best mud pit I've ever raced through.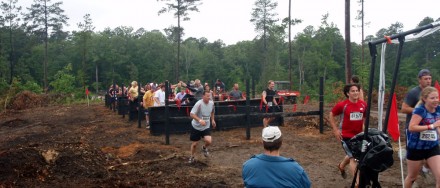 Since I was stopping to take photos I was not considering myself competitive. David had taken off at the start and I didn't see him again until the finish. Lisa decided to leave me at the second obstacle.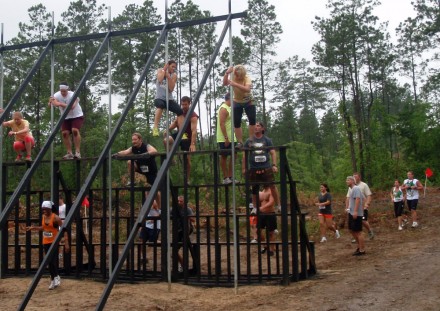 I did catch up with Lisa one last time at the next obstacle.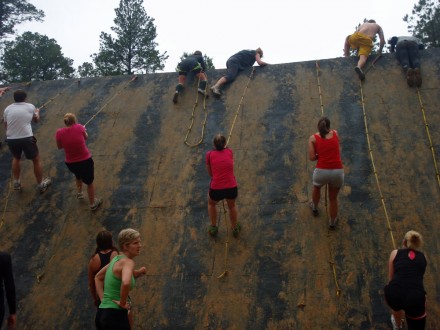 After going through some water challenges which are the easiest for me we got to a BIG hill that was steep on both sides.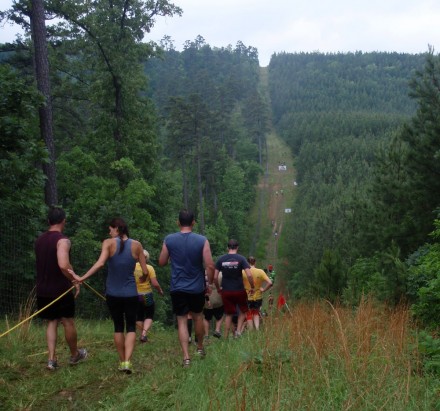 They had all kinds of creative obstacles for us including more mud, barbed-wire, and some more water.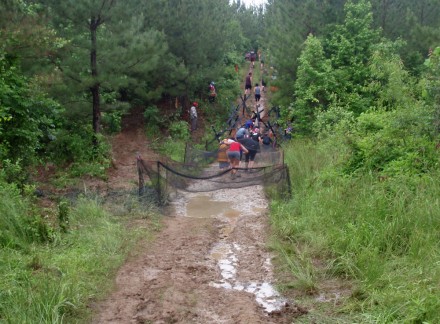 Eventually I came out of the woods and after a crawl across a cargo net and a dip in the lake I headed up to the top of the highest hill in the area.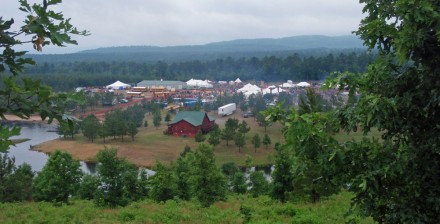 We then ran down the hill but they had three more obstacles for us. A cargo net climb and then…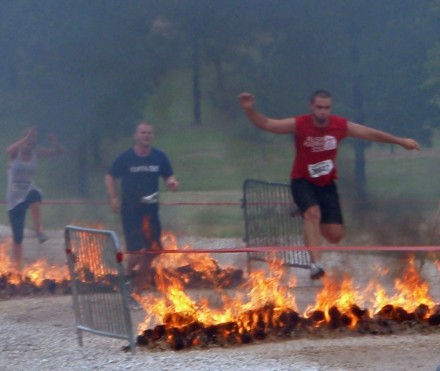 The grand finale is the mud pit. They had a well done mud pit with more barbed wire above to keep you down in the muck and the mud was grade A. When it touched you, it stuck to you.
The Warrior Dash is not really about racing but they do use chip timers (which are also used for photograph identification later) Here are the results. If you want to be fast, I recommend getting near the front at the start. Towards the back of the flights you tend to get caught waiting at some of the obstacles. The only reason I did this any faster than anyone else is because I started out near the front and had no waiting.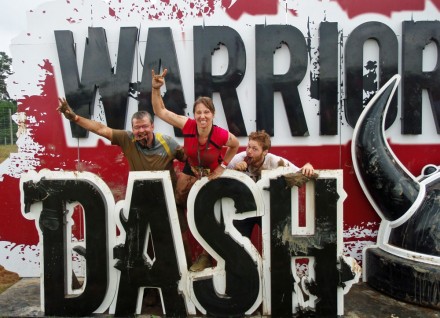 A couple of other things that I didn't realize, they have a gear check tent so even though we had to ride a bus from the parking area to the event we could have brought more stuff and it would have been safe. I recommend that each racer bring a backpack with change of clothes and a towel. They have plenty of food, music, merchandise and fun at the finish. To clean up we jumped in the lake to rinse off, then used the changing tents to put on dry clothes.
The obstacles were all fairly easy for anyone with a sense of adventure and I never felt that what I was doing was particularly dangerous. The wall climbs were way easier than I had imagined. At the end we started scheming ways to get back in line and do it again. We had a great time!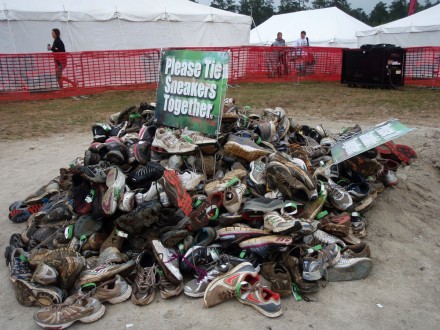 Hopefully the Warrior Dash will be back next year and maybe other races like this will find their way to Arkansas. If you're sorry you missed it, registration is still open for the Hillbilly Porkchop 5K next weekend in Ft. Smith, which promises to have plenty of mud and obstacles.
(photo note: to get these photos I carried an old Olympus 790 SW, it's waterproof but not quite the quality capabilities of the other cameras I use. Still it held up through a lot)