Spending time with people who are in to and excited by outdoor recreation is a pleasure. Rarely is there boring talk of what's on television or what someone said did on an awards show the other night. There is not even much talk of spectator sports. The conversations tend to be about experiences: their experiences, a friend's experiences and sharing your experiences. What could be better than spending time with these kind of people? Spending an entire weekend at a large gathering of them.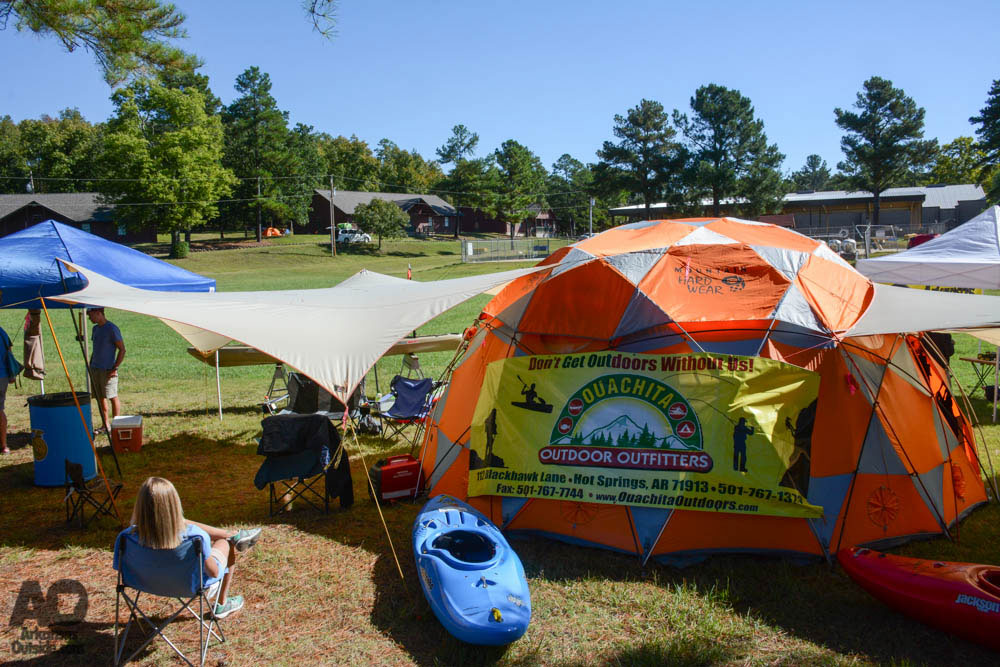 Last year we were only able to experience a portion of the Arkansas Canoe Club Rendezvous. The event was so entertaining, we were anxious to spend the entire weekend with this wonderful, diverse group this year. The gathering party started on Friday night but due to last minute difficulties on the home front, we made plans to show up first thing on Saturday morning.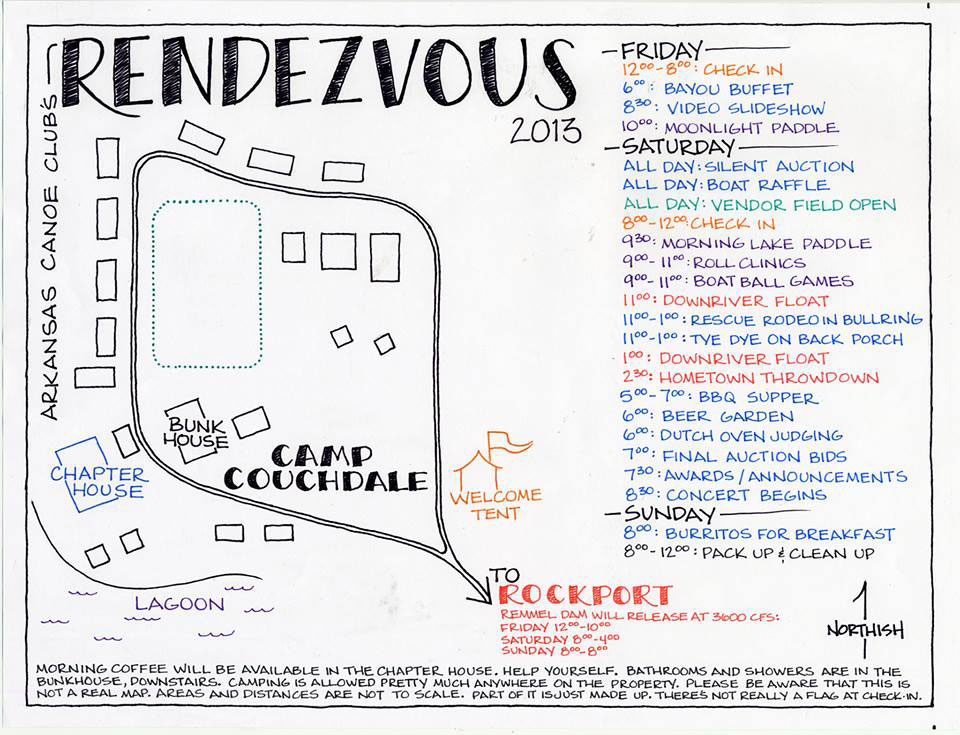 The rain that disrupted outdoor festivities Friday evening had ended by Saturday morning. Blue skies were revealed in the company of the sunrise and with early fall temperatures in the 70's and 80's, it was shaping up to be a perfect weekend. As we set up our canopy among the campers who had braved the rains of the night before, now stirring from their slumber, Camp Couchdale was alive with the hustle and bustle of coffee foraging.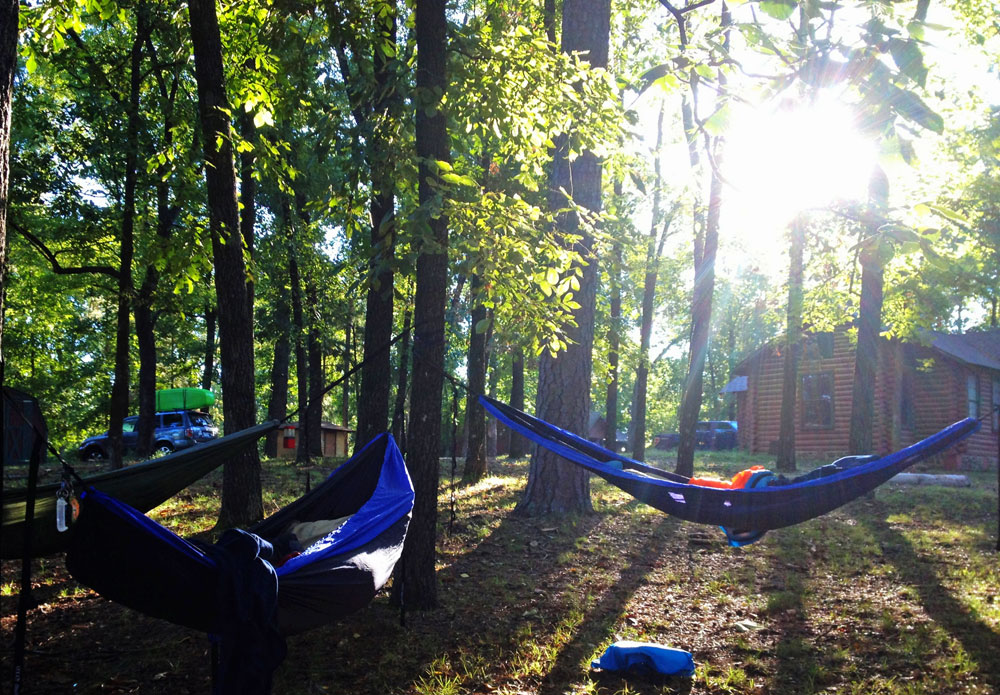 Camp Couchdale is situated along the beautiful Lake Catherine, its history as a Future Farmers of America (FFA) camp reaches back to the 1930's. With its own quiet lagoon just off the river accentuated by the swinging suspension bridge at the mouth and easy boat put-in along the bank, it is a perfect location for a gathering of canoe, kayak and other water sport loving folks.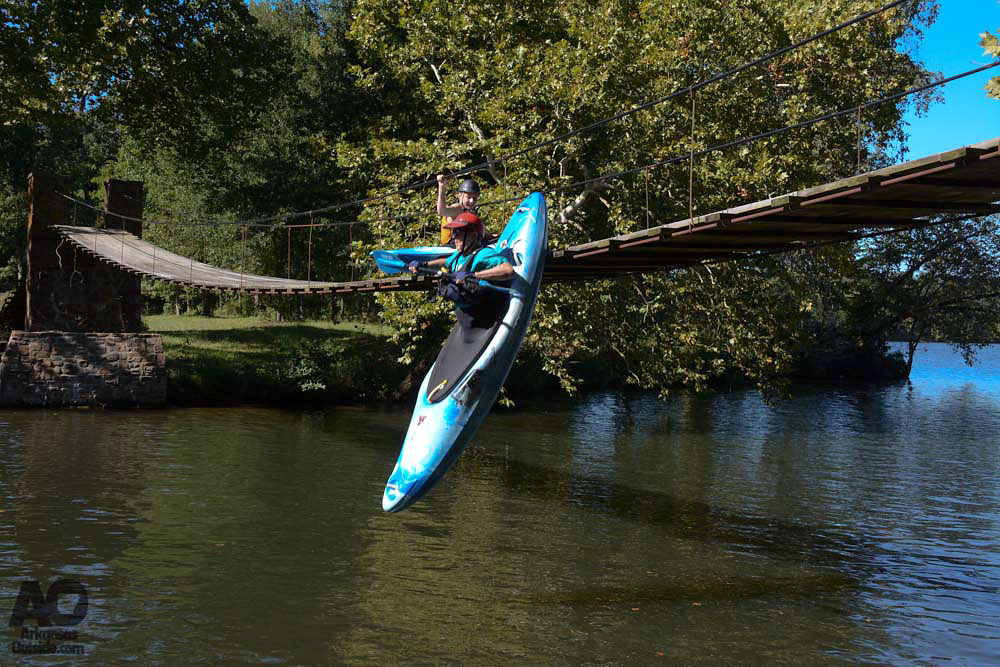 While others were gathering and planning their day out on the water, we busied ourselves with setting up our own little oasis. Once we staked our claim by hanging our hammocks in a quiet and somewhat isolated copse, we made our way to the cove led by rumors of a game of boat ball. We found no such activity but instead we noticed two kayaks and their pilots suspended over the side of the suspension bridge working up the courage to make the 9 foot drop to the water below while seated in their plastic vessels. Suddenly they were gone, splashing into the cool water to gasps and applause. Enticed by the laughter of the initial instigators, others were already climbing out of the water to head to the bridge, kayaks over their shoulders. No organized game of boat ball would happen, but other fun was found in stomach fluttering flights into the water.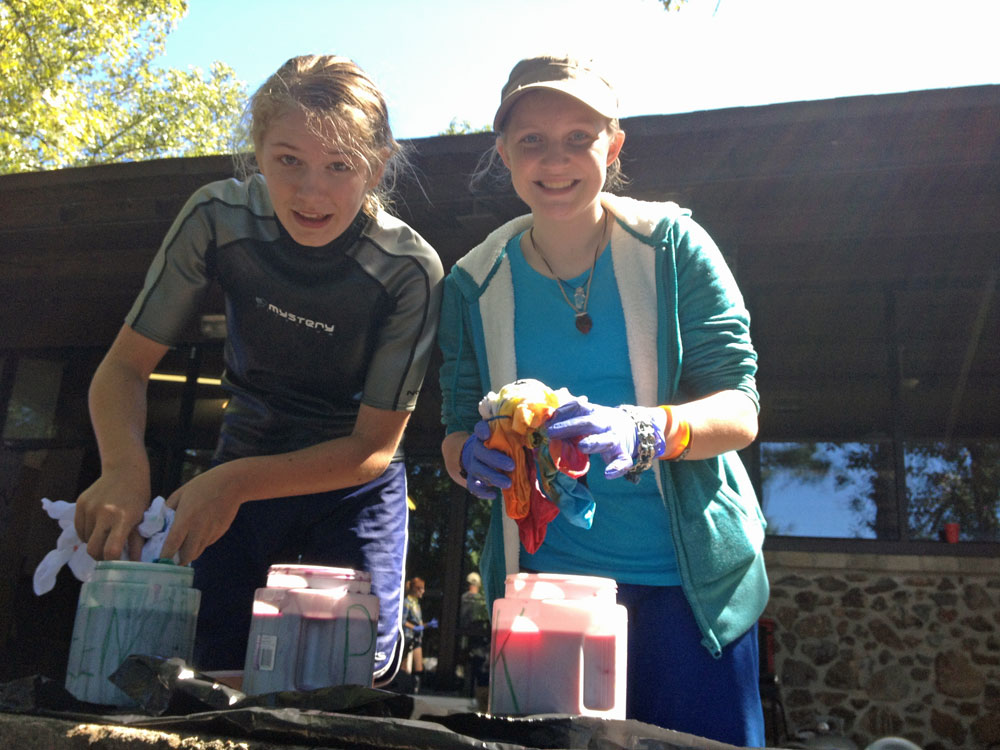 While a group was doing some on land rope throwing practice for water rescue situations, some of the kids and grown ups who like to act like kids, were having a little lighthearted fun creating tie-dye works of art to be worn.
Next on the day's agenda was the Hometown Throwdown at the Rockport Ledge just a short drive away on the Ouachita River near Malvern, Arkansas. Shuttles were arranged for those wanting to float to the event from upriver at Remmel Dam and for those going straight to the ledge to watch the action. If it sometimes seems that kayakers aren't very organized, watch them coordinate a shuttle run, it's a thing of beauty with boats strapped on, in, under, and on top of any part of a rack or vehicle they can find. The north bank of the river at the Rockport White Water Park was packed with people anxiously waiting to watch the various tricks attempted by diverse types of boaters. To the delight and hearty applause of the crowd of spectators, they performed spins, flips, cartwheels and rolls plus some casual surfing in kayaks, canoes, rafts and other odd looking crafts.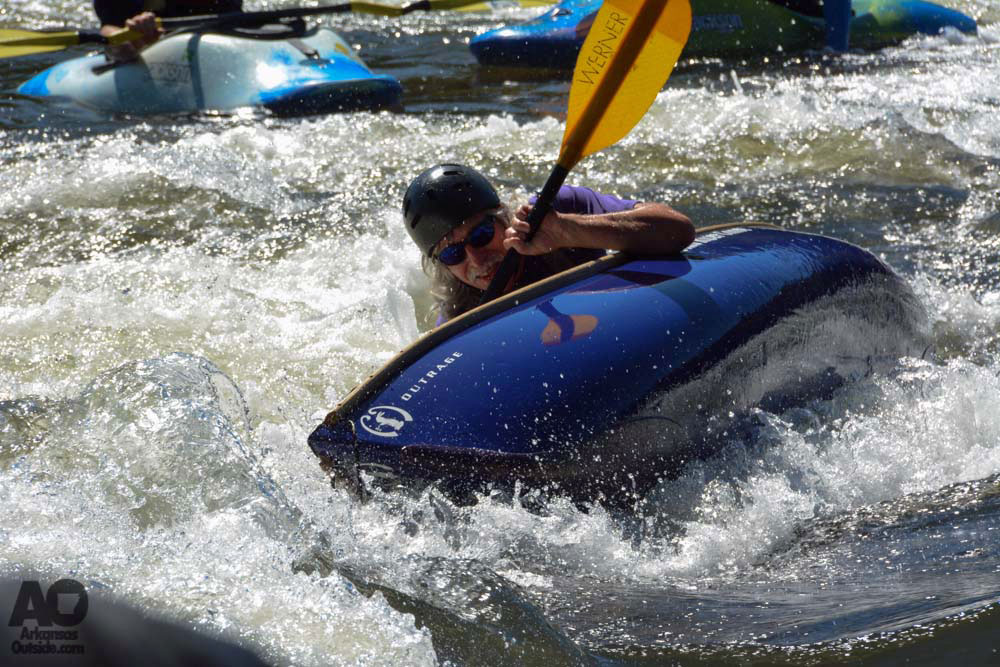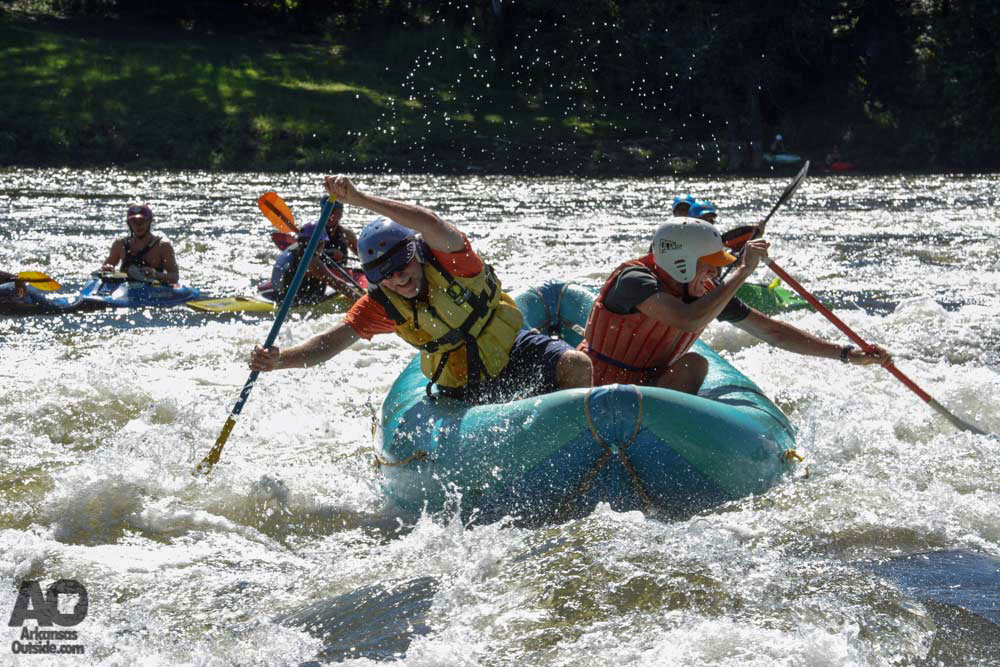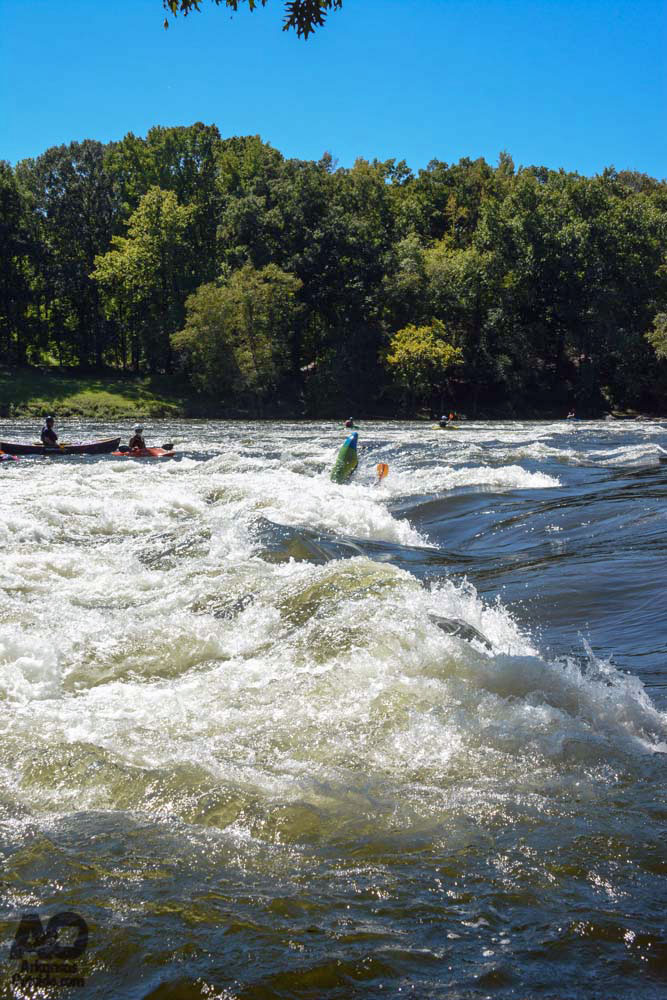 Late afternoon found us back at Camp Couchdale and all thoughts turned to food. The local dutch oven club was there cooking up some wonderful concoctions in their own competition. True Blue BBQ was there serving up tasty meats. Diamond Bear Brewery had beer on tap, both root and real. A short awards ceremony for the Throwdown competition, the conclusion of the daylong silent auction and a raffle contest for a 16 ft. Mad River Canoe would signal the end of the day's events. Then the night time party officially kicked in complete with a great concert, dancing, a few fireworks,  and visiting with friends. First up on the concert stage was Ryan Sanders with a set list of original songs. He was followed by the duo R & R who played everything from Three Dog Night to Pat Benatar to Gotye. They had the crowd singing along, clapping and dancing. There was also some twerking. We won't name names. What happens at the Vous, stays at the Vous.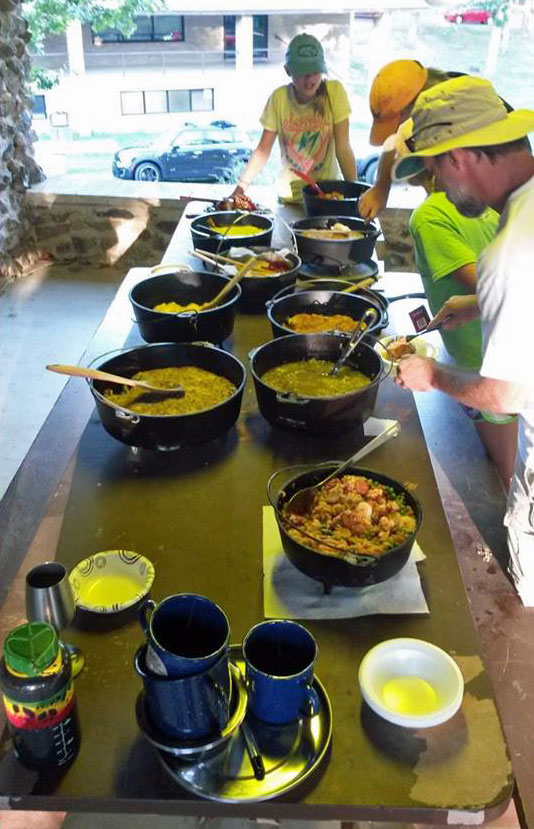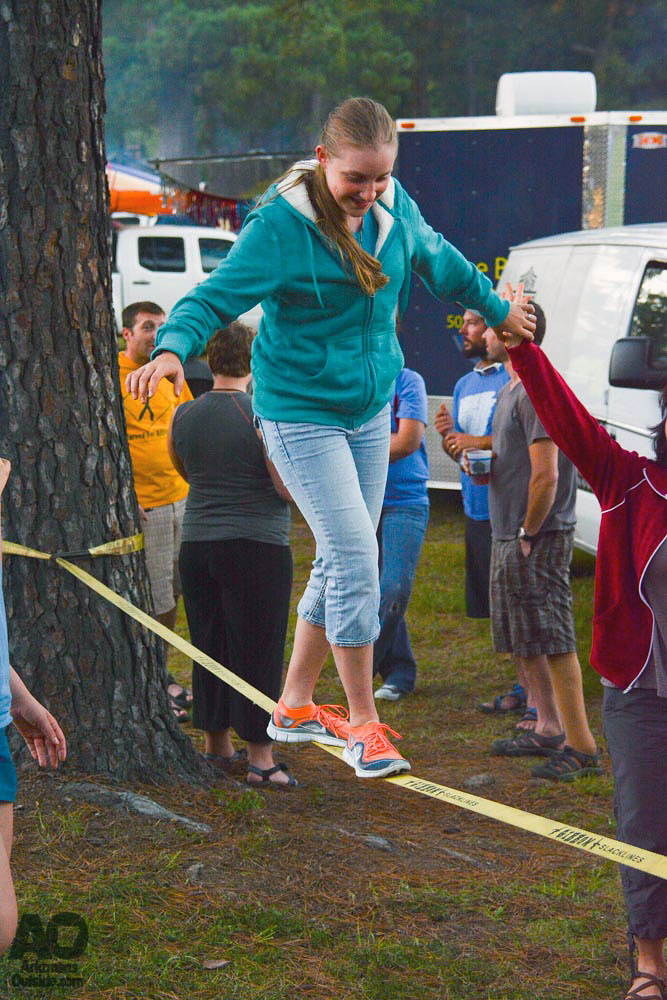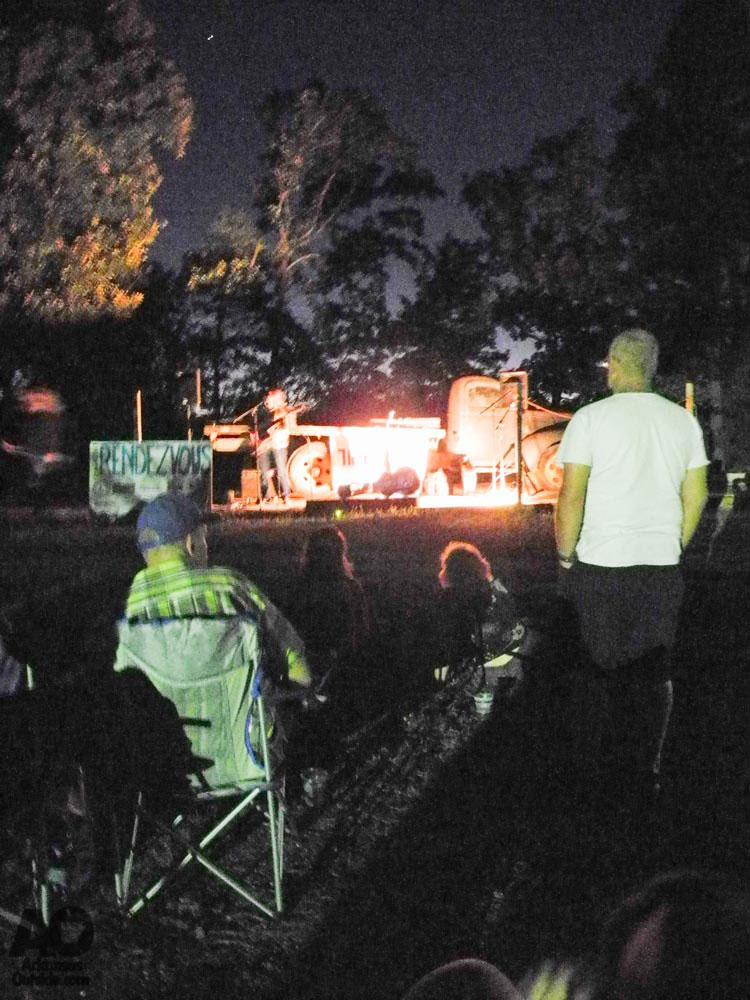 Master of Ceremonies Ringleader, Jeremy Mackey of Ouachita Outdoor Outfitters tells us that there were about 60 vehicles, 200 people, 2 kegs of Diamond Bear and a lot of good times.  After a restful night of sleeping in the cold air the camp slowly came back to life. This time everyone was getting packed up to head home or to head to the river to begin practicing for next year's Throwdown. Walking through the camp we heard someone ask, "Are the rumors of make your own breakfast burritos true?" the response was, "It is no rumor." It was going to be another great day in Arkansas.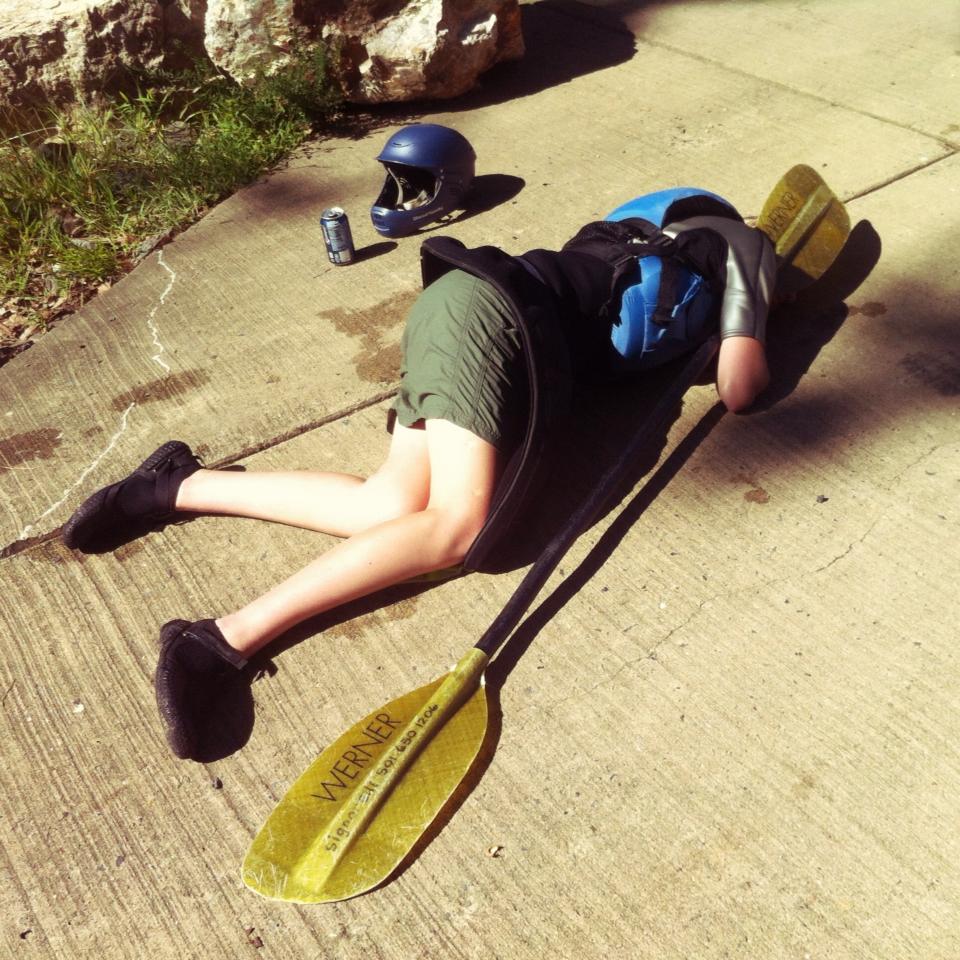 Over 700 photos on our Facebook Page for sharing, downloading, tagging and commenting on, enjoy. Oh, and make sure to like us too!