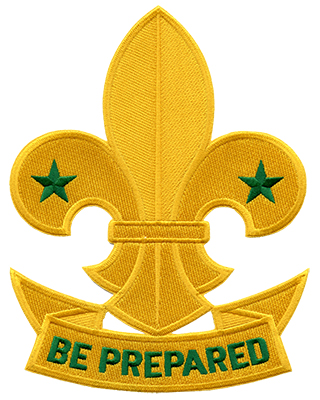 Our guest writer Lisa is a glutton for punishment and wanted to do another blog article. She was inspired by the recent Boy Scout incident at Albert Pike Recreation Center and how they did everything right. 
This week one of the big news stories in Arkansas was about a Boy Scout troop from Louisiana that hiked in a part of the Albert Pike Recreation area that flooded last year, killing 20 people. When they set out on Thursday, the weather forecast was for rain on Sunday, possibly even after they planned to be out of the area. But the rains came early. And heavier than anticipated. When they didn't arrive home on schedule Sunday evening and couldn't be reached by phone, a search and rescue was conducted. Luckily all were safe and there were comments that the most exciting and anxious part of the ordeal was the helicopter ride out. Many people questioned the wisdom of starting a long weekend hike on Thursday when storms were forecast for the weekend. But a forecast of rain wouldn't necessarily mean dangerous flooding. Turns out, they had actually done exactly what should have been done to prepare for something like this. They had checked in with the Rangers before leaving, they had left behind a very detailed itinerary with a leader who didn't come on the trip, they had carried enough food to last for several more meals than necessary and when they realized that the water was too high to risk crossing, they didn't. They waited. I'll paraphrase a quote one of the leaders made to the news after their ordeal: While other kids are inside playing video games or watching TV, these boys had a 30-mile hike in the rain. And I'm betting they learned a lot about problem-solving, staying calm in adverse conditions, and leadership skills. Moral of the story: Be like the Boy Scouts: Always Be Prepared. 
Mishaps happen on backcountry hikes or even when you're just pulling your car into a campground, but they aren't always tragic. Sometimes they're just annoying.
A few years ago we tried to give our youngest a backpacking adventure that would make her think it was a good idea to do more of it. She was 10, almost 11 and we figured she had the stamina to tackle 21 moderately strenuous miles over 3 days. It was Thanksgiving and luckily the weather was almost perfect. Cool, but not cold, and sun was in the forecast for the entire weekend. Thanksgiving dinner would be Mac-n-Cheese with Summer Sausage. This is a staple on our camping trips and for some strange reason, everyone looks forward to it. I have convinced myself it is the nostalgia, not the fat and salty goodness of the sausage. The next morning as we fired up the backpacking stove, the line broke and white gas flooded out. Crap. No coffee for us this morning. Nor would we have the oatmeal that was planned. Thank God for GORP. For the evening meal, we realized that cooking over a fire, the way it probably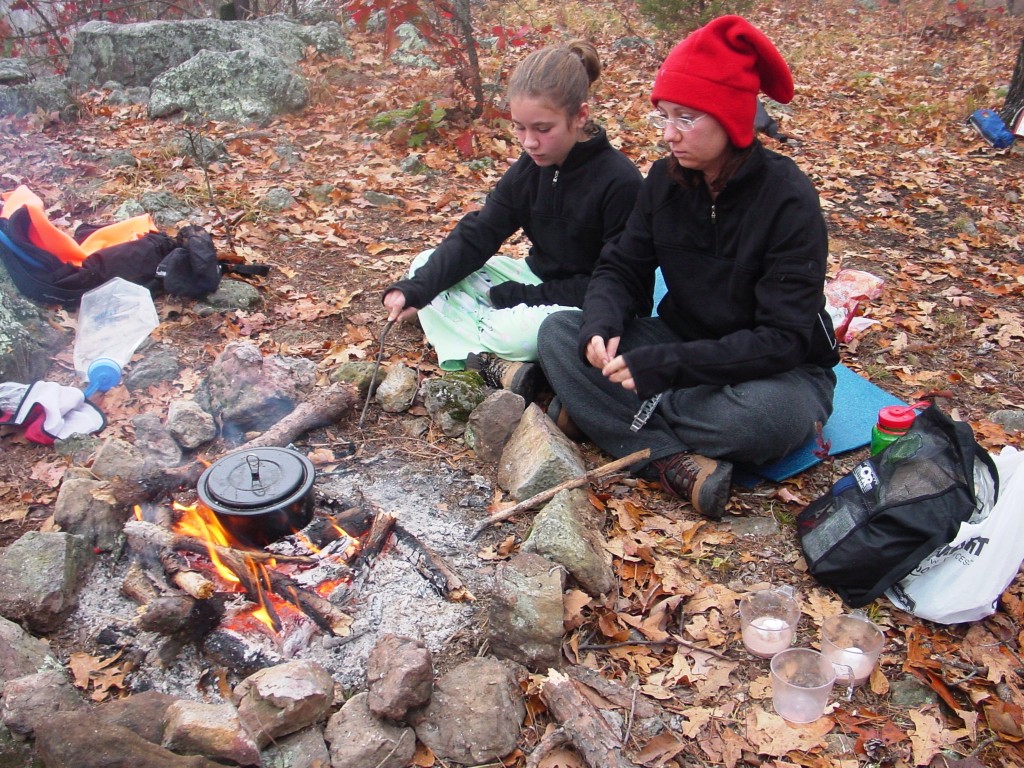 should be done anyway, was going to be required. We did not have enough "cold" food to last. The small one was given instructions to help find the perfect flat rock to use as a stove. The first ones we found were too big, too small, too round, and too scorpiony. I know scorpiony is not a word but we had found the perfect rock. We thought. When we picked it up we discovered a family of scorpions living in the nooks on the underside. We couldn't possibly evict them just to heat up our Jambalaya, could we? Luckily we found another rock that was just as perfect and much less scorpiony. That was the best jambalaya (with fatty mcfat fat summer sausage) ever. Moral of the story: Always carry some food that doesn't have to be heated AND check your stove out before every trip.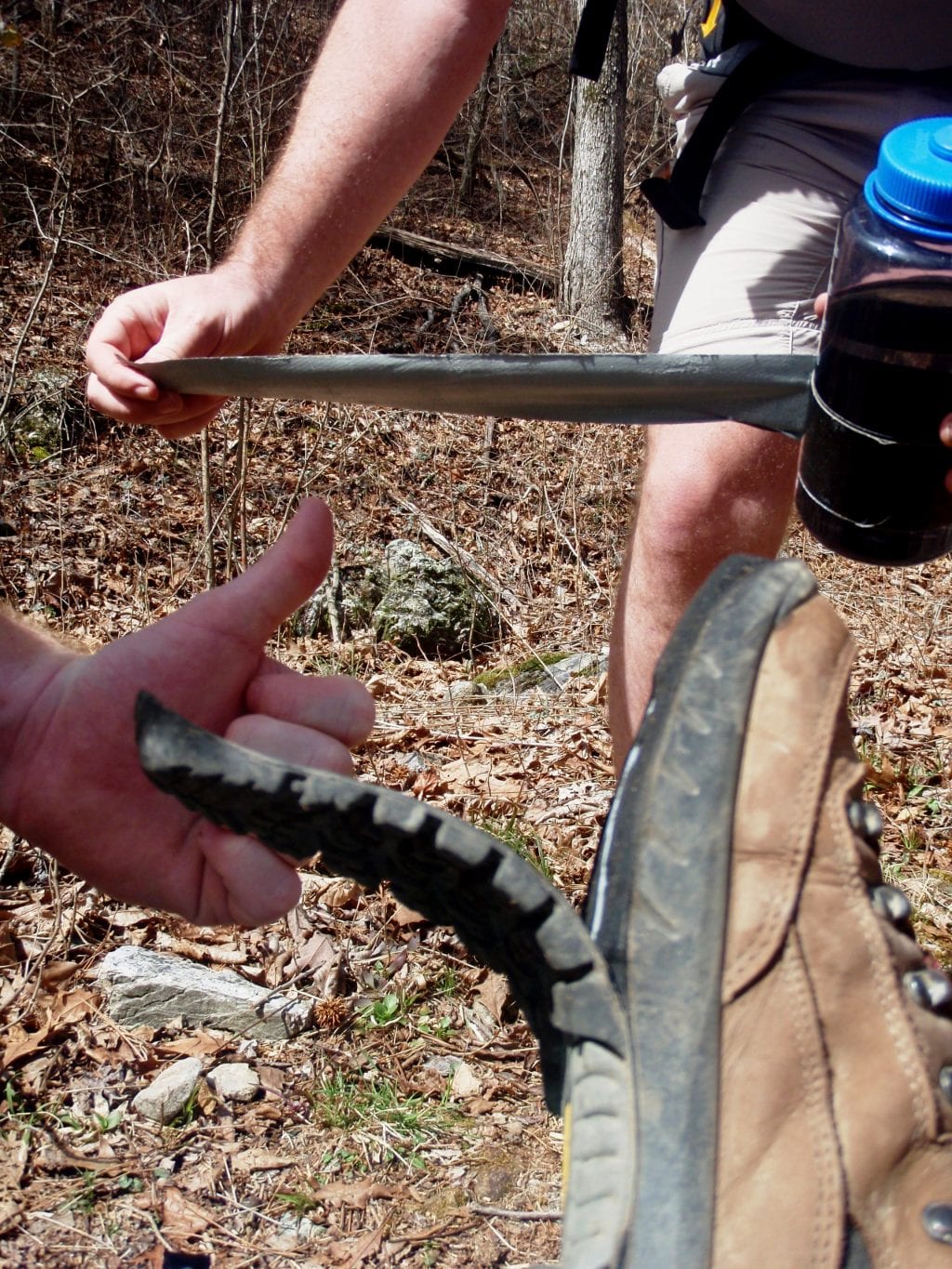 For Spring Break 2010, we took the middle kid out to hike the Eagle Rock Loop in the Albert Pike Recreation Area (this was just a few months before last year's deadly flood). He's a great hiking companion because he's big, he's fast and he pretends not to notice when you load extra stuff into his pack to get rid of your own weight. This is the longest loop trail in Arkansas at 27 miles. It crosses the Little Missouri River 9 times and has 9 mountain passes. At about mile 14, I felt like my feet were slipping to much even for the uneven terrain we were traversing and I heard a funny noise. When I stopped to look down, the sole of one of my boots was flapping in the wind like that loose skin under an old lady's arm. I can use that description because I own that loose skin myself. My old Lowa hiking boots finally gave up after 7 years of carrying me through the beauties and a few of the beasts of hiking and backpacking. As luck would have it, despite a serious lack of planning for such an incident, one of the water bottles had duct tape wrapped around it. Even though it had been on the bottle for at least a couple of years, it worked well enough to get me through the rest of the trip. God, I miss those boots. Moral of the story: Duct tape is mandatory gear and it really does hold the universe together.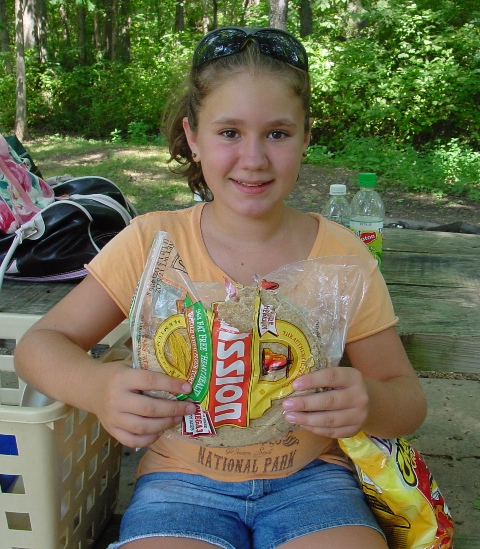 On a car camping trip to one of our favorite Arkansas State Parks, Bull Shoals/White River, we were so excited to get out of the car and onto a trail that I unloaded a bunch of gear including a laundry basket that held some of our food. What was I thinking? I know about park squirrels. They are dastardly creatures who think nothing of stealing your breakfast. Or lunch. Or dinner. Or snack. Or in this case: tortillas. I felt sorrier for the squirrel than myself when I realized he had to chew up the hard plastic basket to get to the tortillas. That can't be a good thing a few hours later. Moral of the story: Squirrels are outside the circle of trust. WAY outside. 
So when you decide to hit the trails or the campground just remember- stuff happens. Always carry a little more than you think you need. You may feel it isn't worth the weight in your pack, right up until the point where someone gets hurt, you get stranded, or you're wet, hungry and cold. Be Prepared. Or take a Boy Scout with you who is.