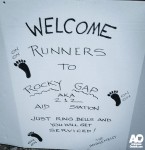 The darkness had settled in, the race was going into its fifteenth hour, and the radio operators were busy calling out race numbers as runners came in to and left out of the thirteen aid stations that stretch over the one hundred mile course. Passing ten of them twice, runners have a chance to get food and drink or whatever else they might need twenty-three times, about every 4.3 miles. We were huddled around the fire as the temperature dropped, enjoying the minutes of calm that come in between the chaos of racers and pacers arriving at our aid station. As we listened for race numbers of our running family who were out on course, we heard the radio operators discussing the whereabouts of Chicken Boy. "Has anyone seen Chicken Boy? Stations, does anyone have a last location of Chicken Boy?" We began to ask each other, "Have we seen Chicken Boy? Who/what is Chicken Boy? Should we be worried about Chicken Boy?" It seems Chicken Boy was driving a silver truck around to pick up runners who dropped from the race to deliver them to their crews, and he was urgently needed. Everyone wanted to know "Where is Chicken  Boy?" Chicken Boy was having a busy night picking up ailing runners with blistered feet, tired bodies, and dejected spirits.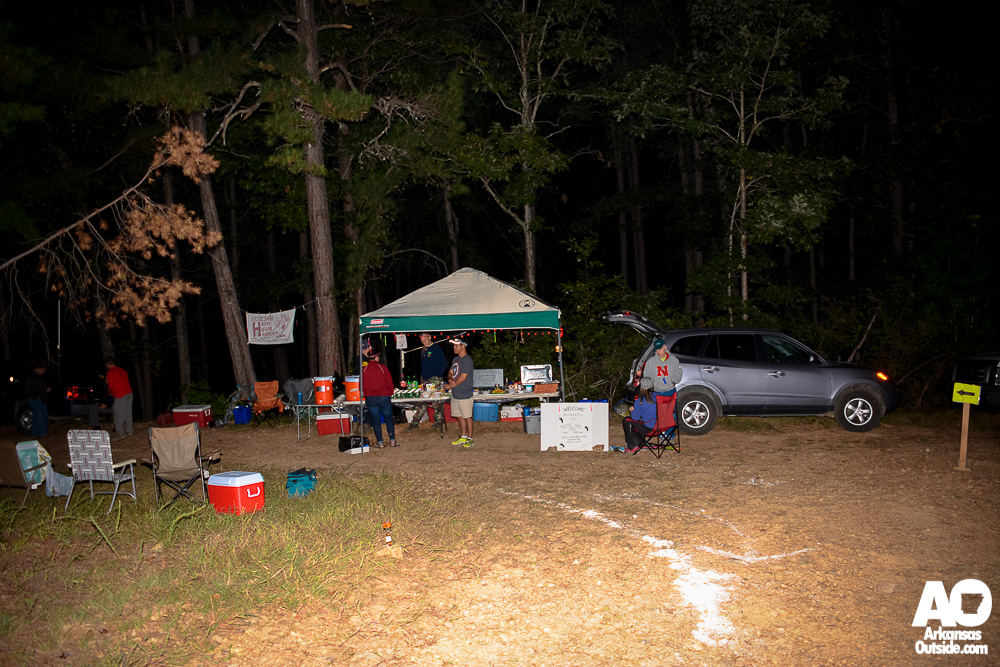 After spending the day on bikes at the Big Rock Mountain Bike Festival, Joe and I headed into the Ouachita Mountains, driving the gravel forest roads around Lake Winona to get to the Rocky Gap aid station situated about 12.8 miles from the start/finish of the Arkansas Traveller 100. We missed the runners on their first trip through the station in the morning but we hoped to be in time to see the first runners come through the station on their return trip at mile 87.2. We greeted friends who would be working all night and into the morning at the station and those who would be leaving to pace runners through sections of the race. Though we thought we timed our arrival to greet the first runner, we found we missed him by more than half an hour. Wesley Hunt was keeping an average pace of 9 minutes 35 seconds. Digest that. Average pace of under 10 minute miles while running an off road course with a cumulative elevation gain of around 12,00 feet. Hunt finished with the third fastest time in the twenty-one year history of the race at 15:59:12. One of Arkansas's ultra-running legends and three time AR Traveller 100 winner PoDog Vogler came in second at 17:47:09. When he blew through our station he asked, "Do you know far back the guy behind me is?" I think someone said "No, but the guy in front came through more than an hour ago." His response was perfect, "It doesn't matter who's in front of me." I like that attitude, his race was now to stay ahead. First place female Shelley Egli from Oklahoma posted her second win in a row with a time of 21:28:03 with second place finisher Carol O'Hear from Tennessee at 23:35:59.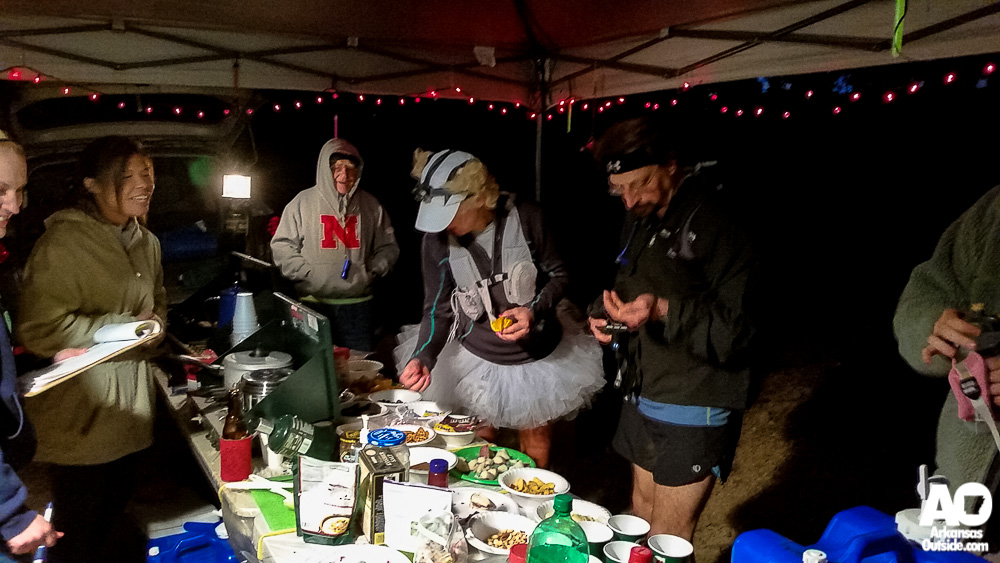 The Traveller is well known in the ultra-running world. Arkansas and Texas have the most finishers on record for the past twenty-three years, but racers come from across the country and in the case of the Hattas, from around the world. Katsuyuki and Hiromi Hatta from Japan have completed 12 and 13 Traveller 100's respectively. But the record for number of finishes is still owned by race director since 2001, Chrissy Ferguson, who completed her 17th race this year with an incredible eight wins under her belt as well as the third, ninth and tenth fastest times for a female competitor on record.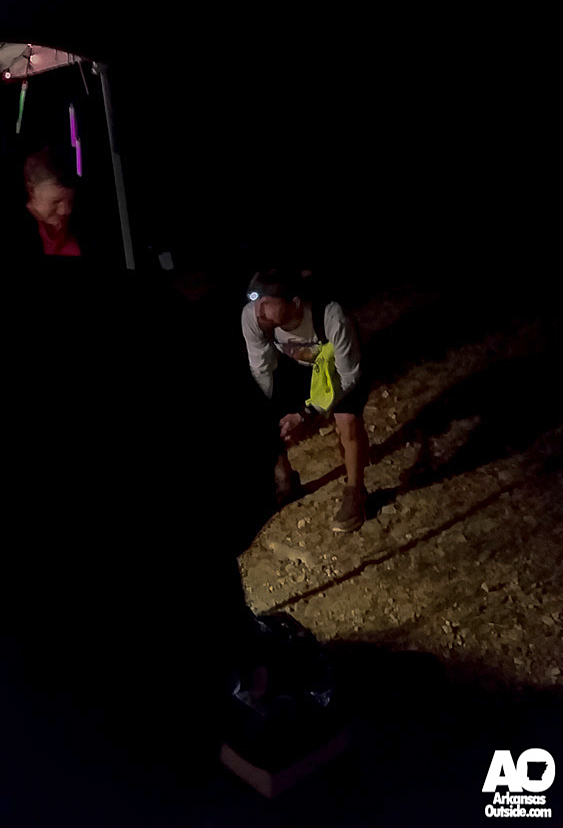 The aid station at Rocky Gap has long been home to the efforts of the local Hash House Harriers. Steadfast workers with a propensity toward hoppy liquid refreshment (plus some concoction called "apple pie") and a deep devotion to their fellow runners, there were more than ten people ready to render aid at any time during the day and night with several coming and going as needed to assist or pace along the course. We were of course waiting on friends to pass through, hoping to be able to pass on our energy and well wishes to them during those final miles, but even complete strangers got that from us, no one is really a stranger out there, everyone is family. Filling water bottles, handing out hot soup, offering hugs, cheers or a chair is just part of the job. Volunteering for a long race is enlightening and rewarding. This year, the race sold out and there was a need for more volunteers and pacers, especially for those runners from out of state. Everyone benefits from companionship during those long hours. The Arkansas Outside team is making an effort to volunteer more often over the coming months to pay back for all the times we've benefited from race volunteers. We encourage you to do the same.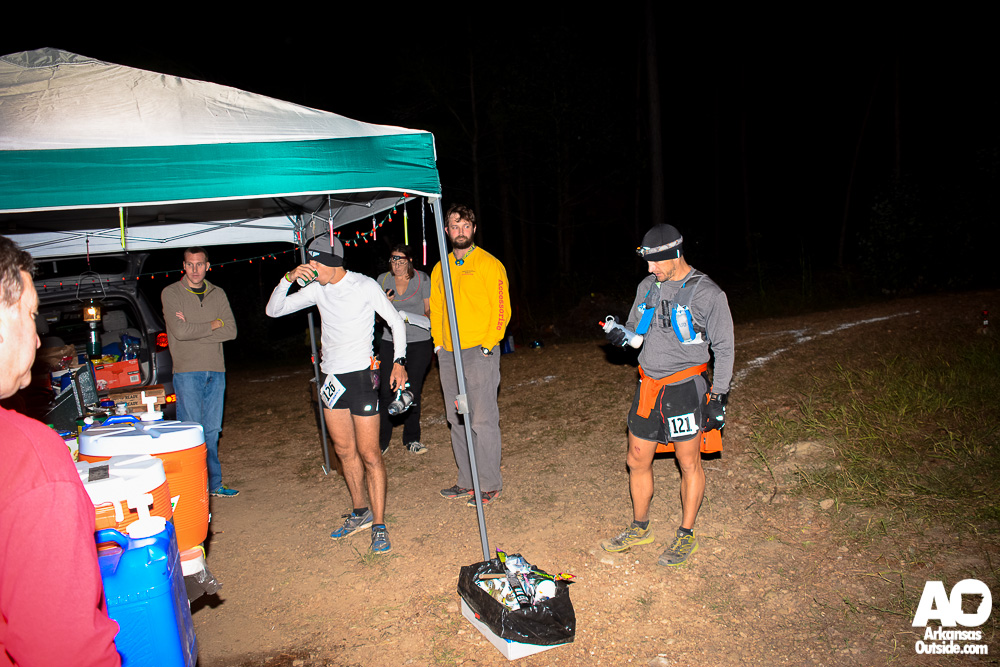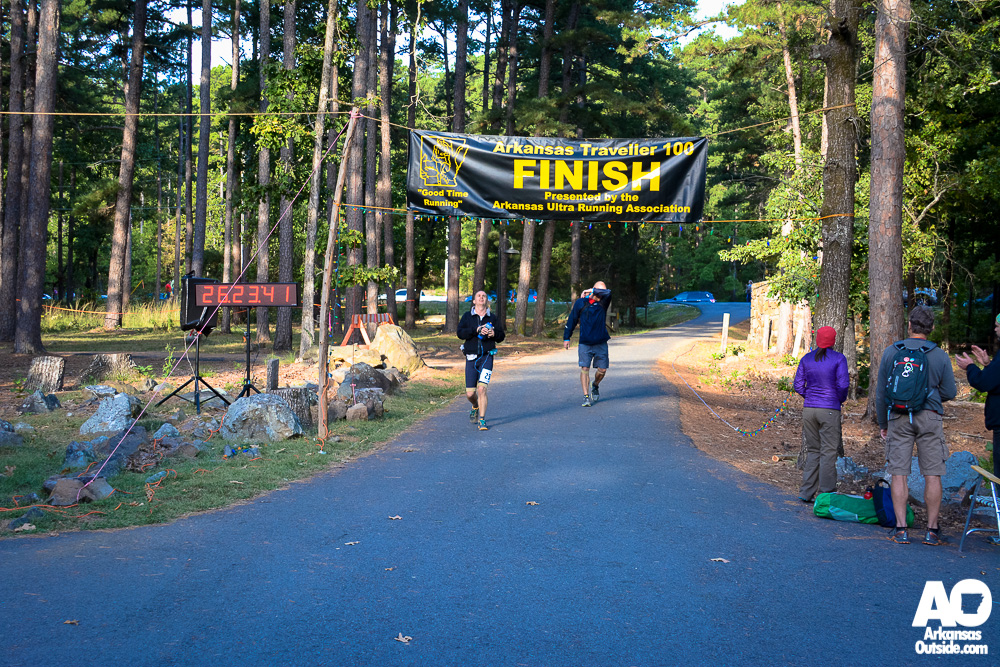 What does it take to get to the Arkansas Traveller 100? I spoke to first time finisher Ben Mansur about his race. Ben had a secret weapon. His secret weapon's name is Jacob Anderson. Following an injury that had long time runner Ben out of the scene for a while, Jacob was a consistent training partner while Ben worked his way back into distance running. For the Traveller, Jacob made a plan, helped Ben stick to it, and ran with him during training, all the while promising that if Ben would do the work, he would make the under 24 hour mark and earn the coveted belt buckle. In a show of true friendship, colossal commitment, and devoted coaching, Jacob ran 52 miles of the 100 mile course with Ben to make sure the goal was met. Ben's time was 23:44:25. He got the buckle.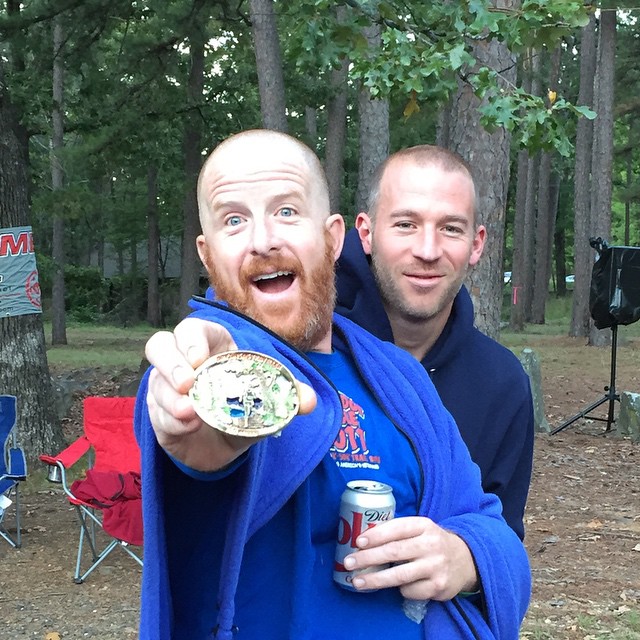 Congratulations to the race organizers and all involved, the Arkansas Traveller 100 has been picked up as a qualifier for the Western States 100 in 2016. So all finishers next year will qualify, the time to start training was yesterday. Good luck and…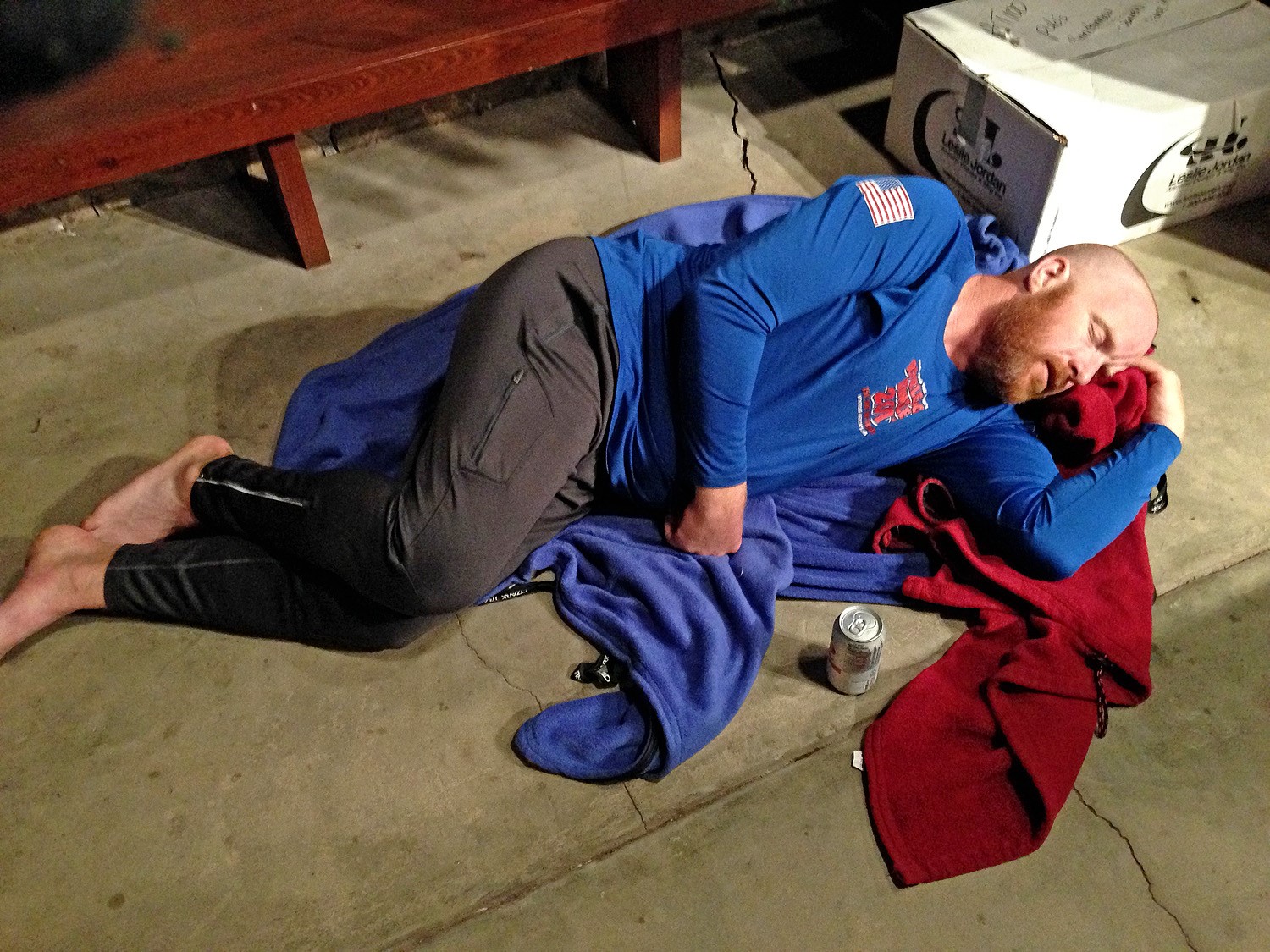 (Oh, and Chicken Boy, I'm sure he's out there…somewhere.)