On a beautiful, sunny October morning in 2006, my wife and I were sitting on our bikes somewhere around the 5th or 6th row of a large group of bicycle riders waiting with much anticipation to be released for an historic ride. At the western most point of Murray Park, near the dam, we were lined up ready to try something that no one had officially done before. We were to be the first group to cross, not just ride, the Big Dam Bridge, the longest bicycle and pedestrian bridge built specifically for that purpose anywhere in the United States. As the word was given to start we manged to carefully stay in formation riding from Little Rock on what seemed a very narrow bridge high above the Arkansas River,  to safely arrive on the North Little Rock side. A major piece of the Arkansas River trail was officially opened.
Once we got to the North Little Rock side there were festivities including a 5 K run across the bridge and back again. Caught up in the energy of the moment we decided to take part in the run. One problem, we were wearing bike shoes. Our running shoes were back in the car on the other side of the river so I took my first convenience ride across the bridge to get our shoes. I zipped across and had no problem making it back to Cooks Landing in time for the start of the race.
Soon we were running on the bridge, another first on a glorious day for those with the outdoors in their hearts. So many people were running across at the same time, the bridge felt as though it was vibrating, keeping time with the runners' feet.
A lot of water has passed under that wondrous bridge since then. They now have stations for getting dog waste pickup bags at the entrances to the bridge. A centerline has been added creating lanes in hopes that the mass of people who use it will be a little more organized in their trips across.  Numerous races have crossed the bridge including the annual Big Dam Bridge 100 bicycle race. There is no way to know how many times I have crossed that bridge since. I've crossed it during nighttime bike rides with a small dedicated group of winter riders. I've crossed it as a part of  races both on bike and on foot. I've welcomed in the New Year from the top with my family and a thermos of Hot Chocolate.
My daughter said yes to the man she would marry on that bridge and we later returned to take their engagement photos during a beautiful sunset with Pinnacle Mountain as the backdrop. A lot of good times. Over the years I have learned the rules of the bridge. Important rules about people, space, movement and courtesy.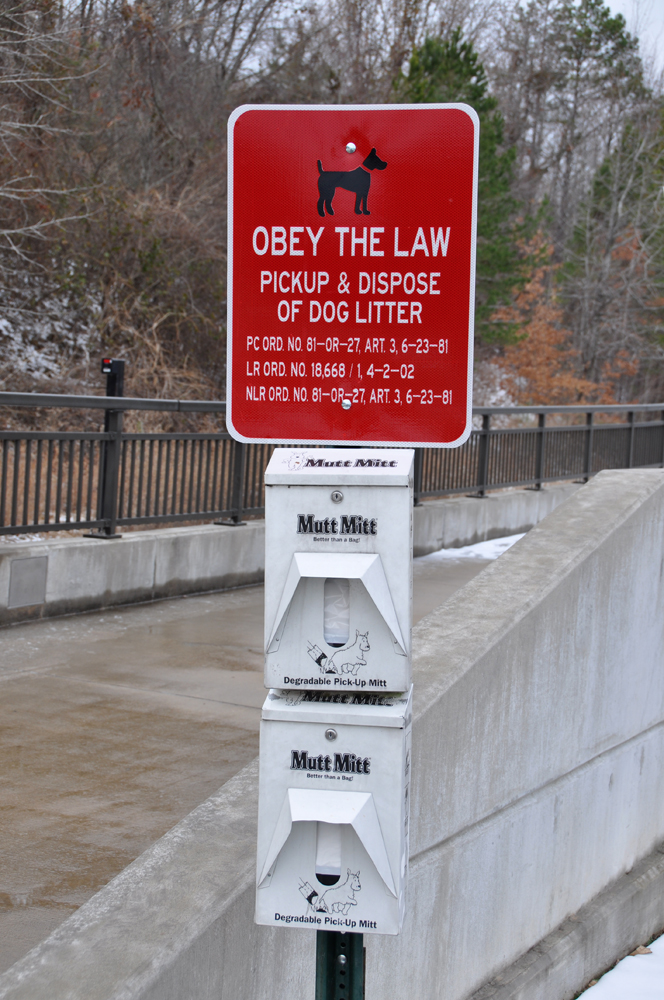 Recently I have seen stories about banning dog walking on the bridge because some people are inconsiderate and don't clean up after their dogs on the bridge. Of course, I've seen people be inconsiderate in many ways on the bridge. Cyclists who ride at unsafe speeds, children allowed to run without guidance, dog walkers who attach their dogs to leashes that can span the width of the bridge, basically people who can't abide by the rules invoked by common decency when a lot of people are in a confined space.
When I take visiting friends and family to the bridge I make sure they understand those rules. Walk to the right, leave space so others can pass easily, remember, you are in a high traffic area, don't dart from one railing to the other without first looking to make sure you aren't stepping in front of someone. Listen up for people trying to get your attention like cyclists, runners or faster walkers who may need to get around you. When a cyclist yells, "on your left," they are not yelling at you they are giving you the courtesy of a warning both for your safety and theirs. No matter how slow a cyclist or runner is going, if you suddenly turn into them both of you stand a chance of injury. If you are a cyclist or runner, make sure you have a method of warning people you plan to pass and use it.
Those are the rules as I know them. They are not posted anywhere that I know of. There is no test before you step onto the bridge but they exist for those who know the bridge and know how to share it with others.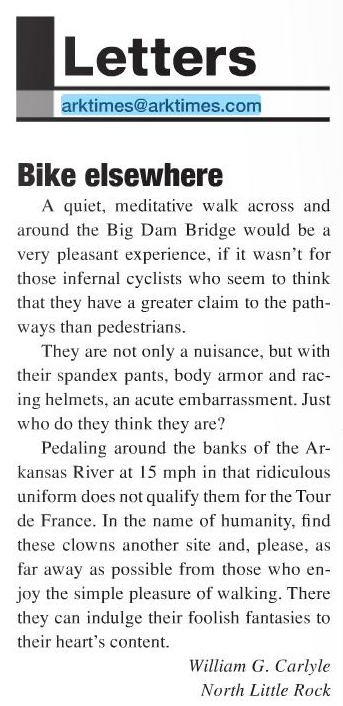 Last week a letter to the editor was published in both the Arkansas Democrat-Gazette and the Arkansas Times by William G. Carlyle of North Little Rock. It was a very angry letter. He seemed to be telling me and my friends who were the first to cross the bridge on that October day in 2006 that we are no longer welcome on the bridge, his bridge. He seems to not just hate cyclists but also their choice of attire stating, "Pedaling around the banks of the Arkansas River at 15 mph in that ridiculous uniform does not qualify them for the Tour de France." I agree with Mr. Carlyle. I've traveled the Arkansas River Trail and Big Dam Bridge by bike for years, not once do I remember thinking that I would ever be in the Tour de France. What I wear is what makes me comfortable on the bike for what is sometimes hours of constant pedaling. It's my workout and those are my workout clothes. I agree Mr. Carlyle, the clothing and bike do not make me a professional cyclist anymore than a paint brush and a canvas make someone a Picasso or a helmet and pads qualifies the wearer to a chance to compete in the Super Bowl. These are just the accoutrements of someone who enjoys those pastimes.
I don't agree with anyone being banned from the Big Dam Bridge. We all have a right to be there, it truly belongs to us all. If we can't learn to get along in that microcosm of society, what hope is there for us? I've lived in Little Rock for almost 15 years after having lived all over the country and having traveled the world. I settled here. I like it here. I've raised a family here. The people of Arkansas are wonderful and are some of the nicest I've ever met. It's unfortunate that the only times I've seen real hatred directed at me was when I was on a bike. But I still hope we can change that.