Written and performed by Lisa, a non cyclocross rider.
The cowbells. Let's face it folks, those things are obnoxious. Not slightly annoying, not a little unnerving, they are obnoxious. And we love ringing them. And the riders seem to love hearing them. Okay most appreciate them, some shoot you that look that says "I'd like to shove that cowbell right up yer…" If that is the case, go directly to #4 and give them hell.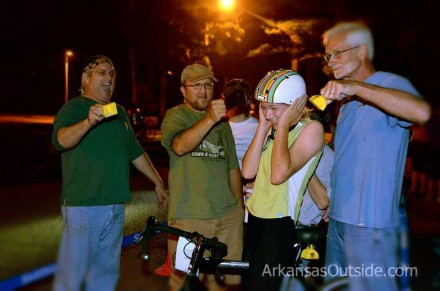 The coffee. Cyclocross is a fall/winter sport and on any given day the temperature here in Central Arkansas could be 75 or 25. The weather gods seem to like to save rain, sleet or combinations of wet precipitation for Sunday mornings during CX season. This means it is perfectly acceptable to walk around wearing a fleece blanket (does anyone make a CX snuggie? I'd totally go for that) and sipping coffee for the entire event. Which is what I'd be doing if I was at home so why not be where the cool people are instead of on the couch reading the funnies.
The cheering. "Gimmee a C! Gimmee a L! Gimmee a I-F-F! Gooooooo CLIFF!"  That's my cheer for Arkansas Outside contributor Cliff Li. He says he likes it. I hope so. Those cheerleading  jumps are tough on this old body.
The heckling. Along with the cheering comes the good natured heckling. "You aren't even muddy you sissy!" "You're getting beat by GIRLS!"  "The entire Junior field just lapped your ass, get moving!" "How's that visor working? Is it keeping the SUCK out of your eyes?" "COME ON, that bike won't pedal itself!" "Why don't you just run the WHOLE course?"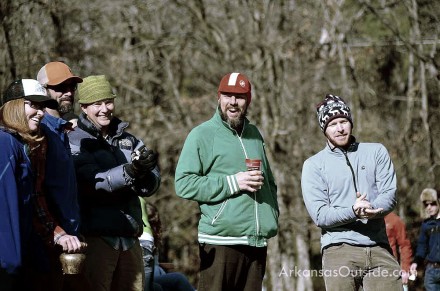 The crowd. See above. Cheers, heckles, barks, yells, screams, hollers, cowbells, foghorns all fueled by copious amounts of coffee. Or in some cases PBR. Seriously. Add in some free burritos and there's enough PBR at a CX event to make it officially hipster.
The after. Riders finish, hose off the bikes and start looking for their friends and families. The appetizing aroma of hot dogs, brats, pizza or burgers is often wafting in the air if you can smell it over the sweaty "I just rode 50 minutes of hell" funk. It's a party. With cowbells.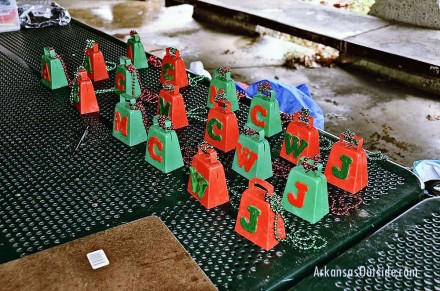 Make sure to follow along with the Arkansas Super-Prestige Cyclocross Series. We'll be in Fayetteville for Smoke-n-Suds weekend. You'll have a chance to get a free cowbell if you're paying attention.