The Fayetteville Traverse trail loop is expected to be a one-of-a-kind amenity for U of A students, faculty, and staff.
The natural-surface trail, when completed, will connect the U of A campus with Markham Hill, Centennial Park on Millsap Mountain, Kessler Mountain Regional Park, the Arkansas Research and Technology Park, the Tsa La Gi Bike Park, and surrounding neighborhoods, offering a unique outdoor experience.
The shared-use trail is designed to be enjoyed by diverse user groups, including bike riders, walkers, runners, and adaptive cycles.
The roughly 18-mile natural-surface loop will provide a world-class standard trail, traversing through the oak ridge hillside on the U of A campus and providing yet another outlet for those seeking an escape to the outdoors.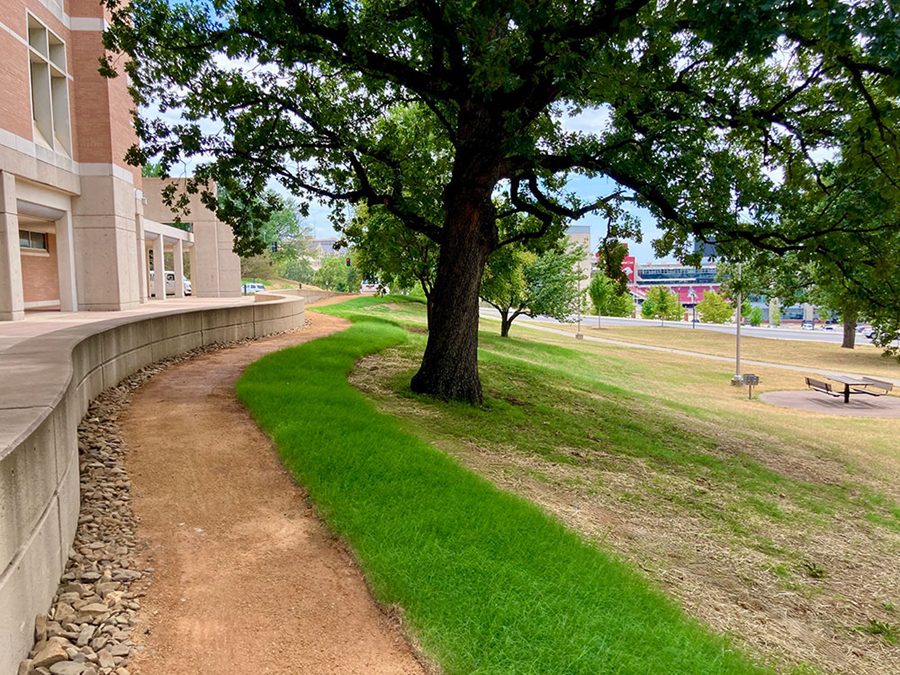 The entire trail loop is designed as a beginner-level mountain bike trail, with the easiest and most premium sections of the trail residing within the campus core. All ages and abilities of trail users are encouraged to use the trail respectfully.
The Fayetteville Traverse loop is part of a gift to the U of A and City of Fayetteville from Tom Walton and Steuart Walton. The first years of maintenance are also being provided through their generous support.
The Fayetteville Traverse is a city resource and will serve to better connect the community to the Northwest Arkansas OZ Trails.
VALUE TO CAMPUS
The Fayetteville Traverse gateway trail will provide an outstanding outdoor recreation and transportation opportunity for students, faculty, and staff.  Additionally, providing these trails on campus not only enhances our campus landscape but also creates recreational opportunities for students without leaving the campus footprint. These are outdoor recreational opportunities that are best-in-class and unmatched nationwide.
CURRENT PROGRESS
The Trailblazers have partnered with Progressive Trail Design to build out some key sections of the trail throughout this summer. They're on track to be ready for students to return and football season to commence. There will be additional trail work in less sensitive areas of campus that will continue into the fall.
The trail is currently closed for construction, but U of A trail sections will open to the public when classes start in August.
(Article from UofA Release)