HOT SPRINGS NATIONAL PARK, Arkansas — The World's Shortest St. Patrick's Footrace, the Second Ever Zero-K, returns to Hot Springs on March 18, 2023, as part of the two-day revelry surrounding the First Ever 20th Annual World's Shortest St. Patrick's Day Parade on 98-foot Bridge Street.
"Finally — a race we can all do," Visit Hot Springs Marketing Director Bill Solleder said Wednesday. "The World's Shortest St. Patrick's Zero-K returns on Saturday, March 18, after a long hiatus caused by the covid pandemic. The planning for the Second Ever Zero-K got off to a slow start. We've been planning since 2019, but slow and easy is the spirit of this event."
Registration for the hilarious race is now open, Solleder said. All proceeds from the Zero-K will benefit Tri-Lakes CASA, the organization of Court Appointed Special Advocates for abused and neglected foster children that serves Garland, Hot Spring, and Grant Counties.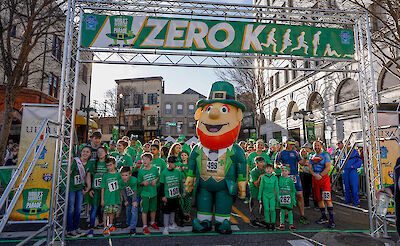 "What better way to kick off Day 2 of the celebration surrounding the First Ever 20th Annual World's Shortest St. Patrick's Day Parade than with the Second Ever World's Shortest St. Patrick's Zero-K 'footrace' in downtown Hot Springs National Park, Arkansas," Solleder said. "The 'race' will cover 299 feet, including the 98-foot route of the parade on Historic Bridge Street, and end at O'Kelley's Pub, the world's biggest inflatable Irish popup pub, near the Hot Springs Convention Center."
Solleder said the race is sponsored by Michelob Ultra and Arkansas Beverage Sales of Hot Springs, and the Zero-K entry fee of $20 gets participants a Zero-K T-shirt, a finisher's medal, and a race bib.
Awards will be given for these categories:
Fastest: This one will be for First Place Contenders. This is for people who actually want to go fast for zero kilometers. Runners should bring their fastest run and try to set a "world record." Runners will keep their own times.
Best Costume: This one will be the Leprechaun Dash. Runners are encouraged to dress up in their favorite St. Paddy's Day gear or as their favorite leprechaun and run.
Slowest: This one — the Last Place Shootout — is for the slowest racer to cross the finish line while maintaining forward motion — whether that be crawling, wriggling like a worm, scooting, rolling, or doing some form of the backstroke. This one is great for younger kids, pets, and the laziest of runners.
The Zero-K will be a prelude for a free public concert by Village People, the iconic band that gave the world "Y.M.C.A." and "In the Navy," among other famous songs.
The schedule for Saturday evening's fun is:
3 p.m. — Zero-K Packet Pick Up on Bridge Street
5 p.m. — Zero-K race Begins on Bridge Street
8 p.m. — Free public concert by Village People on the Bridge Street Stage
Entry for the Zero-K can be found at RunSignUp.
Already announced for the Friday night First Ever 20th Annual World's Shortest St. Patrick's Day Parade on March 17 are country music star Justin Moore as celebrity grand marshal, film star Chris McDonald (Shooter McGavin in "Happy Gilmore") as the official starter, the PAW Patrol TV characters especially for the kids, and crowd favorites The Dallas Cowboys Cheerleaders and the Kilties, an all-female Scottish-themed drum and bugle corps from Central High School in Springfield, Mo. There will be a free public concert immediately after the parade by the well-known cover band, The Molly Ringwalds.
The world-famous 98-foot parade on Bridge Street, the shortest street in the world in everyday use, began in 2003 and annually attracts crowds of upwards of 30,000 people to watch an insanely zany collection of Irish Elvis impersonators, marching units such as Paddy O'Furniture, Irish belly dancers and the Dallas Cowboys Cheerleaders, as well as other unique units cover the 98-foot length of Bridge Street in the heart of downtown Hot Springs.