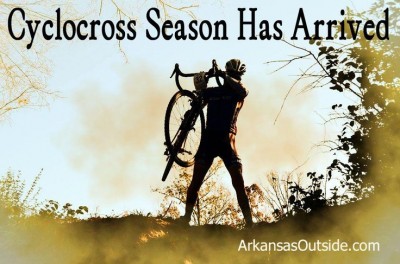 "If you're going to cross, you'd better start doing it right." – Phil Collins (Dance on a Volcano)
Cyclocross season is just around the corner. The Arkansas Super-Prestige Cyclocross Series begins with the Gearhead Cyclocross in Jonesboro on October 13th and then travels through central Arkansas, Northwest Arkansas, Russellville, Hot Springs and Veterans Park in Rogers, Arkansas on December 15th. It's going to be another awesome year of racing.
This year there are two training series to help you prepare for racing. Thursday nights in Fayetteville is the Micro-Cross Series and on Monday nights in Little Rock is the Skillz-N-Drillz Series. It's your chance to develop some survival techniques that will carry you through the season. These have both started but you don't have to attend all to get something out of them.
Still a little timid about actually racing? Well come out to the races as a spectator, the more the merrier. The racers need a lot of energy, share yours. For more information on why you want to be a spectator check out Lisa's article. The video below will also help you prepare.
Cyclocross Cowbell from ArkansasOutside on Vimeo.
So we hope to see you out there, It's the most fun you can have on a cold, wet day.