…yes, that's what she said as I prepared for my first attempt at bike polo.
Late Tuesday afternoon I received a Facebook notification that at 7 p.m. folks would be meeting at MacArthur Park in downtown Little Rock to enjoy some bike polo. I kind of missed the boat on this latest use of the bicycle when it hit Little Rock last year and was anxious to catch up with it. I had recently met a lot of the participants at the Little Rock Tweed Ride and really wanted to see what other crazy, fun things this group was up to. After a quick dinner the family headed over to watch a little polo.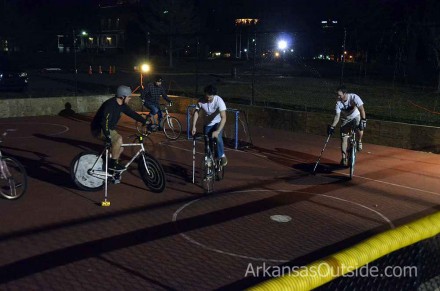 The rules seem to be pretty simple, Vinny, one of the players explained to me, "Three people on a team, if you put your foot down you have to tap the wall at center court before you're back in play, bike on bike, mallet on mallet and body on body action is okay but don't cross it up. Oh, and don't be a d**k. First team to 5 wins. Simple." I watched the first couple of games, taking pictures and video (no easy feat, it's kind of dark out there despite the lighting that the players rigged up?). Bryan, one of my new friends kept suggesting that I try it out. Soon, more players showed up and an extra bike was borrowed and the next thing I knew, I was pedaling around the court.
The court they use is a converted tennis court. They've set up a couple of goals, painted new lines and have a wooden wraparound that keeps the ball in play. It reminded me of a miniature ice hockey arena. The ball was a little hard to see as I attempted to chase it around using bi-focals and being color blind. One rider joked that it would be easier to see if both the ball and the court were painted black, I thought they were. Throughout my game I managed to stay upright and only dropped my foot 5 or 6 times. Seated track stands are a little tough with a bike that is several inches too short, that's my excuse and I'm sticking with it. I didn't even realize while I was playing that they were using the 6 foot newbie rule which states that when a new person is playing for the first time, give them plenty of room, first because they will screw up and you don't want to be part of that accident and second to sucker them in to trying it again.
I didn't go down, I also didn't score any points, I was not an effective goalie, I think I accidently had one good blocking move, once. I had a good time though and will probably give it another try although I think I'd like to practice that whole controlling the ball with a mallet whilst riding through a pack of people intent on stealing said ball and still not putting a foot down move. Anyway, it's great fun, the players are very encouraging and want to get new people out there, it's fun to watch, players are a bit irreverent so if you are easily offended by language do something else. But I have to tell you, everything is done in good fun and you won't find better sportsmanship on any sporting event that you can watch on ESPN.
I also wanted to note that my first remark coming off the court was, "So, this is a game of skill." I can't think of a better, more fun way to hone your bike handling skills. You can usually catch them in the daylight at 3 pm on Sundays. As always, more photos on our Flickr Page plus here's a short video that gets you into the action. Enjoy!