Our Reader Survey on Your Favorite Season to Get Outside in Arkansas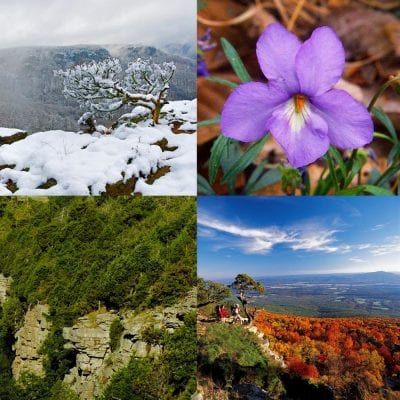 Over the years, I've met and engaged with outdoor enthusiasts from across the country, venues like Interbike (RIP), Society of Outdoor Recreation Professionals, events like the Leadville 100 mountain bike race or the Pike's Peak Marathon, while floating the Rio Grande near Taos, New Mexico or riding some singletrack in Bend, Oregon. Inevitably, the conversation would turn to a single question, "What is the best time of year to visit Arkansas?"
The answer to this question comes easy to me, I just throw out my opinion. For example, if we are talking about mountain biking, I say Winter. No bugs, no heat, leaves are off opening up the views. It's a no-brainer for me. I have similar answers to paddling, climbing, hiking, etc.. But is my opinion right for everyone? Probably not. It was time for a survey.
A couple of weeks ago, we sent out one of our unscientific, totally unresearched, super-simple surveys to our readers. We also posted it on various Facebook, Twitter, and Instagram pages. Who knows better than you folks? So now we have data.
Our group included 61 people who started the survey and 58 who finished it. The survey took an average of less than a minute to take and included only one question covering 9 different outdoor activities, hiking, trail running, road running, climbing, flatwater paddling, whitewater, road cycling, gravel grinding, and mountain biking. What outdoor sports do you participate in? Choose all that you participate in more than 3 times a year in Arkansas. 
Since most outdoor enthusiasts enjoy more than one activity partially due to the varying seasons in Arkansas, there was a lot of overlap. Here is the overall breakdown: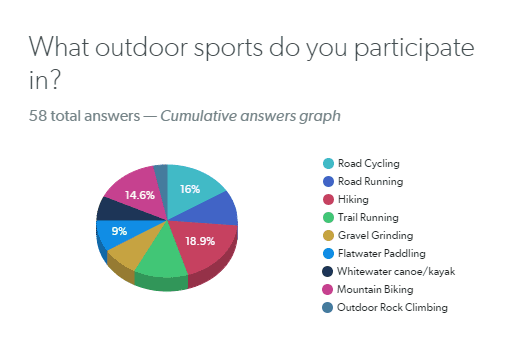 Hiking was the largest group and probably the most accessible outdoor activity in the state. Our Summers are hot and can be buggy, it's no wonder that Summer didn't get a single vote for hiking. Fall is number one at 60% with Winter coming in second at 35% of the 40 votes: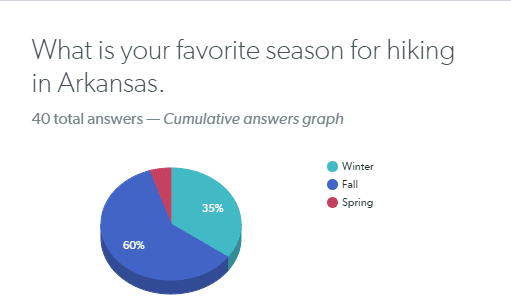 Trail Running is popular in the state with a strong ultrarunning tradition and numerous shorter trail runs available. Again, no nod to Summer here, of the 25 respondents, 56% went with Fall, 28% Winter and 16% enjoy trail running in the Spring: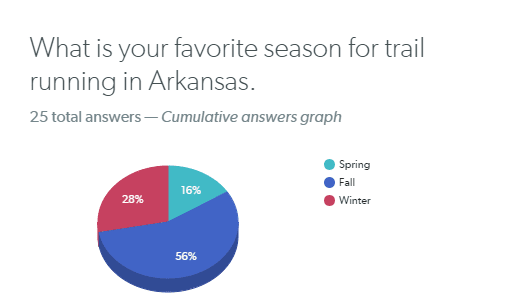 Roadrunners found some love for Summer where at 19% it tied Spring and Winter. Fall again was the winner with 42.9% of the 21 respondents: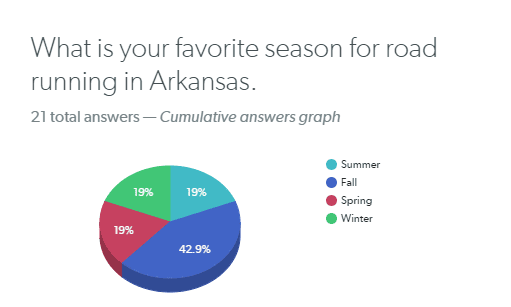 We only had 7 respondents to the climbing question but they are united. All respondents went with Fall as their favorite season. Could be the 24 Hours of Horseshoe Hell event that pushes this one: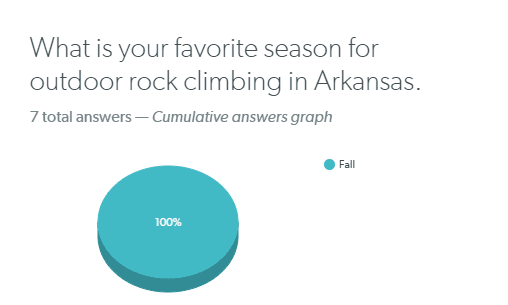 Summer gets some love with the Flatwater paddling community. Of the 19 respondents, 42% prefer Summer paddling followed closely by Fall with 31.6% and Spring with 21.1% of the vote: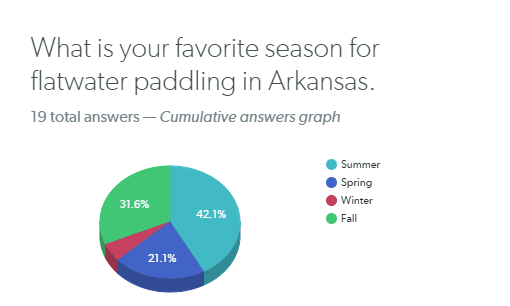 Although Arkansas has a few rivers that offer year-round whitewater/moving water opportunities like the Spring River or the Ouachita River from Remmel Dam to Rockport, for the most part, Whitewater Paddling is about rainfall and for that, Spring is best with 66.7% of the vote: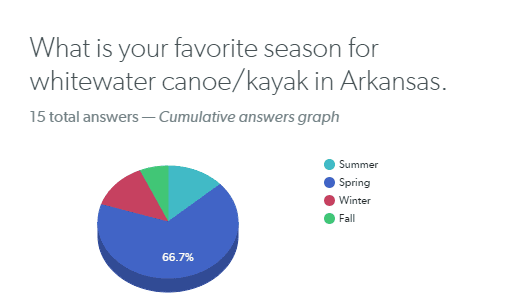 Road Cycling seems to be a 3 season sport in Arkansas with Summer taking the lead at 38.7% followed closely by Fall at 32.3% and Spring at 25.8%. Even in Arkansas, the road cyclists tend to head for the trainer in the Winter: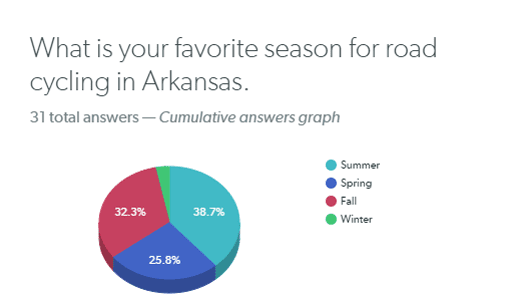 Maybe a few of those road cyclists are hitting the gravel during the Winter. Gravel Grinding is also a Fall favorite with 56.3% but Winter and Fall were tied at 18.8% each: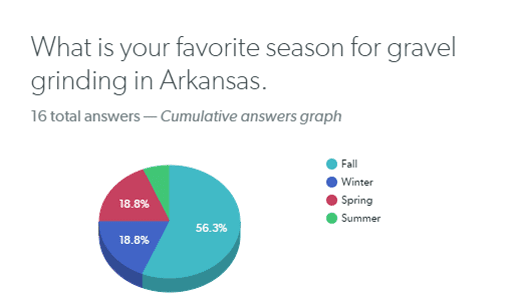 And how did I do with my off-the-cuff remark about Winer mountain biking? Well, I came close. Fall is still the hands-down winner with 52.9% but Winter did get a strong second with 29.6%. And this year, in particular, all I can think about is some sweet Fall mountain biking: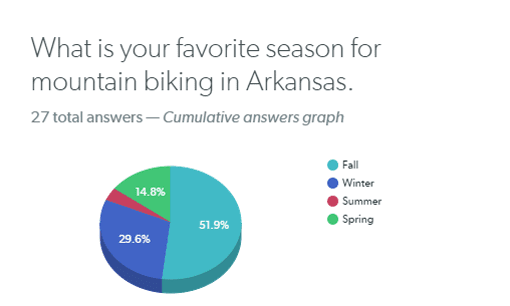 We didn't do an overall question but it's obvious that Fall is a favorite for the locals but Winter is as popular or more popular than Summer. So when asked, I now have some data to back up my answer to the question. "When is the best time of year to visit Arkansas?"