Ashley: What's that up ahead? Is it a person? Is it coming toward us or away from us?
Mindy: It's a zombie.
Ashley: Shut up!
Me: It's okay Ashley, zombies don't wear headlamps, it can't be a zombie.
Zombies don't wear headlamps. Unless you count the blank zombie like stare and faltering perambulation of an endurance runner doing an overnight long run. The swaying, lumbering form in front of us carried itself with the strange gait that has become popularized as the zombie walk of cinematic fame. For those who had been already been running for 16 dark miles on the forest roads from Camp Ouachita to the halfway turnaround at Forked Pinnacle Overlook with the possibility of  3 to 4 hours more to go before finishing the 50K run, a zombie like sway is not only acceptable, but expected. Lots of things can happen out there during the long hours of an endurance run and most people find that good company keeps most of the scary things at bay, whether it's zombies, darkness, spiders, or snakes that feed the fears.  The staggering form in front of us was all alone, leading me to speculate that it had no support system to keep the scary things at bay and had given in to the fatigue.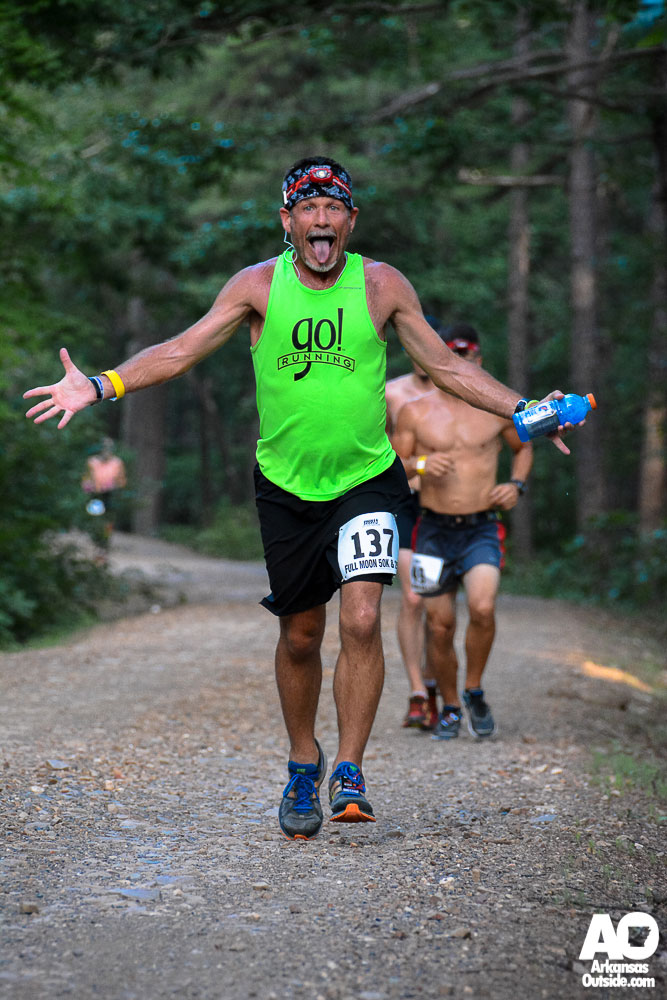 This year I registered for my third Full mOOn run, but it would be my first time to attempt the 50K version instead of the 25K. Normally I avoid events that require me to stay up past my normal bedtime of about 9:30 p.m. This year my friend Ashley was going for her first 50K and completing this run would qualify her for membership in the Marathon Maniacs. She asked if I would run with her, reasoning that I am one of the few friends if not the only friend that would even consider running 32 miles in the dark with her. Friendship: the love that makes you agree to stuff that makes your brain scream at you and call you bad names. We are no strangers to partnering on long runs, this would mark our fifth attempt at a marathon distance or better as running partners. We were determined that nothing would get in the way of finishing this run, not copperheads, scary noises, zombies, or the three H's: heat, humidity, and hills. We hit the road armed with salt, food, and good attitudes.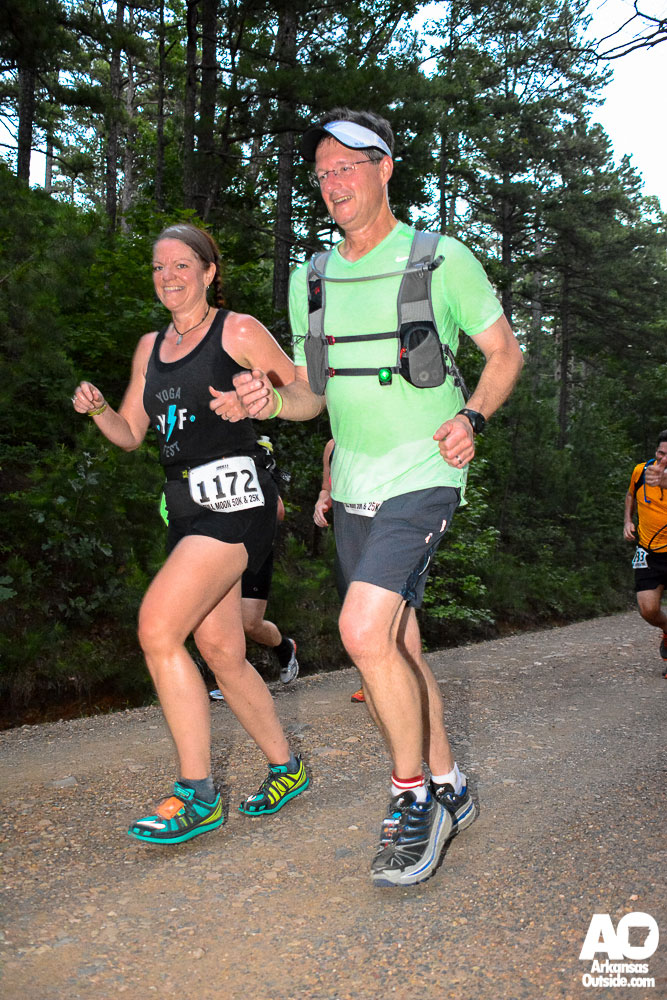 The Full mOOn course has hills; lots and lots of hills. On courses of either 16 (25K) or 32 (50K) miles, runners are either going up or coming down with very little flat in between covering 3,500 of elevation gain and loss on the 50K course. Runners who enjoy the soft dirt of  smooth singletrack or even the rocks and roots of a technical trail get to enjoy the somewhere in between terrain of wide gravel forest roads.
The Full mOOn trail run is the kick off to the Arkansas Ultra Running Trail Series season. The Full mOOn race started years ago as a 50K only, with limited support, and the race continues to celebrate the birthdays of two ultra running legends who now serve every year as volunteers. At the 25K turnaround aid station, rousing choruses of every version of the Happy Birthday song could be heard while birthday girl Elaine Gimblet ate it up like a kid with cotton candy at the circus. Then she would go right back to filling water bottles, checking packs, and doing whatever she could to keep "her" runners going. The other birthday queen and Arkansas running legend, Lou Peyton, was at the 50K turnaround. As Ashley and I approached, an apron and hat wearing Lou was standing in the light of the work lamps illuminating the tables, wielding a giant butcher knife, spreading peanut butter on white bread. If I had been any less coherent at that point, the knife wielding Lou might have seemed like something from my nightmares. Instead, she offered up sugary goodness, liquid refreshment, and encouraging words. Lou holds a special place in my own running life so I stopped long enough to share with her that on my first 50K, the strawberry cake she brought to the aid station was a piece of heaven. Much of that run is a blur in my memory, but I will always remember that cake. Elaine, Lou and their spouses Ron and Charley, are true treasures in the running community as are all the volunteers who help events like this continue to grow. Thanks Jayme Sturgeon for being head elf and right hand gal for Susy, Race Director and Queen of All Things. I appreciated the ice in my shirt at mile 24, so refreshing. Thanks Tonya for taking good care of everyone and for knowing that being told there is toilet paper and privacy right around that corner, is just what every girl wants to hear at mile 8. And to David and Christine Meroney, who seem to be everywhere Ashley and I run together, I swear they stalk us, there is nothing that gives a bigger boost than a friendly face and a smile.
Ashley and I finished the run together as planned, with Mindy, who ran the second half with us, close behind. My running partner from the 25K last year, Tisha, smoked the 50K course in 6:11. Congrats to her for a race well run. We were late enough coming across the finish that most of the exhausted runners and supporters had left. Thanks to those hardy souls who stuck around to the very end. Tara, David Edwards, John Kelly, our friend and AO contributor Cliff Lie, Elaine and Susy-your smiles have more impact than you know.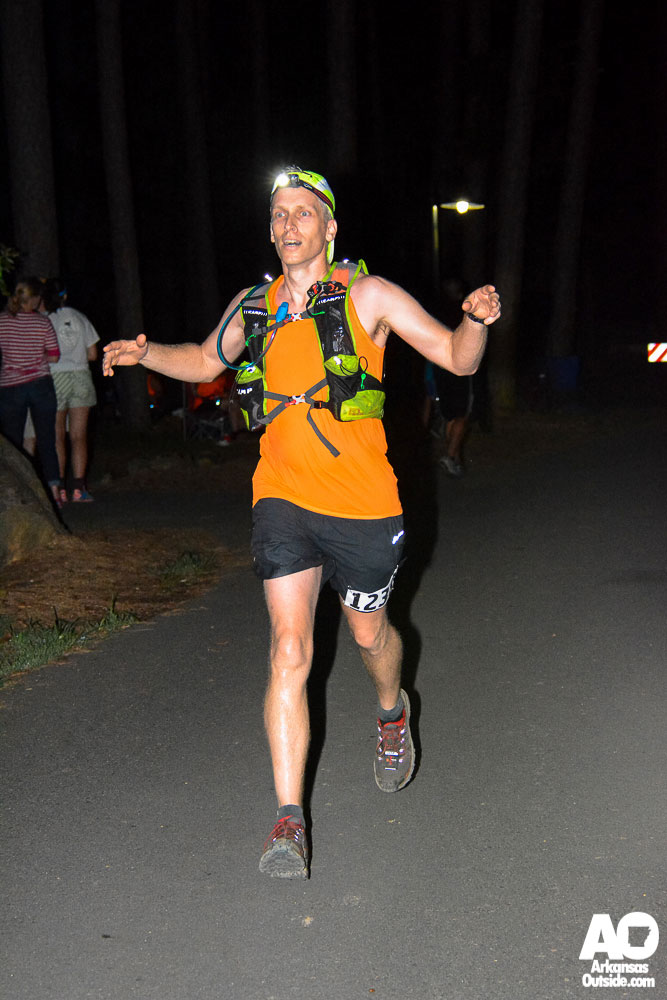 So if you're looking for your next adventure on the trail, the Mt Nebo Trail Fun Run at 14 miles give or take, is coming up on August 23rd in Dardanelle. This is a great run , no application and no fee but do consider contributing to the fund to help out with the post race goodies.