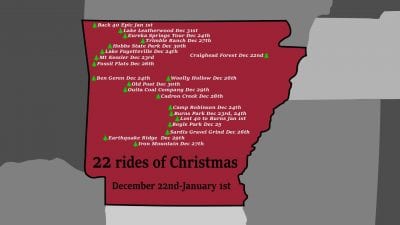 (Update: It's now 22 rides)
Following the grand spectacle of the International Mountain Bicycling Association World Summit in Bentonville, Arkansas is not an easy task. Letting the world in on the world-class mountain biking we enjoy on a daily basis was a pretty big deal. So what kind of event do we have to follow that? Luckily Paul and Melanie Norris stepped up and brought an idea from out west to the Natural State and created the 22 Rides of Christmas.
Paul and Melanie have harnessed mountain bikers from across the state to lead 22 rides on 19 different trail systems over 11 days. These are all friendly, simple, FREE, unsupported rides with several options for newer riders.
Below is the list of rides with some information. Click on the trail system to go to the Facebook event page for each event and sign up to keep abreast of any changes. If you make a ride, please thank the ride leader(s) for volunteering. Also, share this with friends and family who may be visiting for the holidays. Tell us which ones you will be attending in the comments. We wonder who will make the most rides. We will update this list as more information comes in.
| | | | | | |
| --- | --- | --- | --- | --- | --- |
| Date | Trail System | Leader | Time | Meeting Place | Other Info |
| 12/22/2016 | Craighead Forest | Heather Hankins | 6:00 PM | Restrooms in the beach area. | All skill levels, bring lights, possible group dinner afterward. |
| 12/23/2016 | Burns Park Night Ride | Paul & Melanie Norris | 6:00 PM | Covered Bridge | Intermediate Re-group |
| 12/23/2016 | Mt. Kessler | Vincent Edwards | 11:00 AM | Kessler Regional Park | Med pace No Drop-Group split as needed |
| 12/24/2016 | Burns Park Beginner Ride | Stacy Tierney | 9:00 AM | Cooks Landing | Co-ed No Drop |
| 12/24/2016 | Tour of Eureka Springs | Nate Griffee | 10:00 AM | Leatherwood Ball Fields | Pace based on participants |
| 12/24/2016 | Lake Fayetteville | HB Fink | 12:00 PM | Apple Blossom Brewing | Casual Pace/Weather Permitting |
| 12/24/2016 | Ben Geren | Gunnar Wright | 2:00 PM | McClure Amphitheater | All Levels |
| 12/24/2016 | Camp Robinson | David Wonn | 1:00 PM | Camp Robinson Bike Trails | Sportsmans Pass Required/Bells and Xmas sweaters encouraged |
| 12/25/2016 | Boyle Park | Paul & Melanie Norris | 1:00 PM |  Pavilion 3 |  Co-ed No Drop |
| 12/26/2016 | Woolly Hollow | Melanie Norris | 8:30 AM | Enders Fault Parking Lot | LADIES ONLY – Beginner No Drop |
| 12/26/2016 | Sardis Gravel Grind | Larry Matthews | 10:00 AM | Sardis Ball Park | 25 mile gravel/paved/ Weather Permitting |
| 12/26/2016 | Fossil Flats | Noel Howard | 10:00 AM | Devil's Den State Park, Camping area A | Medium pace. Beginner/Intermediate |
| 12/27/2016 | Iron Mountain | Danny Williams | 2:00 PM |  Iron Mountain Recreation Area | Casual Pace |
| 12/27/2016 | Trimble Ranch | Brent Trimble | 10:00 AM | 489 Bunch Springs Rd Berryville | Casual for the most part |
| 12/28/2016 | Cadron | Richie Ryerson | 12:00 PM | Lower Parking Lot main trailhead | All levels |
| 12/29/2016 | Ouita Coal Company | Melanie Norris | 10:00 AM | Illinois Bayou Park | Beginner No Drop |
| 12/29/2016 | Earthquake Ridge | Kenny Davis | 10:00 AM | Visitor Center Rich Mountain | Regroup at intersections |
| 12/30/2016 | Hobbs | Paul Norris | 2:00 PM | Townsends Ridge Trailhead |  Co-ed No Drop |
| 12/30/2016 | Old Post | James Crabill | 1:00 PM | Old Post Park Visitor Center |  Beginner/Intermediate |
| 12/31/2016 | Lake Leatherwood | Paul Norris Kendall & Alissa Smith | 10:00 AM | Leatherwood Ball Fields |  Co-ed No Drop |
| 1/1/2017 | Back 40 Epic | FAST | 11:00 AM |  Blowing Springs Trailhead |  40+ miles Pace based on participants |
| 1/1/2017 | Creegens to Burns | Mike Mitchell | 10:30 AM |  Creegens Pub, North Little Rock |  Co-ed Casual pace |