Arkansas has an abundance of romantic getaways, places where couples can wine and dine, maybe enjoy a walk or a movie or a play or a museum. But some of us like a little adventure with our romance; unique experiences to be shared with someone special that might even involve a little sweat or dirt or both. Arkansas has us covered for that kind of romance too. Here are 8 ideas, just to start with, that you can enjoy with that special person and make a special, shared memory.
Crystal Bridges/Trails Date – Bentonville, Arkansas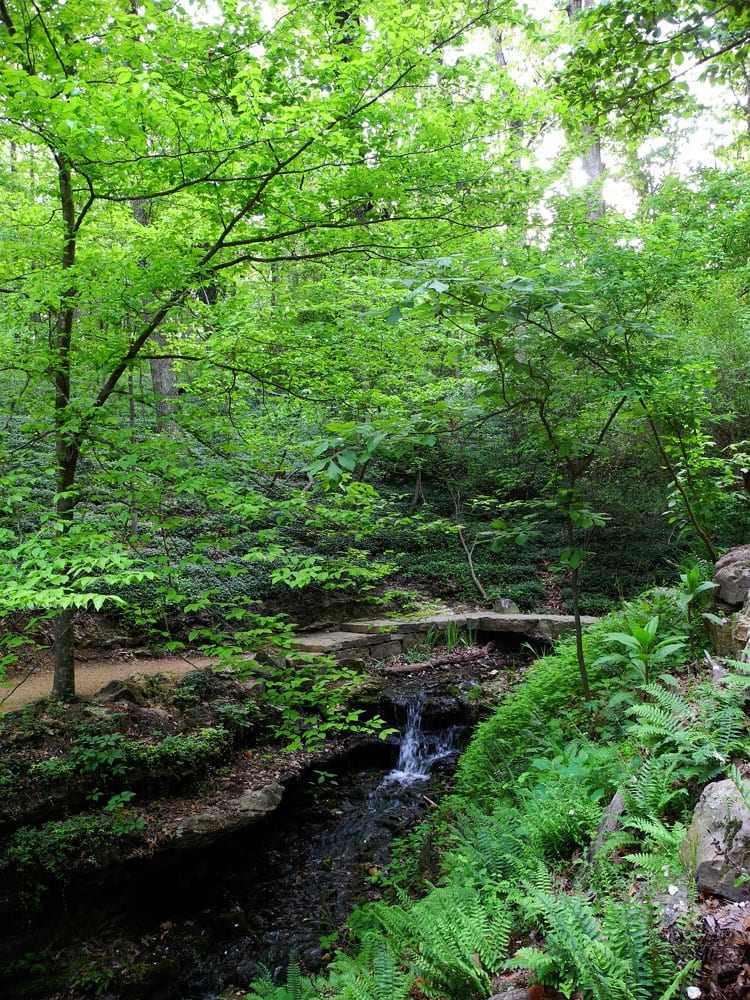 Bentonville has a multitude of outdoor adventures, much of it built around a classic town square and a world-renowned art museum. The Crystal Bridges Museum of American Art features a remarkable visual experience both inside and out. Start with a tour of the museum discussing the various paintings together. It's one of the best ways we've found to get to know someone. Then have a quick lunch at Eleven Restaurant right there in the museum.
Next it is all about choices, the grounds of the museum has beautiful trails with sculptures, waterfalls and the perfect places to get a photo together. For the more ambitious couple, there are plenty of cycling options starting right there at the museum. For mountain biking, start with the All-American Trail on the west side of the museum property. This trail is a fun beginner trail that parallels the Razorback Greenway Trail. If you are looking for more, follow the Greenway north and look for signs marking Slaughter Pen, a premier mountain biking trail system. If you would prefer to stick to pavement, take a spin on the Razorback Greenway heading south for as far as you feel like riding. If the date is going well, dinner on the town square is always a nice end to the day.
Sunset Hike/Picnic to Flatside Pinnacle – Perryville, Arkansas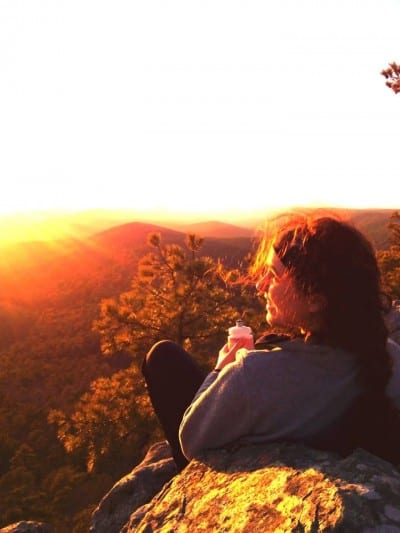 Sometimes adventure takes a little work to get to, but it's usually well worth it. West of Little Rock in the Ouachita National Forest is one of our favorite sunset spots. The view looking west across the Ouachita Mountains is breathtaking, add in a sunset and you have the makings of a beautiful evening. The viewshed from the top does not include any cell phone towers, power lines or other man-made structures. You're looking at wilderness. We recommend taking finger food for an evening picnic, various artisan meats and cheeses with crackers and maybe some wine. (don't over imbibe as it can be dangerous close to the edge)
To get there from Little Rock, give yourself a good hour and a half to two hours before sunset, follow these Google Directions. Once you arrive at the parking area the hike is a short one, all uphill to the top of the mountain. In cooler weather, take a blanket because that would be romantic, warmer weather calls for bug spray and sunscreen. Make sure to take water, wine is not a good hydrator. Be careful of the edge.
Spectating at a Cyclocross Event – All over Arkansas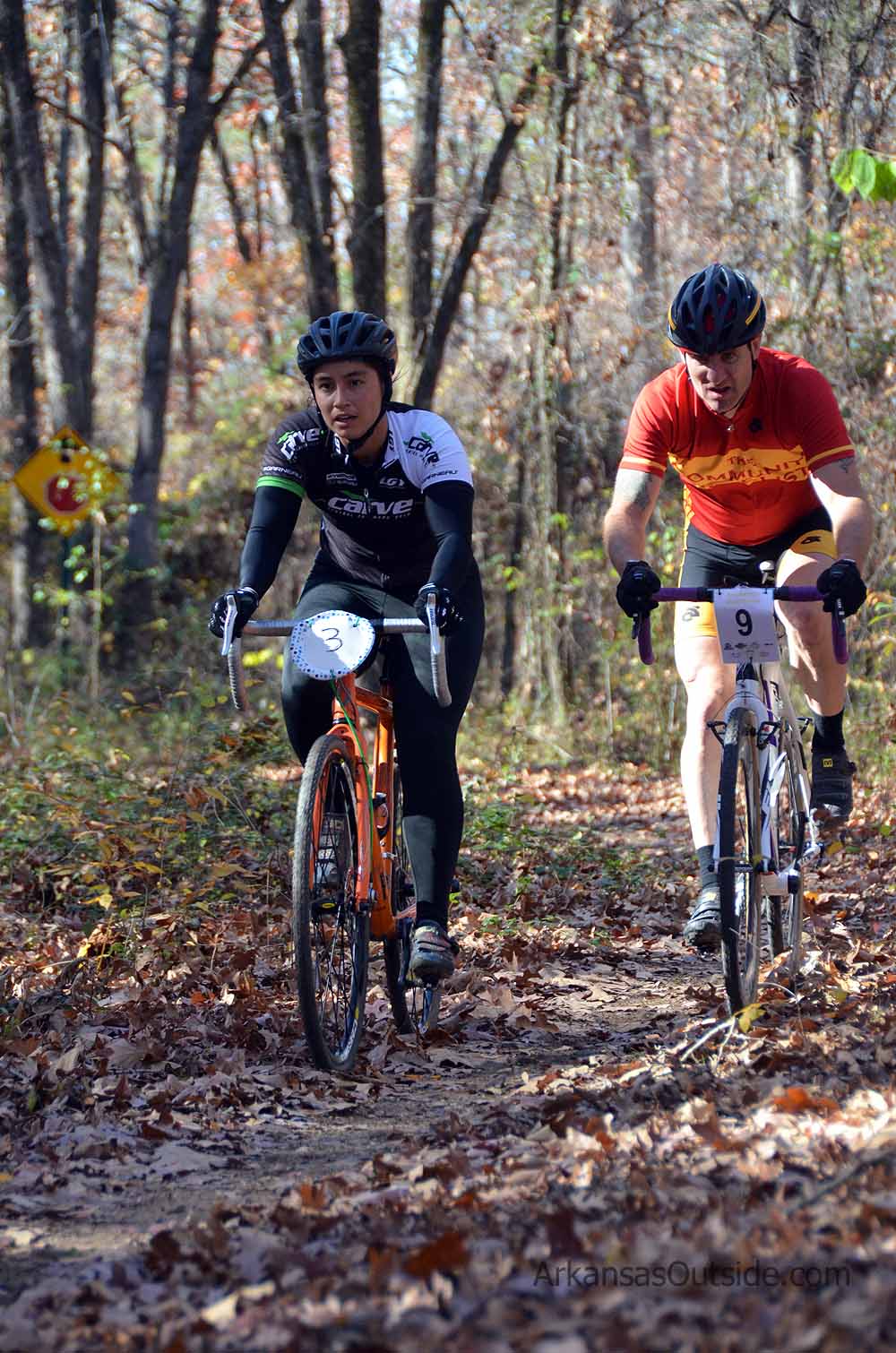 Taking a date to a sporting event can be a fun way to create a new memory. While most people are content with the local football, baseball or basketball game, you can make a game date more special. Most bicycle racing is not very spectator friendly, but there are a few types of events that can be really fun to attend. Try any of the cyclocross events coming up this Fall. If you're not familiar with cyclocross, it's a mixture of road cycling, mountain biking, obstacle course and tailgating. Cyclists race at local parks on a short course about a mile long that weaves in and out of trees, parking lots and various barriers. Find a spot next to one of these barriers or near a steep incline and cheer on the riders. Bring cowbells and noisemakers to encourage the racers. Bring a small grill or sandwiches, some camp chairs and enjoy the spectacle.
Races are on weekends throughout the state starting in September and going until January. Dress for the weather, races happen in the snow, rain, sleet, etc. The events are free to watch. You can find out more about these great events at the Arkansas Cyclocross website.
River Trail Ride and Cajun's Wharf Deck – Little Rock, Arkansas

Here is a simple after work ride that is easy enough for the novice cyclist. Park at the Big Dam Bridge on either side. Bring bike lights, a lock and money. Ride east on the Little Rock side all the way down to the Riverdale area. Lock your bike near the entrance to Cajun's Wharf and head straight for the deck. An evening as the sun goes down watching the river go by is the perfect way to entertain a new or old friend. Watch your alcohol intake as you will be riding back in the dark to your vehicle. This activity can also be an excellent way to introduce a new friend to some old ones, make it a group ride.
Mount Magazine Hike and Lunch – Paris, Arkansas
Really want to get away but would still like good food and service? Check out Mount Magazine State Park located on the highest mountain in the state. Start at the park visitor center where you can get trail maps and directions. Follow the North Rim Trail for stunning views of the Arkansas River Valley from the huge bluff lines. Make your way to Signal Hill, the highest spot in Arkansas. A short hike from Signal Hill will bring you to the front doors to the Mount Magazine Lodge and Skycrest Restaurant. Enjoy a wonderful lunch in the restaurant and experience the breathtaking views of the Petit Jean River Valley. Once you've had your fill of food and scenery there, hike the Mossback Ridge Trail back to the Visitor Center. The temperature is usually about 10 degrees cooler on top of the mountain which is great in the Summer but in the Winter, always check with the park office for weather conditions.
Sunday bike polo/Stones Throw – Little Rock, Arkansas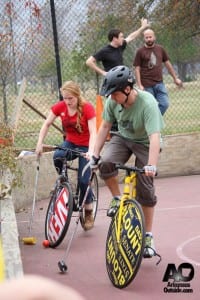 How about a Sunday afternoon date that doesn't go too late? Another great spectator event for cycling is Bike Polo. Teams of three on a basketball size court with mallets, a ball, two goals and fun attitude make this a premier spectator event. Go and enjoy the fun at MacArthur Park in downtown Little Rock. The matches usually start around 3 or 4 in the afternoon. Watch the fun for a couple of hours and head over to Stone's Throw Brewing at 9th and Rock Street near the park. Not only can you grab a nice local brew there, but they often have a food truck available for your culinary needs. The brewery is open until 8 pm, after that you're on your own. For more information on Little Rock Bike Polo join their Facebook group.
Date night at Little Rock Climbing Center – Little Rock, Arkansas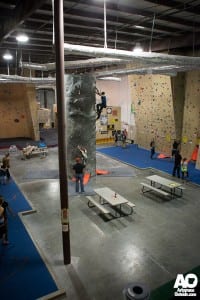 Traditionally a Friday night date meant dinner and a movie, but in Little Rock you have another choice. On Friday nights at the Little Rock Climbing Center they have what they call "Cheap Date Night". It includes two day passes, gear rentals and belay lessons for $45 from 7-10 p.m. The climbing center has everything from bouldering routes to overhang climbs to easy self-belay stations all in comfortable air conditioning. Located in West Little Rock, the Little Rock Climbing Center has become a favorite among active couples. Get off work, grab something to eat nearby and build trust in your partner while you learn to belay.
Paddle the Big Maumelle – Little Rock, Arkansas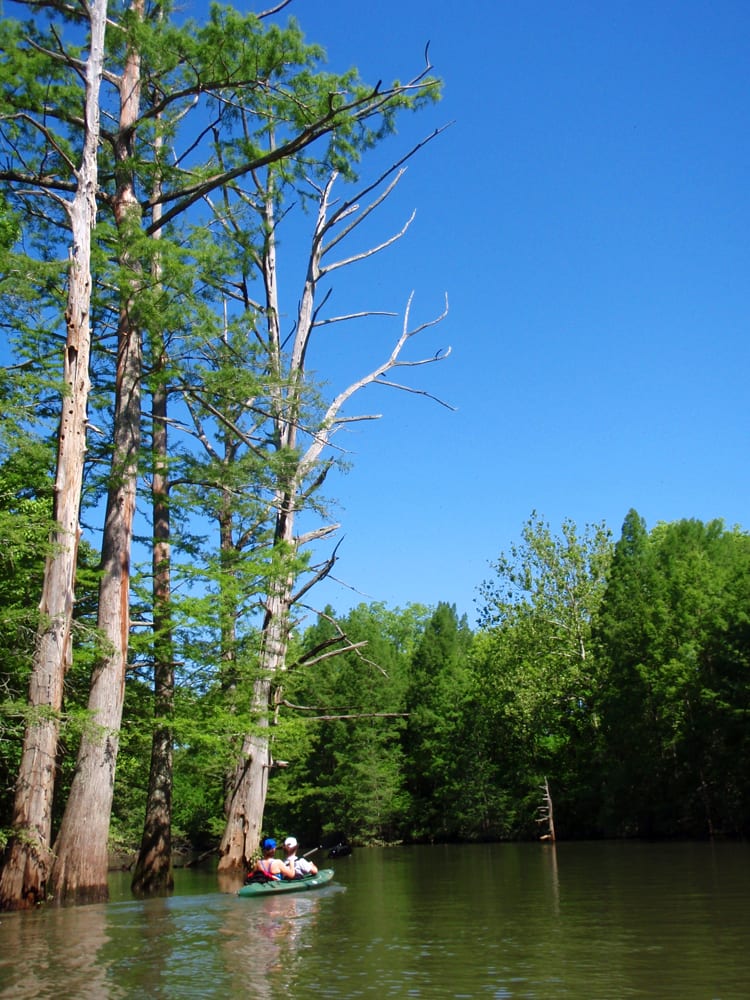 Middle of the week, after-work dates are always fun. This is one that is first-rate. If you prepare properly you can be on the river enjoying a nice float with no need for shuttles within half an hour of getting off work. A lesser known area of Pinnacle Mountain State Park includes a boat launch area on the Big Maumelle River near the Park Visitor Center. From Pinnacle Valley Road, take the state park road toward the visitor center but at the Y in the road go left and down the hill. The road soon opens up to a parking area, pavilion, fishing pier, boat ramp and modern bathrooms. You'll need a canoe, two kayaks or a tandem kayak. Just launch and head upstream to the right. Stay to the right as you go up on a easy paddle enjoying looking for wildlife both in the water and on the shore. You'll eventually come to the Lake Maumelle Dam, just after going under the Highway 300 bridge. Turn around here and enjoy an easy float back to the car. The whole trip takes a little over an hour. Follow the float with a picnic dinner or head over to the new Pinnacle Valley Restaurant on Pinnacle Valley Road for a nice meal. Your date will have a  unique experience to talk about around the water cooler the next day.
This is just a taste of the options available to couples in the Natural State. Tell us about your ideas in the comments below.