Just before Thanksgiving last year, I had the opportunity to ride a section of what will eventually be The Arkansas High Country Route with Chuck Campbell who initiated the talks with Adventure Cycling to create the route. He is currently working with Adventure Cycling to complete mapping of this scenic and challenging cycling route. We rode gravel roads from New Blaine, Arkansas to the top of Mount Magazine, the highest point in the state. It was a day full of up.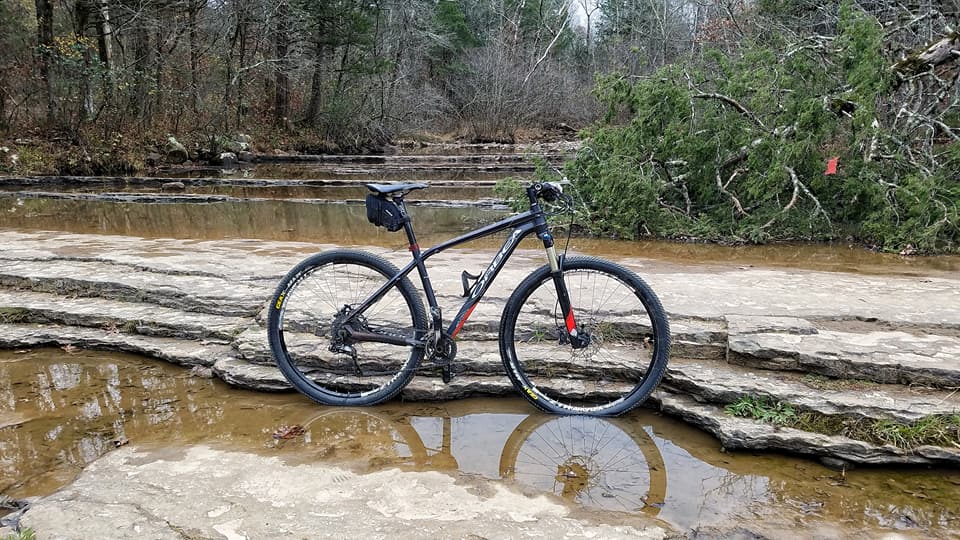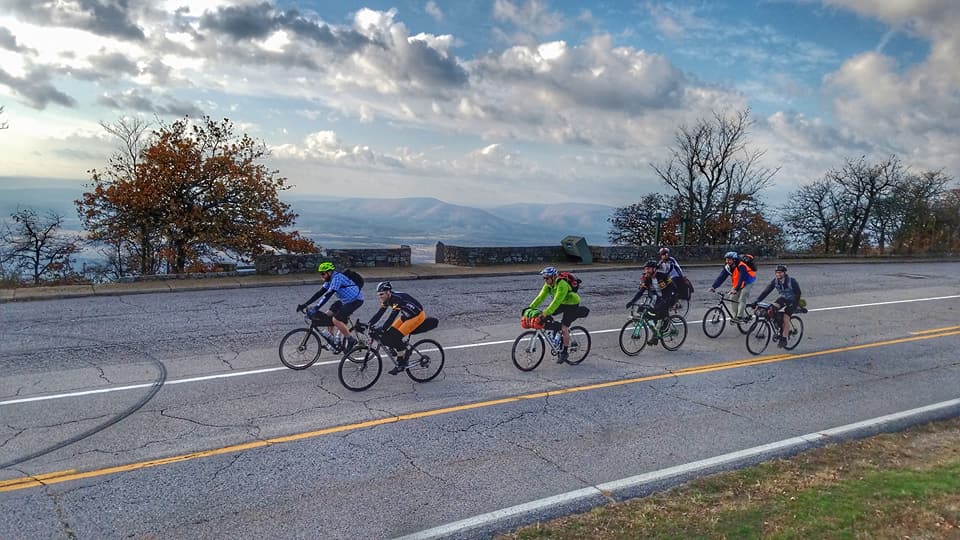 This is going to be a great attraction for the state. Thanks to the Adventure Cycling Association, and the Arkansas Parks and Recreation Foundation for supporting this route. A little birdy has told me Arkansas State Parks has bike camping facilities planned for those parks along the route. Things get better and better, below is the news release on the project.
(from media release)
MISSOULA, MONTANA, February 21, 2018 — The Adventure Cycling Association announces a $100,000 grant to the Arkansas Parks and Recreation Foundation to support the creation of a new, long-distance mountain bike route in northwest Arkansas. The grant will underwrite a large part of Adventure Cycling's research and cartography work to develop the new 1,100 mile Arkansas High Country Mountain Bike Route, along with maps and digital navigation products.
Suzanne Grobmyer, Executive Director of Arkansas Parks and Recreation Foundation, said, "The foundation's most important mission is to maximize the outdoor and recreational value of Arkansas, and the High Country Route exceeds this effort." Grobmyer continued, "This project will be a magnet to all those who want to explore our state's natural beauty and will open the door to countless adventures. We are pleased to partner with Adventure Cycling to bring this regional project to our state."
The Arkansas High Country Mountain Bike Route will help to sustain the growing tourism industry in Arkansas, so vital to the state's economy. The new route will leverage and connect the region's existing network of natural surface trails, boost bicycle tourism and economic development opportunities, and create a more vibrant region for residents and visitors alike.
Kane Webb, Executive Director of Arkansas Department of Parks and Tourism, said, "This cycling route through the Ozark and Ouachita mountains will feature many of the unique and beautiful vistas, valleys, and quaint towns in northern and western Arkansas. We look forward to welcoming cyclists from around the world to The Natural State." Webb continued, "Travelers along this route will also have the pleasure of exploring some of our cultural hubs including Little Rock, Conway, Russellville, Fayetteville, and Bentonville. The world-class museums and exciting nightlife of central and northwest Arkansas provide a perfect contrast to the quiet remoteness of the Arkansas Highlands. It is a pleasure to work with the Adventure Cycling Association on this project."
In addition to connecting communities and significant area attractions — such as eight state parks, 15 Forest Service campgrounds, nine Corps of Engineers parks, three national parks, and many fishing opportunities — the route will showcase the geological diversity, splendid natural areas, and welcoming accommodations of northwest Arkansas. The possibilities for cyclists will be amplified by connections to portions of five International Mountain Bicycling Association (IMBA) Epic trails: the Lake Ouachita Vista Trail, the Womble, the Buffalo Headwaters Trail, and the Syllamo Trail.
"For 20 years, Adventure Cycling has been a pioneer in creating off-pavement bikepacking routes," said Jim Sayer, Executive Director of Adventure Cycling. We've seen the global popularity of our dirt routes grow, especially the Great Divide and Idaho Hot Springs Mountain Bike Routes. We are excited to bring our expertise to Arkansas, which is fast becoming a major mountain biking destination in the U.S. and even the world."
The timeline for this project is roughly two years, beginning with fieldwork and research of the route, outreach to communities along or near the route, mapping, and composition of text including field notes, riding conditions, and a directory of services. Maps will be available in both print and digital formats.
About the Adventure Cycling Route Network: The network features rural and low-traffic established bicycling routes through some of the most scenic and historically significant terrain in North America. Currently, more than 46,846 miles have been mapped with turn-by-turn directions, detailed navigational instructions for the tricky sections, and elevation profiles in the high country. Adventure Cycling's maps are also waterproof and designed to fit in a handlebar bag window or jersey pocket. The maps provide information specifically for cyclists, such as the locations of bike shops, sources for food and water, and listings of overnight accommodations including camping facilities, hotels, and cyclist-only lodging. In addition to a new map app, there are digital data available for five cross-country routes and popular shorter routes that can be uploaded to your smartphone or GPS device. Adventure Cycling's Routes & Mapping Department is constantly working on research and development of new routes as well as the maintenance of the 46,846 miles of existing routes.