For mountain bikers and other trail users, the thought of heading out to the trails when they are in bad shape or temporarily closed or in a fragile state sends them racing for the internet to find answers to the question, How are the Trails? Recent rains or freeze/thaw cycles can leave trails a mess, windstorms including straight-line winds and tornados can totally trash the trail. So where is the best place to find out about trail conditions around the state? Facebook of course.
Trail advocates from around the state have set up Facebook group pages for many of the trail systems around Arkansas. This is a wonderful two-way communication tool that allows trail users to post their trail observations and for visitors to know if the trails are ready to be ridden, hiked or run. These pages also let trail advocates know when work is needed on a trail, work parties can be organized and trails can be put back in repair quickly.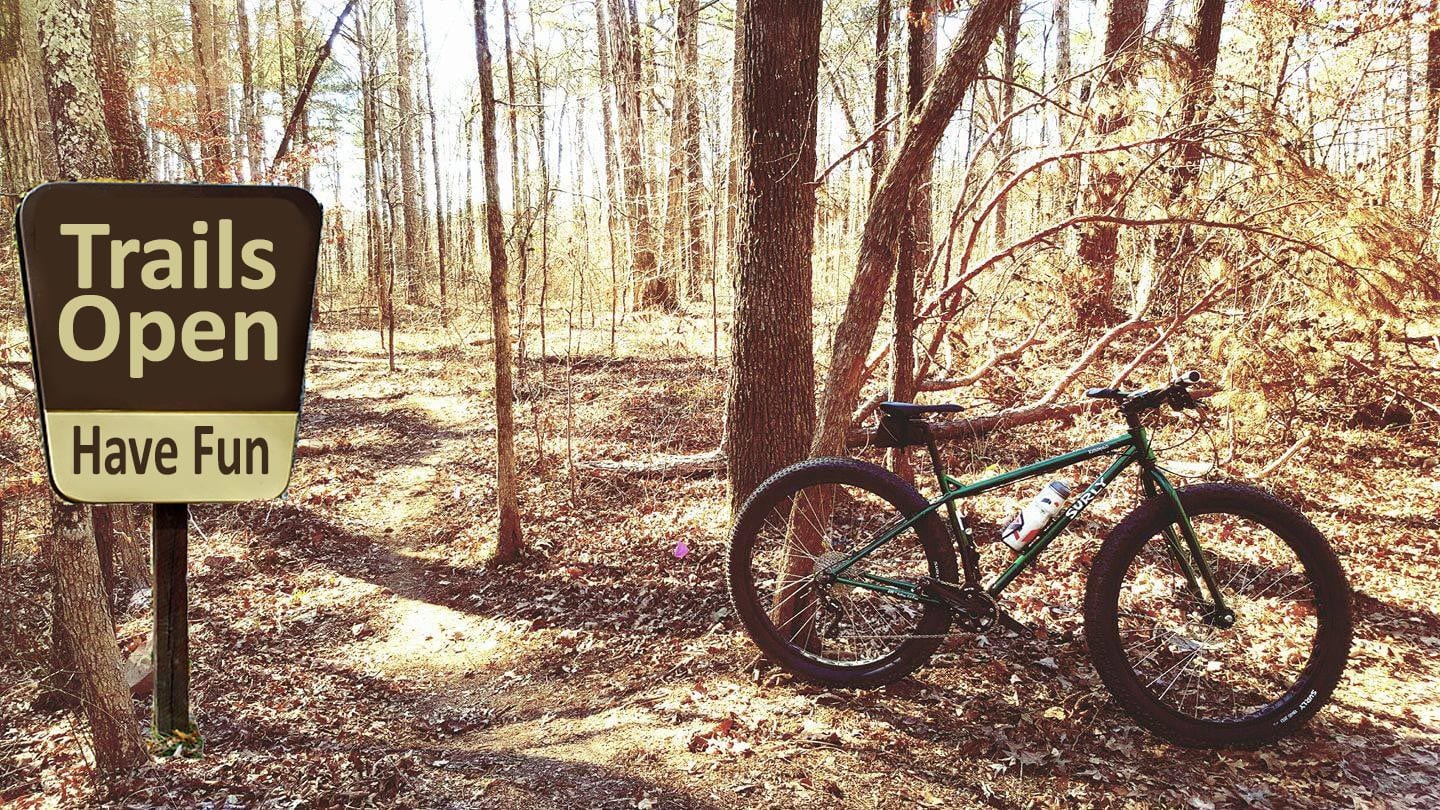 Ride and Report – Read and Heed
These only work if people; (1) Post their observations, good or bad on the group on a regular basis. We'll call this the Ride/Report step of the process and (2) Heed the advice of those who have posted. We'll call this the Read/Heed step. It's really that simple.
Below are the Facebook group pages for trail systems in Arkansas. I may have missed some so if you know of any, please post them in the comments and I'll add them to the list. (*) means it's a page, not a group page.
Facebook Group Trail Conditions:
Northwest Arkansas (Bentonville, Rogers, Springdale, Fayetteville, Fort Smith, Eureka Springs, Red Star, Mountain View)
Back 40, Little Sugar, and Blowing Springs (in Bella Vista, AR)
Slaughter Pen (in Bentonville, AR)
Coler (in Bentonville, AR)
Lake Atalanta (in Rogers, AR)
Mercy Northwest Trails (in Rogers, AR)
Hobbs State Park-Conservation Area including Monument Trails (near Rogers, AR)
Fitzgerald Mountain (in Springdale, AR)
Thunder Chicken (in Springdale, AR)
Centennial Trails (in Fayetteville, AR)
Lake Fayetteville (in Fayetteville, AR)
Mount Kessler (in Fayetteville, AR)
Mount Sequoyah (in Fayetteville, AR)
Gregory Park (in Fayetteville, AR)
City Lake (in Siloam Springs, AR)
Lincoln Lake (near Prairie Grove, AR)
Devil's Den State Park (south of Fayetteville, AR)
Ben Geren (in Fort Smith, AR)
Springhill (near Fort Smith, AR)
Greenwood Lake (near Fort Smith, AR)
Lake Fort Smith Trails (near Fort Smith, AR)
Lake Leatherwood (in Eureka Springs, AR)
Great Passion Play Trails (in Eureka Springs, AR)
Upper Buffalo (near Red Star, AR)
Syllamo (near Mountain View, AR)
Central Arkansas and Ouachita Mountains (Little Rock/North Little Rock, Conway, Russellville, Hot Springs, Mount Ida)
Little Rock/North Little Rock Trails (1) or Little Rock/North Little Rock Trails (2) covers much of central Arkansas.

Camp Robinson (in North Little Rock, AR)
Burns Park/Pfeifer Loop/Emerald Park (in North Little Rock, AR)
Boyle Park (in Little Rock, AR)
Allsopp Park (in Little Rock, AR)

Pinnacle Mountain State Park Monument Trails (Little Rock, AR)
Rattlesnake Ridge (near Little Rock, AR)
Cadron and Enders Fault (near Conway, AR)
Foothills Trail Alliance (near Clinton, AR)
Mills Park (in Bryant, AR)
Cedar Glades (near Hot Springs, AR)
Northwoods Trails (Hot Spring, AR)
Mount Nebo State Park including Monument Trails (near Dardanelle, AR)
Ouita Coal Company (near Russellville, AR)
Old Post (in Russellville, AR)
Iron Mountain (near Arkadelphia, AR)
Womble (near Mt. Ida)*
Mena Open Trail Alliance (trails near Mena, AR)
Lake Ouachita Vista Trail – LOViT (near Hot Springs, AR)*
Eastern Arkansas (Jonesboro)
Other Trail Conditions Sources
A couple of other sites that allow users to post reports on trail conditions are MTB Project and TrailForks. If you use these please use the trail report features. (FYI, TrailForks can be set up to work with Strava to load your ride and will send you an email to remind you to enter a report. Works great.)
Ride/Report and Read/Heed