Arkansas is a waterfall-rich environment. After a bit of rainfall, the creeks rise and the waterfalls appear. Some are easily accessible from the side of a road and a few take a bit of a hike. Watching water fall over rocks, the relaxing sound, maybe it's just the chance to sit quietly in the wilderness and watch the water do its work to cut through the rock and earth. Winter is a particularly good time of year to view waterfalls since the leaves are off and you can often get a better view.
Last week I had some appointments in North Central Arkansas to visit Norfork Adventure Supply and attend a meeting of a new trail advocacy group, Trail Team of North Central Arkansas (TTANCA), in Mountain Home. Since I was in no hurry during the drive up and back from Little Rock, I took the opportunity to check on a few waterfalls. I packed my Arkansas Atlas & Gazetteer and Tim Ernst's Arkansas Waterfall Guidebook as references. The Gazetteer is my old-school way of getting around in rural Arkansas. Since many of these places did not have addresses and would be down dirt roads which may or may not be serviced well in truck GPS, I could use the Gazetteer as a way to verify direction and route to waterfalls. My other reference, the Waterfall Guide is a must for anyone hunting waterfalls in Arkansas. My copy is from 2002 and although I need to replace it (there is a 2019 edition available), I don't want to lose the notes I've made over the years.
Driving North on Highway 5, when coming down the hill into Heber Springs, you'll notice a sign on the left for Bridal Veil Falls. A short (less than half a mile) drive down the dirt road will get you to a gravel parking lot. There are two trails, to the left is Cornelius Falls and to the right is Bridal Veil. On this trip, I took the steps down to the overlook above the falls and was able to shoot this video.
View this post on Instagram
I was intrigued so I hiked down to the left on a steep trail that took me up under the falls where I was able to walk behind the falls. (be careful, the wet rocks are slick. This is not a hike for everyone).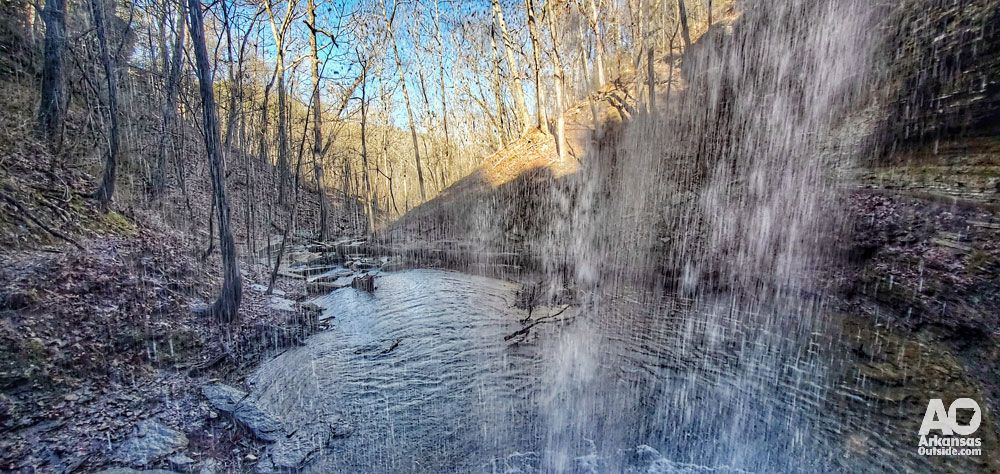 Carefully wandering around the falls allowed for several great views.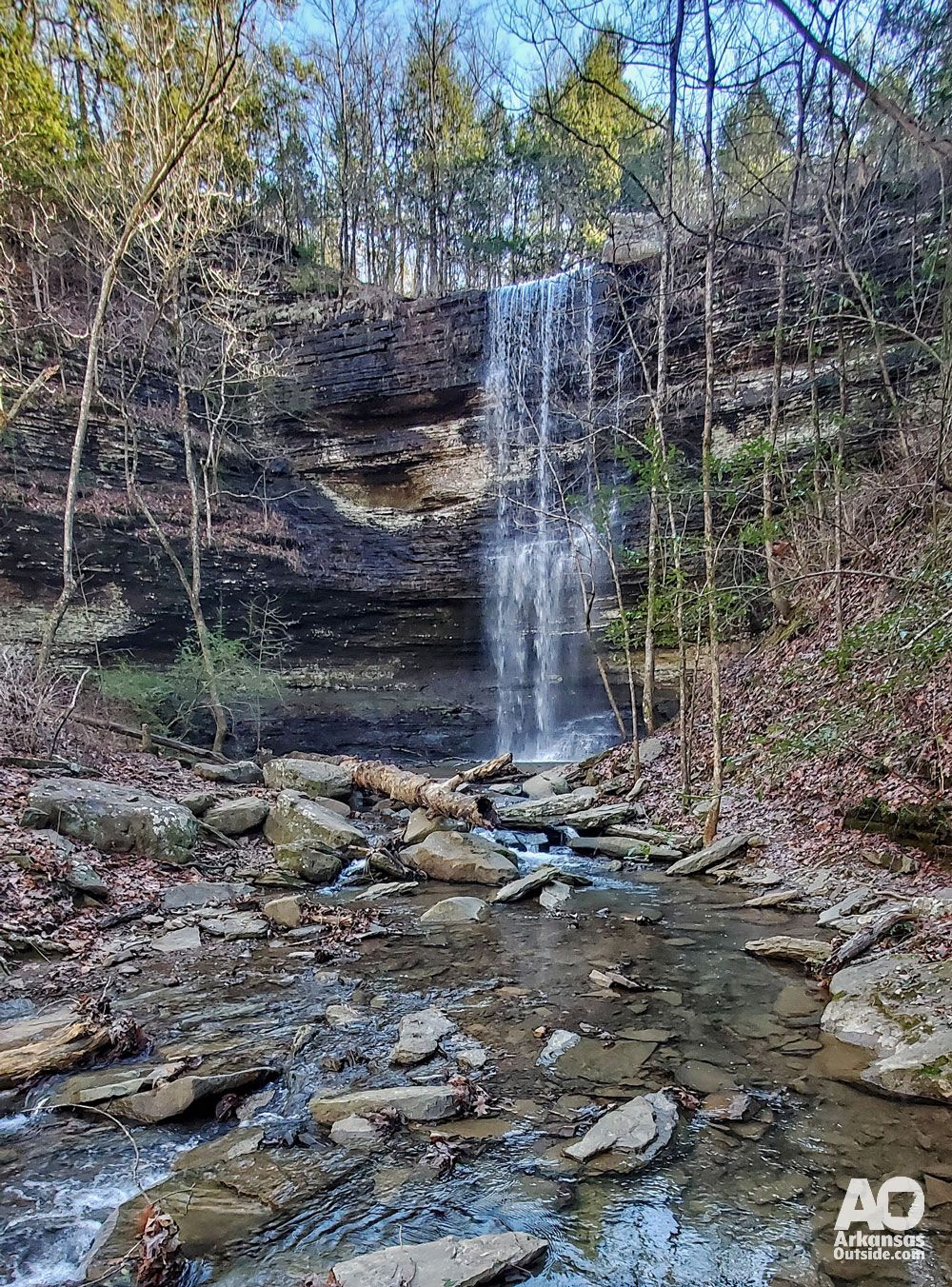 After spending a lot of time around Bridal Veil Falls, I decided I needed to get moving so I'll be back for Cornelius Falls.
Day Two –
After my meetings and spending a night camping at Bull Shoals-White River State Park, I headed south through Bull Shoals (after a wonderful breakfast at Hank and Katie's Bakery & Cafe) and on to Searcy County via Buffalo Point and Dillards Landing on the Buffalo National River. The rest of the waterfalls I would see this day were on creeks that feed into this special river.
Traveling through Marshall, Snowball, and Witts Springs is to travel through classic Ozark beauty. In Witts Springs, I stopped at the Richland Waterfalls Welcome Center where I picked up a very helpful map of waterfalls in the area. Photos and a video of local waterfalls further inspired my journey.
From the visitor center, I traveled south out of Witts Springs about a mile to Richland Creek Road, a gravel road on the right. Following this down into the valley, at the third intersection you'll find Falling Waters Road, turn right and just 20-30 feet up you'll see a small cairn on the left. A short hike down the trail takes you to a beautiful cascade on Falling Waters Creek. You can then stay on the east side of the creek and walk upstream just about 50 feet and you'll see Intersection Falls.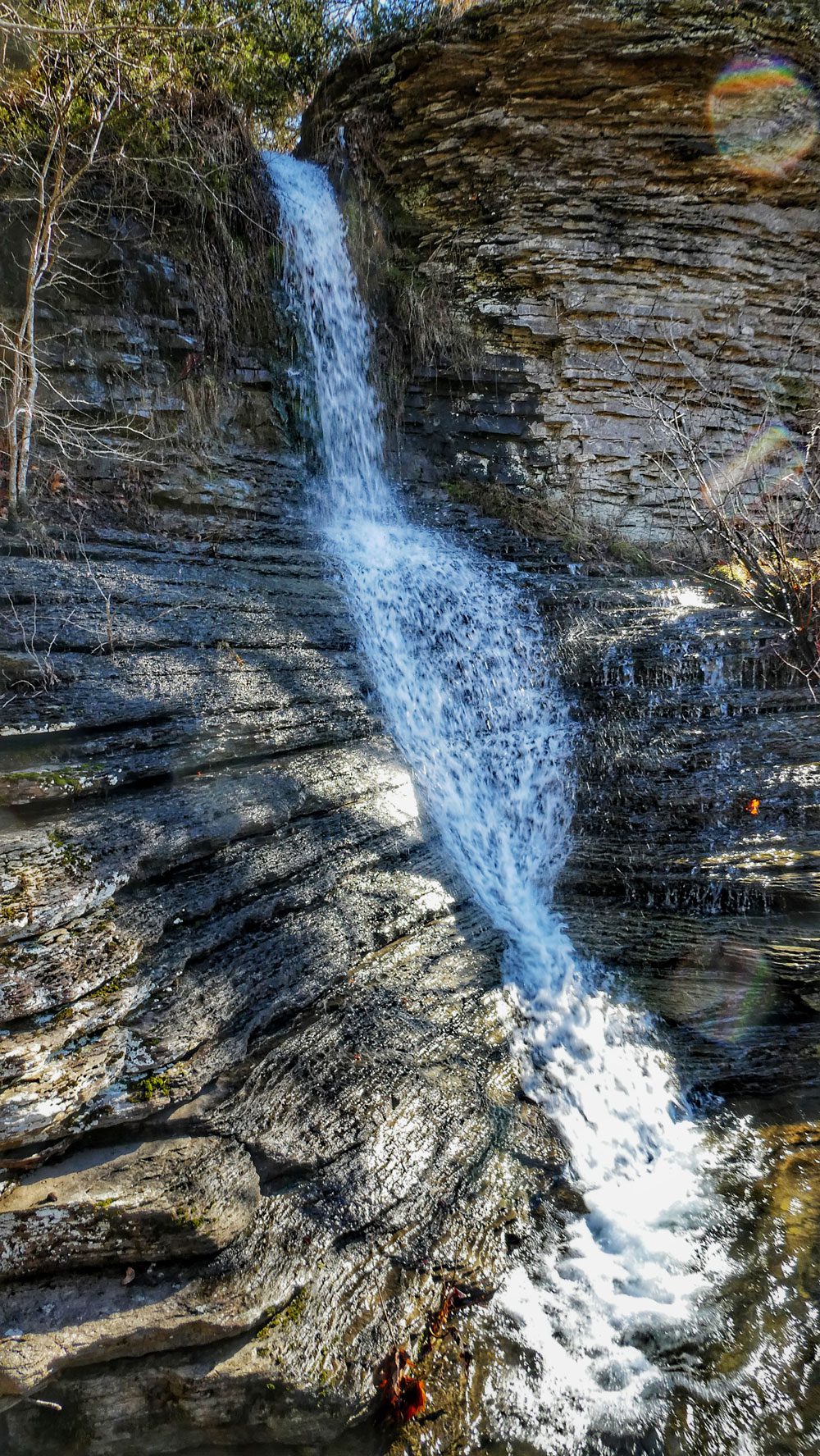 Getting back to the car it was only about half a mile to the next falls. It's easy to see where everyone pulls off to the side for Six Finger Falls. This is a popular area and is also where hikers can access Fuzzy Butt Falls. I'll save Fuzzy Butt for the next trip. There is very easy access from the road to see this unique area. Being there on a weekday had its benefits and I had the place to myself. I could have stayed there all day.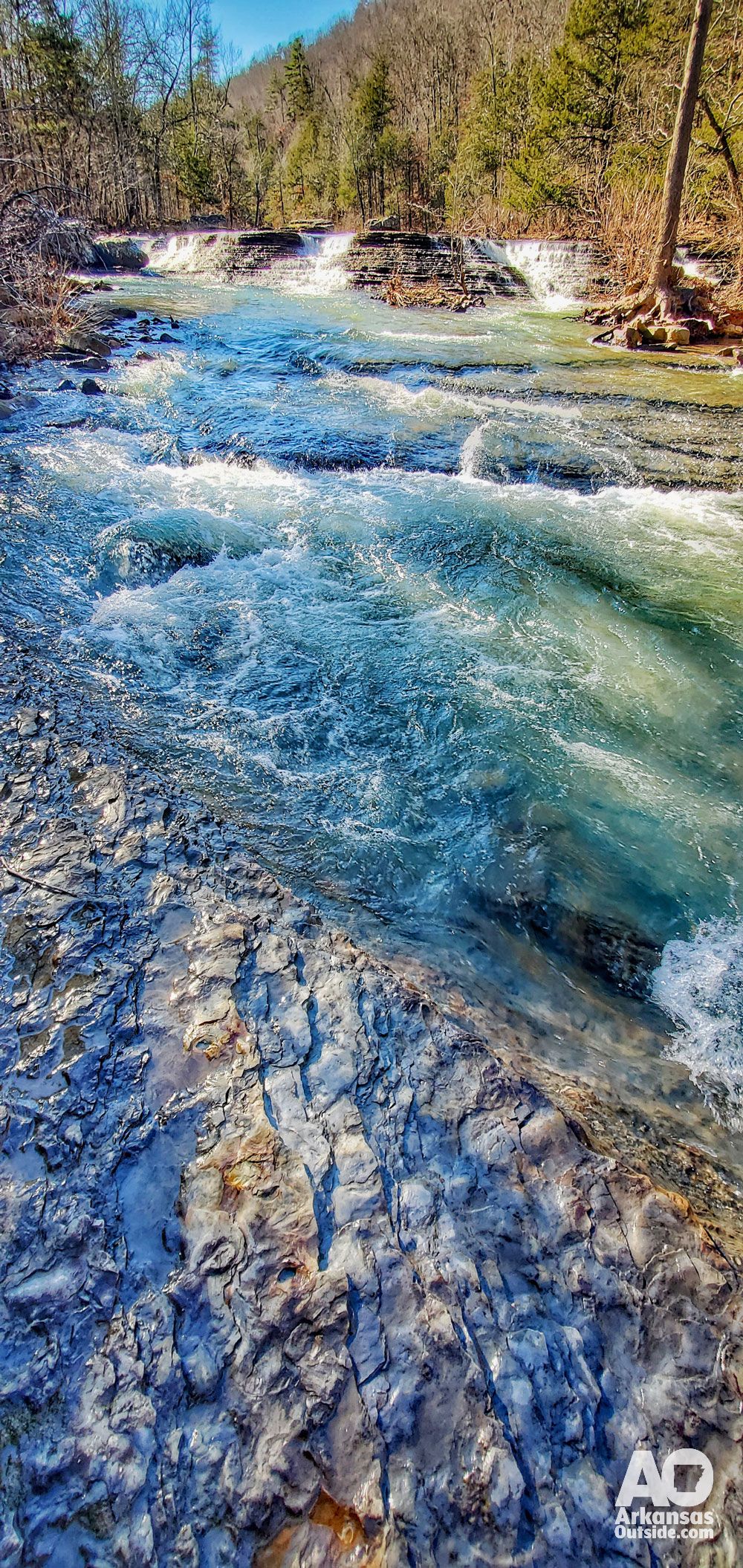 Eventually, I got back in the truck to head home. There is nothing quite like the combination of rock, gravity, and water to create some of the most beautiful scenes in the wild. There are hundreds of waterfalls in Arkansas worth spending some time finding. When you're out, stop by a local store or restaurant and support the local economy of these places.