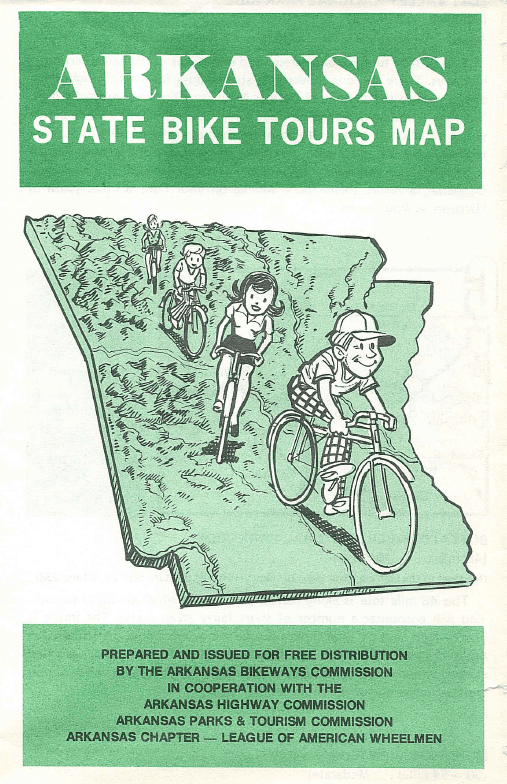 My offices at Arkansas State Parks have been going through a bit of upheaval recently. Things change over time and new positions are created, people take on new tasks, and sometimes we just need a move to get things cleaned out. A few bits of history were discovered during the ensuing chaos. Recently, someone, I have no idea who felt that my desk would be a promising repository for a bit of Arkansas bicycling history, the 1978 Arkansas State Bike Tours Map.
The illustrations and language in the folding map tell as much about how Arkansans viewed themselves as it did the state of bicycling. I decided it might be fun to post a selection from the map every Thursday (see: Throwback Thursday on social media) until I just run out of material. There is good stuff here.
As these were different times, the map folded in such a way that it had the cover on one side (above) and a mailing label on the other. For those of you who don't remember, the mail was the internet of the time. It was a bit slower but physical things would actually show up on your doorstep, much like dealing with Amazon now.
The mailing label looked like this: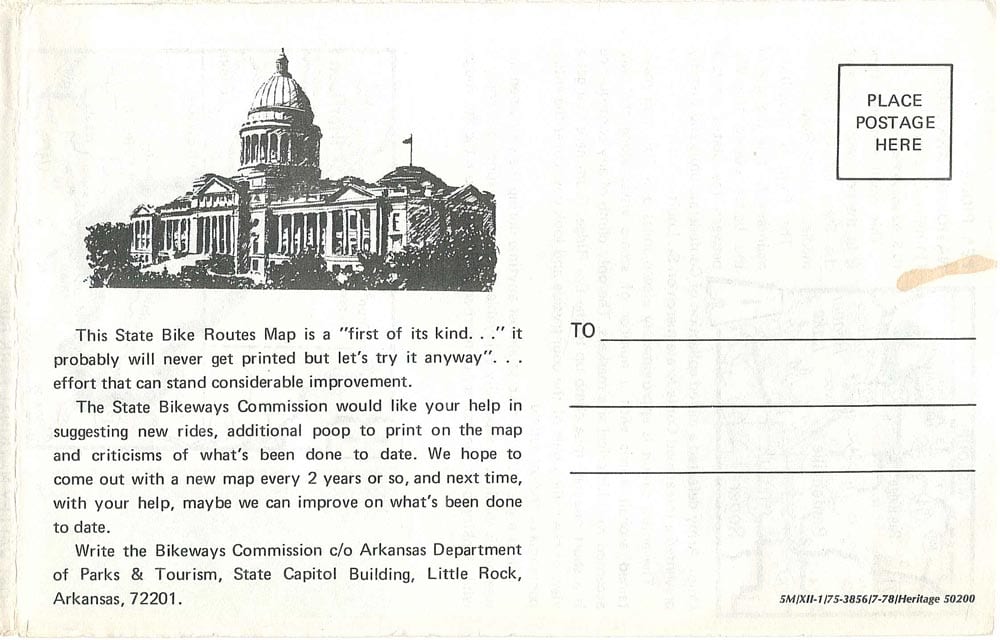 The first thing you might notice, besides the image of our Capitol building, is the quote, "it probably will never get printed but let's try it anyway". I for one am glad they tried but it seems a bit odd as your introduction to the map. The next thing you should probably notice is that we had a State Bikeways Commission. I'm assuming it was much like the Governor's Advisory Council on Cycling that we currently have. I serve as chair of that council so I'm a bit ashamed that they put together this map and we haven't pulled something like that off yet. We'll get there.
Also, since I can revert to being a 10-year-old boy at the drop of a hat, I giggled a bit at the use of the word poop in the copy.
So this is the start of our journey. I promise more interesting bicycling factoids to come. One of the amazing things about this to me is how the information in it is very similar to the information people need today. Enjoy.