Last week the Big Mountain Enduro Series released its calendar for 2023 and word quickly shot across the state that an Arkansas venue would launch the series of 5 races. Besides racing at Sunrise Park Resort, Arizona, Durango/Purgatory, Colorado, Brian Head, Utah, and Big Sky, Montana, the Series will kick off at Mount Nebo State Park in Dardanelle, Arkansas. This makes the Arkansas venue the only one outside of the Rocky Mountain Range.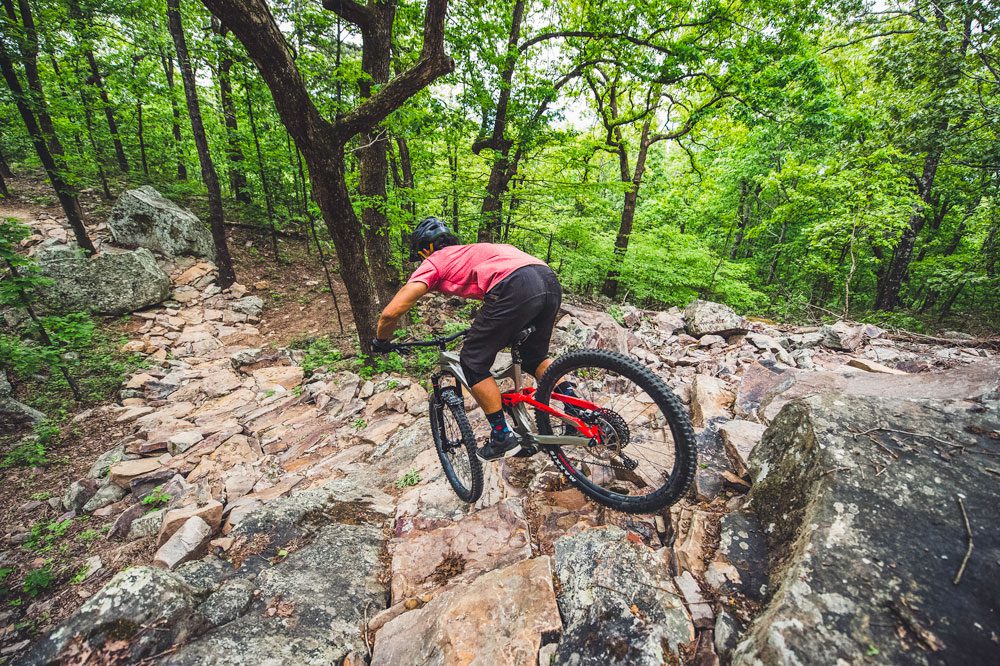 A favorite among both local mountain bikers and many from outside the state, the Monument Trail System at Mount Nebo provides enthusiasts with several downhill routes starting from both Sunrise and Sunset Points on top of the mountain.
According to the news release from Big Mountain Enduro, "For each event racers can expect two big days, including a mix of pedal and lift-assisted transfers, depending on the host venue. All 2023 events will showcase the biggest and most challenging trails at each location and maximize the overall racer experience, with epic prizing, large pro payouts, and entertaining festivities the BME is known for."
The release also mentioned, "Excitement is buzzing around these new venues with fresh cut trails being built by Jagged Axe Trail Designs at Mt. Nebo…" The mountain bike trails currently at Mount Nebo were built by Rock Solid Trail Contracting of Copper Mountain, Michigan. Suzanne Grobmyer, Executive Director of the Arkansas Parks & Recreation Foundation, said, "The APRF is currently accepting sponsors for the event production and course development to support the Big Mountain Enduro event in May." The APRF was instrumental in creating the Monument Trails at four Arkansas State Parks. Contact information is available on their website.
There is no current shuttle service at Mount Nebo. There is only one trail that could be serviced by shuttle, Hayes Creek. Ox Pull, a climbing-only trail used as a return from the base of Hayes Creek could also be used as downhill for the event giving the event two shuttle-able downhills. Other downhills include Chickalah Downhill and Chickalah Loop Trail. These trails are often paired with Sunrise and Sunset Connector trails to form longer downhill runs. It will be interesting to see how BME sets up the course and what new trails are added by Jagged Axe.
Online registration will open on January 1st, 2023 on the Big Mountain Enduro website.