I wish there was a way I could figure out just how much money has been raised for worthy causes through events that utilize the Arkansas River Trail and the associated bridges. It's not something I've seen in the various economic impact numbers recently but I think it must be substantial.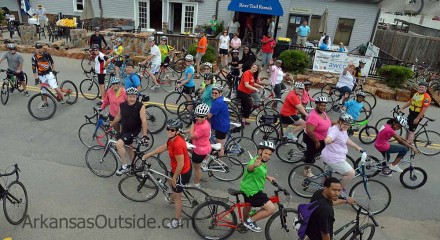 This weekend I had the opportunity to be involved in a new cycling event along the river trail, Biking for Bigs. This event is run in support of Big Brothers Big Sisters of Central Arkansas. Everything kicked off on Saturday morning at 10 a.m at River Trail Rentals, a bicycle rental business on the North Little Rock side of the river. Participants had their choice of a 20 mile ride to the Two Rivers Bridge and back or a 4 mile ride going the opposite direction across the Clinton Library Bridge to the River Market and back. You'll notice in the above photo that riders are facing different directions at the start. I was covering the event alone so I had to choose.
I spend many weekends taking lots of photos of people riding or running long distances. This time I took a break to have more fun and went along with the less experienced riders for a change. Although many of the "Bigs" went with the 20 mile group, the 4 mile group was made up almost exclusively of Big Brother, Big Sister pairs. Most on their first ride over one of the wonderful bridges we have along the river trail.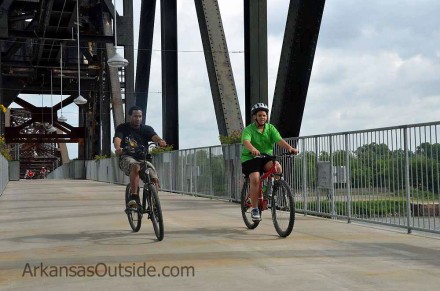 I'm reminded at these events how diverse and supportive the local cycling community in Central Arkansas is. Volunteers showed up to help out both leading the rides and following the group from the back. Willa Williams, one of our local cycling educators was there helping out and teaching safety and etiquette. I noticed some folks from the Mello Velo Cycling Club helping out also. Ron King of Recycled Bikes for Kids dropped off several bikes for kids to take home and River Trail Rentals offered up space for the after party and rental bikes.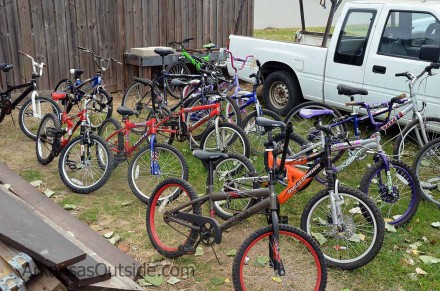 The ride went off with only one minor mishap, no one hurt and everyone rode into the finish just like they left. The video below shows bits of the start, everyone crossing the bridge and one little girl finishing her ride down the bridge back into North Little Rock. She was riding this sweet stingray style bike with banana seat and streamers on the handle bars. I was jealous.
After it was all over they had a great little party complete with hot dogs fresh off the grill, swag bags that were better than any I've received in years at major events. No odd flavored drink powders or gels, they had candy bars and a frisbee!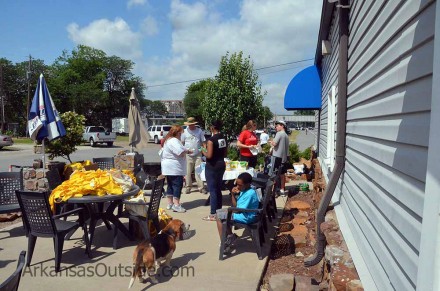 It was a great day with great weather and great people all for a great cause. I think my favorite thing was just seeing kids and adults enjoying  bikes and having fun. I look forward to seeing this event grow next year.
More photos of the event are available for download on our Flickr site.