We haven't started doing product reviews…yet (If someone gave me some free outdoor products I'm sure my arm could be twisted to test it out, perhaps a 29″ full suspension mountain bike that weighs 22lbs or a nice cyclocross bike…oops, daydreaming again). But I do want to point out what I think would be one of the best gifts you can get for a very young person to get them started down the road toward personal independence, a bike. Not any bike mind you but a non-pedal or balance bike. That's right, no pedals.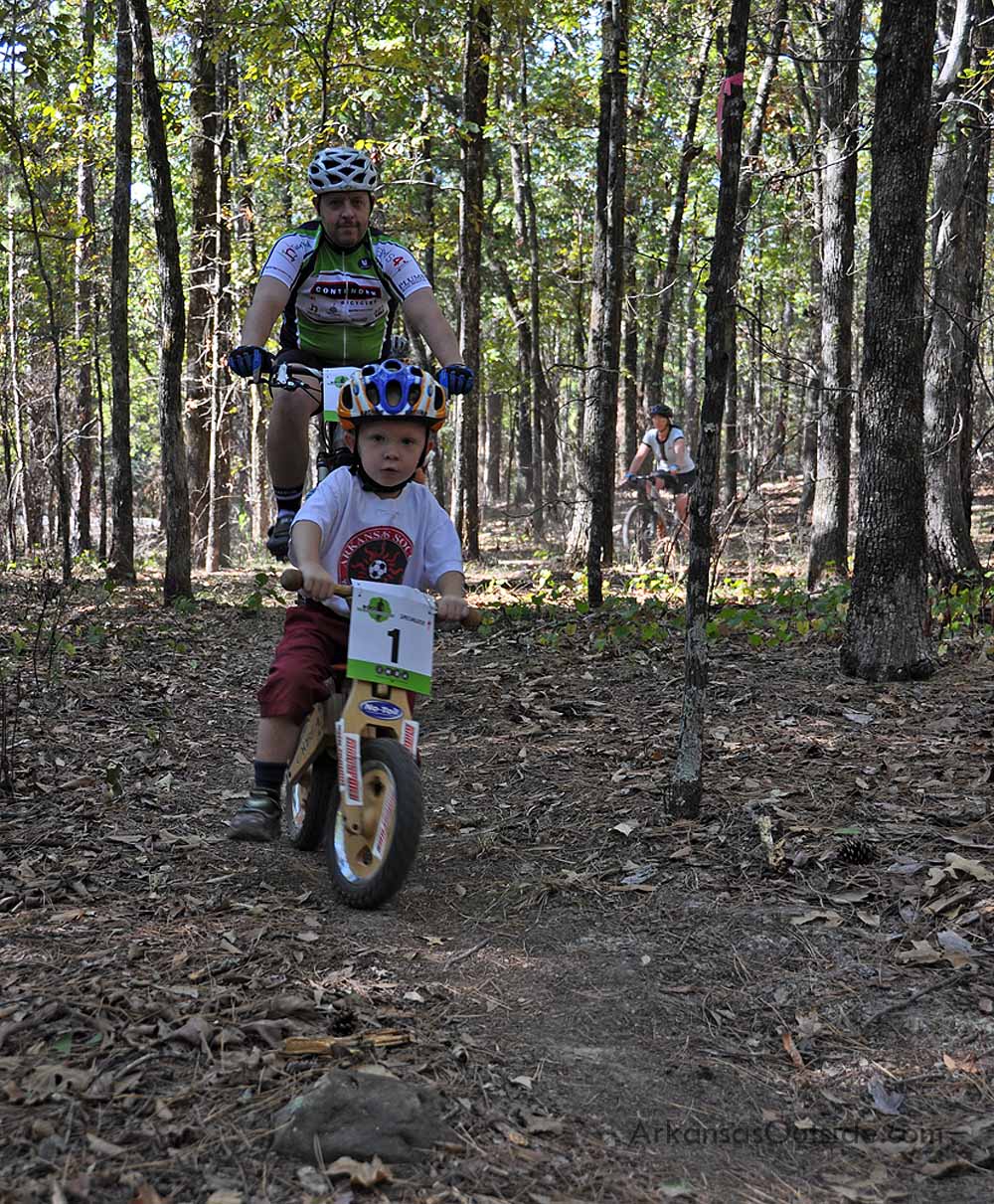 You can skip the tricycle and training wheels (I was not a big fan of either as a kid). With the pedal-free bike a kid can learn balance from the beginning, they learn to handle the bike and they learn the power of momentum. When they get a little bigger and are ready for the pedals the transition will be relatively painless. I've seen some kids out on the trails with these bikes. The above photo is from 2010 Take a Kid Mountain Biking Day (not updated) which is sponsored by the International Mountain Biking Association and held the first Saturday in October every year (the 2014 event in Little Rock). That particular kid was riding lap after lap of the Rabbit Ridge Mountain Biking Trail at Pinnacle Mountain State Park (We dedicated the trail that day and tied it to TKMBD.)
Several companies build these types of bikes. They run in the 100 dollar range which will seem high to some but go price a stroller or other piece of little kid gear including the cute little tiny The North Face jackets that are available and you may come to the same conclusion that I did. 100 bucks isn't much to set your child down the path of respect for the outdoors and a healthy lifestyle. Here are some of the manufacturers that I know of:
So get them a bike and get them out on the trails. It wouldn't hurt us grown-ups to get out more and gets rid of that excuse, "I can't ride, I've got to stay home with the kid."
Enjoy this video of a kid and his dad hitting the trails and think about giving your kid, grandkid, friends kid a little freedom. And don't forget the helmet!
Or check out these buds as they start down the road to long term health, friendship and memories.
COMMENCAL Ramones 12 2015
from
COMMENCAL
on
Vimeo
.