With Thanksgiving comes tradition.  Family, turkey, dressing, stuffing, pies, and football come to mind.  For many runners it also brings the opportunity to run with friends at a cornucopia of events.  In Little Rock, Go! Running has the Go!bbler Turkey Trot.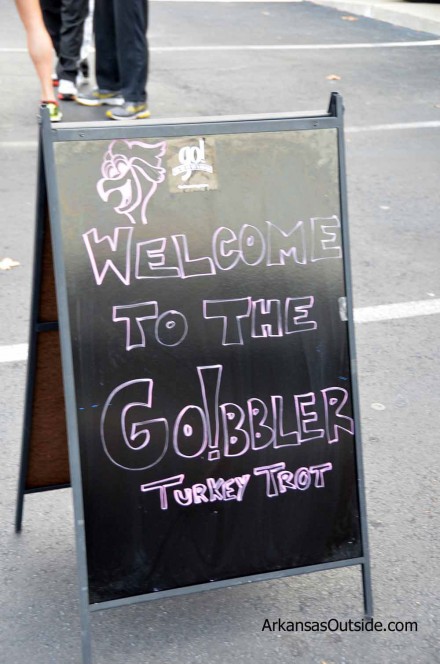 What began, as an idea to see if a Turkey Trot was needed in the area has become a customary way to actively start Thanksgiving in central Arkansas.  In its two year existence the amount of people and fun has increased.  Family and friends gather at the store in personalized shirts, crazy hats, and costumes.  Canned goods and non-perishable food items are collected and donated to the Arkansas Foodbank.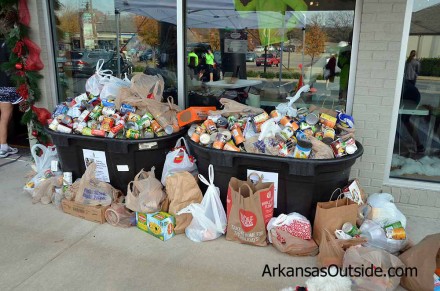 We couldn't have asked for a better day.  The weather was perfect for a trot through the Heights and Hillcrest.  As we lined up for what appeared to be a line for a huge Black Friday sale, I looked around at all of the people that were ready for a good time.  You had your choice of 3, 4, or 6.5 miles.  No matter the distance, fun was in store for everyone.
To say the route is unique would be an understatement.  The Go! Running crew has a serious appetite for surprises.  The course ventures to the track at Scott Field.  Watching the runners file down the stairs was a sight.  For the first timers, I'm sure they were perplexed by the idea of gobbling up a lap on the track.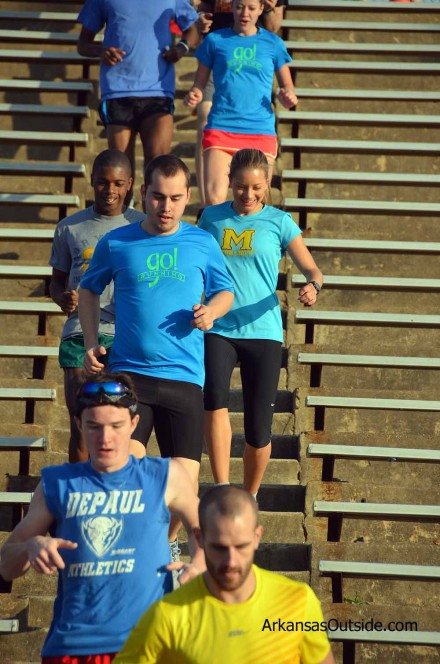 We left the track and made our way to H Street.  A mile was done and the next surprise was the biggest hill on the course.  While those doing the 3-miler made a left, everyone else made his or her way to Kavanaugh.  At that point we had experienced road, track, grass, and hills.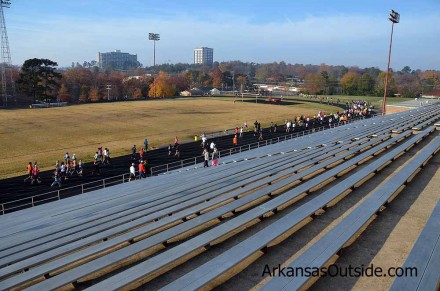 The final terrain change took place once we entered Allsopp Park.  The unpredictability of the trail was an appropriate addition to the course.  Foreign to many, but home to some, this part of the route appeased my hunger for trails.  As with any trail, you have to watch your step.  The fallen leaves covered the rocky path below.
We made our way back onto the road and headed toward the finish.  Crossing over Cantrell is usually a concern, but people were either sleeping or putting the final touches on Thanksgiving celebrations.  The home stretch was familiar to me since it's the way the Thursday group runs end.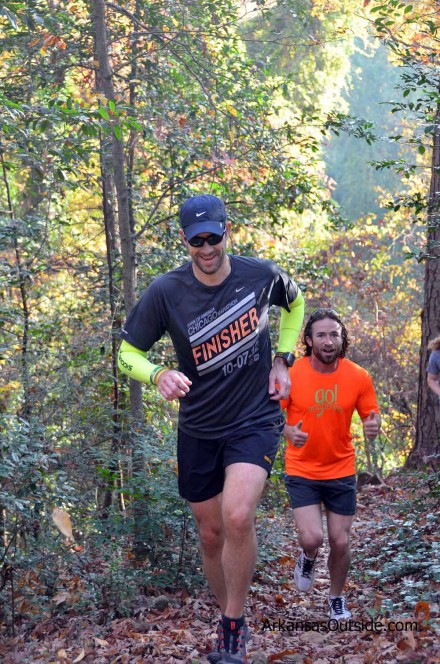 It was nice to see friends volunteering and pointing us in the proper direction.  Andi Stracner was there with her ginger hair along with her husband Jason, as the runners decided how far they'd go.  Judy "Turtle" Massingill and Jessica Castle were at the top of the hill that merged with Kavanaugh.  Christine Meroney smiled at runners right before the aid station.  Stacey Shaver made sure we were aware of the traffic after coming off the trail.  A host of others volunteered their time to make the Turkey Trot a success.  On behalf of those that ran, we thank you.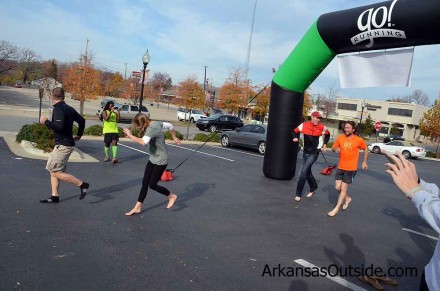 Once back some darted off to prepare to feast on food as they had feasted on miles.  Santa made an appearance providing holiday cheer.  I confessed to him that I had not been a good boy this year.  There is always next year, eh?  The atmosphere was welcoming and the music provided a great ambience.
An extra treat was being able to sing "Happy Birthday" to Jayme Butts-Hall.  The Turkey Trot wasn't enough as she also decided to participate in the Sunset Endurance 6/12/24 Endurance Run.  Now, that's how you spend a birthday!
If you missed the Go!bbler or can't get enough of having fun with awesome friends, you should definitely check out Go! Running's group runs on Thursday's at 6 p.m.  If that's not enough, join the crew for their next fun run, Go! til Midnight, New Year's Eve Run.
A lot more photos on our Facebook Page. Feel free to download, share, tag and comment on them.
When I'm not running, volunteering, or writing, you can usually find me lurking on Twitter @absolut_zer0 or reporting on races in the great state of Arkansas for Pace Per Mile.