Is #TruckLife a Thing?
Well of course it's a thing, being original on social media is nearly impossible these days. Also, a search for #TruckLife on most social media platforms turns up a truckload of tractor-trailer images or behemoth trucks ready to roll over anything and anyone that might get in their way. We have something different in mind.
We've been working on a camping solution that might be more comfortable than sleeping on the ground, warmer than sleeping on an air-only mattress and still be able to get almost anywhere and carry all the stuff. The trend out in the world has been #VanLife but we aren't doing it enough to warrant that kind of expenditure. So we started with a vehicle we had.
The Arkansas Outside mobile office is a 2018 quad-cab Toyota Tacoma, 4WD, over a 6-foot bed, and an ARE raised camper shell. This is an excellent start. When we first got it we bought an inflatable mattress designed to fit the bed and it worked with a couple of exceptions. First, slow leaks. If you've ever used an air mattress, you know what we mean. Eventually, they all leak, particularly when exposed to a bit more rugged environment than the guest room floor of your house. Second, those things are cold in the winter, our favorite time to camp. All that cold air makes it feel like you're sleeping on an ice cube. Even adding a backpacking mattress didn't seem to help.
So we looked into putting in a raised platform bed in the truck. You've probably seen these advertised. Built-in drawers, super sturdy, and really cool looking. The joy of this idea wears off pretty quickly when you look at the price of these add-ons. Even if the price was no object, upon looking closer there were several other drawbacks. First, the usable space in your truckbed drops dramatically. One we looked at had two long drawers that could handle some small stuff but we could tell there was a lot of unusable space. Second, the truck has an AC outlet which I have used on occasion to charge up phones and other electronics or for emergency power. This expensive platform would make that inaccessible. Third, forget being able to take it in and out when you need the full bed. It's hours of work with a lot of parts and pieces to keep track of.
The next option was YouTube. We knew that someone had built a simple platform that we could copy. We saw some cool ideas but still not the simple solution we were looking for. A lot of those options showed people with the ultimate set of tools and skills that might be just beyond our abilities. It was time to get creative and design our own.
The basic frame is made up of three 2x10s that run the length of the bed with a 2×10 just in front of the tailgate running the width at that point. Some more 2x10s that attached between the long pieces creating a sturdy single piece that looks like a shelf if you were to stand it up on its base. (This is how I store it when not in the truck.) The whole thing slides straight out the back and can be dollied into the garage for storage. Lucky for me, the Tacoma is designed so that a 2×10 is the exact height of the wheel wells allowing them to act as extra supports for the plywood platform.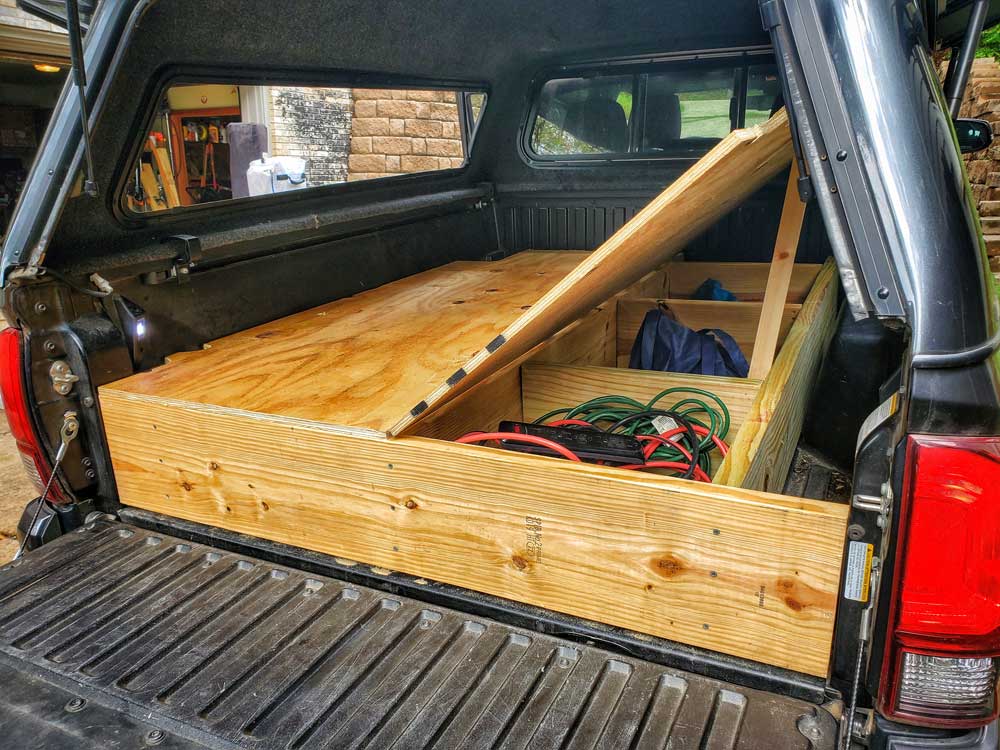 The platform is made of a single sheet of 1/2″ plywood that we cut down the center and hinged so that we could get to storage under the platform from the side windows on the camper shell. A little light jigsawing on the edges made it fit perfectly. We have ideas to improve the hinge mechanism but for now, this would work. W put a piece of scrap wood attached int a storage bin on each side that could be used to prop the platform up when we're working out of the storage compartments. That was it. The whole thing cost under $150 (even during pandemic pricing of wood) and, so far, has suited us fine.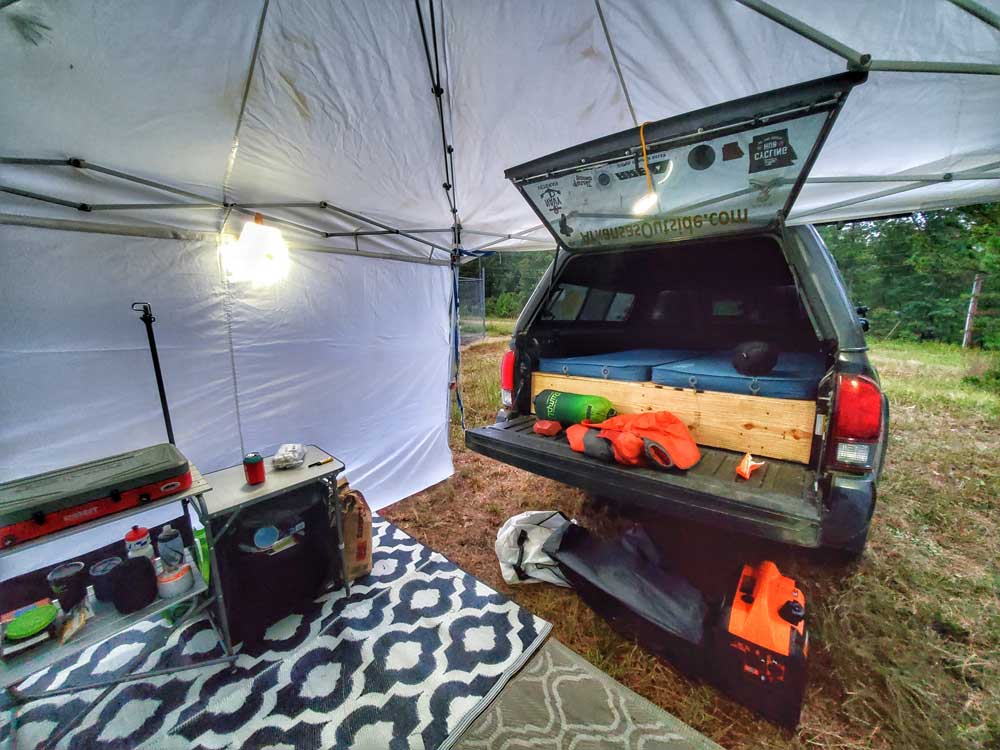 We use a couple of Exped 3″ pads on top for sleeping, these are thick closed-foam that should solve the cold sleeping issues, they also roll up for easy storage. To give us more space we carry a canopy with sides where we can sit or move around a bit, we put the cooler in and even do some cooking on our REI Coop Camp Kitchen. You can pick up some plastic rugs to throw down to finish off the space pretty cheaply. I figure we have more square footage with this setup than most converted vans.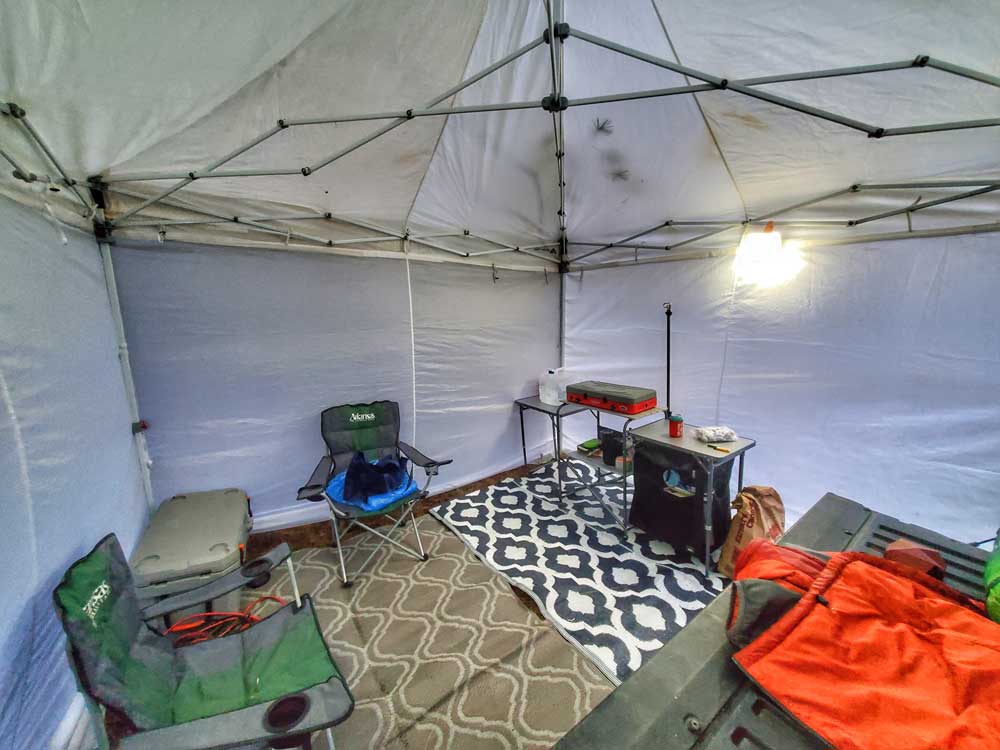 We think we solved all three issues we found with the expensive bed platforms; first, we didn't lose much space, and having the compartmented area under the platform sure helps with organization, second, we can still get to all our electrical, tie-downs, and the little storage area that we keep the trailer hitch in, third, it takes us (one person) about 10 minutes to put it in or take it out. Of course, there is the fourth issue, it didn't cost $1000+ to purchase.
The ingredients included 3″ wood screws, a total of fewer than 30 feet of 2×10 wood, 2 4X8 1/2″ sheets of plywood, and some sturdy hinges. Tools included a tape measure, pencil, battery-powered drill and circular saw, and a 30-year-old handheld jigsaw, plus a couple of saw horses. It was all pretty basic stuff.
This was our setup recently for two nights when we were assisting at one of the Arkansas Traveller 100 aid stations. That was last weekend, this weekend we have the platform out of the truck so we could move some furniture to our daughter's house in Fayetteville. What do you think?