The Arkansas Parks & Recreation Foundation and their partners, the City of Little Rock & the Walton Family Foundation, are hosting the opening of the River Mountain Park Trails in Little Rock. The trail features various levels of shared use and mountain bike trail from beginner to expert. The River Mountain Park project will be home to the first professionally built trails in the city park system. The partnership is also working to complete gateway and beginning trails at Two Rivers Park that are under construction currently. All together, River Mountain Park and Two Rivers Park will be a basecamp for the entire family whether–exploring the trails by bike or by foot, getting out on River Trail, connecting to Pinnacle Mountain State Park, or kayaking the river–the area is activated for countless outdoor adventures.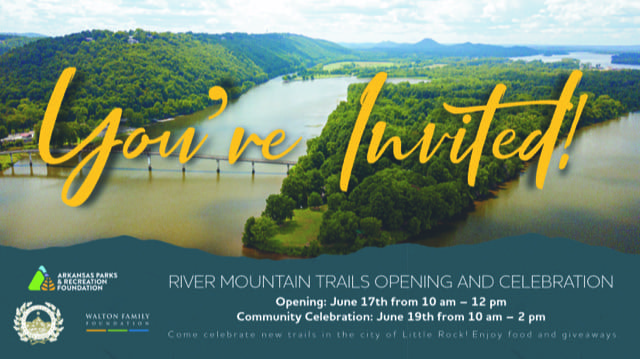 Here is a little preview of the new trails:
The opening will feature two events:
Trail Opening
Location: the New Lot located at the base of River Mountain (just up from the Two Rivers Boat Launch Parking Lot)
featuring Mayor Frank Scott, Jr, and other city leaders, Arkansas Parks & Recreation Foundation, Walton Family Foundation & the Little Rock Convention and Visitors Bureau
June 17th from 10:00 AM-12:00 PM
Community Celebration 
Location: Two Rivers Boat Launch Parking Lot
featuring El Sur and Loblolly food trucks, trail rides, giveaways, and more!
June 19th, 10:00 AM-2:00 PM
Keep in mind that the Arkansas River Trail between the Big Dam Bridge and the base of the Two Rivers Bridge may still be closed due to construction/repairs. If you would like to ride your bike to the event, it is recommended to park in Two Rivers Park.