A community of mountain bikers in NWA whose aim is to empower women of all abilities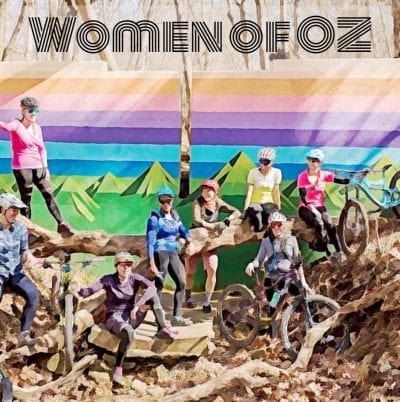 Epic Rides dedicates their events to a person or a group of people who've made an invaluable contribution to the sport of mountain biking. Generally, these folks have been in the sport for many years, usually multiple decades, but this year's event dedication recipient for the 2nd Annual Oz Trails Off-Road, the Women of Oz, have only been established for six months. However, in that time the Women of Oz have grown exponentially, making an enormous positive impact on the local Bentonville community.
Founded in January 2019, the Women of Oz exist to promote women's mountain biking in Northwest Arkansas by creating an inclusive, welcoming environment for all levels to learn or expand mountain biking skills. The group meets the first Saturday of every month, and after six rides, the Women of Oz have grown from 35 female riders to more than 500. How does a group experience such sudden growth?
"There were women in Northwest Arkansas who already rode or who had an interest in riding, there just wasn't any established leadership in place to bring it all together," said Allyson de la Houssaye, Women of Oz NWA Chairwoman. "The inclusivity and welcoming nature of the group has also driven the growth. We welcome women of all experience levels and backgrounds." The extensive network of trails around Northwest Arkansas has also been a factor. Allowing such easy access to trails from the home or workplace encourages more participation, and many women simply ride to the trails straight from their house.
The Women of Oz is a grassroots-driven non-profit and leverages a network of 20 certified guides, holding clinics during their monthly get-togethers, filling to capacity each month, especially in the beginner groups. "You have to reach out and give women an opportunity to learn," said de la Houssaye. "There are a lot of women who want to learn to ride mountain bikes, but they don't know how or where to start. Our goal is to get women on bikes by breaking down barriers; whether that's getting them started, getting the right equipment or removing the intimidation factor."
The Women of Oz engage and equip women with information and skills, building leaders in the community who can go out and bring more women into the program. The group has a Facebook and
Instagram page, but de la Houssaye said much of the growth has been word of mouth. "We are getting women whos kids are already riding in NICA and FAST, and they want to learn so they can ride with their kids. Then there are women who bring friends and other family members interested in learning, and each month the group gets bigger."
De la Houssaye's own story is notable, as she was never a mountain biker, but enjoyed commuting to work by bicycle when she lived in Chicago. Five years ago her husband took a job in Bentonville and she got into road cycling. One day her friend invited de la Houssaye to go mountain biking and she was unsure. "I gave it a try and immediately fell in love," said de la Houssaye. "The connection with nature, honing the mind and body and the social scene of mountain biking is amazing. It's a totally different kind of engagement than riding a road bike. Now my poor road bike just sits in the garage collecting dust."
Looking ahead, Women of Oz want to continue growing the community of female riders, getting more new riders on the trails through efficient, well-run clinics that can teach and inspire. And given how far
they've come already, Women of Oz has definitely created a movement in the Bentonville community with a lasting impact on the quality of mountain bike culture in Northwest Arkansas.