A couple of weeks ago, I was invited to see some new mountain bike trails under construction in Clarksville, Arkansas by Rogue Trails. Rogue Trails is an Arkansas-based, sustainable trail building contractor. They are responsible for designing and building such popular trails as the Monument Trails at Hobbs State Park-Conservation Area and Pinnacle Mountain State Park. They have done extensive work throughout northwest Arkansas including parts of Slaughter Pen, Devil's Den State Park, the Back 40, Little Sugar, and more. I was excited to see what they were up to in Clarksville.
Trailforks map of the Red Lick Trails.
And here is an updated video:
---
Before I go any further, please understand that these trails are not yet open. many sections are not connected yet, there are incomplete bridges and some technical sections that are being reworked. Please do not attempt to visit these trails until they are officially open later this year. We'll let you know when that happens.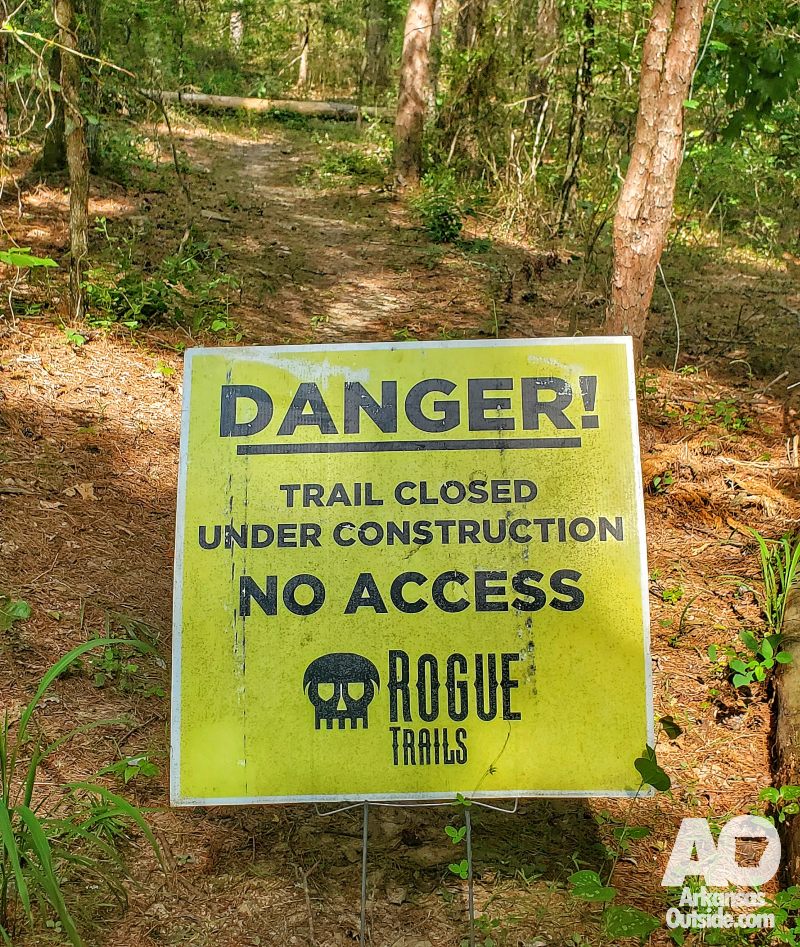 ---
Clarksville is conveniently located along the I-40 corridor between Russellville and Ozark. This city of approximately 10,000 people located just north of the Arkansas River, is also one of the gateways to the Ozark Mountains with Scenic Highway 21 heading north. If you cross the Arkansas River south of town, you'll soon find yourself in the neighborhood of Mount Magazine, the state's highest point. Clarksville is a great place to start an Arkansas adventure.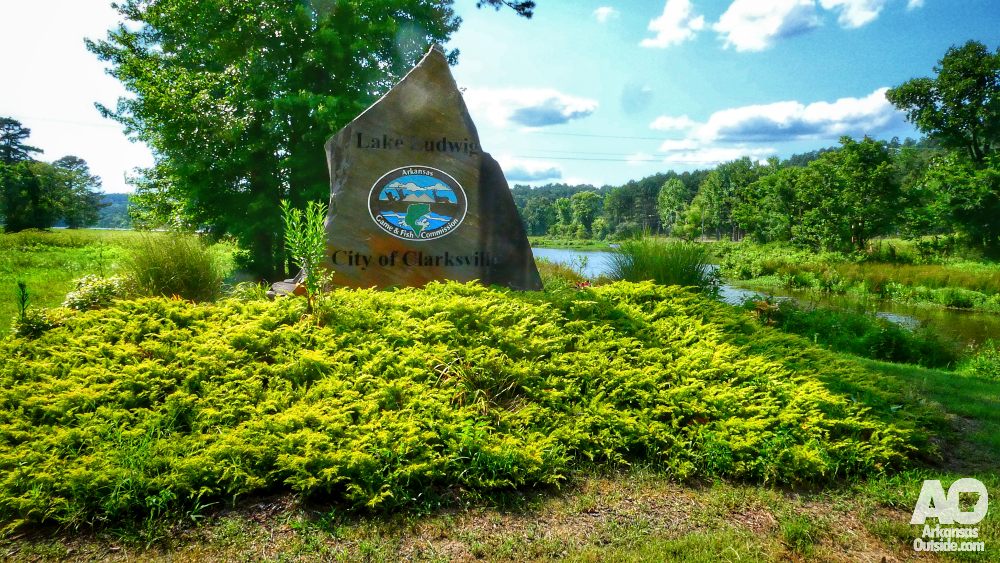 The trails are located near Lake Ludwig on Scenic Highway 21, tying in the Arkansas River Valley and the Boston Mountains. The unique topography allows for easier, green trails, rock bluff riding, and gravity trails with downhill opportunities. Rogue trails share some common features, first, the climbs are designed to be easy with easy grades and well-built switchbacks, and second, they build with as little disruption to the natural environment as possible. Most of the trails I saw already looked like they had been there for a while. The third feature of Rogue trails are the bridges they build. Large or small, they build bridges that fit into the natural environment and are a joy to cross. Even though most of the bridges at Lake Ludwig are still under construction, I could tell they will share this quality.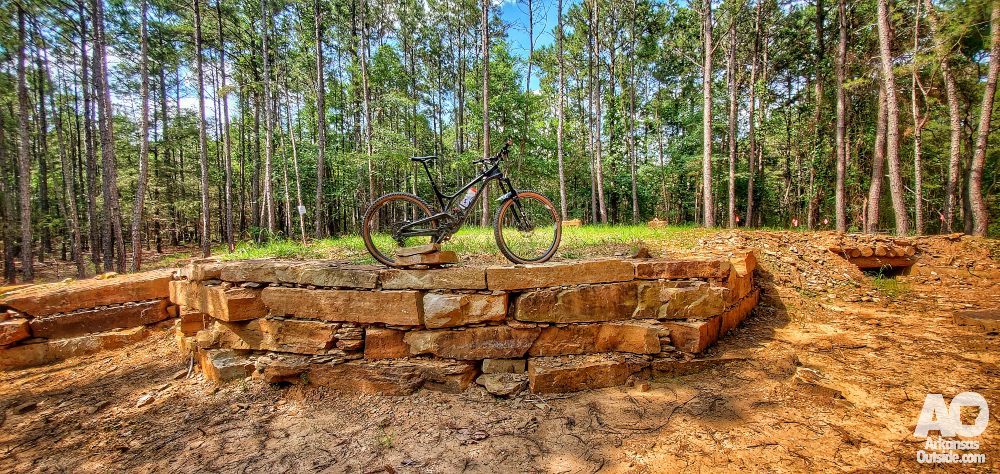 As I climbed higher up the trails into the steeper sections, I came across beautifully sculpted berms making it easier to go up and more fun to come down. I was soon into some bluff lines with the trail weaving its way between rocks until it eventually reached a hub. The hub is reminiscent of one of the large rock hubs you find on trails in northwest Arkansas. This will be the spot many will look for various downhill trails, none of which were under construction yet as of my visit. I continued on the cross-country trail down the mountain and back to where I started. More rocks, bridges, and berms will be found along the way.
"The voters wanted this as a community" – Mayor Rieder
I also spoke with David Rieder, the mayor of Clarksville, and the driving force behind this new outdoor recreation amenity. Mayor Rieder was previously stationed at Camp Robinson in North Little Rock and was a regular rider of the mountain bike trails there from 2007-2014. Funding for trails is not always easily obtained. According to the mayor, the city had a bond set to expire in 2024. He realized that by refinancing the bond at a lower rate and extending it for two years, the city could afford to make a lot of upgrades to the park at Lake Ludwig. "The voters wanted this as a community," said Rieder. "Clarksville is hungry for the quality of life that trails and outdoor spaces bring and more companies are looking at Clarksville due to its focus on the quality of life."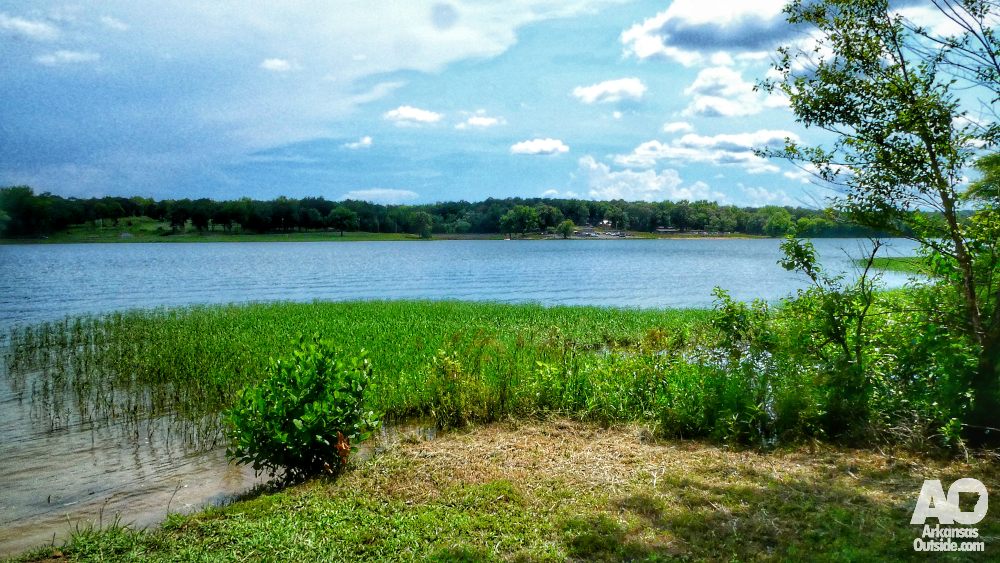 Mayor Rieder has a vision for much more than just the mountain bike trails hoping to add more multi-use trails, camping facilities, and a trail connecting downtown Clarksville and the park. The mayor said the contract with Rogue goes until December 2022 and expects the first trails to be open by then.