How to turn a race into a mini vacation
In Arkansas, between the end of Fall and the first signs of Spring, is a favored time for endurance running events. December through March brings on seminal events like the acclaimed Athens Big Fork Marathon, the LOViT Marathon, and the LOViT 100 Mile/100K. New winter/spring events like the Spirit of Syllamo 100 Mile/ 35M and the Ozark Highlands 35K/50K are gaining popularity and there is continued rejuvenation of popular events like the Three Days of Syllamo. Running endurance races means participants, volunteers, crew, and cheerleaders are on course for several hours, sometimes overnight. These events attract participants from all over the state and bring travelers from surrounding states. Participants sometimes have family or friends traveling with them. Very often, this turns one person's test of running fortitude into a group trip away from home territory.
I occasionally travel to events with friends. These days, I make that a goal. I've learned to treat these adventures as a minibreak, a respite from the stresses of everyday life and work. I recently traveled with a group of friends to participate in the David's Trail Endurance Run events. Four women loaded gear for an entire weekend of fun and trail running, piled into a car, and set off for the drive from Little Rock to Mountain Home with a loose plan of things we wanted to do and places we wanted to visit.
Stops Along the Way
We kicked off our weekend in North Central Arkansas with a quick peek in at Norfork Adventure Supply to grab a few last-minute nutritious snacks for the run and peruse the variety of adventure goods. They have great t-shirts, stickers, caps, local crafts, and other smaller gift items as well as stocking top-of-the-line adventure gear and bikes. We walked across the street to Norfork Brewing Company, quickly finding comfort in a semi-circle of rocking chairs facing a wood-burning stove.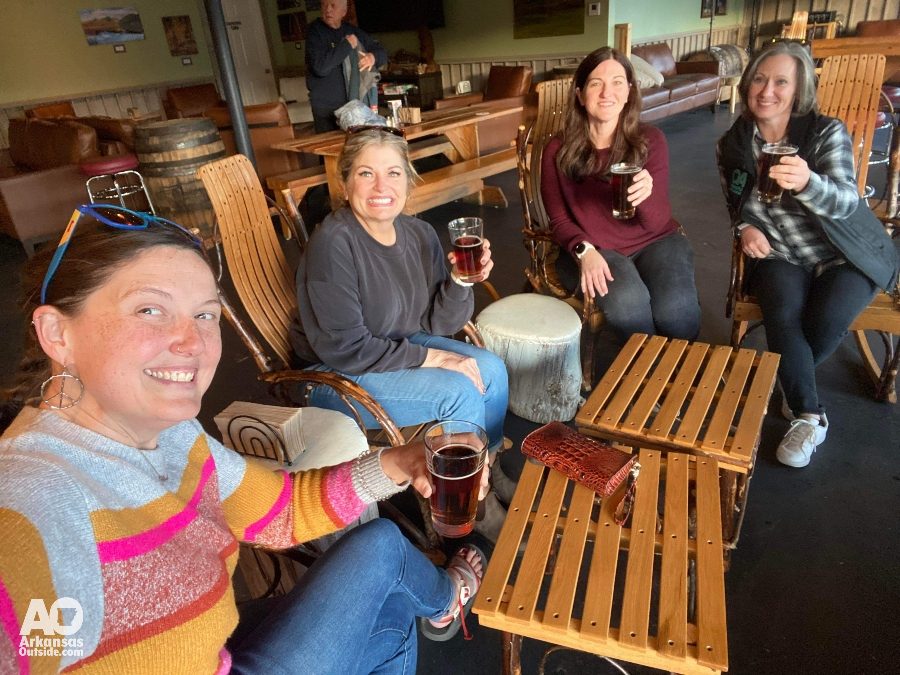 We ordered our beers and a pizza, left a growler at the counter for a fill, then settled in for what we thought would just be a short rest from the drive. Our short rest morphed into a couple of hours enjoying the inviting space and chatting with a local who added a good deal of color commentary to our conversation. The festivities were so captivating, we almost missed our window to make the remainder of the drive to Rocking Chair Resort for checking in to our cabin and picking up our race packets.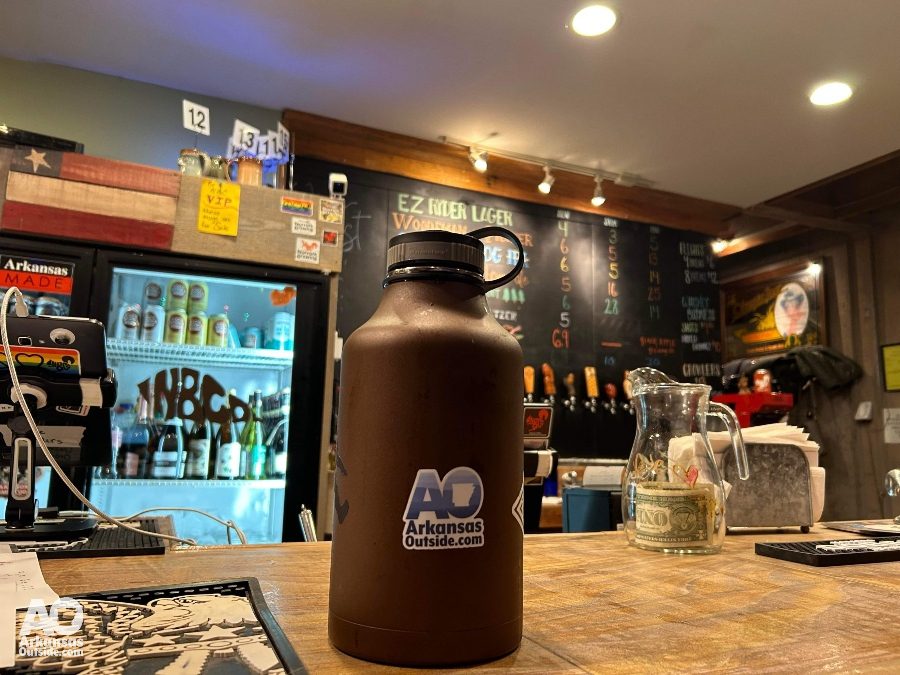 Why We Keep Coming Back
This was my fourth trip for a weekend at Rocking Chair Resort on the weekend of David's Trail Endurance Run. I learned my lesson the first year when we drove up late on a Friday and planned to leave right after the run on Saturday. Other friends had rented cabins. It was an easy sell to convince us to stay another night not only because our friends were staying, but the after party at the run was so much fun, how could we leave? Subsequent years found us making our reservations for a Rocking Chair Resort cabin early and filling it with people we like to spend time with. Our local running crew often takes over 3-4 cabins, enabling small gatherings throughout the weekend for meals and camaraderie.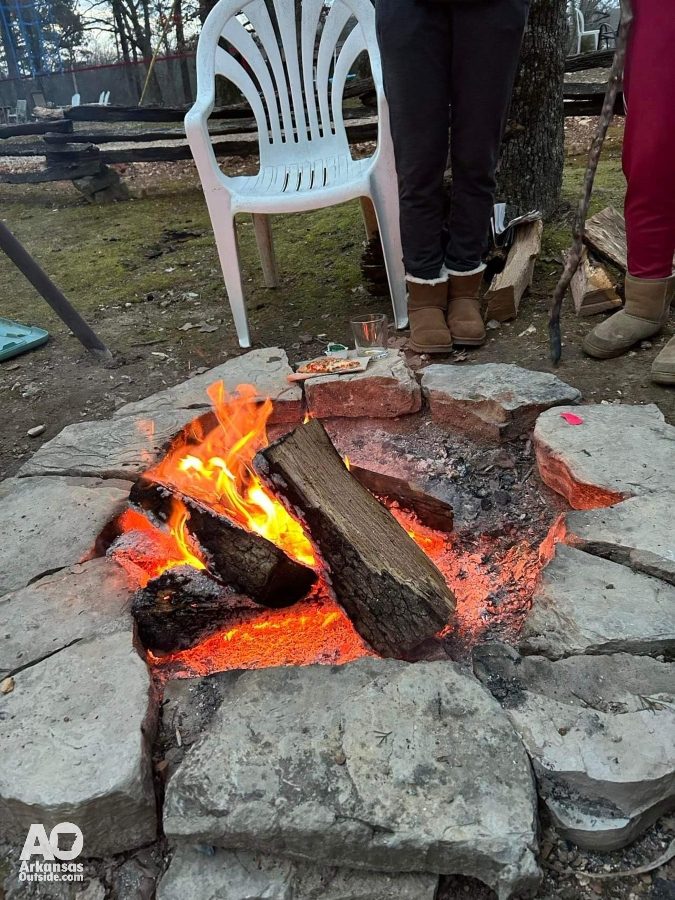 Staying at a cabin on the start/finish line makes it convenient to navigate the hour differences in the starting times of the 50k (8 a.m.), 25k (9 a.m.), and 7k (10 a.m.). No one has to drive to the start and sit around waiting if they're with people doing different distances. If you're doing a shorter run, there is time to get back, clean up, and enjoy the food and music while you wait for your family or friends to finish the longer runs all without moving your vehicle. I was able to get up and cheer on the start of the 50K runners just outside the front door of our cabin, go back inside for another cup of coffee, and finish preparations before walking back out for the start of the 25K.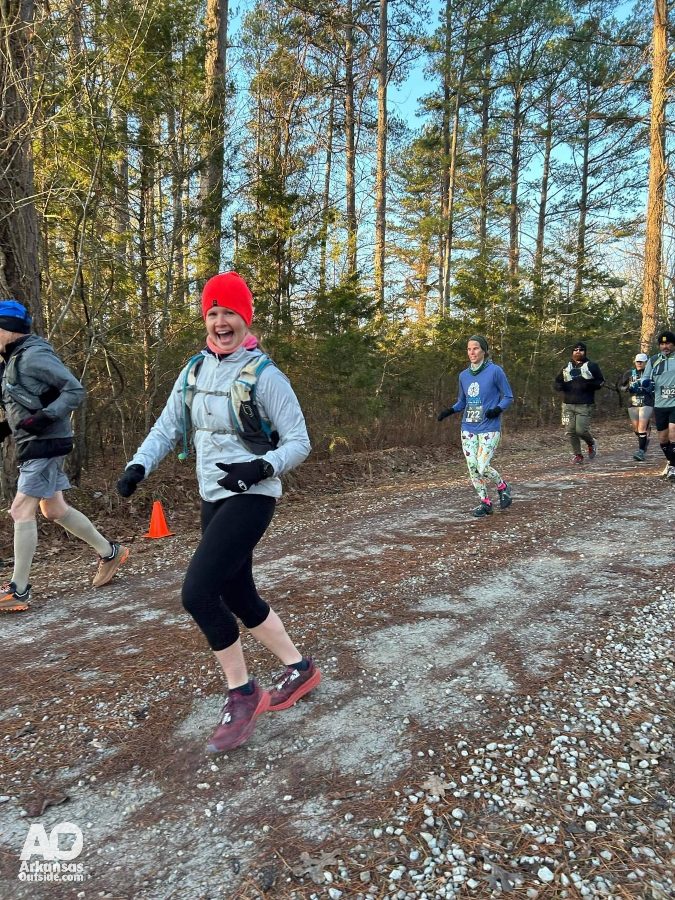 After a leisurely Sunday morning at the cabin, we loaded up the car again and set off for the drive home. On the way, we stopped in at Serenity Farm Bread in Leslie for a "second breakfast" of sticky buns and coffee. I also picked up focaccia and sourdough to take home. The sourdough freezes extremely well so I always pick up a couple of loaves when I'm passing through Leslie. In addition to lovely desserts and pastries, the store offers a selection of coffees, teas, local goods, pantry items, and my favorite Pink Alchemy House syrups.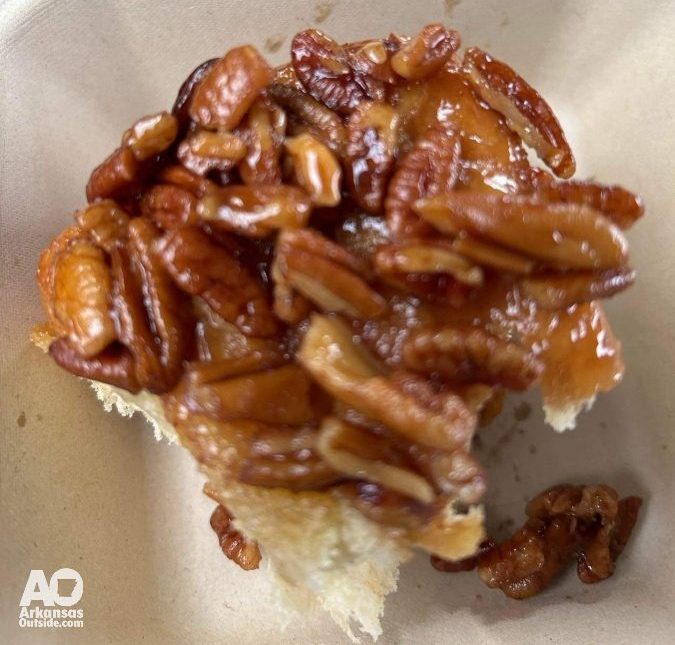 Touristing in your home state, even if you're only a couple of hours from home, makes the most out of traveling to run, ride, or backpack. As much as I love being in the wilderness, I also appreciate having a good meal or a sticky bun along the way.
The LOViT 100M/100K is coming up quickly. With Mountain Harbor Resort in Mt Ida not far away and a short hop to all Hot Springs has to offer, have you made your plans to turn the event into a weekend of fun? Arkansas Outside will see you there at the Brady Mountain Aid Station for the fun of slinging food and drinks, and cheering on the runners.