The word spread quickly, plans for a gathering of bike minded crazies. Dressed in tweed on a winter Sunday, we would meet and ride. Yes, add Little Rock to the list of cities to host a tweed ride. Tweed rides are a growing part of bicycling sub-culture. No spandex, no mud, no heart-rate monitors, no power meters. Our kits (cycling lingo for riding clothes) included wool instead of nylon, old single speed bikes if we could find them, baskets, flowers, a nice hat with pearls, knickers and a bow tie. It was wonderful.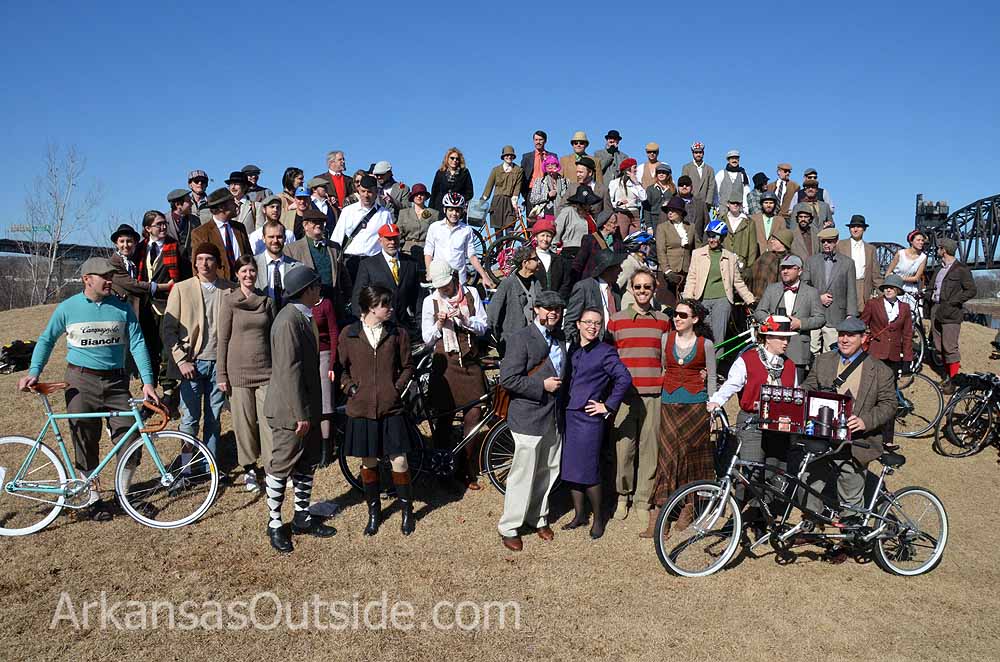 We arrived at the Clinton Library in Little Rock about 30 minutes early and  my fear that few would show up for the ride was quickly set aside. The parking lot was full of cyclists with various styles of bikes.  Someone walking through the lot was giving away fake mustaches. The day was perfect with temps in the 50's, clear skies and lots of tweed. The ride was on. In addition to some local media, several people from a local photography club had come to, I assume, add to their vintage photo collections. This would be a well documented event. Soon, we were riding into the group of folks waiting to start the ride. We were dressed appropriately, Lisa had her old mountain bike with a small basket on the front and I had a 1980 Schwinn World Sport she had picked up for me. I attached one of my grandfather's old suitcases to the back to add serious nostalgia to my ride. We made a couple of trips to Savers in the past few weeks and found excellent outfits. We fit in with the crowd perfectly.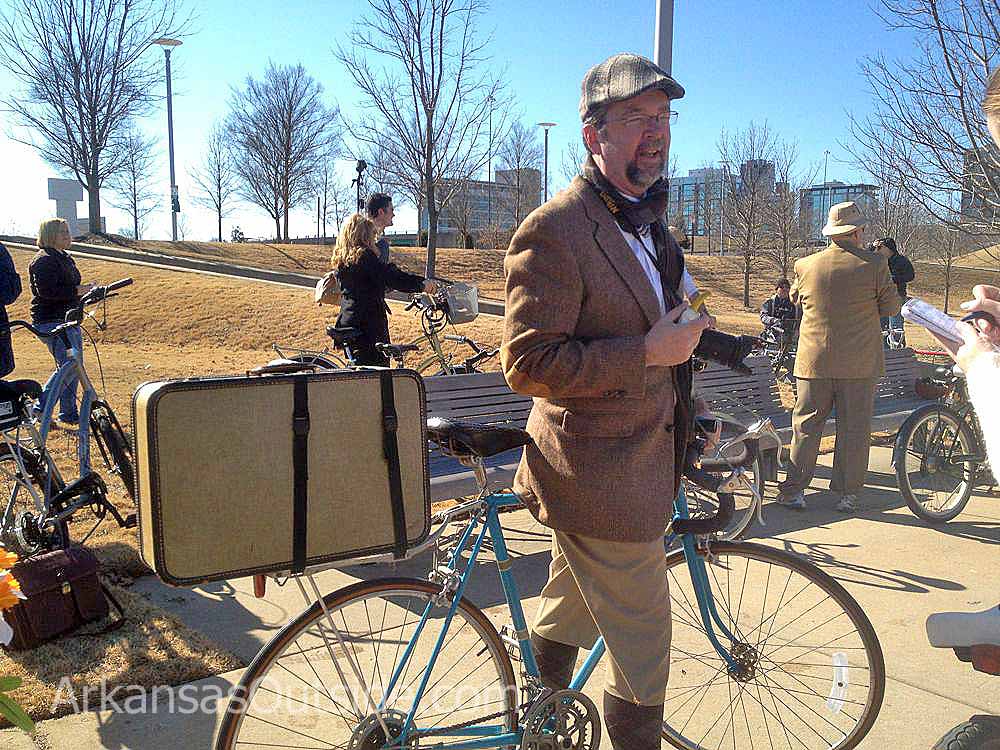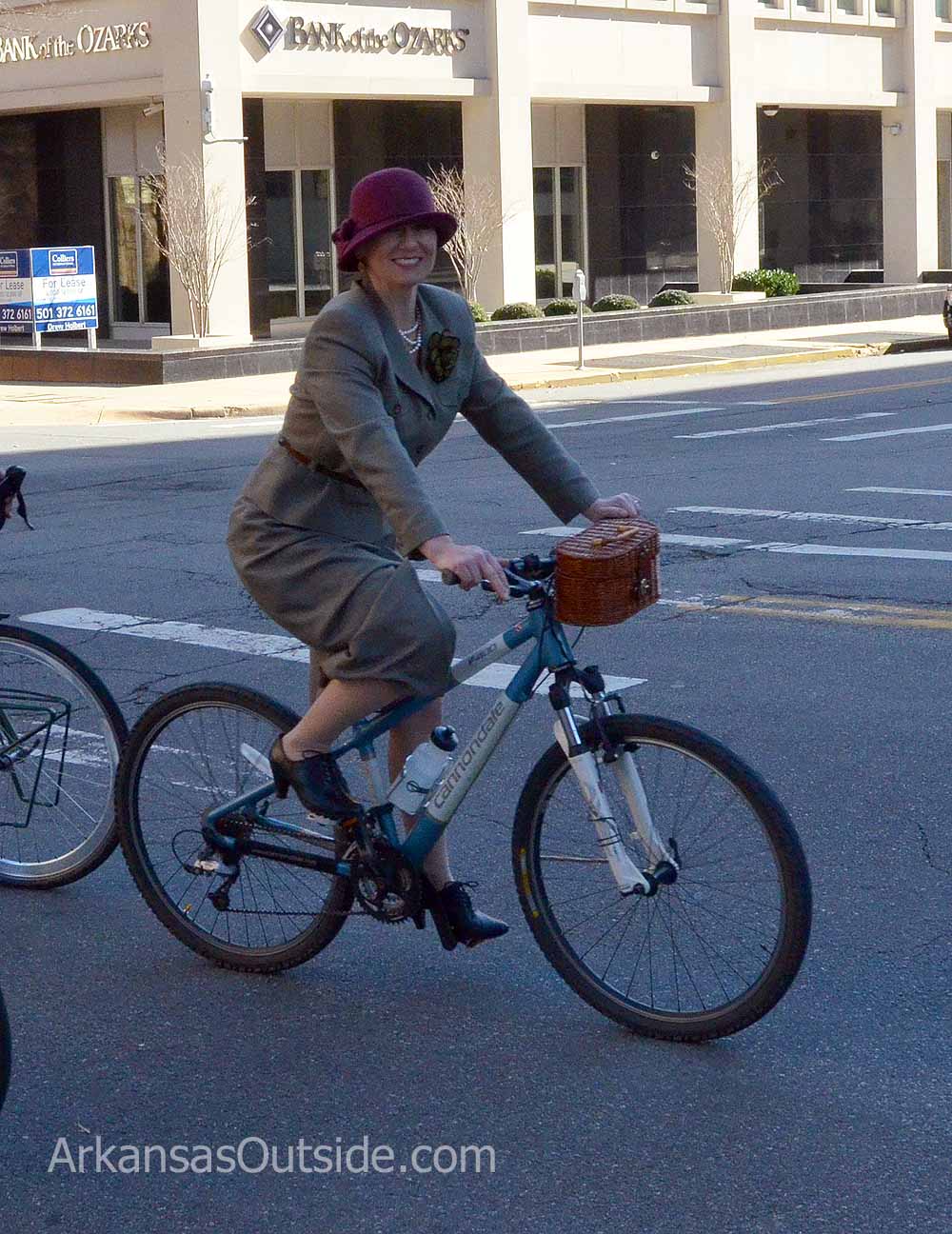 The attendance for this first time event was incredible, over 70 riders and a bunch of gawkers. Shortly after 1 pm we headed down President Clinton Avenue through the Riverwalk district and then took the Main Street Bridge to North Little Rock. We turned heads. Although we didn't have an official escort we were soon able to ride through the lights as a group up to West 6th Street, west to North Maple and then back down to the Main Street Bridge. Once back in Little Rock we headed over to the Old State House for a photo op.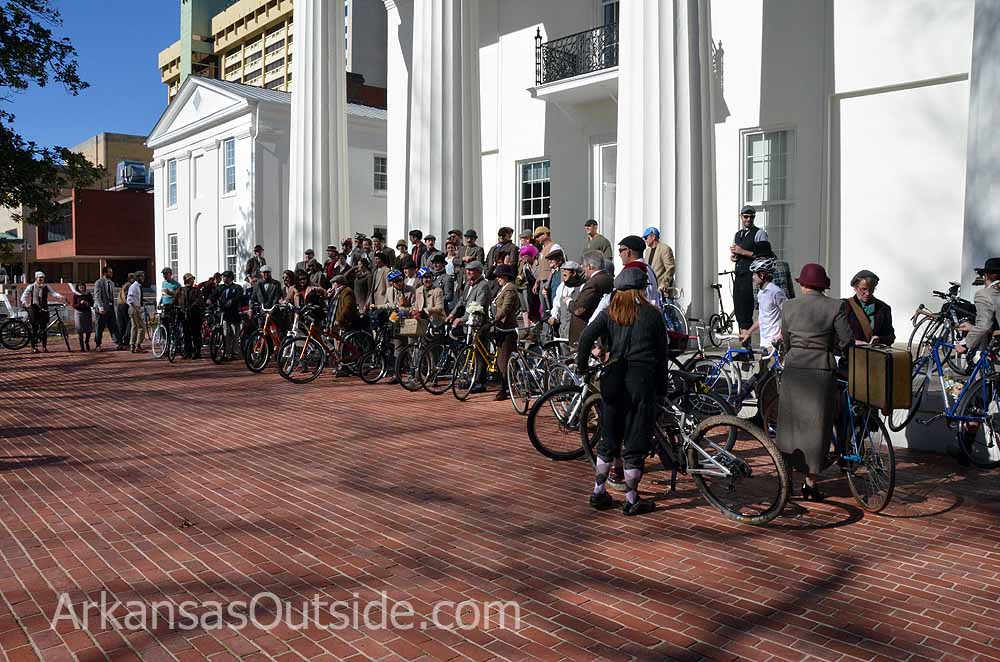 Before long we were back over to Spring Street and then up to Capitol Street to….well, the Capitol. Then quickly down Fourth Street to Center to President Clinton Avenue eventually coming to a stop at the Capital Hotel. This is the second bike event in recent months to play out at the Capital Hotel. The last one was the Little Rock premier of "BÖIKZMÖIND" a movie about British single-speed riders. I'm sensing a pattern here. The hotel took care of the riders by allowing them to put their bikes in the ballroom and soon everyone was in the Capital Bar and Grill. With it's wood paneling and turn-of-the-century feel it was the perfect place to continue socializing about the ride.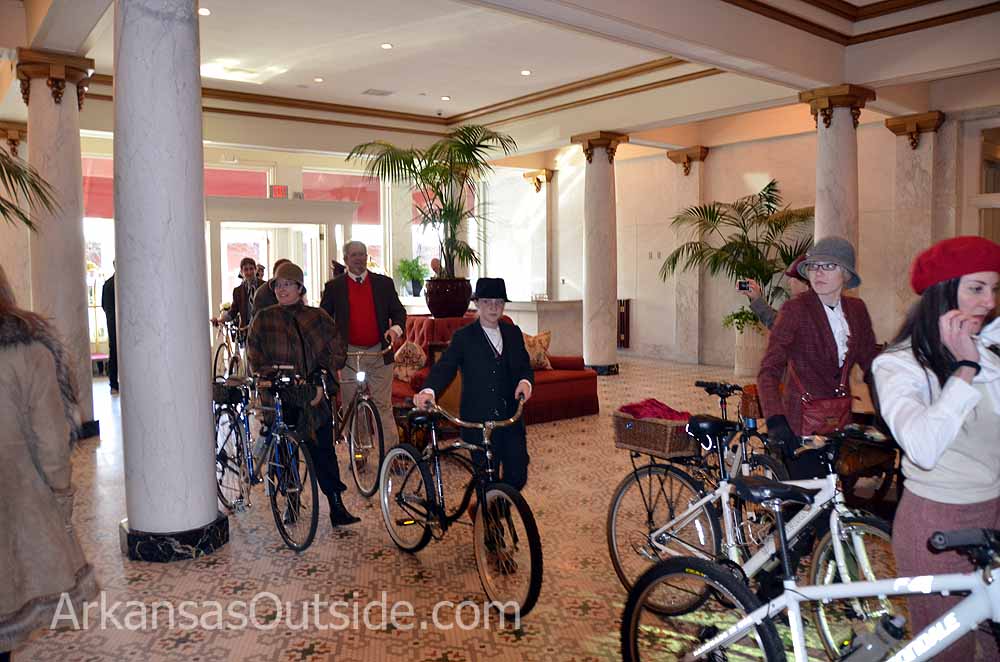 The ride was great. Almost no traffic in town on the Sunday afternoon and one thing I noticed was that every time someone looked up and saw this group of tweed clad riders, they smiled. Whether it was a driver having to wait for us to get through a light or just someone walking down the sidewalk, we seemed to make people happy. It was a gentle reminder that no matter if you are riding racing bikes, mountain bikes, wearing Lycra, worrying about your heart rate or whatever, we ride bikes because it's fun to ride bikes. It's also a functional way to get around. The bike I rode was over 30 years old, the shifting didn't work, the brakes were sketchy and it was heavy as all get out. I had a blast on it. Wanna have some fun? Ride a bike.
More photos on our Flickr Site.
And here is a short video from the ride.