Rollin' on the River for the 4th of July for us might have described our oft used River Trail route by bike but this year it meant getting one of our much neglected kayaks out of storage and loaded on the Arkansas Outside Mobile Office along with my new paddleboard. Friends and AO contributors Aly and Bryan Signorelli invited us to join a group that planned to paddle the Ouachita River from the Remmel Dam to the Rockport Ledge to celebrate the day. Playboats, touring kayaks, a couple of canoes and my new paddleboard unloaded at the dam just after noon as the dam was releasing the water we'd need to float over the rocky ledges that are along the 5 mile route.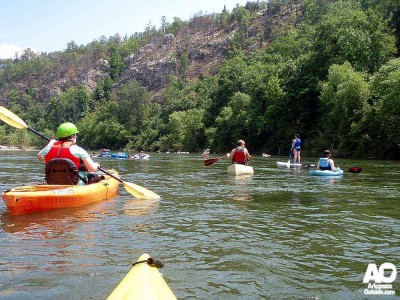 Paddleboards are quickly becoming a more common sight on Arkansas lakes and rivers but  not so common that there aren't still a lot of questions. One of the  first questions from our group was "How long have you had that?". I think it might have been asked out of concern for safety and honestly, it was a great question. Although I've only had my board a short time, I feel very comfortable on it already. I have decent balance and last week I tested myself a bit with a short run out on a windy day on a very choppy Arkansas River. This 5 mile trip would be the longest distance to date for me and my board.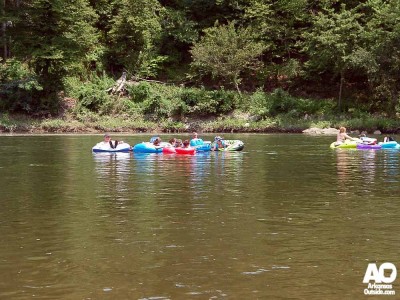 If you've never floated the Ouachita River, put it on your list of summer day to-dos. You don't need a boat, when the water is up after a dam release, many people float it in inner tubes. We saw several groups with multiple tubes lashed together or larger rafts with lots of people on them. I didn't have a free hand to take a photo of my favorite setup of the day, an inner tube with a small sun shade attached and a raft also attached to use as a footrest/cooler holder. The woman using it was fast asleep when I passed by her. Total relaxation. There is no shortage of boats though, and like our group, there's no shortage of diversity on the river; from old school Old Town canoes,  beat up old kayaks, brand new ones, vessels built for whitewater especially the playboats whose captains are anxious to get to the Rockport Whitewater Park at the end of the 5 mile float.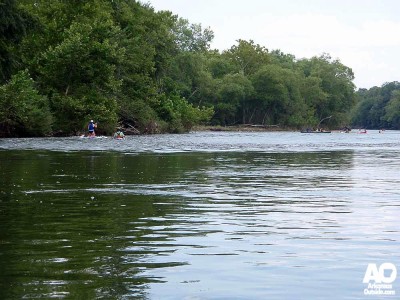 At the first sign of  whitewater over a ledge in the river, Jim came alongside me in his kayak to be sure I made it through okay. I decided to be safe and went to one knee on my board, steering with the paddle and managed the few feet of mild rapids with no problem at all. After that I think everyone relaxed a little, including me, now that we knew me and my new toy were getting along with the river just fine.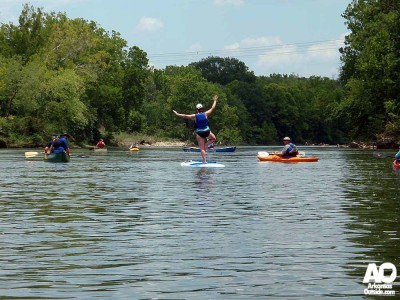 Our group stopped about midway through the float in a bend where we were able to beach the boats and a house across the way was playing good music for all to enjoy. Many of the group wanted to take a turn to try out the paddleboard. One made a trip without taking a wet dunk, a couple managed to fall off with great grace and style, and one ended up accidentally traveling downriver requiring a bit of a board rescue situation.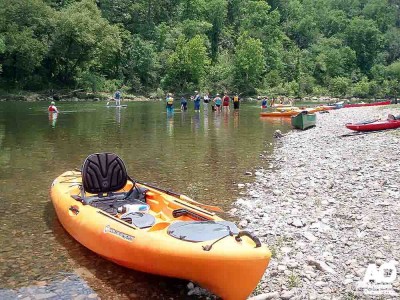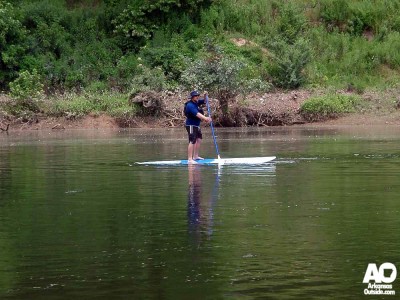 After our fun stop we all headed on down toward the ledge where lots of folks were already hanging out in and out of the water. Many families were there enjoying the shady picnic area along the river. Paddlers were in the water playing in the pools and eddys. When the water is up you can watch people practicing freestyle moves in the water at the play park, when the water is low you'll find swimmers and people relaxing out on the rocks uncovered by the low water.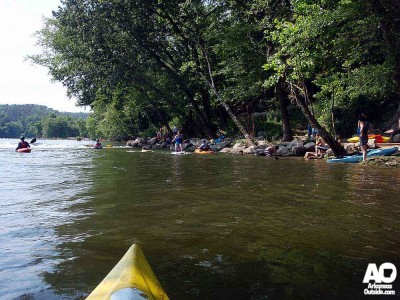 Rockport Whitewater Park is located in Malvern just a 45 minute drive from Little Rock. Also just a short drive from Little Rock is Arkansas Outside supporter Ouachita Outdoor Outfitters. If you're in the market for paddle sport equipment like our new paddlboard, give Jeremy and Jake a visit.