Rebecca Rusch is the first person to thru-ride the Arkansas High Country Route. She started from Little Rock on May 7th and returned to Little Rock on May 15th. The unofficial estimate is 102 hrs in the saddle, 1043 miles, 84K feet of climbing, 35,000 calories burned. Upon her return, we asked if there was anything about the route that surprised her. She replied "it was tougher than I thought", but she was most surprised by the diversity of the terrain and the remote beauty of the route. This challenging route is a showcase for rural Arkansas. "Get ready" for a lot of riders on this route, Rusch said.  When asked what advice she could give to future riders, like the group that will be racing the route in June, she said "plan."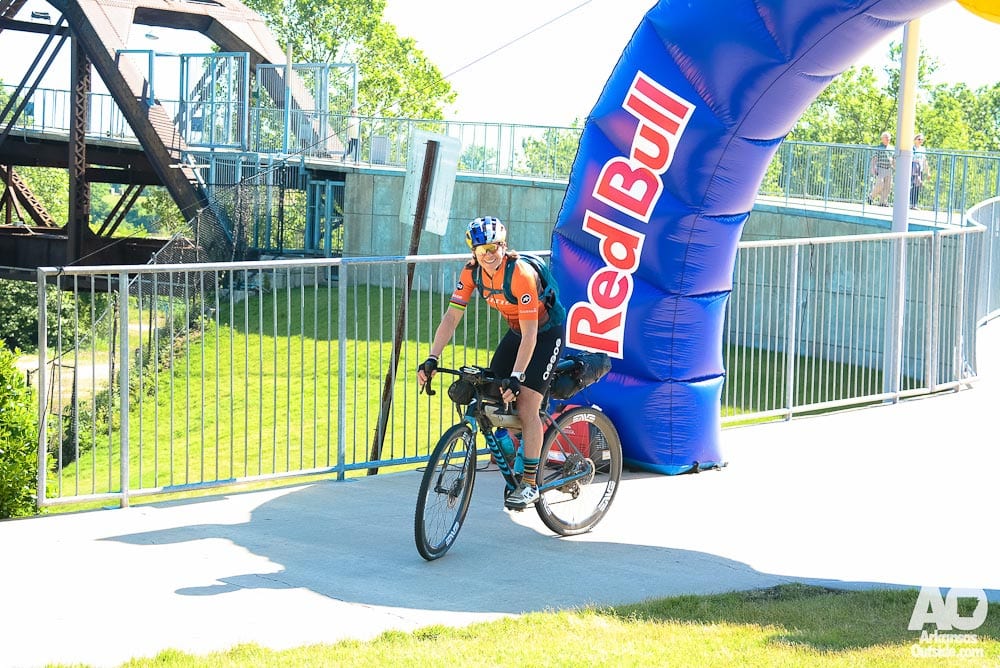 The naming of the bike
Riding an average of 100 miles a day means a lot of wear and tear on both the bike and body. Rusch was able to have full tuneups on her bike in Russellville at Carr's Chain Reaction and at Phat Tire when she reached Bentonville. She was so grateful to the mechanics at Carr's for getting her new Niner RLT 9 RDO  back on the road, she named the bike after mechanic Johnny Brazil. 
 Rebecca's list of advice:
"Plan" There are long sections of the route that are remote. Have a plan for finding food, water, and shelter.
"Respect the terrain"  The route was more challenging than she expected, especially the cold wet weather nature gave her on the first half of the ride.
"Take lots of pictures"  Rebecca and her team took photos of wildlife, farm animals, vistas, cabins, and old buildings. She said one of her favorite sights in rural Arkansas is the old stone buildings.
"Take time say hi" In Witts Springs, she found community in the firemen and veterans who met her on the route to encourage her and share stories. Community is a recurring theme for the ride; people coming out to cheer and people stepping in to boost her spirit.
That sense of community brings out the trail angels. At the end of another long wet day in the saddle, Rebecca arrived in the little town of Oark to find the only store in town locked up tight. Then she saw the Airbnb sign. The sign was for a cabin owned by Mary, but the cabin was rented. When Mary heard Rebecca's story, she told her she had another place she could stay. Since the store was closed, Mary rummaged in her pantry and made a dinner of rice and beans while Rebecca cleaned up, dried off, and rested. Trail angels do exist.
Searcy County is home of the Ozark Grinder Trail. Locals there are ready to welcome more riders on the route. They welcomed Rebecca at towns along the route with signs, firetrucks, and cheering fans. Near the unincorporated town of Snowball, Rebecca had to carry her bike and wade across Calf Creek. Waiting for her on the steps of the old general store was a little girl with a hand-drawn sign in bright marker colors. I asked Rebecca how important it is having fans like that little girl on the route. "It's not about me, it's about that little girl riding her bike 20 years from now. I just want to tell the story."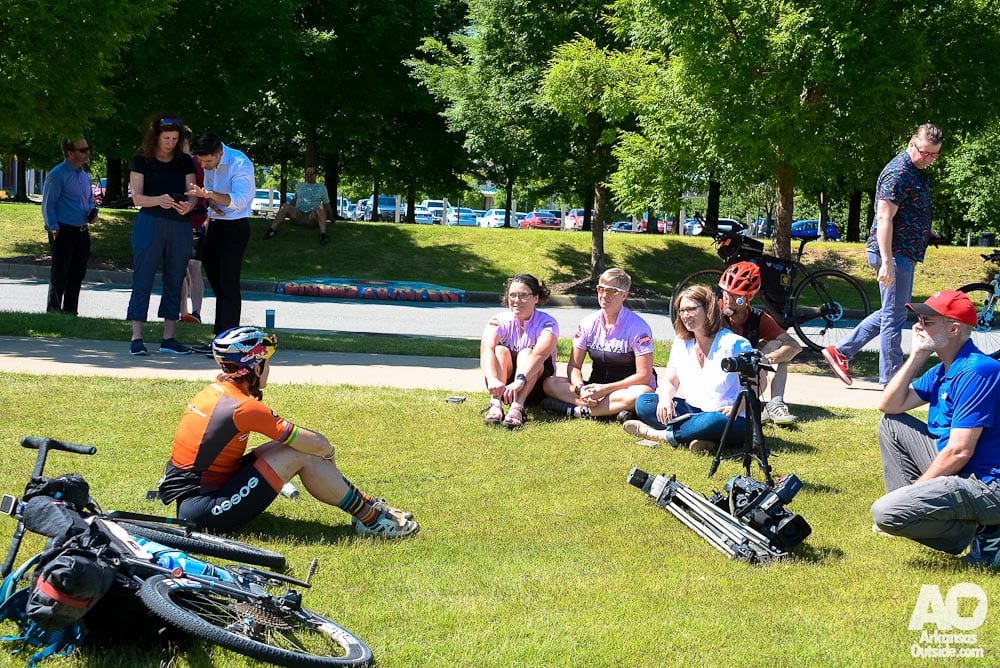 If you want more information about the route or the upcoming race, we'll post updates on our social media.