This article is the first in a series about section hiking the Ozark Highlands Trail. Read about the next section hikes here:
---
Considering the obstacles to indoor activities over the past couple of years, our preferred outdoor recreational activities were vital to maintaining contact with friends as well as maintaining our mental well-being. My friend Tina and I share a love of hiking, backpacking, and camping among other interests. With our friend Elizabeth, Tina and I made a 3500-mile, multi-state, multi-day trip in a minivan that required several nights of camping, many of them in primitive sites back in 2017. That trip was the impetus for a plan to section hike the long trails we have here in Arkansas. However, we didn't move on that plan quickly and life, jobs, and other hobbies got in the way. Enter Covid and in its wake renewed plans to escape into nature with a plan to section hike the Ozark Highlands Trail.
Depending on your source for information, the trail mileage is listed as 164-270 miles. There is a continuous trail for 207 miles if the 43 miles also claimed by the Buffalo River Trail are included. Trail sections in the Sylamore and Lake Norfork areas have some gaps mostly navigable by roadways.  Plans for more trails in the Lower Buffalo Wilderness, Sylamore, and Lake Norfork areas will eventually connect the Ozark Highlands Trail to the Ozark Trail in Missouri giving thru-hikers an opportunity to hike about 700 miles from Ft. Smith, Arkansas to St. Louis, Missouri.  Our plan was to backpack the 164 Boston Mountains section by doing a few weekend trips of 1-3 nighters. It took us a few trips to realize that backpacking 164 miles in 2-3 day segments would take a long time, but we're still going.
1st Foray: Lake Ft. Smith State Park to Cherry Bend Trailhead 35.5 Miles, 3 days 2 nights
We may have been a little giddy at the start and spent far too much time checking out the view of the lake, the cistern, and the old stone chimney within the first two miles of trail within Lake Ft. Smith State Park.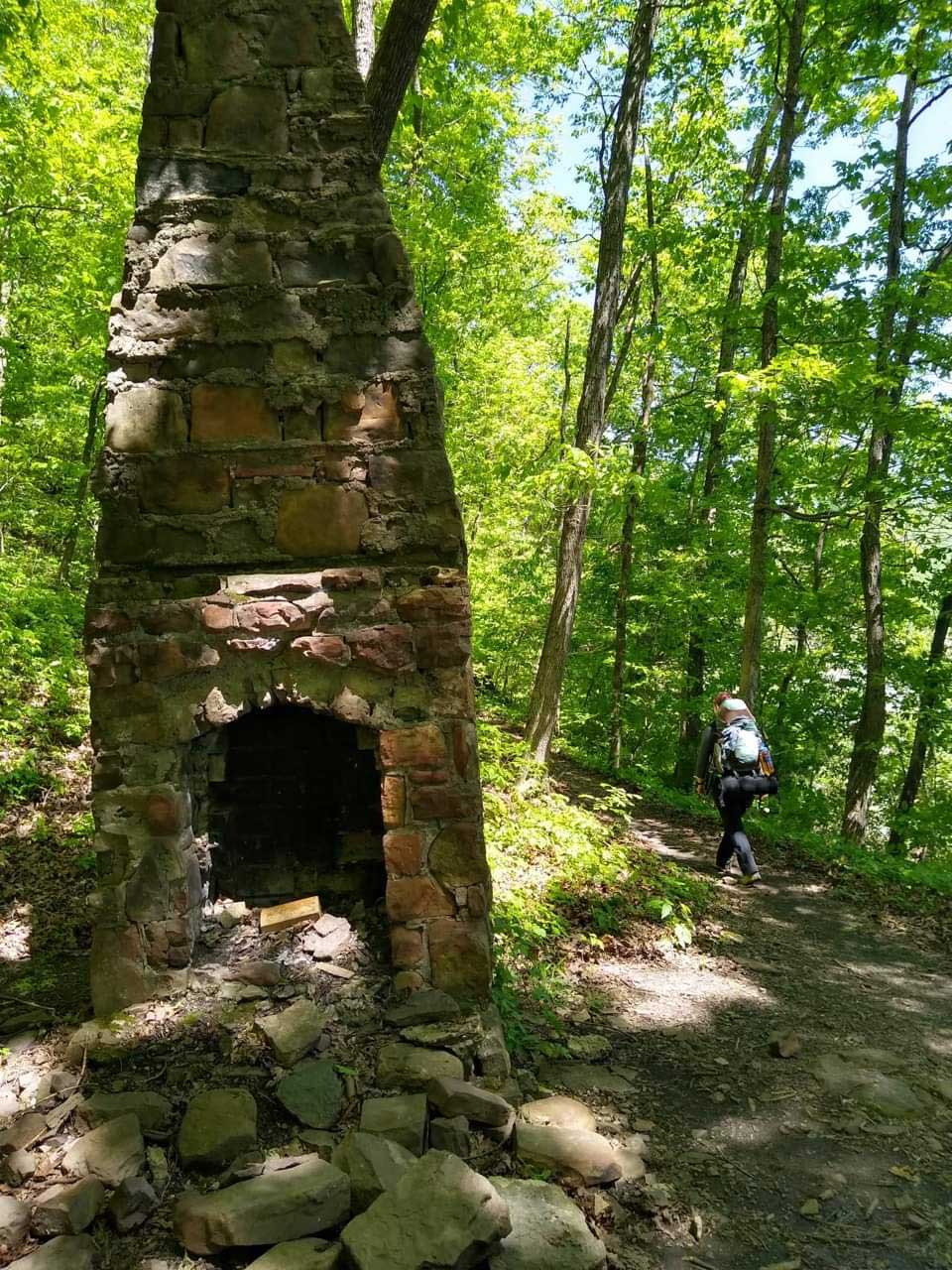 Once we crossed Frog Bayou at mile 3, we realized we needed to move a little faster to meet our goal for the day. Night one we camped at Hurricane Creek about 10 miles in. We toasted our adventure with a little whiskey.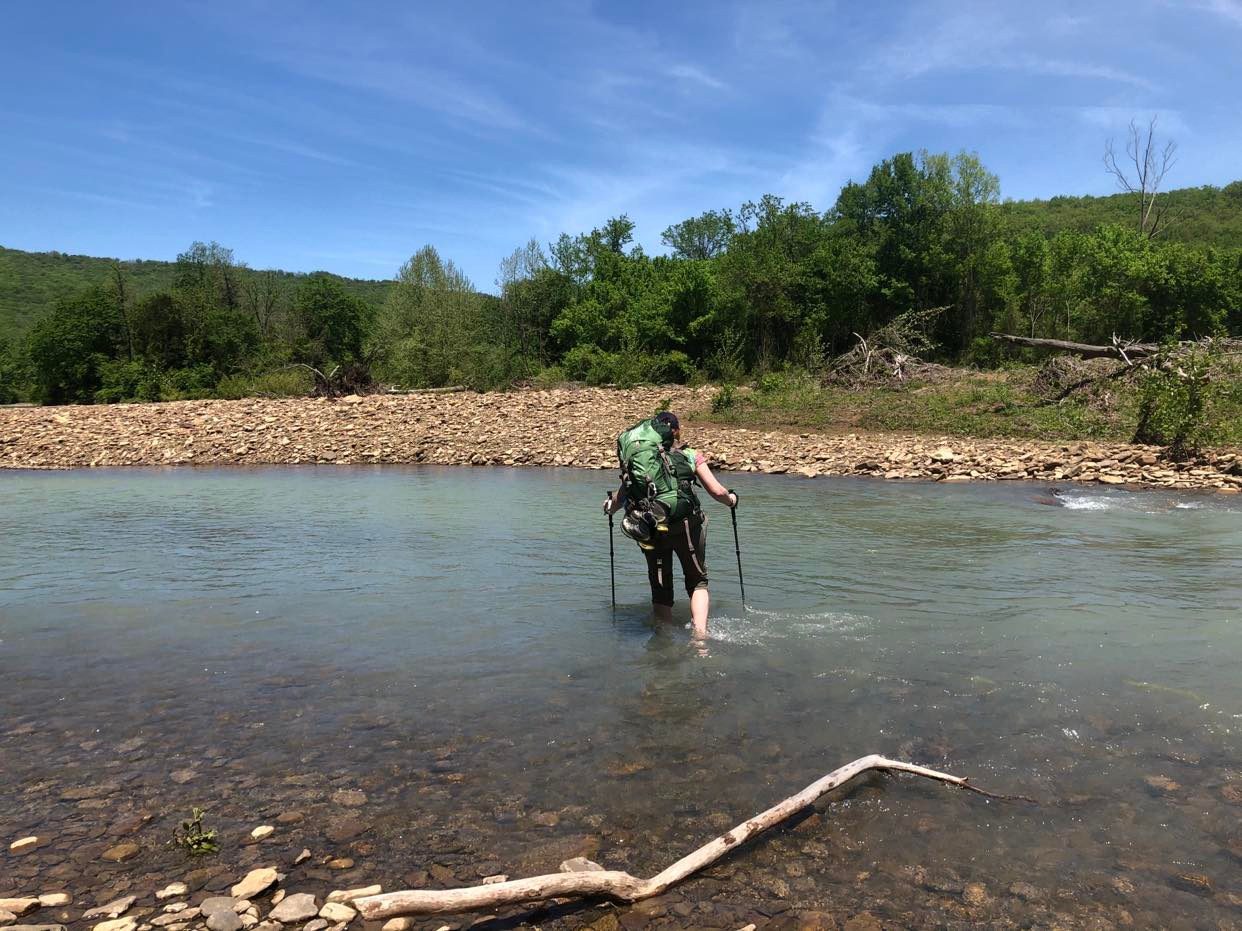 The goal for day two was Spirits Creek where our app (FarOut formerly known as Guthook) told us there were caves and a beautiful secluded campsite with enough room for 2-3 tents. But first, we had to get over the White Rock Mountain overlook and make it through more than 13 miles of rough terrain for the day. The scenery at White Rock never disappoints, even if the directional signs are sometimes confusing.
We had Spirits Creek campsite to ourselves. The cold water was refreshing after a long day on the trail. The morning would bring another long day with a 12-mile hike and the drive home. We had trouble getting a fire started in the damp and opted to get a long night's sleep. The good sleep was valuable in the morning for the steep climb up away from the creek.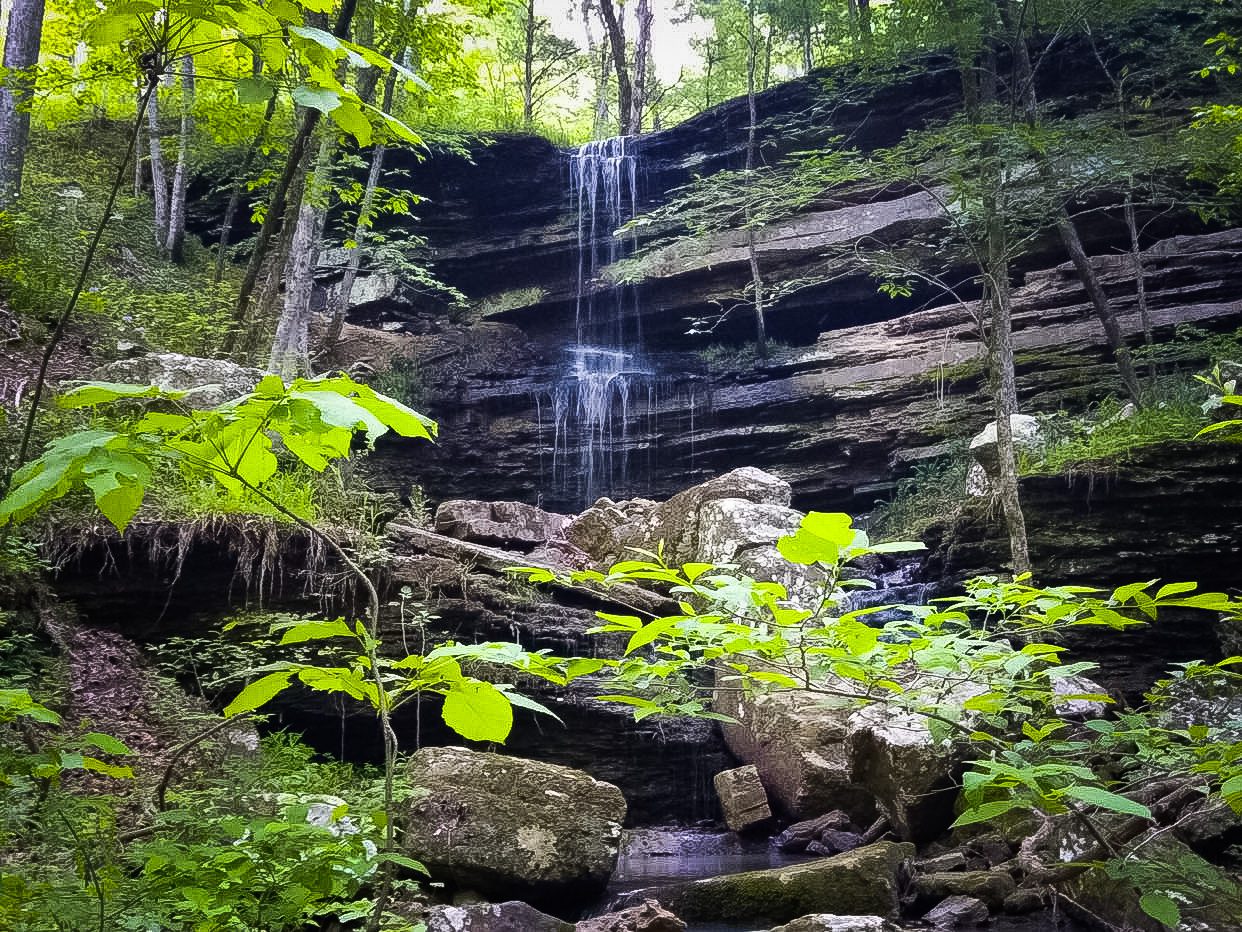 Our hike out to Cherry Bend was hot. We met a small group of young men at a crossroads who were calling for a pickup ride. They'd had enough. The heat influenced our decision to wait for cooler weather before our next trip. Our day was rife with sun, exposed ridges, and the sound of ATVs on the surrounding forest roads. As we began our descent to HWY 23 and our car, I heard a loud rustle and looked just in time to see a small black bear crashing through the brush below me. We discussed a slight concern of bears in the backcountry, but our only sighting was less than half a mile from a busy highway with lots of humans and the food sources that come with them.
We arrived safely at the car, took a few minutes to clean up and change clothes, drank a cold beverage, and had a snack before driving back to the dropped car at Lake Ft Smith. Next up: Cherry Bend to Arbaugh.
---
For more information on the long trails in Arkansas, enjoy our reader poll results on Favorite Arkansas Long Trails.