It's that time of year. Social media is blowing up with questions about where to go to experience the best fall color in Arkansas. Before the pictures start showing up on Facebook and Instagram, we thought we would share seven of our favorite fall hikes in Arkansas.
Every year is different in Arkansas. Fall color depends on a lot of factors including the amount of precipitation, temperature changes, and weather events that have happened throughout the previous 12 months. In drier years I recommend looking lakeside for the best color. Places like along the shores of Lake Catherine State Park, or wetland areas in the White River Wildlife Refuge are usually colorful. We also hear a lot about the Ozarks being a destination for fall color but there are many excellent places in the Ouachita Mountains, Crowley's Ridge, and the Delta.
Here are Seven of our Favorite Fall Hikes in Arkansas, some spots you may not have thought about before:
Flatside Pinnacle – Located in the Ouachita Mountains about 45 minutes west of Little Rock, Flatside Pinnacle Mountain has an excellent view west across the Flatside Wilderness. Looking out across the forest, you'll see Forked Pinnacle Mountain and no human-made features. No roads, no cell phone towers, just trees and foliage as far as you can see. There is a pull-off just below the mountain where the Ouachita National Recreation Trail crosses Forest Service Road 94. The hike up to the top is short, follow the Ouachita Trail uphill at a campsite you'll see a trail go to the right. Follow that to the top. There are several outdoor events that go through this area including the 100-mile Arkansas Traveller ultra run and the Slobberknocker gravel bike race, both in the fall.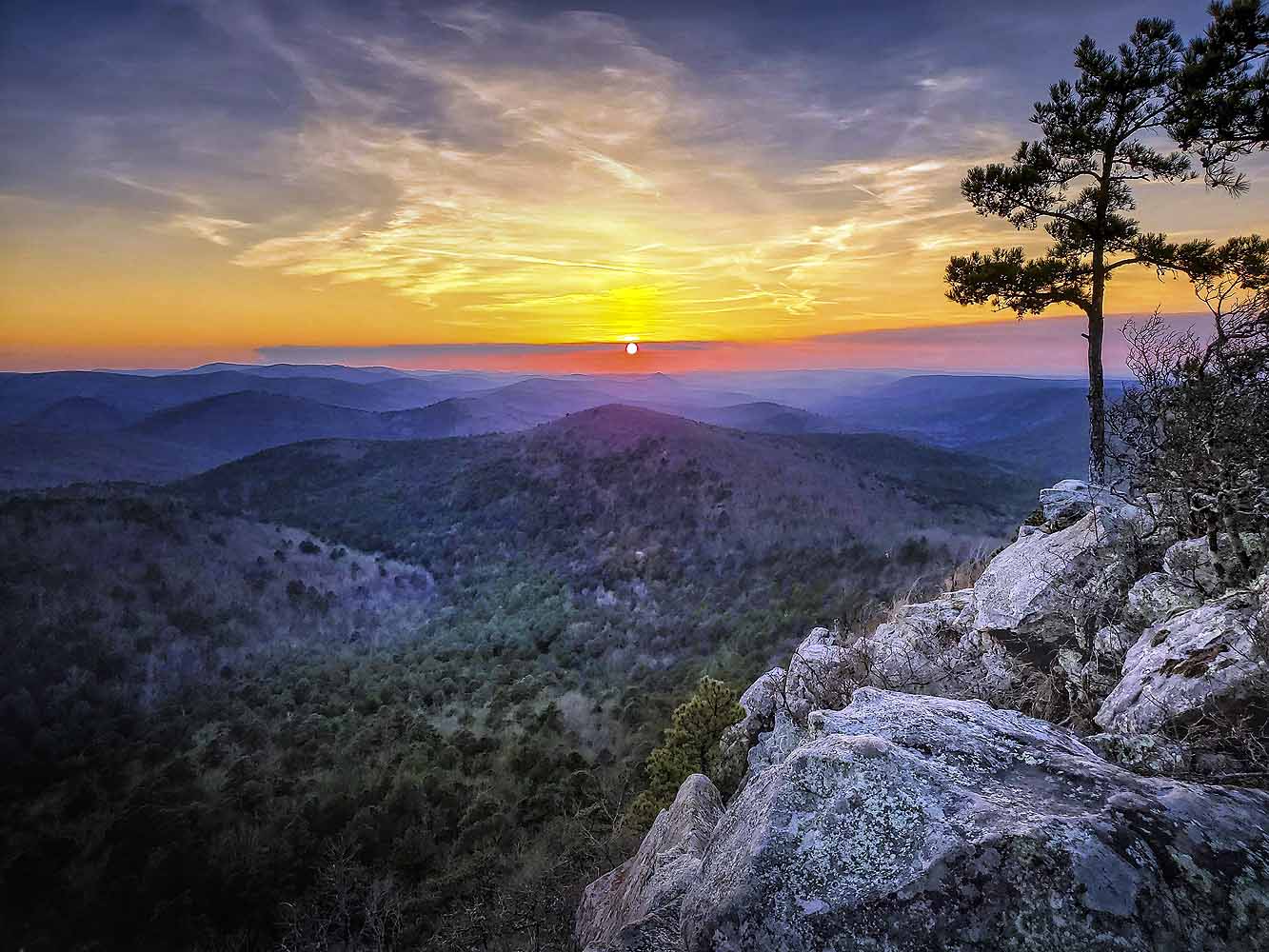 #ProTip: Bring flashlights because it is also one of the best places in the state to watch the sunset. You'll need to have a flashlight to safely get back to your vehicle. 
Cossatot River – Located in southwestern Arkansas in the Ouachita Mountains, Cossatot River State Park – Natural Area offers some of the most beautiful and rugged hiking in the state. The Cossatot River Corridor Trail follows the river for the length of the state park, approximately 13 miles long with camping areas near the river at various spots. We recommend shuttling for a backpacking trip if you're not up for an out-and-back. This trail hosts a half-marathon trail run every October.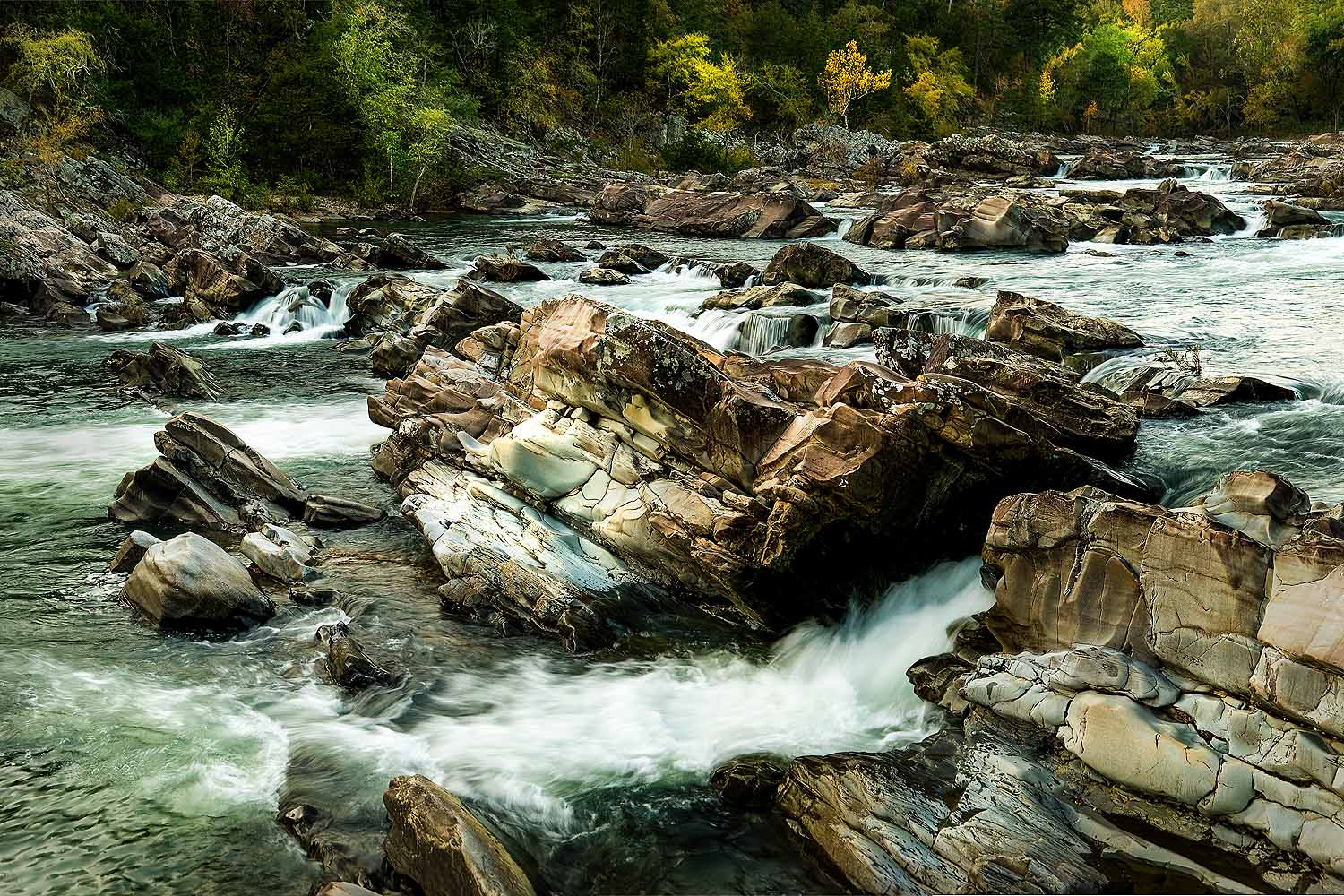 #ProTip: take a spur down to Cossatot Falls (or you can drive there) to view an area that the uninitiated won't believe is in Arkansas.
#ProTip: If you don't have the time or inclination for the hike, drive to Hickory Nut Mountain, there are signs on Highway 270 just east of Joplin, Arkansas. When you see the sign going to a picnic area, stay to the right and go to the overlook.
Cane Creek State Park – The 15-mile long Cane Creek Lake Trail circles Cane Creek Lake through various wetlands and across over 50 bridges including 3 beautiful suspension bridges. There is also a camping shelter along the trail, check with the park about availability. Due to the wetlands and lake, this area often gets fall color when other areas a struggling, it's also located in south Arkansas near Star City (south of Pine Bluff) and thus gets its color a little later for those of you who didn't get out in time. This trail also hosts mountain bike and trail runs plus an annual Boy Scout hike that others are welcome to join, that is if you're interested in a winter night hike.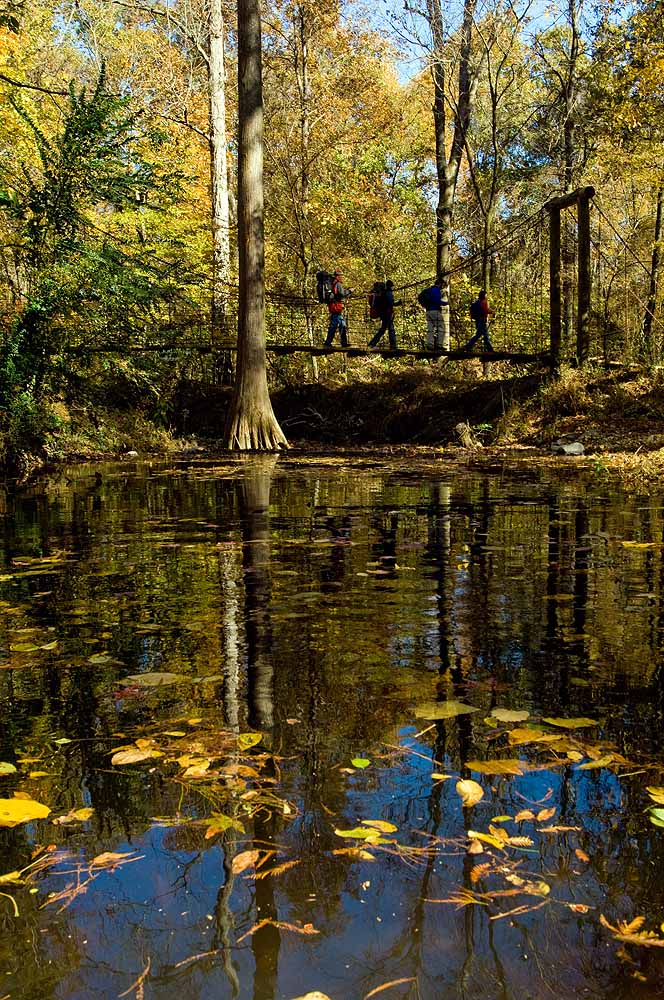 #ProTip: Hike the trail clockwise but remember that there is a 5-mile section that crosses the lake levee. While this area is known for great wildlife watching, it can get a bit monotonous. For those who would like to skip that section, turn around once you cross the third suspension bridge. Also, the park has a water trail. You can rent a kayak and follow the trail through the lake past beaver lodges and eagle nests.
Village Creek State Park – Located on Crowley's Ridge near Wynne, Arkansas, this is Arkansas's second-largest state park. All of that space hosts almost 40 miles of hiking, mountain biking, and equestrian trails. The park has both cabins and campgrounds including equestrian-specific sites. You'll find the trails soft with little to no rocks but there are some short, punchy climbs. One of the nice things about hiking here is that you can enjoy any length of hike you want. We do recommend checking with the park to hike some of the Military Road section. These trails are used for a favorite trail run every winter.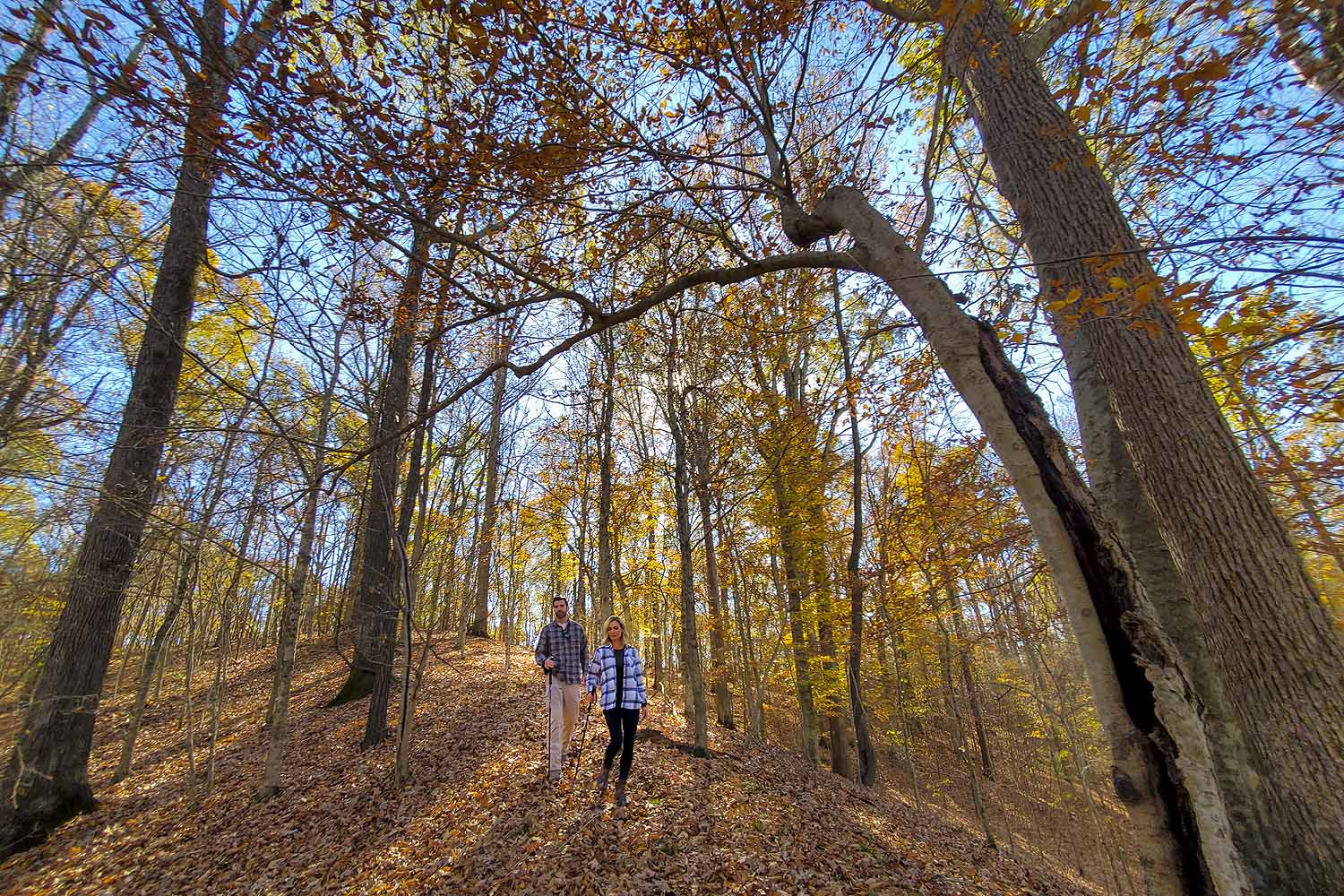 #ProTip: Besides the trails, there is also a world-class golf course, the Ridges at Village Creek where you can enjoy the colors from the comfort of your golf cart.
Lover's Leap Trail – This trail starts at the Lodge at Queen Wilhelmina State Park. The hike is short and ends at a decked overlook allowing you to enjoy the rolling hills of the western Ouachita Mountains from atop the second-highest mountain in Arkansas, Rich Mountain. There are several amenities at the park including the lodge (newly remodeled) a wonderful restaurant and campsites. This park is situated along the Ouachita National Recreation Trail which is 223 miles long starting at Pinnacle Mountain State Park near Little Rock, Arkansas, and finishing at Talimena State Park in Oklahoma. The 110 miles from Queen Wilhelmina to Scenic Highway 7 is open to mountain biking.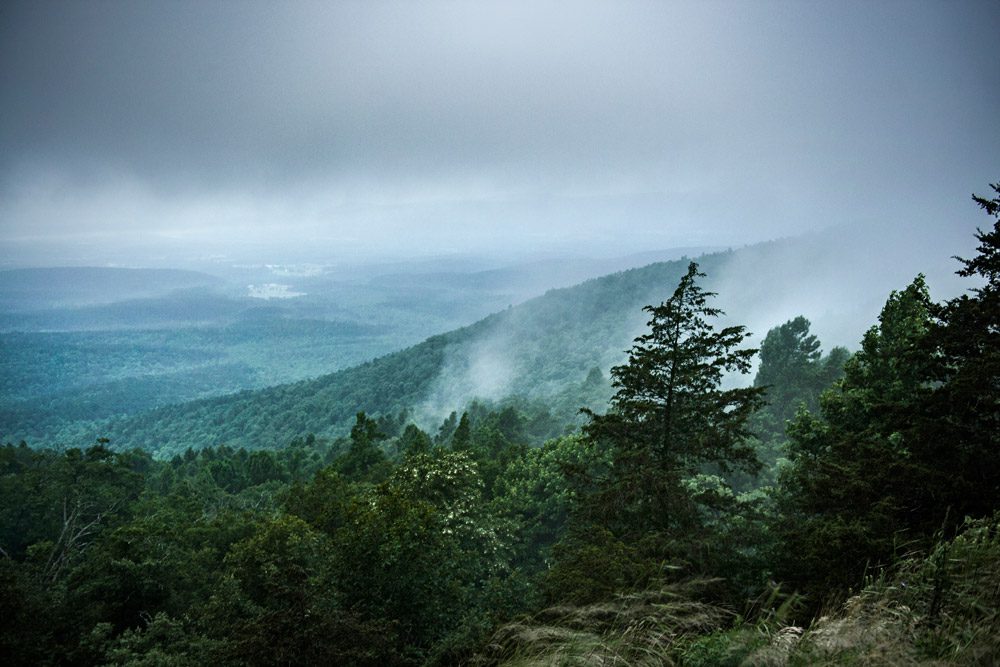 #ProTip: Contact the park about programs that involve climbing to the top of a nearby fire tower for a 360-degree view from the mountain.
Sam's Throne – We didn't want to leave the Ozarks completely out of this but wanted to introduce you to an area that is a bit off the beaten path. Sam's Throne is just off Highway 123 in the center of the Arkansas Ozarks. A short hike will earn you some beautiful views of the Ozark National Forest. The area is very popular with rock climbers and does have a campground although we would recommend checking with the Forest Service on availability.
#ProTip: If you're looking for even more leaf-peeping in the area, we recommend going to Pedestal Rock near Sand Gap and only about a 30-minute drive from Sam's Throne.
There are many other spots you can visit, these seven of our favorite fall hikes in Arkansas are not the definitive list but hopefully, we helped you find some new places to investigate this year. Please share some of your favorite fall hikes in Arkansas. Please remember to Leave No Trace when you visit and be respectful of other visitors.
(All photos courtesy of Arkansas Department of Parks, Heritage and Tourism)