As Winter wanes, a couple of things come to mind. First, the sunsets that we enjoy from our back deck move north and out of view from our favorite vantage point; second, the sunsets are later in the day, particularly after the recent move to daylight savings time. These two annual developments prompted us to try a new venue for enjoying an early Spring sunset. A favorite sunset spot for us is Flatside Pinnacle Mountain in the Ouachita National Forest.
This year the planets aligned to get us out there this past Tuesday night. This is not just hyperbole, 5 planets- Mars, Uranus, Venus, Jupiter, and Mercury would be visible for about 45 minutes after sunset. It could be the perfect night for a dinner al fresco and a celestial light show.
What About Dinner?
On the way out we decided to stop by the Williams Junction Market for our evening meal. Recently reopened, the Williams Junction Market is a classic Arkansas backroads general store, much like the Hollis Country Store, complete with gas pumps, fishing supplies, an incredible selection of snack foods, and beverages (no beer due to the dry county but I was told by the staff that they are working on being able to serve beer for in-store consumption). Our goal was to pick up made to order burritos are served on Sundays, Mondays, and Tuesdays. They also have cold sandwiches and pizza any day of the week. The burritos, with a side of decent salsa, were perfect to stick in a backpack for the short hike to the top of Flatside Pinnacle.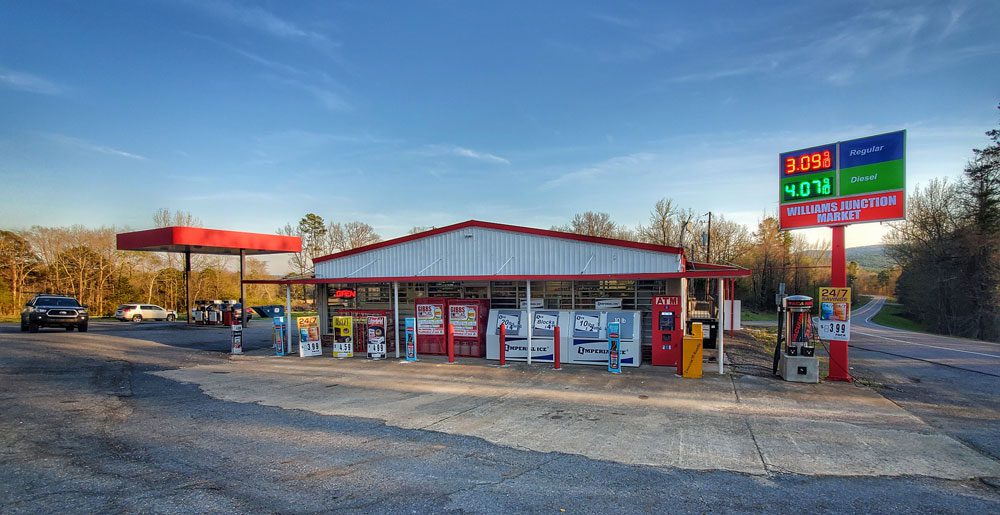 On to the Mountain
Flatside Pinnacle Mountain is on the edge of the Flatside Wilderness Area.The view west from the top of the mountain is unobstructed by man-made structures, other than the forest service road directly below the mountain. The western view has no cell phone towers, powerline or pipeline swaths, or visible roads, just the beautiful Ouachita Mountains. As we reached the top there was still enough sunlight to view Mount Nebo and Mount Magazine to the Northwest and Forked Pinnacle directly West.
Here are Google Directions that will get you there from Pleasant Ridge Town Center on Cantrell Road near I-430. You'll also see the stop at Williams Junction Market on the map. Browns Creek Road to the Trailhead is a gravel/dirt road with some steep climbs, low water bridge crossings, and other obstacles. It is recommended that your vehicle at least has a decent ground clearance when driving to the trailhead.
From the trailhead, visitors have a 0.2-mile hike to the top. The trail is pretty steep, particularly near the top. Since much of the hike is on rocks, shoes with good traction are recommended. The top is all rock with a sheer drop-off on the southern side. This may not be the best place for young children or pets. Things to bring: water, a flashlight or headlamp (particularly if you are planning to watch the sunset), a camera, and binoculars. Please be careful and stay safe.
What we saw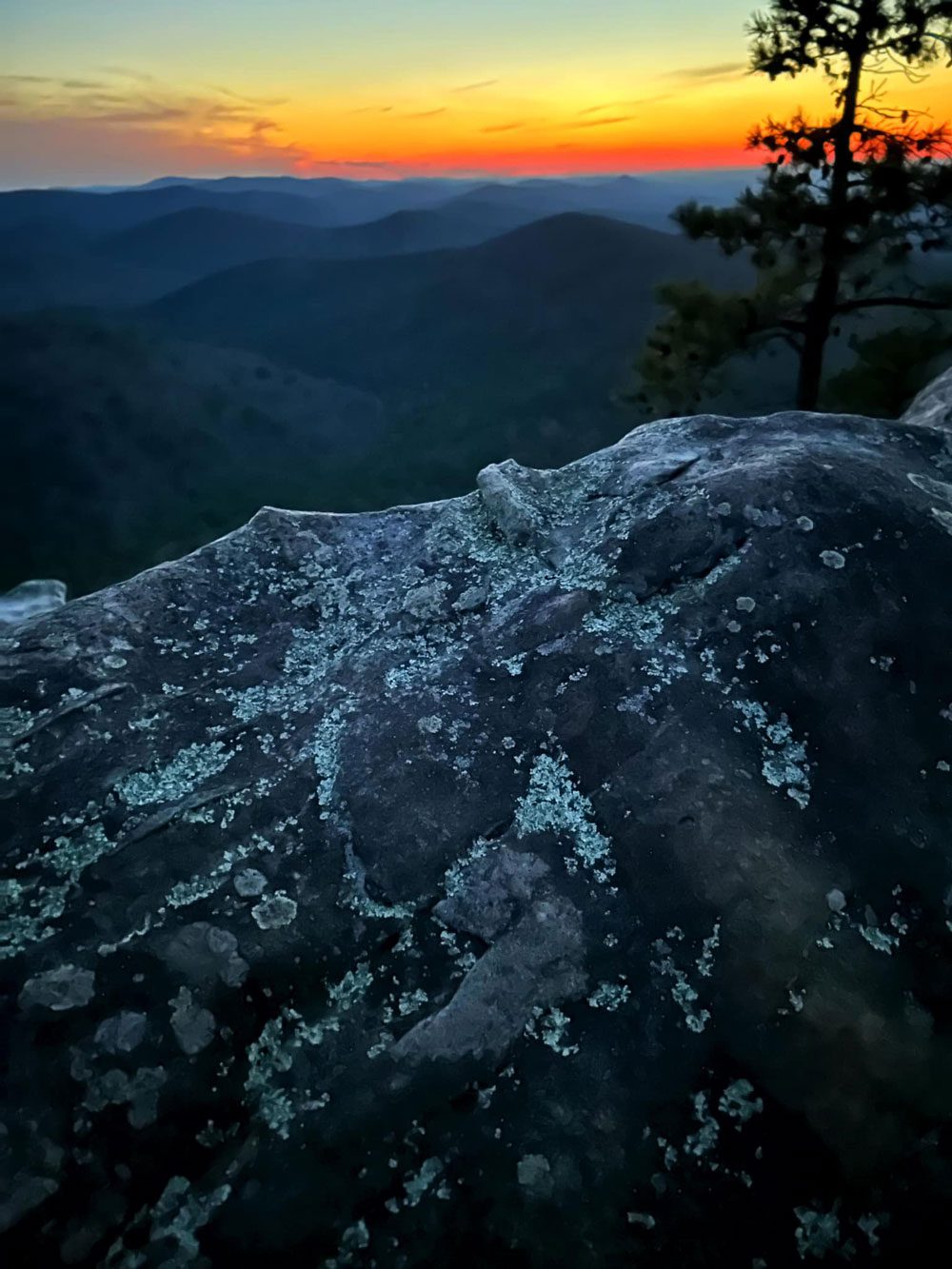 We got there just in time to watch the sun slowly sink beyond the distant mountains. This is always a favorite spot for an Arkansas sunset. Right now you can vote for your own favorite sunset spot on our survey page. Friday is the last day for voting.
Once the sun was down and the glow began to subside, we were easily able to pick out Venus and soon also saw Mars with the naked eye. With our binoculars, we were able to just barely see Uranus near Venus. Unfortunately, light clouds on the horizon kept us from seeing Jupiter or Mercury. We used a star tracking app to look for other celestial objects. Gemini was visible right beside the moon, Orion and Lepus the hare were also easily visible.  About an hour after sunset, we headed back down, thankful for clear night giving us a fantastic view of the sunset, the moon rise, and the celestial show.
Some final things about Williams Junction Market
The saying goes, "Never eat anything bigger than your head," and luckily my noggin' is a pretty good size. The Williams Junction Market burritos were a great treat on top of the mountain. I'm looking forward to trying the tacos next time, which are also only available Sunday, Monday and Tuesday. The store was well stocked with necessities for adventuring in the Ouachita National Forest and is very close to the Lake Sylvia Recreation Area. The original Williams Junction Grocery was a popular stop for cyclists coming through the area to either meet up for a ride or passing through. There was a lot of sadness in the cycling community when it closed down a while back, but I think everyone will be even happier with the new market and what it offers for those heading to the area for some time in the outdoors. Their hours are Monday-Saturday 5 AM-9 PM, and Sunday 7 AM-9 PM.  They also have Pizza, Community Coffee, and daily food specials, check their Facebook Page for what is available before you head out. So if you're needing some ice, drinks, snacks, gas, camping or fishing supplies, or just want to grab a quick bite before or after your adventure, stop by and tell them Arkansas Outside set you.