Zoie Clift, travel writer, Arkansas Department of Parks and Tourism – 
Encountering a person on a stand-up paddleboard (SUP) is still somewhat of a novel sight in the state. As a result, the scene sparks a lot of curiosity. "People will ask, 'Where did you get that?' 'Where can you buy those around here?' 'What are you doing?' All the questions come," said Joe Clark, manager of Ozark Outdoor Supply in Little Rock.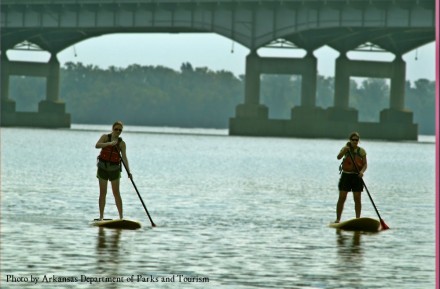 In short, the fast-growing sport offers a different perspective on the water. Since those paddling one are standing at their full height, the high vantage point provides a panoramic view of everything from fish in the water below to expansive views on the horizon.
Standing on Water
Catching sight of an SUP paddler for the first time can provide an equally striking vision. "You gaze out on the water and you see someone standing up and at a certain angle it is almost like they are just standing on water," said Clark. "The boards are so low profile."
Clark said the boards used are like any boat. "They have a particular shape to them that is designed for a particular type of activity or to be specific to either beginners or more advanced paddlers," he said. "You can buy a board to do pretty much whatever you want to — you can go camping out of it, you can fish out it… it opens up all kinds of opportunities. It's such a young sport that I think people are only beginning to see the possibilities of what it can do."
One can SUP almost any navigable body of water, and the sport is viable on the coast or inland in rivers and lakes. Arkansas has around 600,000 acres of lakes and over 9,700 miles of streams, making it a prime place to practice the sport.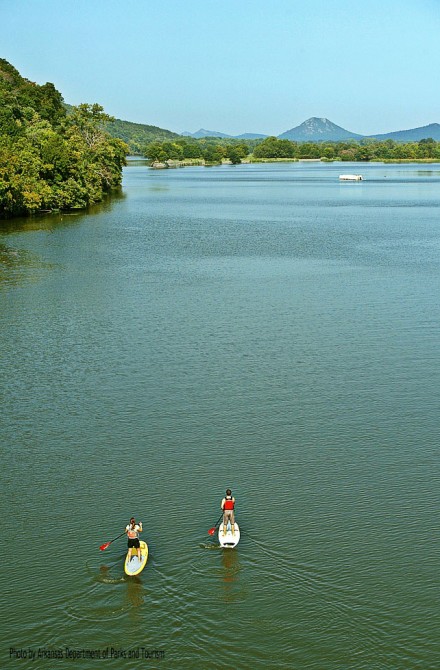 "For Arkansas, SUP is still in its infancy," said Jeremy Mackey, who works at Ouachita Outdoor Outfitters in Hot Springs. "It has been growing this year and we are definitely seeing more interest. Nationally it is in the fastest growing paddle sports category."
Hawaii comes to Arkansas
The sport itself is young, created in the 1960s by Waikiki surfing instructors in Hawaii. California pro surfer Laird Hamilton gave the sport a boost when he started catching huge waves on them. And the sport continues to grow. According to the Outdoor Industry Association, around 10.4 million people in America tried an adventure on a SUP board last year. SUP caters to all ages and is an addition to a field of popular water sports like kayaking and surfing.
Even though stand-up paddleboards look like surfboards, you don't need waves to take on the sport and flat water is actually preferred for building skills. It also offers a strong core workout with a minimum of equipment (basically just a board, paddle, and PFD) needed.
"They are very stable," Clark said about the boards. "They are lightweight, easy to carry, and not bulky. It is not as difficult as people think it is and I think that is encouraging because people don't get discouraged the first few times they get on the paddleboard. It's pretty easy to stay up on them as long as you pay attention to what you are doing."
There are several different disciplines of SUP including general recreation, touring, whitewater, and racing. "Given the popularity of kayaking in Arkansas I foresee SUP going the same direction," said Mackey. "The target audience is basically the same as recreational kayaking. Anyone can enjoy this sport."
Mackey said that like any water sport, the most popular time to get out is when both the air and water temperatures are highest like late spring and early summer. "But SUP is definitely a sport that can be done year round," he said. "It just requires more specialized apparel [in the colder months] such as wetsuits or dry suits, appropriate layering, footwear and headwear. It would be just like kayaking in the fall: 'dress for the swim.' In my opinion, paddling in the fall and winter is one of the best times because there are fewer people out, less power boat traffic, and more wildlife moving about and making themselves visible. I think a SUP trip in the fall on Lake Ouachita with the leaves changing, eagles soaring, and deer feeding combined with amazing water quality sounds better than dodging ski boats when it's over 100 degrees."
"There are plenty of paddling opportunities here," added Clark. "During normal years, when we don't have these severe droughts that we've been having, the water is available pretty much year-round."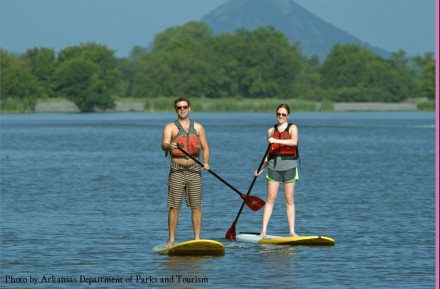 As to equipment, Mackey said their store currently has touring boards from Tahoe SUP, inflatables from NRS, a hybrid board from Liquid Logic, and SUP from Hobie. "We've been watching this sport grow and progress for about 3-4 years now," he said. "And we are choosing brands we think will be around in the long run. Whenever a sport like this is in the 'boom' stage there are a lot of companies that jump on the band wagon. So it was important for us to choose brands who are established."
Mackey said some good spots to SUP in Arkansas include Remmel Dam to Rockport on the Ouachita River, DeGray Lake, Lake Ouachita, Lake Hamilton, Lake Greeson… and the list goes on. "Any body of water is SUP friendly," he said.
Though the sport is just making landfall in landlocked Arkansas, it seems to be on a path to gaining more exposure. "There is a ton of potential for growth in Arkansas and the area and the landscape are absolutely perfect to help sustain this growth," said Mackey.
The folks at Ozark Outdoor Supply are in the midst of their second full season stocking SUP boards. "We have seen greater interest this year than last," said Clark. "And we will continue to carry them and try to expand the line. The sport is very much in its infancy here [in Arkansas] but I don't see it going away."