(NEW CONTRIBUTOR! Jen Freilino gave us her race report from the Catsmacker this year. Thanks Jen!) 
The Catsmacker is a 23 mile fun-run on 4-wheeler trails, forest-service roads, and a small portion of the Ouachita Trail. The course is essentially a giant loop that begins and ends at Lake Winona, but runners have the option to do a 12 mile "Kitty run" if they don't feel up to the full Catsmacker.
The race directors, Stan & Chrissy Ferguson, put on the race every year as the final event in the Ultra-trail running series. Following the race, they award runners for their points earned in trail races over the past year. Every runner also gets a finisher "cat" award.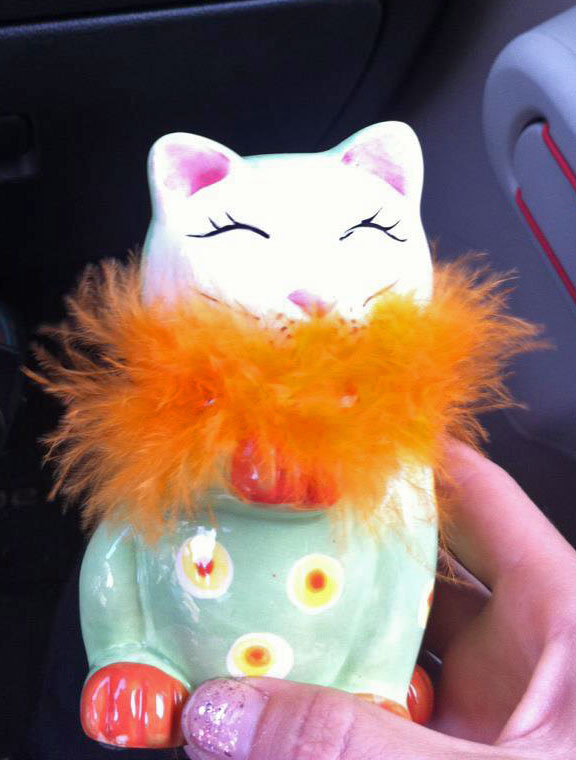 They also provide hotdogs, beans, potato salad, chips, and non-alcoholic drinks all free of charge for runners to replenish their bodies following their hard work on the trails.
The terrain is definitely challenging. It does not consist of "gentle hills" as it says on the race website. Rather, the course consists of long rolling gradual (sometimes long and steep) uphills followed by similar downhills with a total elevation change of 11,600 feet (got that figure from a friend who ran it too). There are some technical spots that made running difficult if not impossible, but mostly you are running on wide gravel service roads.
I mentally committed to running the full Catsmacker two days before the race. I wanted to give the full version a try because I had done the kitty run at least twice before and I was looking for more of a challenge. Truthfully, though, I couldn't run the Kitty version because I jokingly called a bunch of people "weak" for wanting to do the kitty run the week before the race.
Anyway, it wasn't until a couple years ago that I started running more trail events. I have fallen in love with the trail running scene because the focus is less about beating your time and more about completing the distance. There is much more enjoyment for me when I can run a nice-easy pace, talk to people around me, enjoy the scenery, and not worry about running a certain time. Sure, it's nice to beat your time, but I think it's more gratifying to say (even to yourself) that you've run some crazy distance or made it through some insane terrain than "I ran 10 seconds faster in that 5k."
There were over 70 runners who completed the race this year–26 in the kitty run and 47 in the full. The race begun at 6:30 AM with cloudy skies and unseasonably cool temperatures. During the pre-race instructions, I learned that the Catsmacker is named after the director's husband, who broke his toes on (I think) the bedpost when he tried to kick their cat out of the way and missed. After about 15 miles, I thought to myself, "how appropriate of a race name—my toes feel broken right now!" Of course they weren't broken, but I was convinced they were at least bleeding. My feet have certainly hurt in races before, but I have never wondered if I was soaking my shoe with something other than sweat.
The course was broken up by 3 water stops and one larger aid station, which also helped break up the distance and keep us going. I was fortunate to have a great group of friends who stuck with me on the course. I think we all felt good (and bad) at different times so when one felt badly the other ones who felt good kept the others going.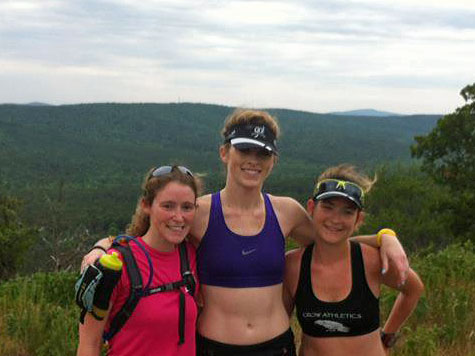 It took our group just over 4 ½ hours to finish the race. We were all sore and some had more visible battle wounds than others. Luckily this was the first year anyone ever organized a "kitty" pool full of ice to soothe our aches and pains.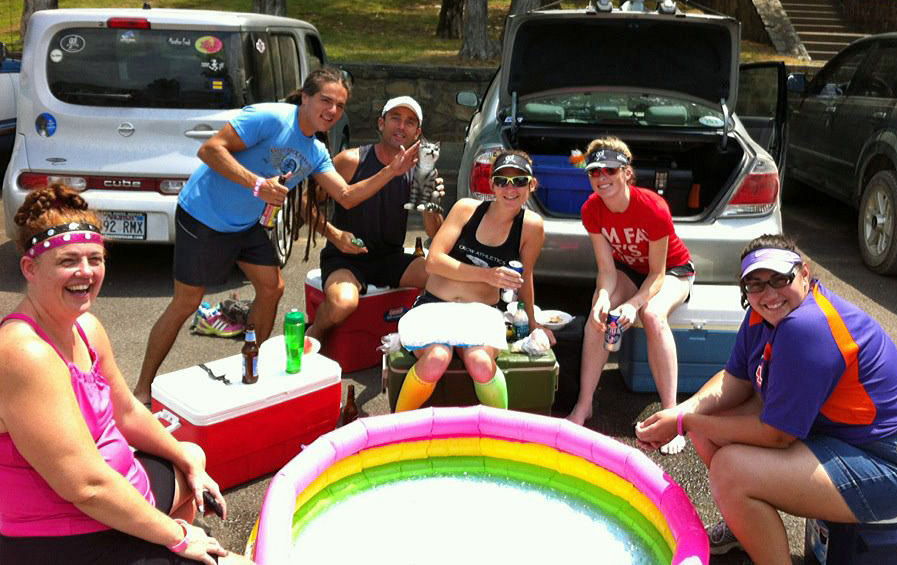 Now that the excitement has died down and those very same aches and pains have healed, there are only positive memories of camaraderie and accomplishment.
If you didn't get to be part of it this year, there is always next year! And, if you can't wait that long, join us for another free trail run, the Full Moon 25k/50k, on July 14, 2012 beginning at 8 PM! Lots of great night-time running, fun people, and delicious food!
(Editors note: Jen passed on this video from Andrey Dumchev of the Catsmacker. I first met Andrey at the White Rock 50 where he was riding a bike instead of running. Another great video from Andrey.)