It's been over a year since the last time we did this survey. Some trails on this list changed, some didn't. The one thing that is for certain, the mountain biking in Arkansas has gotten even better. This year we used SurveyPlanet to ask our readers what their favorite Arkansas mountain bike trail is. Not the best downhill line, the best cross-country, the best park feel, just their favorites. One change for this year, we let everyone vote for their 3 favorite trails. We did this because it's Arkansas, how can you choose just one? A few didn't pick 3, maybe they're new and hadn't ridden many trails, or maybe they were just pulling for one and didn't want to muddy the waters by voting for others. No matter what, their vote counted.
We had 484 people answer the survey for 1,282 votes. Last year a bit of a rivalry started when some folks were surprised that the overall winner wasn't in Northwest Arkansas and basically crushed all other trails in the voting. This year was a much tighter race. It's interesting that 5 of the top 10 are located in Northwest Arkansas but the other 5 were basically in central Arkansas. We'd also like to remind you that this list:
is not scientific.
is not based on the number of people riding the trail.
is not our favorites list.
is not a list of all the trails in the state.
is not broken out by trail types (cross country, enduro, flow, downhill, etc.)
This list is a great bucket list of places to ride in the state. Let us know in the comments which ones you've ridden and which ones you're looking forward to. We have had tires on at least some part of every one of these trails.
So here they are, your Top 10 Favorite Mountain Bike Trails in Arkansas.
#10 3.1% of total votes
The Womble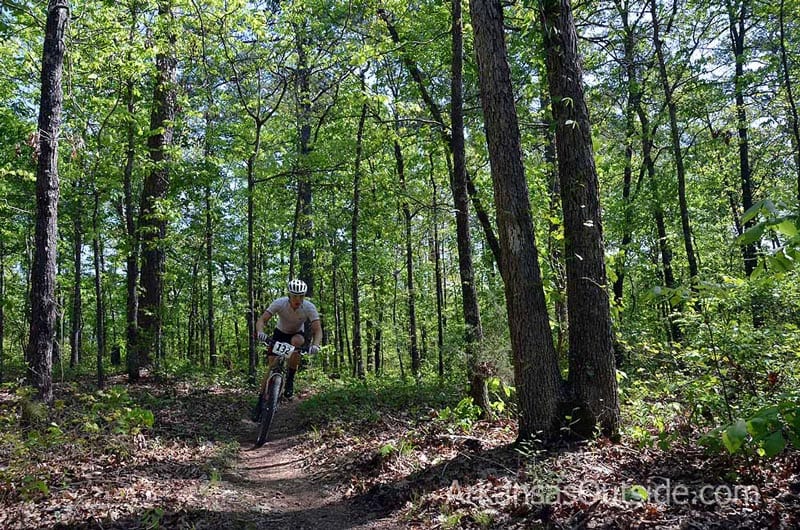 Maintaining it's 10th place status for two years in a row, the Womble holds a cherished place in our hearts. This is classic Arkansas singletrack, a linear trail that was the first of five International Mountain Bicycling Association (IMBA) Epic Trails in the state. Pack a lunch and enjoy ridgeline riding. This is the first trail in the state that we know of that has had a bike named after it by a national bike company.
#8 (Tie) 4.6%
Mount Nebo State Park *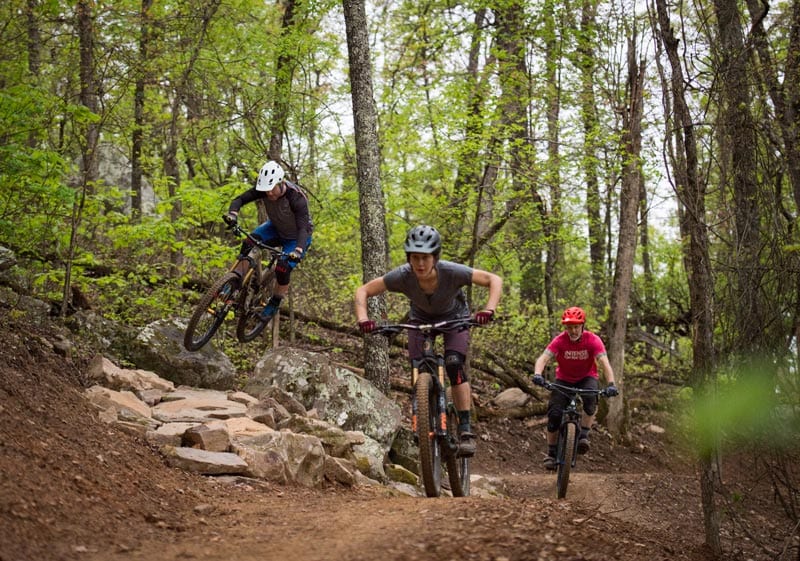 With only 7+ miles of trail and just opening, this trail tied with an IMBA Epic Trail for eighth place, it must have been built right. One of two Monument Trails currently open and both on this list. A two-mile downhill line, cross-country/flow trails, incredible views of the Arkansas River Valley, and beautiful rockwork features, it's hard not to love this gem. The park offers camping and cabins making this a great weekend trip. Also, when a lot more trails will be open this Summer it will be a top contender.
#8 (Tie) 4.6%
Lake Ouachita Vista Trail *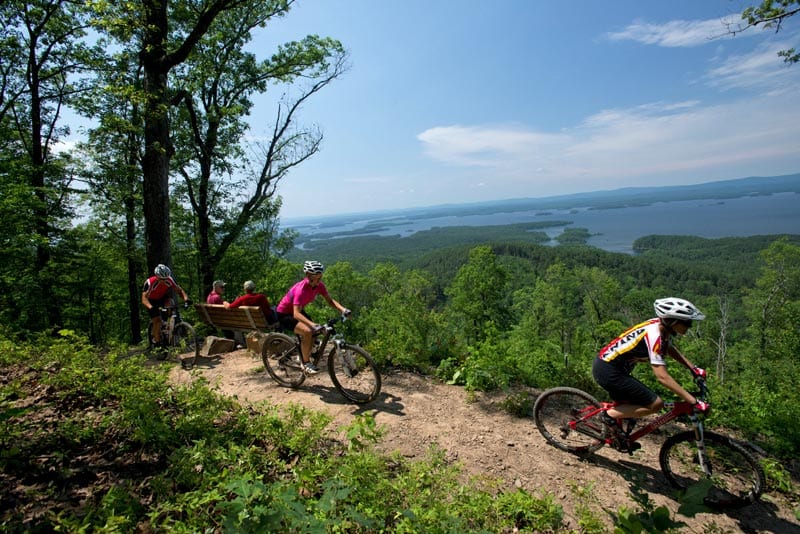 This IMBA Epic Trail along the south shore of Lake Ouachita offers visitors big scenic views, stout climbs, beautiful stream crossings, and plenty of amenities in the way of lake resorts to enjoy along the way. Built by both volunteers and professional trail builders, this trail has something for every cross-country rider.
#7 5.1%
Lake Leatherwood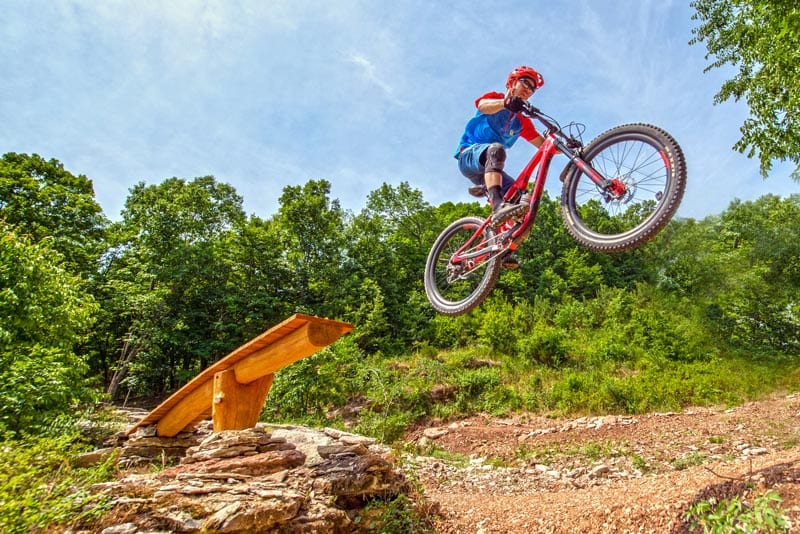 One of the older mountain bike systems in the state, Lake Leatherwood received a facelift a few years ago adding some great gravity trails with an available shuttle service. There are still miles of technical cross-country trail and having the city of Eureka Springs nearby is a huge plus for those looking for a unique getaway.
#6 5.5%
Iron Mountain
On the shores of Lake DeGray lies the Iron Mountain Trail System. A favorite for years, this trail offers tough climbs but the payoffs are unreal. Beautiful views of the lake, camping nearby, some jump features and berms, and classic cross-country. Look for the new section nearing completion for added thrills.
#5 7.3%
Hobbs State Park-Conservation Area*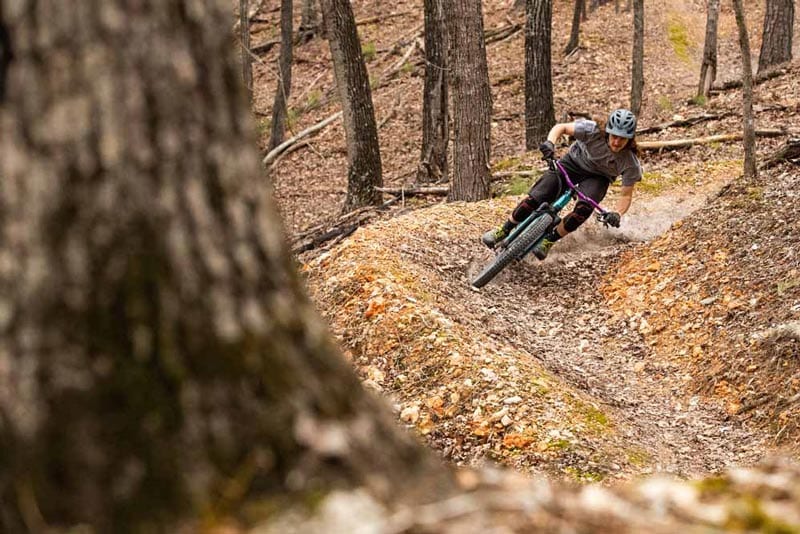 The addition of the Monument Trails to this already legendary trail system has really brought the Hobbs Trail System into its own as one of the top trails in the state. A Northwest Arkansas favorite after rain due to the karst topography which drains water very quickly. Look for great flow, rocky bluff riding, and stunning views of the lake. Coming soon, bike-in campsites.
#4 9%
Back 40/Little Sugar*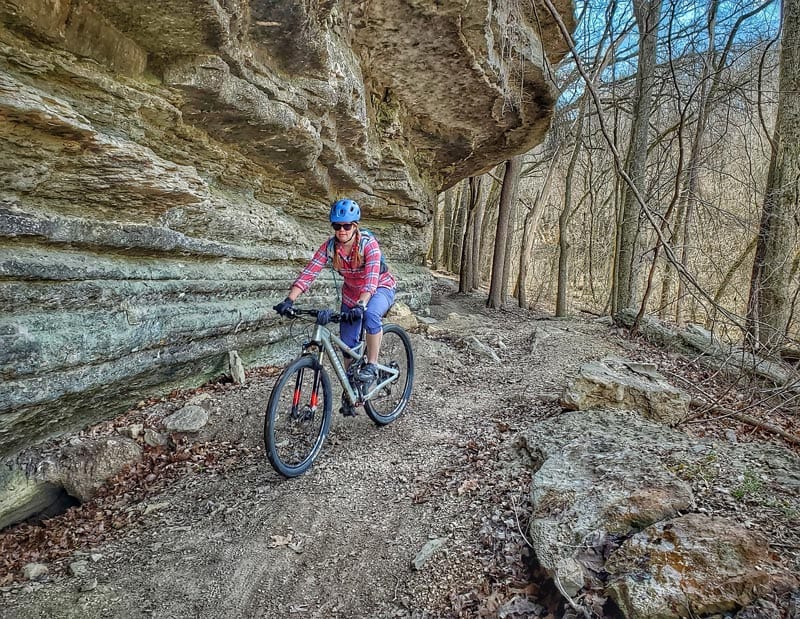 The Back 40, Blowing Springs, and Little Sugar were on the list together this year. They won't be next year. The Back 40 surprises people by winding through the sleepy village of Bella Vista and connects to Blowing Springs, most riders do not expect the diversity of trail and the ruggedness of the terrain. Add the new Little Sugar Trails and these are becoming a destination spot of their own. Just after we posted the survey, it was announced that another 20+ miles of the Little Sugar Trails are open.
#3 9.4%
Coler Mountain Preserve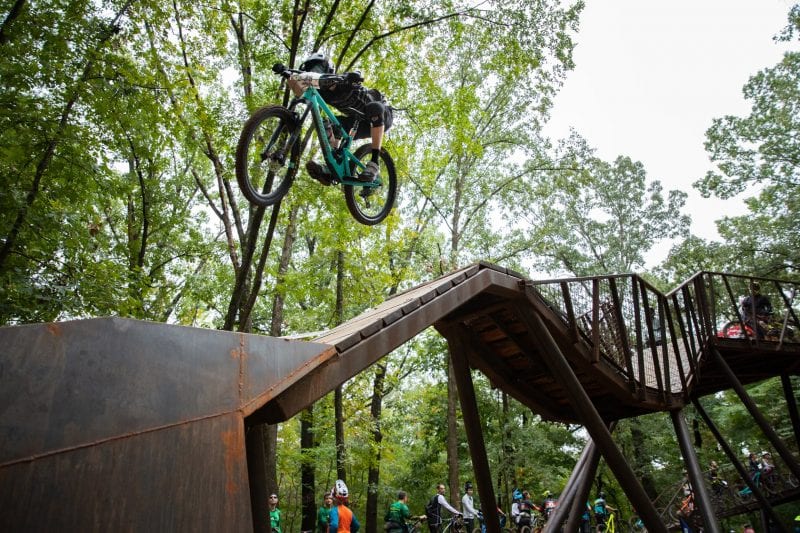 Yes, a mountain bike preserve. Pretty much any kind of riding you want to do, you can do at Coler. This place is like a laboratory for mountain bike trail design. The preserve hosts everything from Enduro races to National Interscholastic Bicycling Association (NICA) races.
#2 12.4%
Slaughter Pen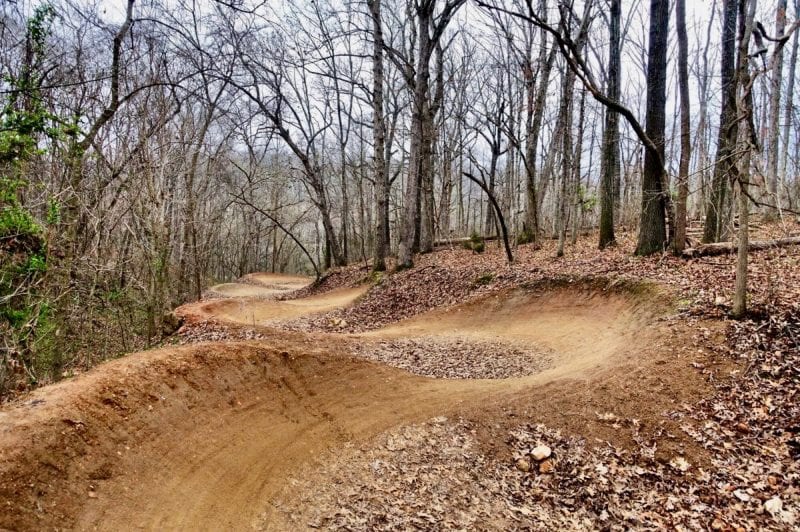 Not the first mountain bike trail in Northwest Arkansas but the one that got everything really moving. Always something new from beginner to pro riders, you'll find something you like here. Tied closely to the Razorback Greenway, Crystal Bridges Museum of American Art, and the Bentonville Square, this place is known for the best trailhead in the country.
#1 12.8%
Northwoods/Cedar Glades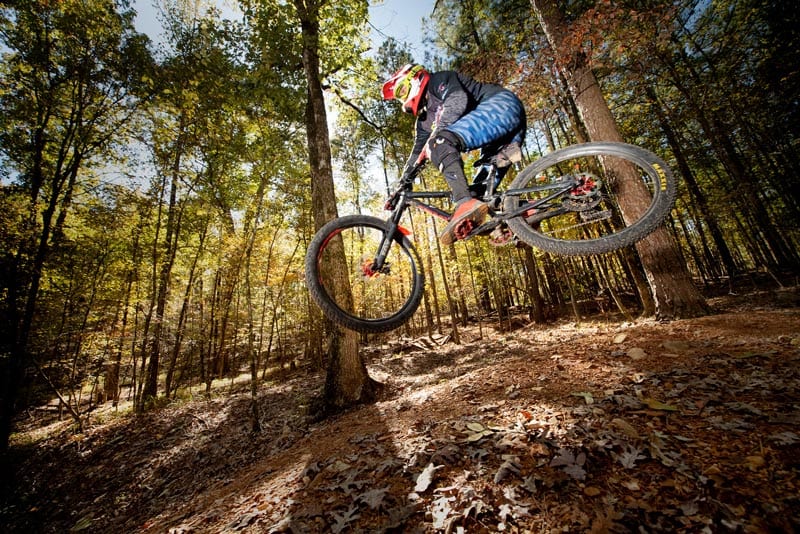 They did it again. These folks love this trail and they vote. They were the new, shiny thing last year and they kept the momentum going for 2020. Recent improvements at Cedar Glades and a new trailhead making the trails accessible from downtown Hot Springs have kept the Northwoods trails in the top spot for the second year in a row.
---
Need more ideas? Here are the next 10 systems: #11 Rattlesnake Ridge, #12 Passion Play, #13 Mount Kessler, #14 Upper Buffalo, #15 BOC Ponca, #16 Devil's Den State Park, #17 Fitzgerald Mountain, #18 Woolly Hollow State Park, #19 Camp Robinson, #20 Syllamo.
What Next? – How do we even pick each year? In the next year we expect that additional trails at Mount Nebo State Park will propel that system into a top spot, Pinnacle Mountain Trails are expected to be the new kid on the block as over a year of trail building will be wrapped up. What's next for Coler and Slaughter Pen? How about the rest of Little Sugar coming online. Plus, a little bird tells us that Devil's Den will at least start getting a much-deserved makeover. We can hardly wait.