Rain and flash flood warnings greeted us as we rolled up on The Dirt Church in Sandtown, Arkansas. Sandtown was a boomtown twice, first, in the late 1800s and again after World War II, both times as a source for Manganese used in steel-making. The remnants of the mining operations can be found throughout the area.
The Dirt Church sits on a rise in the woods, tucked into the foothills of the Ozark mountains just north of Batesville in Independence County. We escaped the wind and rain at the front door of the church, and met up with Bobby and Amy Finster. They were busy taking care of last-minute preparations for the Sandtown Shuffle The Shuffle is an event dreamed up by Bobby as a way to introduce gravel cyclists from elsewhere to the gravel routes that he and his friends have been enjoying in the area where he grew up. Bobby leases the formerly Free Will Baptist Church from his uncle and is converting it into a community center for the area. With outdoor space to camp, a fully functioning chapel complete with padded pews, a couple of small bedrooms and bathrooms, and a full kitchen with an indoor dining area, the building is a perfect place for small events.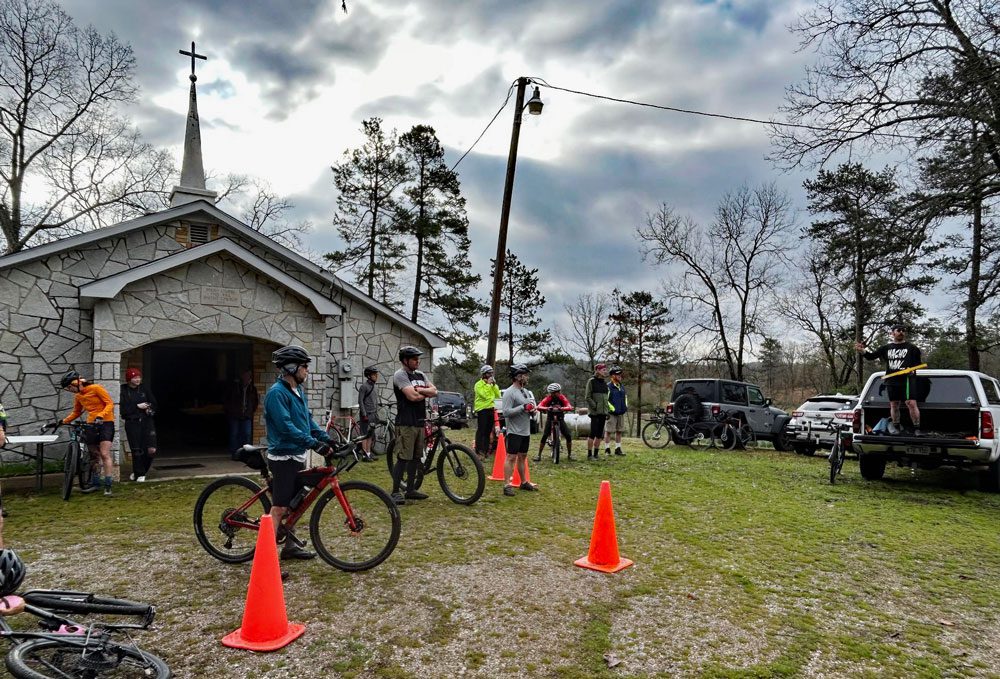 As the rain trailed off we went for a jeep ride with Bobby and Josh Gordon, a Little Rock rider who, like us, decided to show up Friday night. Bobby's Jeep easily handled an early water crossing along the route, but at the time I wouldn't have ventured into it on my bike. Luckily, our host knows the area well and said that it will be fine by the morning. I felt an adventure coming on. Back at the church with the harsh weather diminishing, we got our camp set up outside and then relaxed inside the kitchen area, greeting more guests as they arrived.
The Rides
The Sandtown Shuffle offered three rides- a 62-mile and 30-mile happening concurrently on Saturday and an optional 55-mile unsupported ride on Sunday. The Saturday rides started at 9 am with a quick message from Mr. Finster on routing (he had driven the entire course early Saturday morning and said all was good) and emergency contact information. We decided we would enjoy the 30-mile route, the longer route was very popular.
"The gravel roads here are so good, it rolls well and the elevations are fun with few really long steep hills but enough relief to keep it interesting," Bobby Finster, Ride Organizer.
Despite the recent heavy rains, the route was fully passable even with numerous water crossings. Some low areas did have some cross-road rutting, but nothing that would keep you from wanting to ride. Before the ride I asked Bobby why he loved this gravel and wanted to show it off, "The gravel roads here are so good, it rolls well and the elevations are fun with few really long steep hills but enough relief to keep it interesting," he said. I would agree and add that the scenery is beautiful with thick woods and beautiful pastures throughout the routes.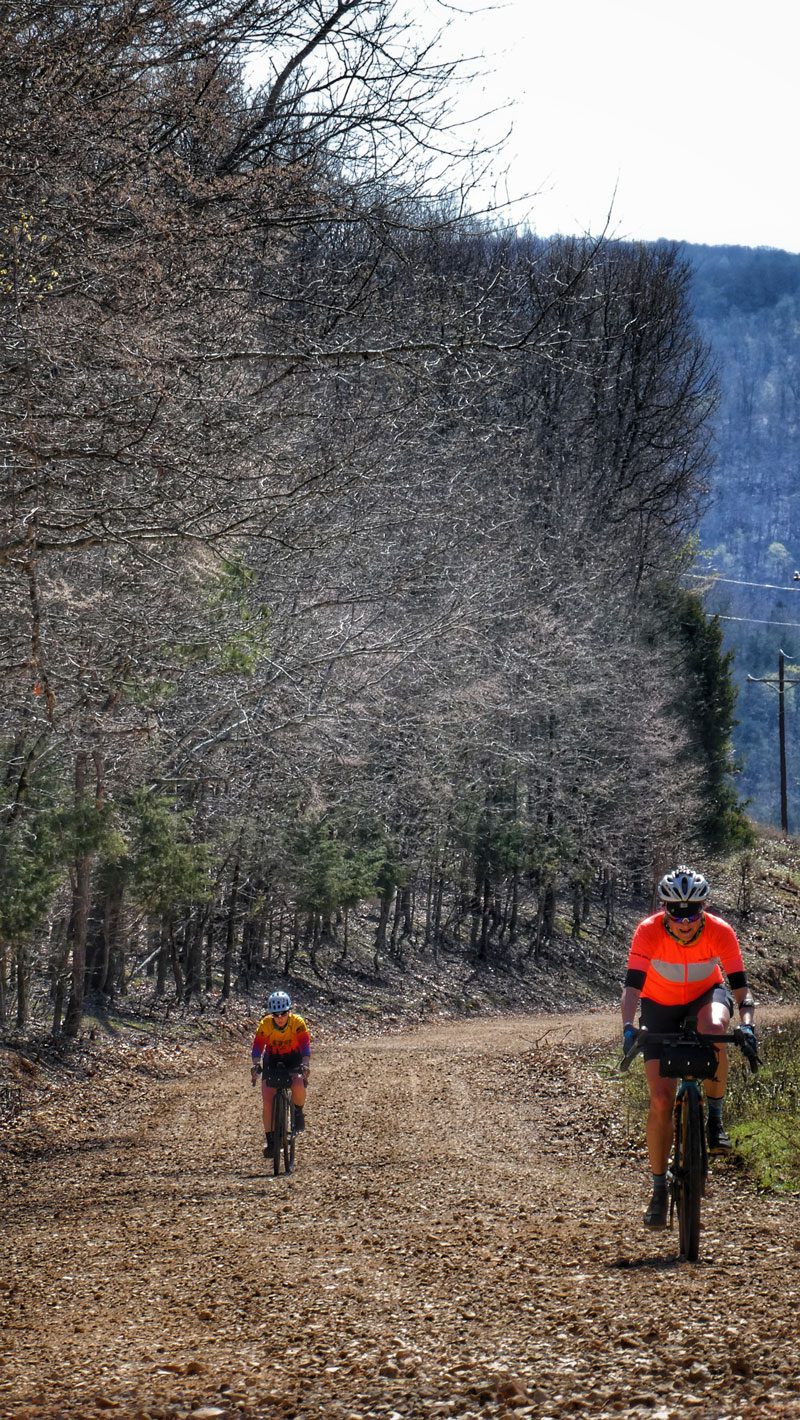 Only about 5 riders stayed around for the Sunday ride. Those that stayed were treated to more beautiful countryside gravel roads, views from the bluffs above the White River, following creek beds down to the river, a stop at The Sanctuary for a group photo op, and more great gravel.
"Truly God's country off the beaten track! Absolutely perfect weekend of adventuring!" Kelly Newberg, 62 and 55 mile route rider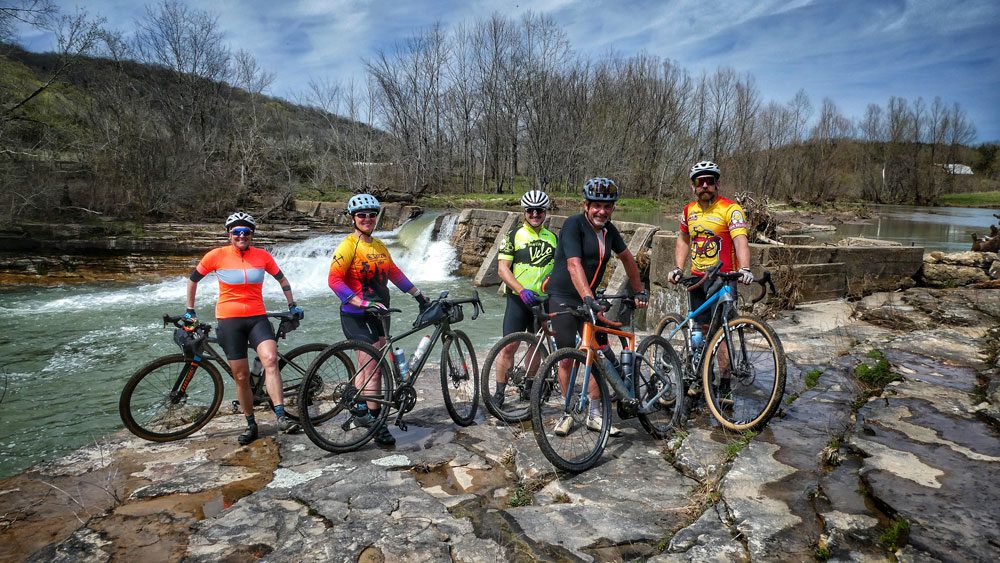 The Stoke
The Finsters know how to treat their guests. On Saturday morning, riders were treated to the Two Mom's Kitchen where Bobby's and Amy's moms flipped pancakes and served up their homemade goodies like we were all family. Food for this event included homemade cookies, brownies, muffins, and pies. Barbeque pork, chicken, and sausage from Lucy Q BBQ along with all the fixings were available as riders returned from the rides. The field next to the church was transformed into a large picnic area and excellent music was provided first by Rockin Luke Stroud and later, The Natural Disasters duo played until well after dark Saturday night. With two firepits going to cut the cool night air and the incredible number of stars in the sky, it couldn't have been a better end to an already great day.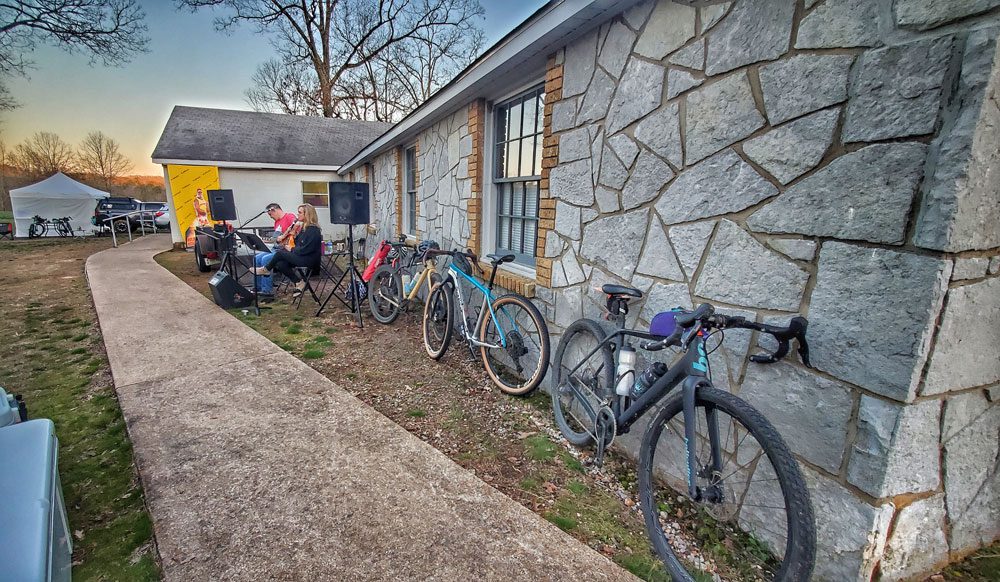 Breakfast burritos were available Sunday morning to those who stayed and leftover barbecue was heated up at the end of the ride. While gathering for the Sunday morning ride, Kelly Newberg asked Bobby if there is a mayor in Sandtown. We decided to hold an unofficial vote and proclaim Bobby Finster Mayor of Sandtown. His qualifications are hospitality, love of his hometown, and passion for sharing the beauty of his beloved gravel routes with others. He gets my vote for sure.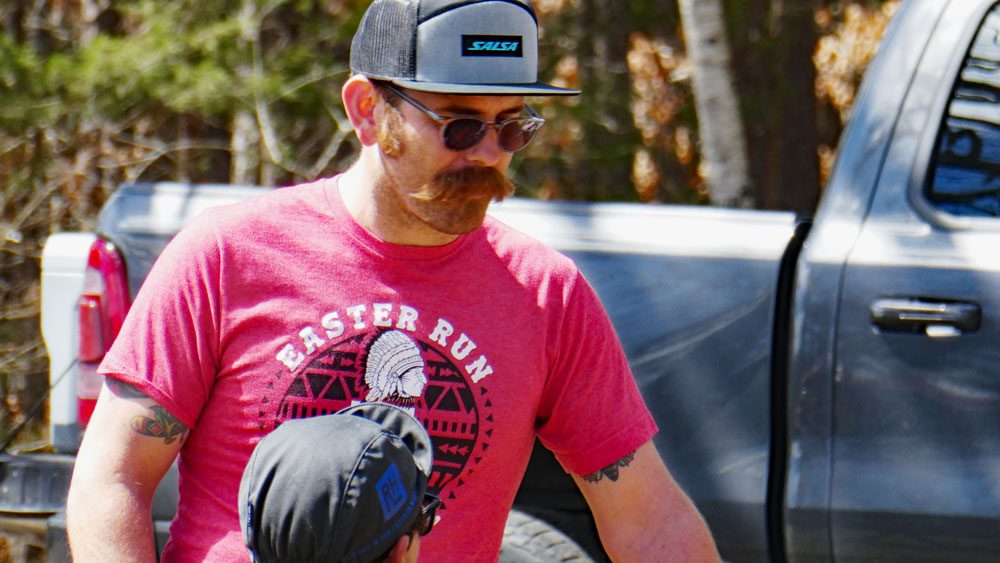 Bobby included a few personal touches to the event, having grown up as a professional wrestling fan he and Amy created a backdrop complete with a Hulk Hogan cutout for personal pictures. Swag included logoed buffs, t-shirts, and pint glasses. Everything you would expect at an event plus some.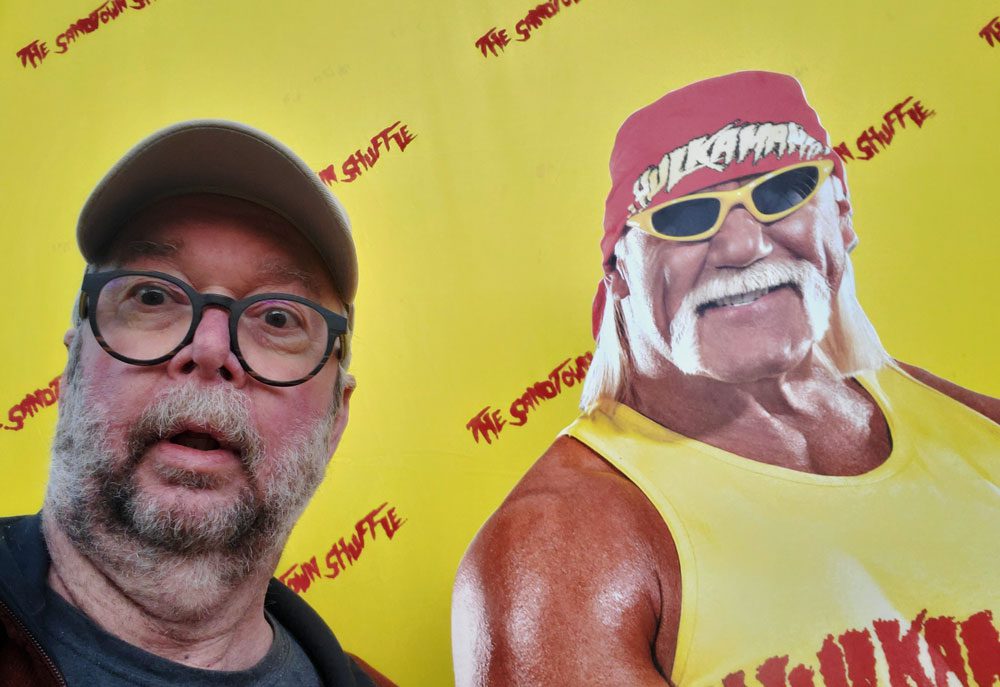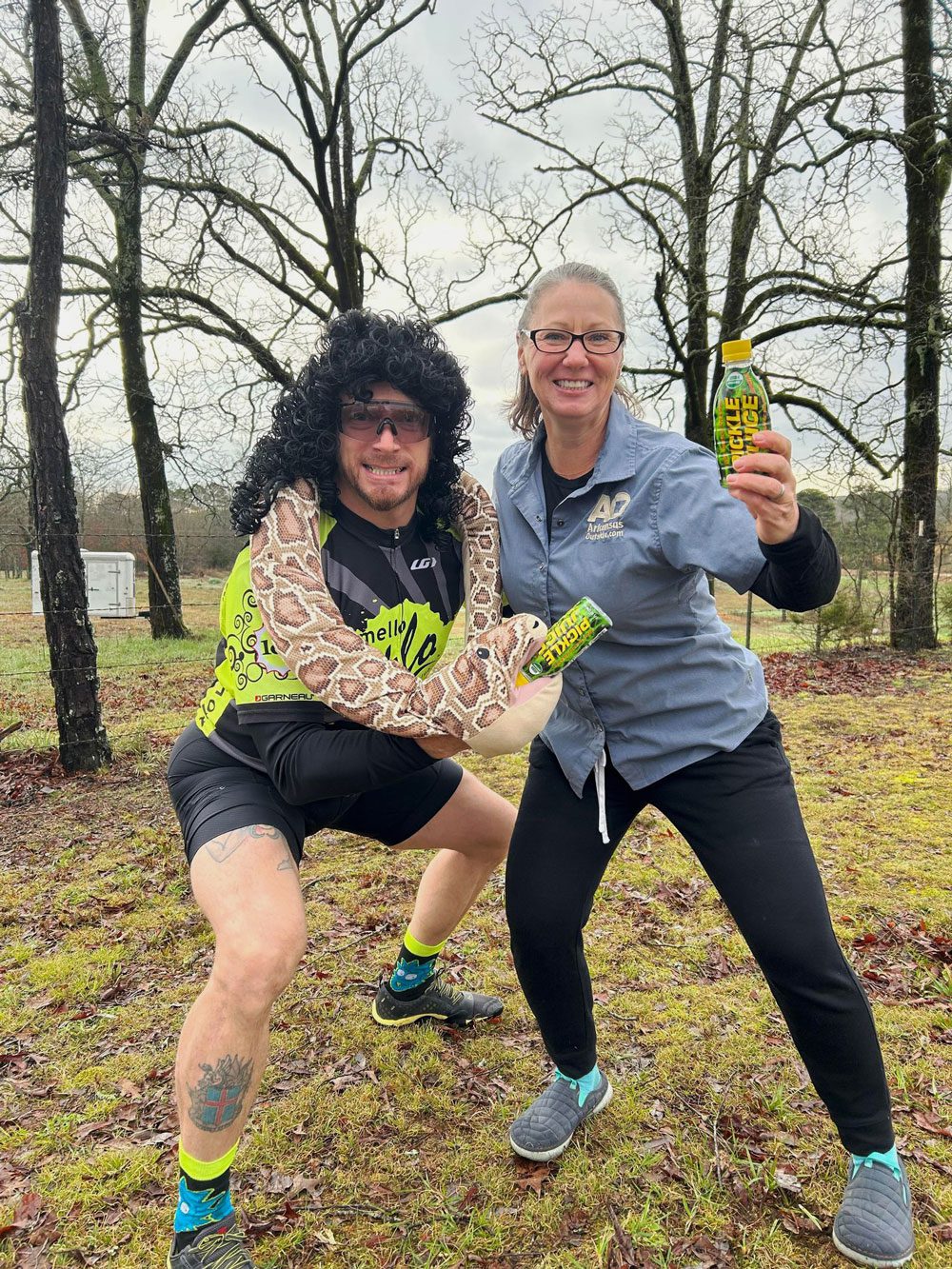 The Dirt Church
Finster said that besides acting as a local community center, he hopes to make the church available for groups wanting to come to the area to ride the gravel routes he and others have laid out. It is a wonderful facility and should attract riders from Memphis, Little Rock, Northwest Arkansas, and beyond. Independence County is a dry county meaning any alcohol that groups would like to wash down the dust with should be brought. As information becomes available on reserving the church, we'll let you know.
Wrap Up
Watch for the announcement of this event for next year and get signed up quickly, this should be a sellout. The plan is to create more gravel events in the area. Judging from how they pulled off The Sandtown Shuffle, we'd recommend finding a way to get there.