In 2013, The Economist published an article titled Cycling is the New Golf. In it, writer G.D. said, "A growing number of corporate-sponsored charity bike rides and city cycle clubs are providing an ideal opportunity to talk shop with like-minded colleagues and clients while discussing different bike frames and tricky headwinds. Many believe cycling is better than golf for building lasting working relationships or landing a new job because it is less competitive." Five years later, the Wall Street Journal saw the trend continue in their article, Deals on Wheels: Why Group Bike Rides Are the New Boardroom. Four years after that, we are beginning to see the definition of cycling as a business socializing activity expand to something larger, particularly in Arkansas.
"Once Considered an obscure sport for kids, commuters and hardcore fitness fanatics, cycling has evolved in the past few years into both a powerful networking tool for executives and an activity that corporations are increasingly using to connect with their client base." Wall Street Journal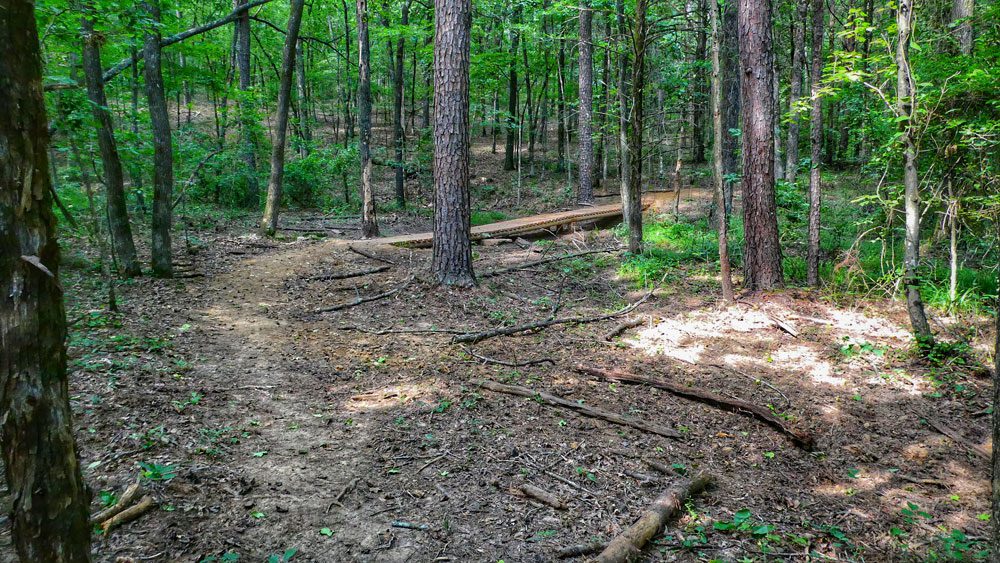 The boom in cycling, particularly mountain biking infrastructure in Northwest Arkansas, is a catalyst for providing quality trails in smaller towns throughout The Natural State. This summer, we have seen an explosion of new mountain bike/multi-use trails in small towns that have not been considered prime cycling destinations. In July we published articles on new trails in Clarksville and Alma, Arkansas, along the I-40 corridor in western Arkansas.
Another New Trail System Gets Funding
Last week, the City of Mena was awarded $275,000 through the Travel, Tourism, and Outdoor Recreation Program from the Economic Development Administration. This is a federal grant funded through President Biden's American Rescue Plan. According to Mena Mayor Seth Smith, the project will center around the development of approximately 6 miles of mountain bike/multi-use trails around Ward Lake on the north side of town. Ward Lake was once a water source for Mena but has since been drained and the intact dam is used for flood control. The initial trail design was done by Arkansas-based trail company Progressive Trail Design of Bentonville, Arkansas through a grant from the Mena Advertising and Promotion Commission. These trails will provide a city connection to the proposed trails under development in the Ouachita National Forest between Mena and Queen Wilhelmina State Park announced earlier this year. Mayor Smith said, "Bidding for the construction at Ward Lake will happen soon and we hope to break ground by early 2023."
Priming the Pump
Until 2017, most of the private funding of trails was limited to northwest Arkansas through NWA Trailblazers, a non-profit based in Bentonville. In 2017 the Arkansas Parks & Recreation Foundation(APRF), a non-profit based in Little Rock, in partnership with Arkansas State Parks & the Walton Family Foundation, began developing a series of high-quality trail systems known as Monument Trails.  APRF is currently working in support of the trails proposed between Mena and Queen Wilhelmina State Park. To date, the Monument Trails consist of trail systems at Hobbs State Park-Conservation Area, Mount Nebo State Park, Devil's Den State Park, and Pinnacle Mountain State Park. This expansion outside northwest Arkansas serves as a blueprint for smaller towns to add similar trails to their recreation package. One example is the River-Mountain and Two Rivers Park Trails in Little Rock. These trails are a project in partnership with the Arkansas Parks and Recreation Foundation, the City of Little Rock, and the Walton Family Foundation.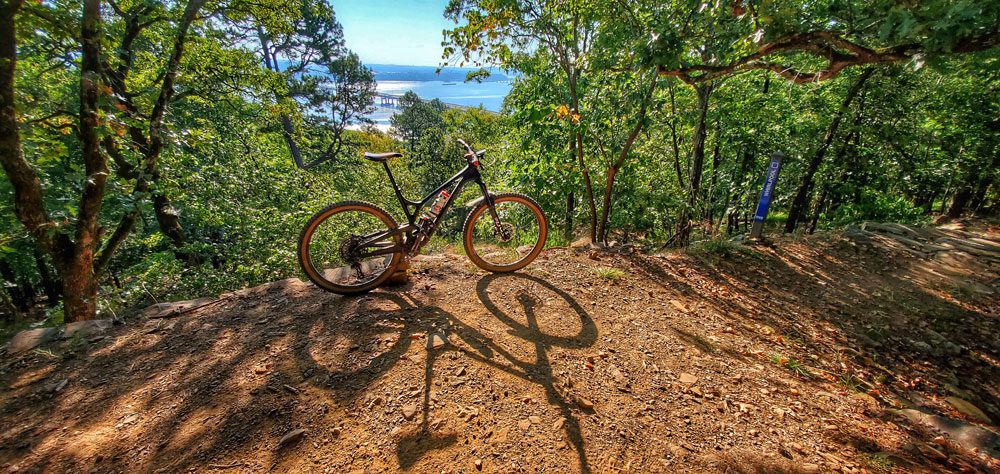 The Move to Professionally Built Trails
Many of these areas already had trail systems before this recent growth. There are mountain bike trails at Old Post and Ouita in Russellville that are decades older than the new trails at Mount Nebo. Central Arkansas had close to 100 miles of trails before the new Pinnacle Mountain and River Mountain Trails were built. Much of the trail system at Pinnacle Mountain is built on top of a 10-year-old mountain bike trail system. At Alma, the new trails are expanding a current hiking trail system. In Mena, the Mayor said he hopes to one day connect the trails that are already at the local community college. So what's the difference?
In each of these cases, the older trails were hand-cut, volunteer-built systems. As the sport continues to evolve, professionally designed, machine-built trails are becoming a bigger draw to mountain bikers. Also, many of the older trails are more remote with little access to other amenities like food and lodging. The new trails are incorporating more of the local amenities.
Changes in Funding
While private money, mostly out of northwest Arkansas, has been the impetus for not only the growth of mountain bike infrastructure in that part of the state but also provided seeds for other communities, this new growth is being funded differently. Cities and towns are finding ways to invest in themselves. While Clarksville has done it through bonds, other cities are doing it through current park budgets or seeking federal grants through the Recreational Trail Program (RTP) or, as in Mena's case, the Travel, Tourism, and Outdoor Recreation Program. In most cases, it is a combination of sources. Hopefully, other private entities will see the potential positive impact these kinds of investments are on their communities and will support this trend.
The Playground has Changed
All this brings us to the new playground. For years towns across the country have been investing in park infrastructure that was expensive to build, and even more expensive to maintain. Swimming pools, tennis courts, softball, baseball, and soccer fields, and golf courses. In Little Rock, the tennis courts at War Memorial Park were replaced several years ago with a walking track. The golf course at that same city park closed down a couple of years ago. Heat maps of the area show the old golf paths being used heavily by walkers, runners, and bicycle riders. And now we have this article from Freehub Magazine, where the second paragraph says, "Once content with shoveling tax dollars toward expensive community swimming pools or tennis courts, record numbers of everyday people are turning to the modern mountain bike as a viable tool for reshaping the economy of towns emerging from an era of outdated industrial practices, or as a gateway to healthier living."
The 6 miles of trail currently being built at Ward Lake near Mena will cost about the same as a nice playground. The city could partner with the same volunteers who developed the trails near the community college to maintain these trails saving the city money and allowing citizens to be personally vested in the quality of life of the city. This seems like a win-win to me.
Maybe it's time to start looking at a Natural State Mountain Bike Trail like the Natural State Golf Trail. That's a thought for another article.