"The BEA numbers are out. Arkansas saw economic increases in outdoor recreation across the board. We had a 23% increase in GDP, a 14.3% increase in employment, and a 17.2% increase in wages. The outdoor recreation industry has seen unprecedented growth and this data proves how vital continued investments in our public lands, waters, and recreation infrastructure are to national and local economies. We are celebrating in Arkansas today." Katherine Andrews, Director, Office of Outdoor Recreation on LinkedIn.
We asked Katherine Andrews, Director of the Arkansas Office of Outdoor Recreation, some questions about where we are and where we are going. (more on outdoor recreation offices)
Arkansas Outside: Is there anything other than the pandemic that you would attribute to the GDP and other growth surrounding outdoor recreation in Arkansas?
Katherine Andrews: "I would also attribute the increased investment in infrastructure to the growth of the outdoor recreation economy in Arkansas. That is evident through investments made by the Walton family and others all across the state, increased appropriation for the ORGP, and continued investment and emphasis placed on the need for outdoor recreation infrastructure by communities in Arkansas."
AO: How sustainable do you think this growth is in Arkansas?
KA: "We have consistently seen these figures from BEA rise in Arkansas. Companies continue to relocate to Arkansas for outdoor recreation interests. Investment is not slowing down and the emphasis that the leadership in the state has placed on outdoor recreation further illustrates the momentum and value we place on this sector."
AO: What sector of outdoor recreation will have the biggest impact going forward?
KA: "Our top sectors in Arkansas within outdoor recreation consistently remain to be boating/fishing, hunting/shooting/trapping, and RVs. We have no indication that this will change and we anticipate these three areas continuing to grow and impact the outdoor recreation economy in Arkansas in a big way. Cycling is certainly on the rise and we are seeing continued investment in infrastructure and from an economic development perspective, so we look forward to seeing that grow, as well."
AO: What are your office and the Arkansas Department of Park, Heritage, and Tourism doing in 2022 to maintain this growth?
KA: "The Office of Outdoor Recreation and ADPHT will continue to be a catalyzer for industry partners, stakeholders, government leaders and communities across the state. We will continue to connect people to resources to help grow the outdoor recreation economy, including fostering a climate of collaboration, entrepreneurship, and innovation in this sector."
Breaking the numbers down, total expenditures and changes by activity from 2020 to 2021:
How did your favorite activity do?
Below is an interactive chart created by Jonas Crew, an Economist with Heartland Forward breaking out the value added by each sector of the outdoor economy in Arkansas. I've set it up to show several of the sectors that we report on at Arkansas Outside (sorry, they don't have a breakout for trail running). One thing we noticed is that RVs rose before other sectors began their pandemic rise in 2020. We expect that this may be due to campgrounds shutting down services like bathrooms during the early days. Arkansas State Parks, after shutting down all overnight facilities in April of 2020, reopened to self-contained RVs only for several months before slowly bringing other facilities back online.
If you are interested in other sectors not shown, use the pulldown menu. If the chart isn't working for you here, you can go to their website.
In 2021, Arkansas ranked 35th among all states in Outdoor Recreational Satellite Account (ORSA) value-added* and 29th among all states in ORSA value-added growth. Since 2020, ORSA value added has grown 23 percent in Arkansas, compared with an increase of 24.7 percent for the United States.
In 2021, Arkansas ranked 34th among all states in ORSA employment* and 21st among all states in ORSA employment growth. Since 2020, ORSA employment has grown 14.3 percent in Arkansas, compared with an increase of 13.1 percent for the United States.
In 2021, Arkansas ranked 34th among all states in ORSA compensation* and 18th among all states in ORSA compensation growth. Since 2020, ORSA compensation has grown 17.2 percent in Arkansas, compared with an increase of 16.2 percent for the United States. The average compensation per wage-and-salary job in Arkansas ORSA industries was $44,781 in 2021, compared with $63,245 for all salaried jobs in the state.
* ORSA value added consists of the gross output of an industry less its intermediate inputs; the contribution of an industry to gross domestic product.
* ORSA employment consists of all wage-and-salary jobs in which workers are engaged in the production of ORSA goods and services.
* ORSA compensation consists of the remuneration (including wages and salaries as well as benefits, such as employer contributions to pension and health funds) payable to employees in return for their ORSA work during a given year.
(The news release from the Bureau of Economic Analysis along with more links to 2021 information.)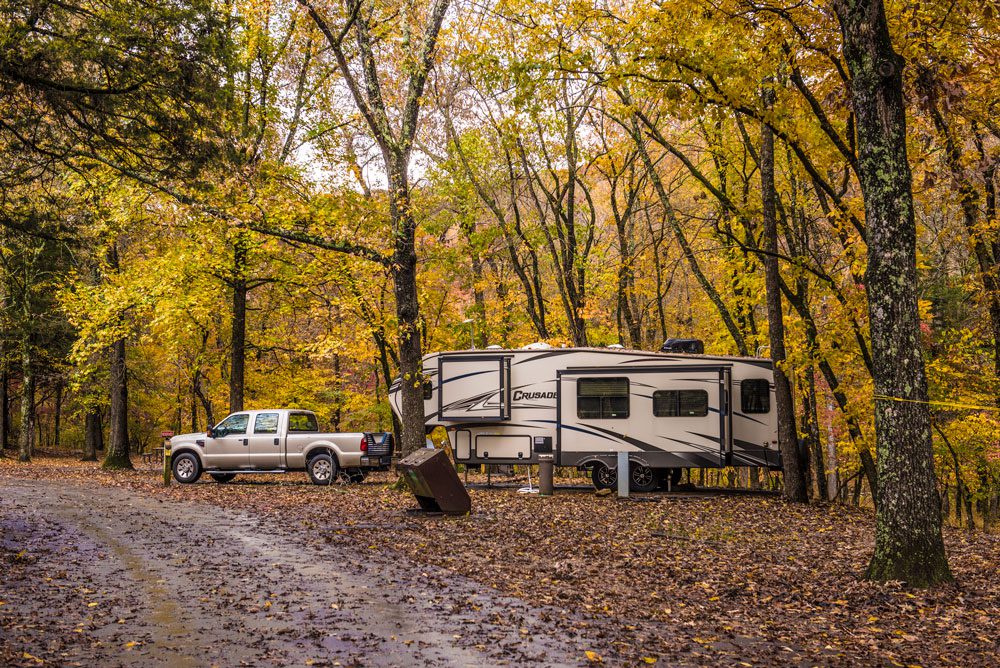 ---
Our Take
The takeaway is, outdoor recreation is a large and growing component of the country's and Arkansas's Gross Domestic Product. This was exasperated by the pandemic when the "safe" place to visit others was outside. Anecdotally, we saw huge increases in visitation to Arkansas State Parks, National Parks, Local Parks, and other public lands. At the same time, public land managers struggled with staffing these popular places. Public lands take regular maintenance to mitigate over-use, and parks needed staff to empty trash cans and clean up after people who may have been new to the outdoors and were less aware of Leave No Trace principles in these sacred places. Playground and picnic areas needed to be repaired, bathrooms had to be cleaned, and inexperienced visitors took a bit more attention than regular visitors. This influx of visitors also brought problems including an increase in parking lot crimes, mainly smash and grabs, which stressed valuable staff time further.
All of this happened when hiring was down, people were not applying for jobs, and current staff testing positive for COVID-19 often cut park services. In many cases, veteran staff was taking early retirement with no backfill of experienced employees. For those public land agencies that rely on revenue from camping and lodging fees, entrance fees, park store sales, equipment rentals, etc. to cover their operating costs, the immediate reaction was backing off spending. This increased backlogs of maintenance needs and certainly didn't do much for hiring and retention. In the meantime, due to the increased visitation, many of these public land agencies actually increased their revenue during this time. Of course, this looked really good on the surface to agency leadership but may have been shortsighted as these destinations continue to recover.
All of this will affect some of the largest growth areas in the chart above. RVing and Climbing/Hiking/Tent Camping activities are reliant on the quality of campgrounds and trails plus access to these areas. It is our hope that both state and federal agencies will increase spending in these key areas to continue growing the outdoor recreation economy in Arkansas. (more on the outdoor recreation economy)