I remember being told back around 2005 or 2006 that I needed to get up to Bentonville, Arkansas to ride a new mountain bike trail system called Slaughter Pen. I thought it was a cool name for a trail system, but when I realized this was only about 5 miles of singletrack trail, I decided it wasn't worth the 3-hour drive from Little Rock. I did eventually get up there over the years for several Arkansas Mountain Bike Championship Series races and the Slaughter Pen Jam. In 2016, about ten years after my first invitation, Bentonville hosted the International Mountain Bicycling Association (IMBA) World Summit and I was there again, both to speak at one of the sessions and to represent Arkansas State Parks with a booth in the vendor area. Trails in Bentonville had changed.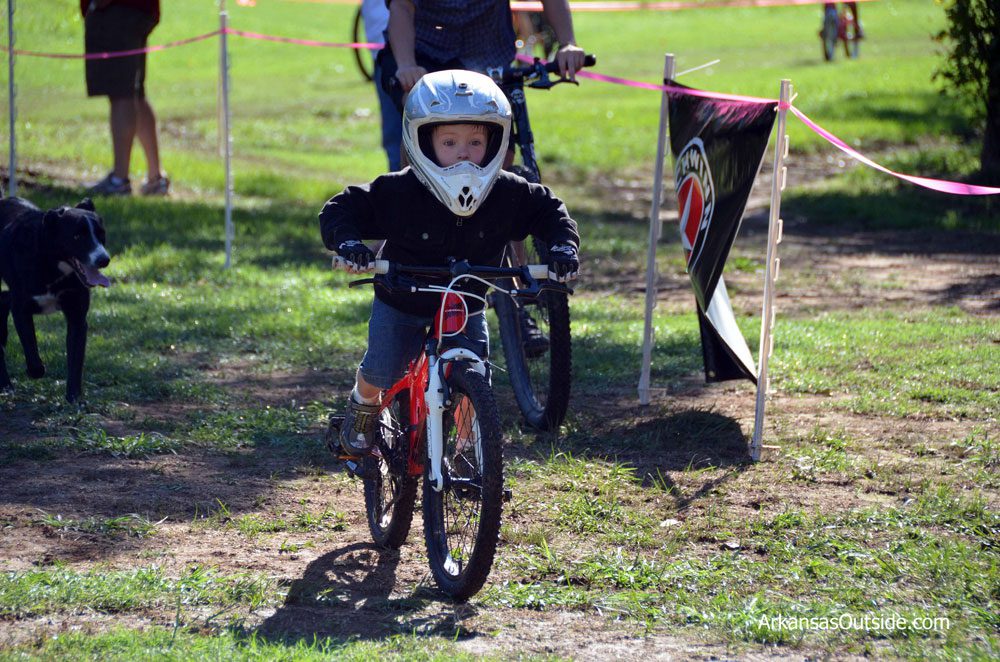 The World Stage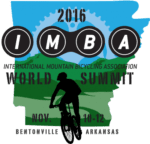 The IMBA World Summit marked the introduction of Bentonville as a new mountain bike Mecca to the world. The term Mecca has been thrown around in the mountain bike world for decades. Places like Moab, Crested Butte, Whistler, and others have been assigned the word as a way to describe a place that all mountain bikers should visit to ride at some point in their lives. From my observation, the summit was a huge success. In addition to the several phases of Slaughter Pen that could be accessed from the town square, Bentonville was just opening up the Coler Bike Preserve and the Back 40 trail system just to the north in Bella Vista, Arkansas to the summit attendees. Various sessions were held around downtown allowing attendees to walk or ride bikes between the sessions. They visited restaurants, retailers, and coffee shops where they experienced firsthand how local businesses had embraced the mountain bike community that was growing in the area.
The Land of OZ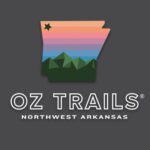 Also in 2016, the OZ Trails brand was created to showcase the development of multi-purpose trails in Northwest Arkansas. According to its website, the brand focuses on growing the local rider base and providing information to both locals and travelers seeking to experience the region's unique trail system as it develops. The OZ brand has gone beyond promoting trails in Northwest Arkansas to promoting the developing lifestyle around the county in places like Austin, Texas.
Beyond the Trails
Kalene Griffith, Executive Director of Visit Bentonville, said, "One of the things so wonderful about Bentonville is how both the local businesses and citizens have become a part of the mountain bike community."
Kalene Griffith, Executive Director of Visit Bentonville, said, "One of the things so wonderful about Bentonville is how both the local businesses and citizens have become a part of the mountain bike community." Griffith went on to mention the bike-friendly hotels that have bike storage, wash and fix-it stations, and more. Infrastructure like protected bike/pedestrian trails such as the Razorback Greenway supports mountain biking by connecting amenities and trailheads around the town. The recent completion of the third street, protected bike lanes allows mountain bikers to safely ride from the picturesque town square to the Coler Bike Preserve. Coler includes Airship Coffee, a coffee/taco/beer stop that can only be accessed via foot or bike in the middle of the park.
Bentonville leaders did not sit on their laurels after the IMBA World Summit. Drawing mountain bike visitors to the area was only the beginning. Through the business incentives and support efforts of the Runway Group, founded by Sam Walton's grandsons Tom and Steuart Walton, bicycle-based businesses have moved to or created offices in Bentonville including Allied Cycleworks, Altangle Cycling, and Vittoria.
One recent addition to the town that exemplifies the bicycling culture is the construction of The Ledger, a bicycle-friendly office building. They don't mean just that there is covered bicycle parking or even inside storage. Their description, "Ledger is the first-ever bikeable building with six stories of exterior switchbacks that lead to incredible views of Downtown Bentonville. The ramps will be open to the public during business hours, and workplace members will have exclusive access to bike-friendly amenities. One of the first tenants is a Specialized Bikes "Experience Center."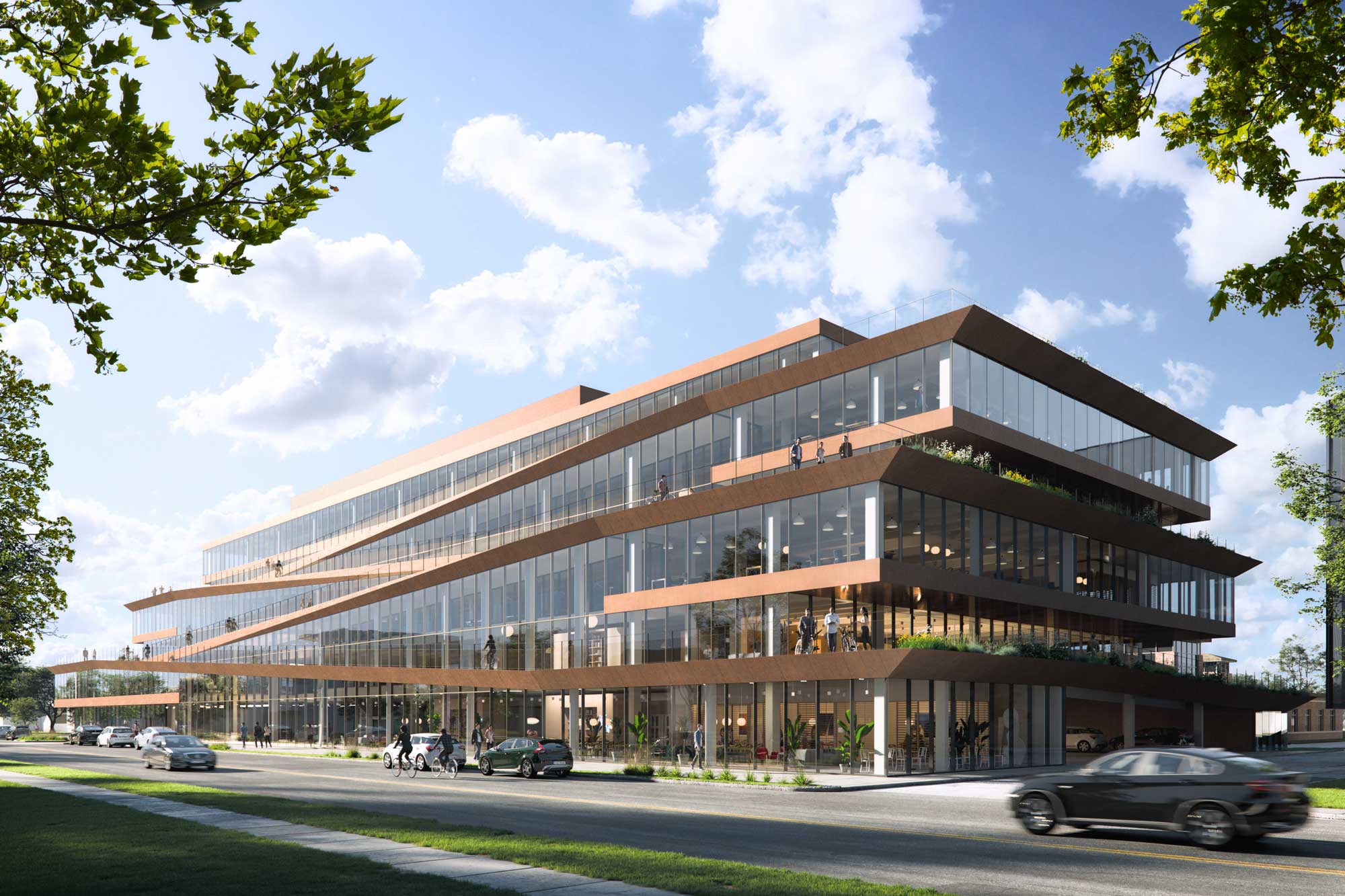 Exporting the Culture
The Northwest Arkansas Community College has become a major part of the bicycle culture in Bentonville. A couple of years ago the school added a curriculum offering a Technical Certificate in Bicycle Assembly & Repair. This year the community college received an $8 million grant to start a trail-building and maintenance school. In her grant announcement, Megan Bolinder, dean for workforce and economic development, said, "It became clear to us that if we were to be the mountain biking capital of the world, we needed a sustainable trails training program."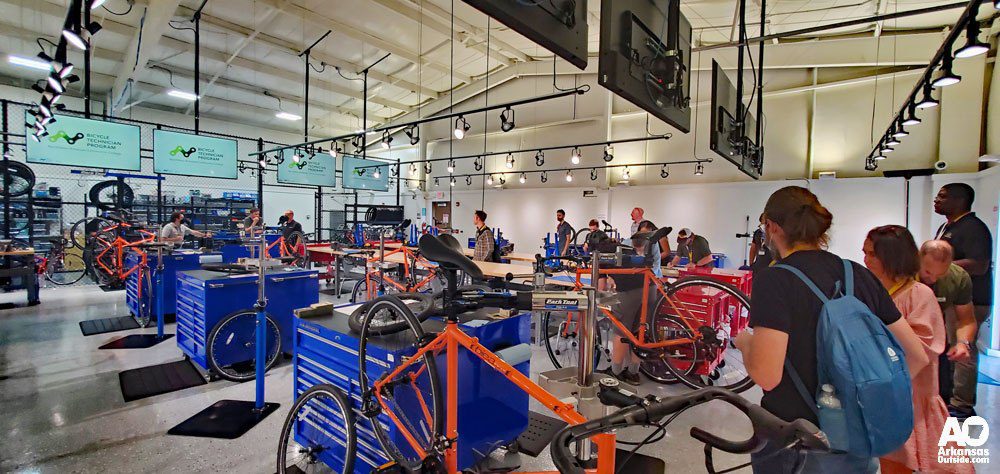 Bentonville has also become a training ground for IMBA. The Trail Foundations program, formerly Trail Labs, has held numerous workshops in Bentonville. According to the IMBA website, "These in-depth workshops are designed to catalyze the next generation of great places to ride mountain bikes. Attendees will learn what it takes to create a model trail community and return home with the knowledge and guidance for how to make it happen." This program encourages community leaders from outside Bentonville to learn ways to create a similar culture in their communities. The next Foundations event is April 5-7, 2023.
Last year, while attending the Cycle of Influence event in Bentonville, I had the opportunity to join other attendees for a mountain bike tour of Slaughter Pen with Gary Vernon, Program Officer with the Walton Family Foundation. Vernon stopped the group at various junctures along the trail to point out how the trail was constructed. Over the years the trail surface had changed as trail builders continued to experiment with different techniques and surface materials to make the trail not only a great ride, but also to lower maintenance costs and downtime due to weathering. What they learn they share with other mountain bike trail contractors they bring to the area to build trails.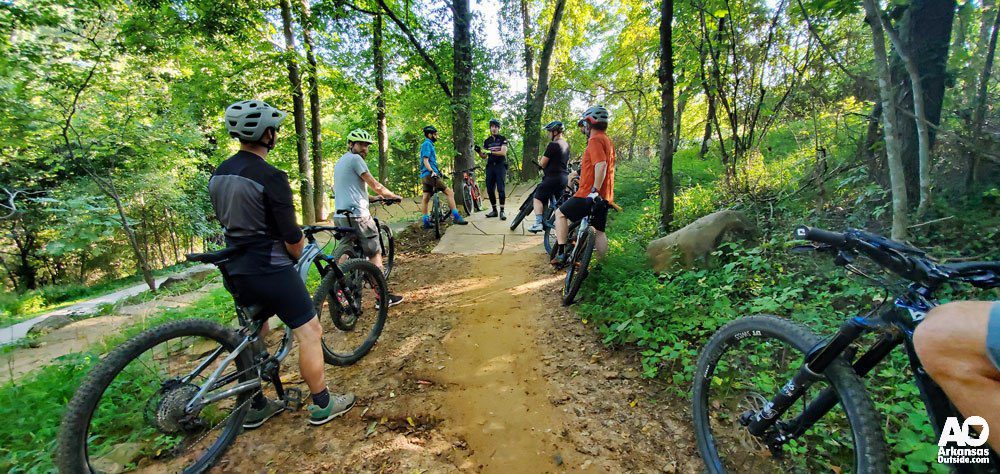 Don't Forget The Trails
The original 5 miles of trails mentioned above have grown to around 400 miles in the area. It has been growing at over a mile of trail a week for several years. Bentonville is known for its extensive network of mountain bike trails, which has helped make the city a popular destination for outdoor enthusiasts. Here are some details about the mountain bike trails in Bentonville:
Slaughter Pen – Slaughter Pen is a network of trails that spans over 40 miles and offers a variety of difficulty levels. The trails are designed for both mountain bikers and hikers and are well-maintained with features like wooden bridges and jumps.
Coler Mountain Bike Preserve – Coler is a 300-acre mountain bike park with over 17 miles of trails. The trails are designed to challenge riders with technical features like rock gardens and drops, but also offer options for beginners.
Handcut Hollow – Handcut Hollow is designed to provide a backcountry-style trail experience that complements the surrounding trail networks. Tight singletrack cross country and technical downhill trails are the draws to this 10-mile long trail system.
Blowing Springs Park – Blowing Springs Park offers 8.5 miles of mountain bike trails that are suitable for beginners and intermediate riders. The park has a mix of singletrack and wider doubletrack trails, with features like berms and jumps.
Back 40 Trails – The Back 40 Trail System is a 40-mile network of trails that winds through forests, fields, and along Lake Bella Vista. The trail offers a mix of difficulty levels, with technical sections and flowy singletrack. The Back 40 and Little Sugar Trails are accessible Bentonville just north in Bella Vista, AR.
Little Sugar Trails – The Little Sugar trail system, with over 40 miles of trails, is your go-to all-weather trail system. There's also more climbing per mile than anywhere in the Northwest Arkansas area.
The quality of these trails has made Bentonville an IMBA Silver Ride Center. IMBA Ride Centers feature extensive trail networks, masterfully designed for mountain bikers of every skill level and built by professional trail builders and local volunteers. The area has two sizable trail volunteer organizations, Ozark Off-Road Cyclists and Friends of Arkansas SingleTrack which are key to a great trail system.
Overall, Bentonville's mountain bike trails offer a diverse range of options for riders of all skill levels, and the city is committed to maintaining and expanding its trail network to attract even more visitors. You can download a map of these trails on the Bike Bentonville website.
Mountain Biking Capital of the World™
The proclamation of being the Mountain Biking Capital of the World™ was a city-led initiative that would set Bentonville apart as the crown jewel of OZ. Runway Group partnered with city leadership to develop the initial branding and marketing. It has become a way for Bentonville to retain its distinctive identity within a growing ecosystem of cycling and other forms of outdoor recreation.
"The community of builders and riders we have created here, along with the accessibility of trails right from downtown, has resulted in an unequaled experience for mountain biking anywhere in the world," said Krista Cupp, VP of Corporate and Community Affairs, Runway Group.
Bentonville, Arkansas may not be universally considered the Mountain Biking Capital of the World™, but it has gained a reputation as a top destination for mountain biking in recent years. The city has invested heavily in creating a network of mountain bike trails and has made a concerted effort to attract mountain bikers to the area. The result has been the development of an extensive and well-regarded trail system, as well as a vibrant mountain biking culture.
Bentonville is now home to 38 annual biking events, including mountain, gravel, road cycling, and industry gatherings that draw thousands of cyclists and bike industry leaders from around the world. Additionally, local businesses and organizations have embraced mountain biking, creating a supportive and welcoming atmosphere for riders. These factors have all contributed to Bentonville's growing reputation as a top destination for mountain biking, but it's the willingness to export what it knows about building mountain bike trails, creating a new generation of bicycle mechanics and trail builders, teaching leaders of other municipalities how to create their own destinations, and promoting the lifestyle that goes with it that earns Bentonville, Arkansas the title of Mountain Biking Capital of the World™.